President Trump visits the Carolinas after Florence
3:16 p.m. ET, September 19, 2018
Trump met residents, handed out food in North Carolina church
After receiving a hurricane briefing in North Carolina, President Trump visited the Temple Baptist Church, which is doubling as a distribution center in the coastal city of New Bern.
"How's the house?" President Trump asked as he handed out meals to those in need.
One boy, who wore a hat that read, "Tucker," asked for a hug, and the President happily obliged.
2:37 p.m. ET, September 19, 2018
Trump lands in South Carolina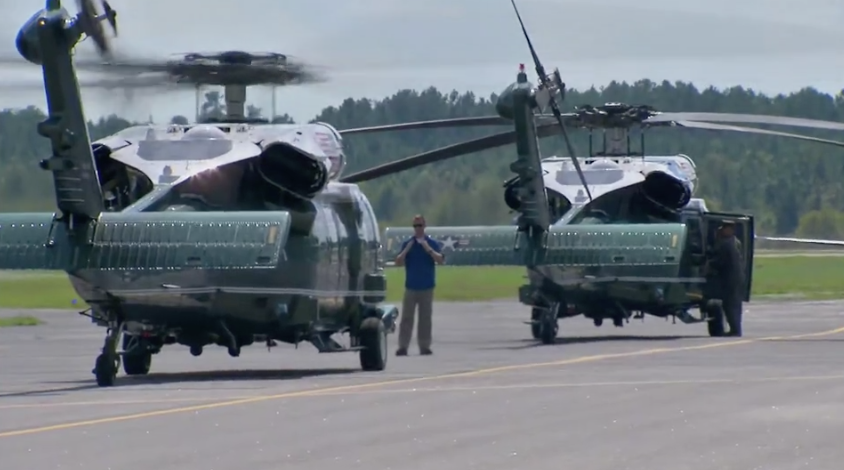 President Trump just landed at Conway-Horry County airport in Conway, South Carolina, for the second half of his tour of the damage left by Hurricane Florence.
The White House hasn't released where he's headed now, so stay tuned.
2:13 p.m. ET, September 19, 2018
North Carolina governor: Our state is hurting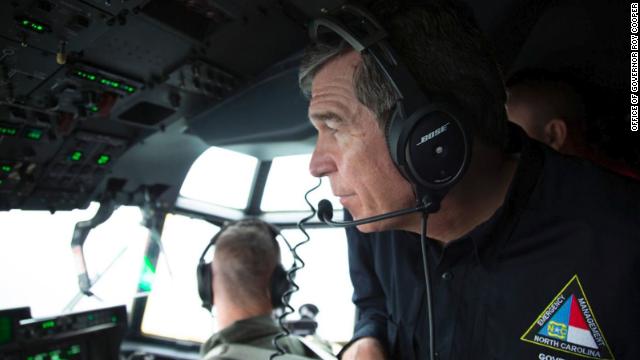 North Carolina Gov. Roy Cooper said his state is still working to recover, and officials continue to work on getting people safe and reopening roads. 
"We are a state that is hurting," Cooper said on Wednesday. 
He added that people are "stunned at the breadth of damage that has been done." 
By the numbers, Cooper said: 
North Carolina has 13 rivers at major flood stage.
About 7,800 people are in shelters. 
Close to 200,000 customers are still without power
1:54 p.m. ET, September 19, 2018
The waters are receding in South Carolina, but they could come back later this week
Adam Emrick, the city administrator of Conway, South Carolina, said floodwaters in the city are subsiding — but they could come back.
"We are cautioning everyone not to be over confident. The water is going to come back up," he said.
Emrick said the water has gone down so much that some residents who had to be rescued from flooding were able to briefly return home. But it may be a short reprieve
"The water is subsiding right now to the point where they have been able to go back in and collect their belongings, what's left, before the waters start to rise again. We are worried about Friday," he said
There have been no reports of injuries during the flooding, but officials have not yet been able to assess damage.
12:30 p.m. ET, September 19, 2018
Water in this South Carolina city could crest next week
Water in Conway, South Carolina, won't reach its highest levels until next week, officials said.
"We are hearing that the water may not crest until Tuesday or Wednesday. It won't reach the highest model until next week," spokesperson for the city of Conway Taylor Newell said.
"We had some flash floods. The water is now receding from those flash floods, but we expect more flooding in the next few days," Newell added.
The city is preparing for flooding worse than it saw in 2016, when Hurricane Matthew hit.
"The flooding is expected to be four feet higher than Matthew was in Conway," Newell said "There are areas that weren't impacted during Matthew that will be impacted this time around."  
11:55 a.m. ET, September 19, 2018
Up next: Trump heads to a North Carolina church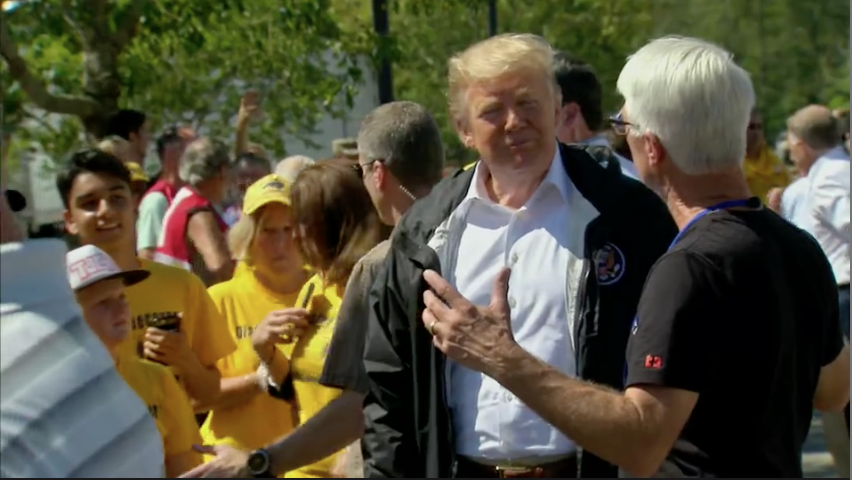 President Trump just arrived at a Baptist church in New Bern, North Carolina, where he was greeted by the local pastor.
Trump is expected to tour areas where relief centers are staged.
The President's motorcade arrived in New Bern after rolling along North Carolina 70 East. They passed by spectators, peppered down the route, who watched and took photos as they drove by.  
Some shops appeared to be open, but several trees were downed. The nearby Neuse River appeared to be still higher than normal. 
11:10 a.m. ET, September 19, 2018
Trump says hurricane clean up will be expensive
President Trump lauded emergency workers in North Carolina during a visit to the storm-impacted region on Wednesday as he predicted a costly clean up.
"The job you've done has been incredible," Trump said inside an airplane hangar in North Carolina. "They're talking about it all over the world."
"Unfortunately, the money will be a lot but it's going to come," he said later, vowing a robust federal response to the storm.
He told those who lost loved ones the country was in mourning.
 "America grieves with you and our hearts break for you. God bless you. We will never forget your loss," Trump said. "To all those impacted by this terrible storm, our entire American family is with you and ready to help. You will recover."
11:04 a.m. ET, September 19, 2018
FEMA: Florence's effects aren't over yet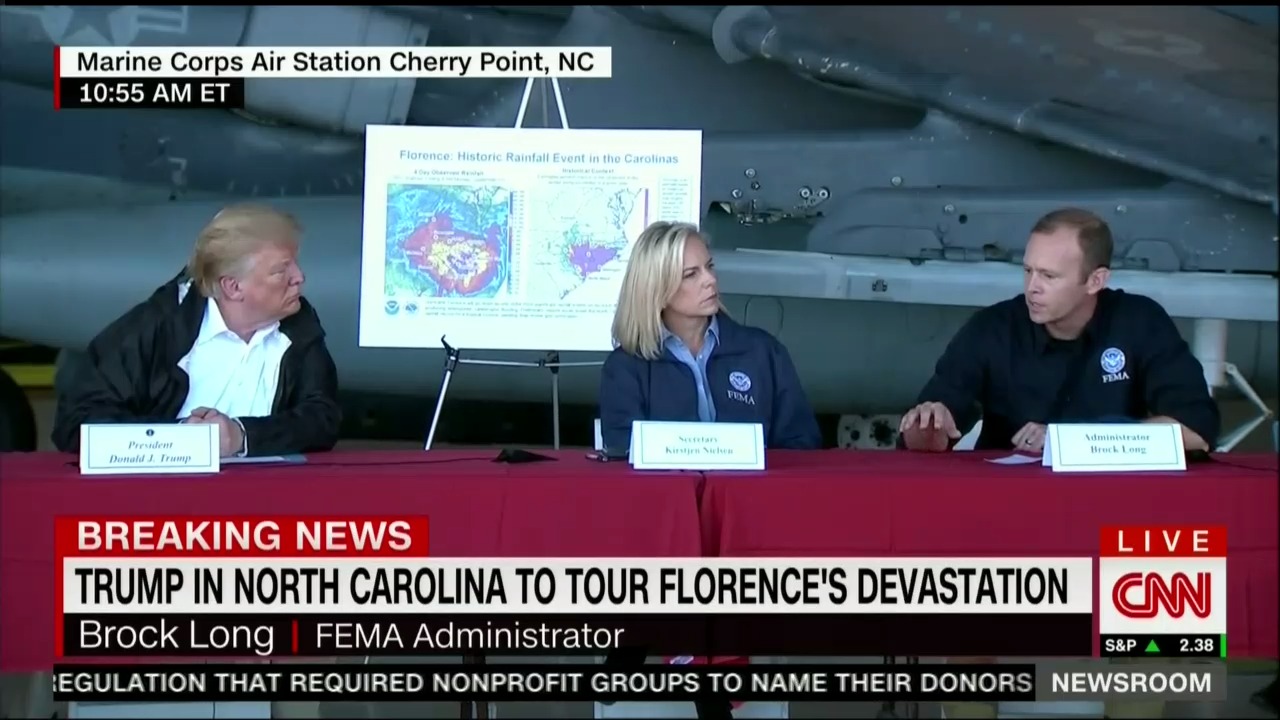 Federal Emergency Management Agency administrator Brock Long said that although the rain has stopped in the Carolina's, the devastation isn't over.
"This event is not over," he said. "The rivers are still cresting. We still have a lot of work to do."
Here are some of the things FEMA is still working on:
Officials need to get roads open so power crews can get into the isolated areas and flooded areas.
FEMA is putting a big focus on the hazardous materials, Long said.
FEMA is helping survivors get disaster assistance. Teams are in the field and in shelters to help.
11:01 a.m. ET, September 19, 2018
North Carolina governor to Trump: Our state took a gut punch, Mr. President
North Carolina Governor Roy Cooper, sitting next to President Trump in Cherry Point, North Carolina, told him the state "took a gut punch."
"Our people are still reeling. We have lost 27 lives officially so far, and more are under investigation. We mourn their loss," he said, adding that farmers lost crops, businesses are shuttered, people lost homes.
"We are beginning the process of getting our feet under us, Mr. President," Cooper said, describing Hurricane Florence as "a storm like no other."
"We have weathered storms before in our state. Mr. President, we have never seen one like this. This one has been epic. It has been disastrous. And it has been widespread," he said.
Appealing to Trump, Cooper said, "Mr. President, we have a long road ahead. And the days and the months and even years ahead to make sure we build back to where we need to be here in North Carolina."
"And, you're here, and I'm asking you, sir, for your help every step of the way."