Trump and world leaders attend G20 summit
12:05 p.m. ET, November 30, 2018
White House says Mueller investigation undermines US/Russia relationship
White House press secretary Sarah Sanders blamed special counsel Robert Mueller's investigation for hurting the US's relationship with Russia in a statement on Friday, one day after Trump canceled a planned meeting with Vladimir Putin.
"The Russian Witch Hunt Hoax, which is hopefully now nearing an end, is doing very well. Unfortunately, it probably does undermine our relationship with Russia. However, the reason for our canceled meeting is Ukraine. Hopefully, that will be resolved soon so that productive conversations can begin."
A few hours later, Trump echoed Sanders, telling reporters the "sole reason" he canceled his meeting was because of "what took place with respect to the ships and the sailors."
"We don't like what happened. We're unhappy about it," Trump said. "On the basis of what took place with respect to the ships and the sailors, that was the sole reason."
11:00 a.m. ET, November 30, 2018
Argentina's security ministry finds Molotov cocktails near G20 protest site
Argentina's Ministry of Security confirmed to CNN that eight Molotov cocktails were found hidden in a burnt taxi cab, close to where anti-G20 protesters were called to gather. They did not detonate, and authorities continue to investigate the incident.
Demonstrations began Friday morning in front of the Argentine Congress in Buenos Aires. The crowd protested against the government's spending policies, as the country slips into a deep economic crisis and battles high inflation.
10:47 a.m. ET, November 30, 2018
World leaders pose for class photo, with Trump sandwiched in between Macron and Abe
The G20 summit has just held its official welcome, in which Argentine President Mauricio Macri shook hands one by one with world and economic leaders.
Afterward, the leaders gathered on stage to take the class photo, an summit tradition.
President Trump was sandwiched between French President Emmanuel Macron and Japanese Prime Minister Shizo Abe, and seemed to engage in collegial small talk with the two men during the photo.
He did not appear to speak with Vladimir Putin or Mohammed bin Salman during the photo.
The summit will now officially begin, with Macri soon to make his opening remarks.
10:38 a.m. ET, November 30, 2018
Trump-Putin meeting won't be rescheduled after Trump's abrupt cancellation
All eyes are on President Trump and Russian President Vladimir Putin, who had planned to meet at the G20 before Trump abruptly cancelled on Thursday.
The President pinned the cancellation on Russia's refusal to release Ukrainian Navy ships and sailors seized during a maritime confrontation between the two countries last Sunday. According to a White House official, Trump and Putin have not rescheduled their meeting, but are like to mingle alongside the other world leaders at the G20 session.
Trump announced the cancellation on Thursday, on his way to the summit, to mixed responses. Some senators and diplomats criticized the cancellation as weak, but at least one person welcomed the news -- Ukrainian President Petro Poroshenko tweeted after the news broke, "This is how great leaders act!"
Russian Foreign Ministry spokeswoman Maria Zakharova suggested Friday that the "US domestic political situation" was the real reason the meeting was spiked, alluding to Michael Cohen's guilty plea in the Mueller investigation on Thursday.
In response, a White House official told CNN that the Kremlin appeared to be "trying to save face" with their statement.
10:04 a.m. ET, November 30, 2018
Jared Kushner receives Mexico's highest recognition
Outgoing Mexican President Enrique Peña Nieto bestowed Mexico's highest honor for foreigners on Jared Kushner today in a ceremony on the sidelines of the G20, according to a source familiar with the matter.
Kushner received the Order of the Aztec Eagle for his role in coordinating US-Mexico relations since the beginning of Trump's presidency, in particular his role in helping to renegotiate the NAFTA free trade agreement.
US, Mexican and Canadian officials have credited Trump's son-in-law and senior advisor as a central force in bridging the gap between the US and its neighbors to salvage the trilateral free trade pact.
Kushner leveraged close relationships with the Mexican foreign secretary, Luis Videgaray, and top advisers to Canadian Prime Minister Justin Trudeau to cement the agreement.
"We are at a historic moment in the relationship between our two countries," Kushner said after President Enrique Peña Nieto pinned the medal on his lapel.
Kushner praised the Mexican government's work toward striking a NAFTA replacement deal, and thanked Peña Nieto for keeping "domestic politics out of our discussions."
9:51 a.m. ET, November 30, 2018
John Bolton takes hardline on communique as the G20 braces for another potential US break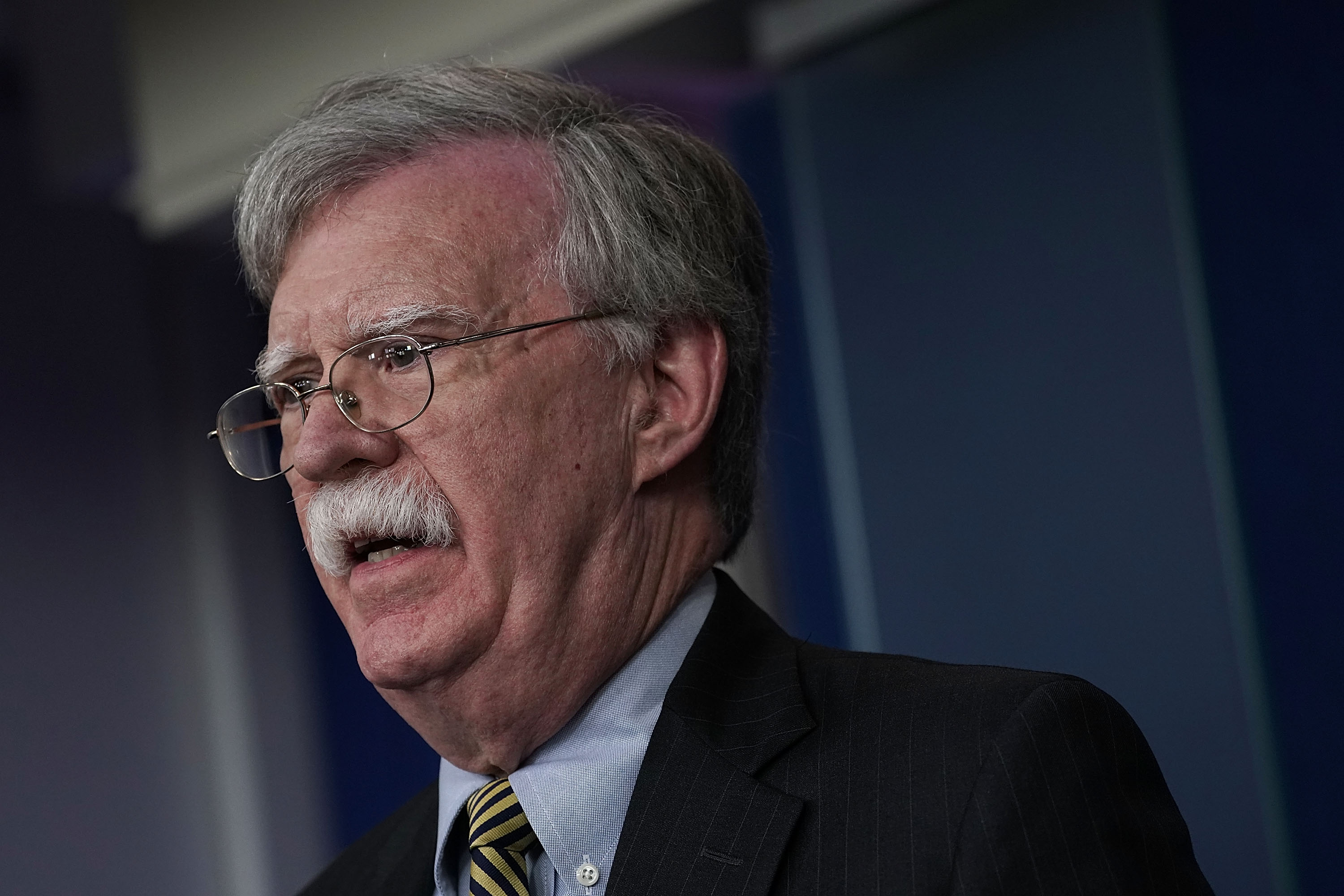 G20 members are bracing for the US potentially taking a hardline going into the final communique, a formal joint statement that leaders collectively put out after the summit. 
According to a source familiar with the discussions, National Security Advisor John Bolton is pushing an "either accept all of our language, or we're not in it" stance.
The language that Bolton currently wants makes no mention of free trade without fair trade, no bolstering of international trade institutions, no mention of the Paris climate deal, and no connection between emissions and climate change, the source said.
A White House official said Friday morning that the US "is committed to working toward consensus on the communique but will stand firm against language that prejudices US positions and is willing to walk away if necessary."
The official adds the US is leaving some room for compromise, but has made clear that there are certain positions regarding the communique that are non-negotiable -- at least, "not right now."
Here's the caveat, given Trump's unpredictable mood -- that in the end he may well go along with the G20 group.
The source added that Trump doesn't like to be the odd man out, which is why he joined the G7 communique this June (before then pulling out after a Twitter spat with the Canadians).
9:15 a.m. ET, November 30, 2018
UK's Theresa May will raise Khashoggi murder with Saudi Crown Prince MBS
UK Prime Minister Theresa May will meet Saudi Crown Prince Mohammad bin Salman in Buenos Aires on Friday, a Downing Street spokesperson told CNN.
The G20 is bin Salman's first global event since the murder of Washington Post columnist Jamal Khashoggi at the Saudi consulate in Istanbul on October 2. Bin Salman has come under international scrutiny over the killing, though Saudi officials deny his involvement. US President Trump has stood by bin Salman despite a CIA assessment saying he ordered Khashoggi's murder.
"I am intending to speak with the Crown Prince of Saudi Arabia. The message that I give will be very clear ... on this issue of Jamal Khashoggi but also on the issue of Yemen," May told reporters on the flight to Buenos Aires, Reuters reported.
We want to see a full and transparent investigation in relation to what happened and obviously those responsible being held to account."
Western powers have used the Khashoggi affair to call for Saudi Arabia to end its military campaign in Yemen, in a war that the UN says has created the world's worst manmade humanitarian disaster.
"On the issue of Yemen, we continue to be deeply concerned about the humanitarian situation," May said. "The long term solution for the Yemen is a political situation and we will be encouraging all parties actually to look for that and work for that."
8:26 a.m. ET, November 30, 2018
Trudeau adds dose of skepticism to new deal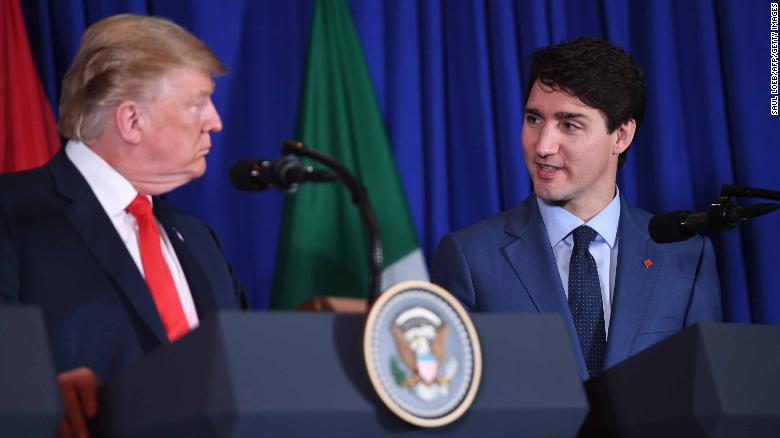 Canadian Prime Minister Justin Trudeau cautiously welcomed the ceremonial signing.
"The new North American free trade agreement maintains stability for Canada's entire economy, stability that's essential for the millions of jobs and middle class families across the country that rely on strong, reliable trading relationships with our closest neighbors. That's why I'm here today," he said.
But he cast doubt on Trump's unbridled optimism, pointing to recent plant closures by General Motors in North America as "a heavy blow" and taking the opportunity for a jibe at the US leader's protectionist policies.
And Donald, it's all the more reason why we need to keep working to remove the tariffs on steel and aluminum between our counties. "
8:17 a.m. ET, November 30, 2018
What's next for the US-Canada-Mexico deal?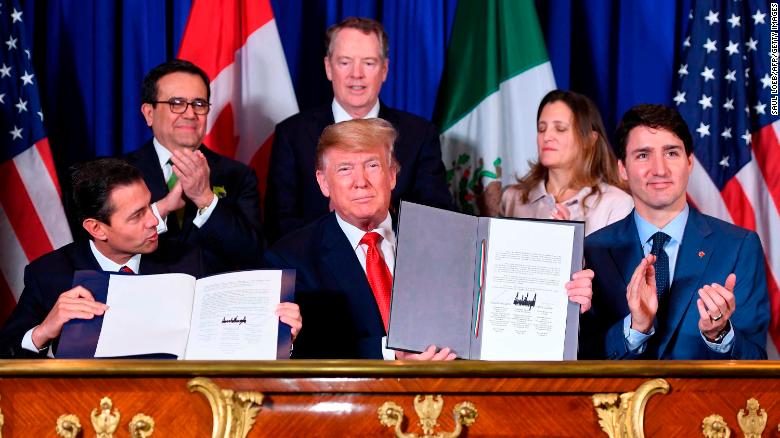 The ceremonial signing of the new USMCA trade deal does not mean it goes into effect. It still needs to win Congressional approval in Washington, where key members of both political parties have expressed significant concerns.
Trump said he expected the deal would win Congressional approval.
I don't expect to have much of a problem."
The signing ceremony in and of itself represented a political victory for Trump, who has been eager to mark the deal with a formal photo opportunity alongside Canada's Trudeau and Mexico's Peña Nieto. It was not clear until just a day earlier that the ceremony would go through amid ongoing Canadian protests over US-imposed steel and aluminum tariffs.