Trump and world leaders attend G20 summit
6:31 p.m. ET, December 1, 2018
US alone in not supporting climate language in G20 communique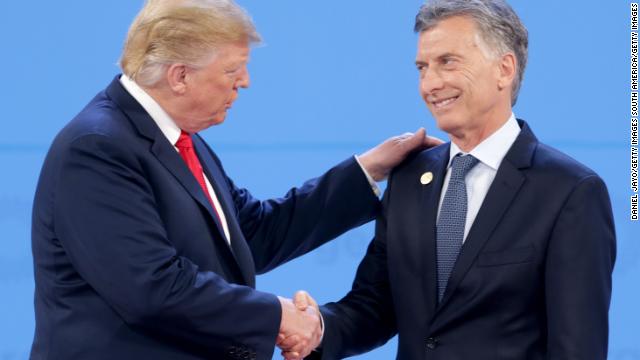 The United States was notably alone in not agreeing to part of a joint statement from the G20 summit regarding climate change.
A clause in an agreement says the US "reiterates its decision to withdraw from the Paris Agreement, and affirms its strong commitment to economic growth and energy access and security, utilizing all energy sources and technologies, while protecting the environment."
The communique document obtained by CNN includes a section on climate that says signatories to the Paris climate accord reaffirm the agreement "is irreversible and commit to its full implementation, reflecting common but differentiated responsibilities and respective capabilities, in light of different national circumstances."
"We will continue to tackle climate change, while promoting sustainable development and economic growth," the document reads.
A senior US official said the communique was adopted by unanimous consensus, with the United States still the only country not joining the section on the Paris climate accord. The separate language was required for President Donald Trump to sign off on the communique, the official said.
Argentine President Mauricio Macri announced at the closing G20 plenary session on Saturday that the gathered leaders had agreed on a communique that includes language about revitalizing the WTO and also language on climate — both key sticking points in the lead-up to the summit.
"We have agreed on a communique that reflects on the need to revitalize trade, to revitalize the WTO," Macri said. "We ratified the concern we all share with regard to climate change."  
The G20 leaders also agreed in the statement on the need to reform the international trading system and the World Trade Organization, a frequent target of Trump's criticism.
The statement stresses the importance of international trade, but also argues that the current trading system is "falling short of its objectives and there is room for improvement."
"We therefore support the necessary reform of the WTO to improve its functioning. We will review progress at our next Summit," the leaders agreed in the communique.
10:40 a.m. ET, December 1, 2018
Trump cancels news conference
President Donald Trump canceled a scheduled news conference slated for Saturday afternoon "out of respect for the Bush family...," he tweeted mid-morning.
He had planned to hold the news conference in Argentina before departing the G20 summit.
2:16 p.m. ET, November 30, 2018
Saudi Crown Prince meets with Chinese president
Saudi Arabia's Crown Prince Mohammed bin Salman met with Chinese President Xi Jinping at the G20 summit in Argentina.
Saudi Arabia's Ministry of Foreign Affairs tweeted the meeting came on the sidelines:
2:01 p.m. ET, November 30, 2018
Protesters gather for anti-G20 march
Beating their drums, singing chants and holding up signs that say, "Out IMF!" and "They want war, we WON'T give them peace," dozens organized groups have gathered in Buenos Aires to protest the G20 summit.
1:35 p.m. ET, November 30, 2018
Class photo has fewest female leaders in G20 history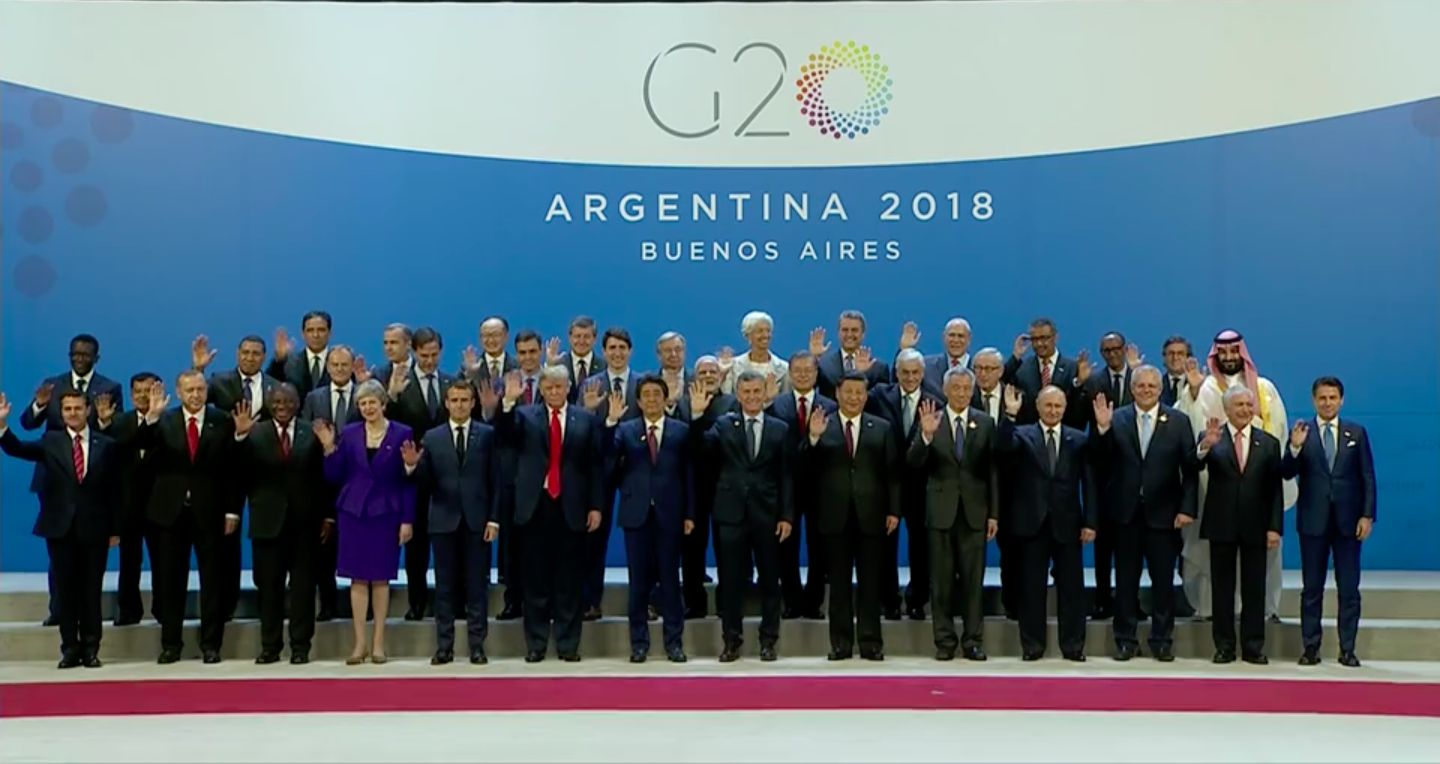 Friday's class photo at the G20 included the fewest female heads-of-government than any previous G20 family photo taken since the group began meeting in 2008.
That was due in part to Angela Merkel's absence (her plane was having issues getting to Argentina). But even had she been there, there would have been only two female country leaders -- Merkel and Theresa May -- plus IMF chief Christine Lagarde. That would have amounted to the lowest number since 2010.
The two years with the highest numbers are 2012 and 2013, which saw 5 female leaders both years.
Here are the past female leaders photographed at the G20:
2 women in 2018 (May, Lagarde)
4 women in 2017 (Merkel, May, Lagarde, Solberg)
4 women in 2016 (Merkel, May, Lagarde, Park)
4 women in 2015 (Merkel, Lagarde, Park, Rousseff)
4 women in 2014 (Merkel, Lagarde, Park, Rousseff)
5 women in 2013 (Merkel, Lagarde, Park, Rousseff, Kirchner)
5 women in 2012 (Merkel, Lagarde, Rousseff, Kirchner, Gillard)
4 women in 2011 (Merkel, Lagarde, Rousseff, Kirchner, Gillard)
3 women in 2010 (Merkel, Gillard, Kirchner)
2 women in 2009 (Merkel, Kirchner)
2 women in 2008 (Merkel, Kirchner)
12:37 p.m. ET, November 30, 2018
Japanese PM congratulates Trump on "historic victory" in midterm elections, despite Democratic gains
Japanese Prime Minister Shinzo Abe offered a dose of hyperbolic praise for President Donald Trump as he sat down with the US President on the sidelines of the G20 summit.
"I would like to congratulate you on your historic victory in the midterm elections in the United States," Abe said.
While Trump has touted the midterm election results in such terms, in reality, the midterm election results amounted to a stinging rebuke of Trump as Democrats picked up dozens of seats in the House of Representatives.
The comments epitomized how many world leaders have lavished Trump with praise and flattery, including South Korean President Moon Jae-in, who has credited Trump for the landmark inter-Korea talks.
12:52 p.m. ET, November 30, 2018
Vladimir Putin and Saudi Crown Prince share an enthusiastic high five
Russian President Vladimir Putin greeted Saudi Crown Prince Mohammad bin Salman with a wide smile and an enthusiastic high five Friday morning as the G20 session officially began.
It was an usually warm welcome for a leader who is under intense international scrutiny after the murder of a journalist at the Saudi consulate in Istanbul.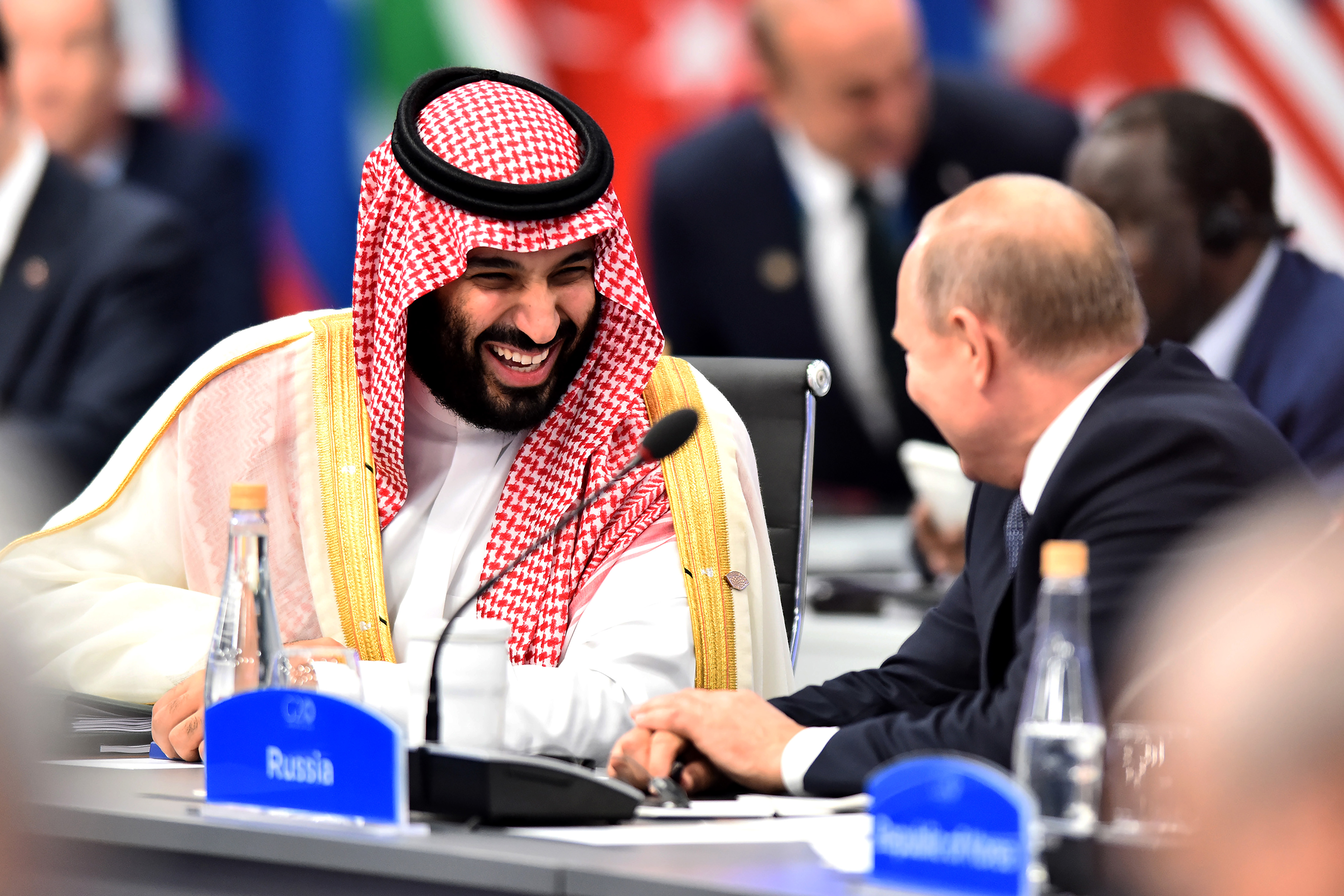 Prime Minister Theresa May said she would raise the topic in a meeting with MBS. President Trump exchanged pleasantries with MBS, and told reporters they "had no discussion" but that "we might."
French President Emmanuel Macron also told MBS on the sidelines that "Europeans would like international experts to be part of the investigations into the death of Khashoggi," according to a spokeswoman form Elysee Palace.
12:04 p.m. ET, November 30, 2018
President Trump sees "some good signs" for trade talks with Chinese President Xi Jinping
President Donald Trump struck a cautiously optimistic tone on Friday about the prospect of reaching a deal on trade with Chinese President Xi Jinping when the two meet Saturday evening.
"We're working very hard. If we could make a deal that would be good," Trump said during a bilateral meeting with Japanese Prime Minister Shinzo Abe.
Trump said his National Economic Council Director Larry Kudlow and his representatives are dealing with the Chinese "on a constant basis" in the lead-up to his dinner with Xi and the President said the US officials are seeing "some good signs."
11:35 a.m. ET, November 30, 2018
Trump's international trips are often clouded by the Mueller investigation. The G20 is no different.
Hanging over Trump's second G20 summit is the latest twist in special counsel Robert Mueller's ongoing investigation -- and it's not the first time the investigation has followed the President outside the United States.
Trump's international trips have been repeatedly marred by developments in the investigation: