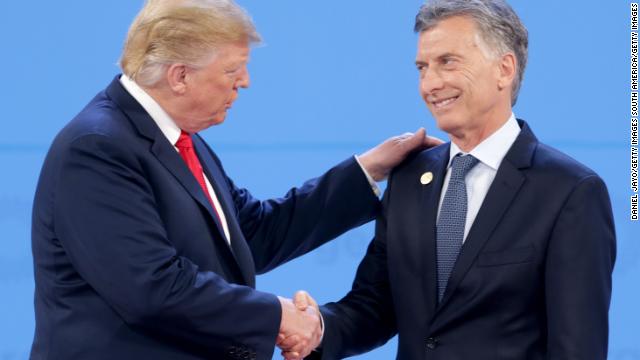 The United States was notably alone in not agreeing to part of a joint statement from the G20 summit regarding climate change.
A clause in an agreement says the US "reiterates its decision to withdraw from the Paris Agreement, and affirms its strong commitment to economic growth and energy access and security, utilizing all energy sources and technologies, while protecting the environment."
The communique document obtained by CNN includes a section on climate that says signatories to the Paris climate accord reaffirm the agreement "is irreversible and commit to its full implementation, reflecting common but differentiated responsibilities and respective capabilities, in light of different national circumstances."
"We will continue to tackle climate change, while promoting sustainable development and economic growth," the document reads.
A senior US official said the communique was adopted by unanimous consensus, with the United States still the only country not joining the section on the Paris climate accord. The separate language was required for President Donald Trump to sign off on the communique, the official said.
Argentine President Mauricio Macri announced at the closing G20 plenary session on Saturday that the gathered leaders had agreed on a communique that includes language about revitalizing the WTO and also language on climate — both key sticking points in the lead-up to the summit.
"We have agreed on a communique that reflects on the need to revitalize trade, to revitalize the WTO," Macri said. "We ratified the concern we all share with regard to climate change."  
The G20 leaders also agreed in the statement on the need to reform the international trading system and the World Trade Organization, a frequent target of Trump's criticism.
The statement stresses the importance of international trade, but also argues that the current trading system is "falling short of its objectives and there is room for improvement."
"We therefore support the necessary reform of the WTO to improve its functioning. We will review progress at our next Summit," the leaders agreed in the communique.