Trump and world leaders attend G20 summit
12:37 p.m. ET, November 30, 2018
Japanese PM congratulates Trump on "historic victory" in midterm elections, despite Democratic gains
Japanese Prime Minister Shinzo Abe offered a dose of hyperbolic praise for President Donald Trump as he sat down with the US President on the sidelines of the G20 summit.
"I would like to congratulate you on your historic victory in the midterm elections in the United States," Abe said.
While Trump has touted the midterm election results in such terms, in reality, the midterm election results amounted to a stinging rebuke of Trump as Democrats picked up dozens of seats in the House of Representatives.
The comments epitomized how many world leaders have lavished Trump with praise and flattery, including South Korean President Moon Jae-in, who has credited Trump for the landmark inter-Korea talks.
12:52 p.m. ET, November 30, 2018
Vladimir Putin and Saudi Crown Prince share an enthusiastic high five
Russian President Vladimir Putin greeted Saudi Crown Prince Mohammad bin Salman with a wide smile and an enthusiastic high five Friday morning as the G20 session officially began.
It was an usually warm welcome for a leader who is under intense international scrutiny after the murder of a journalist at the Saudi consulate in Istanbul.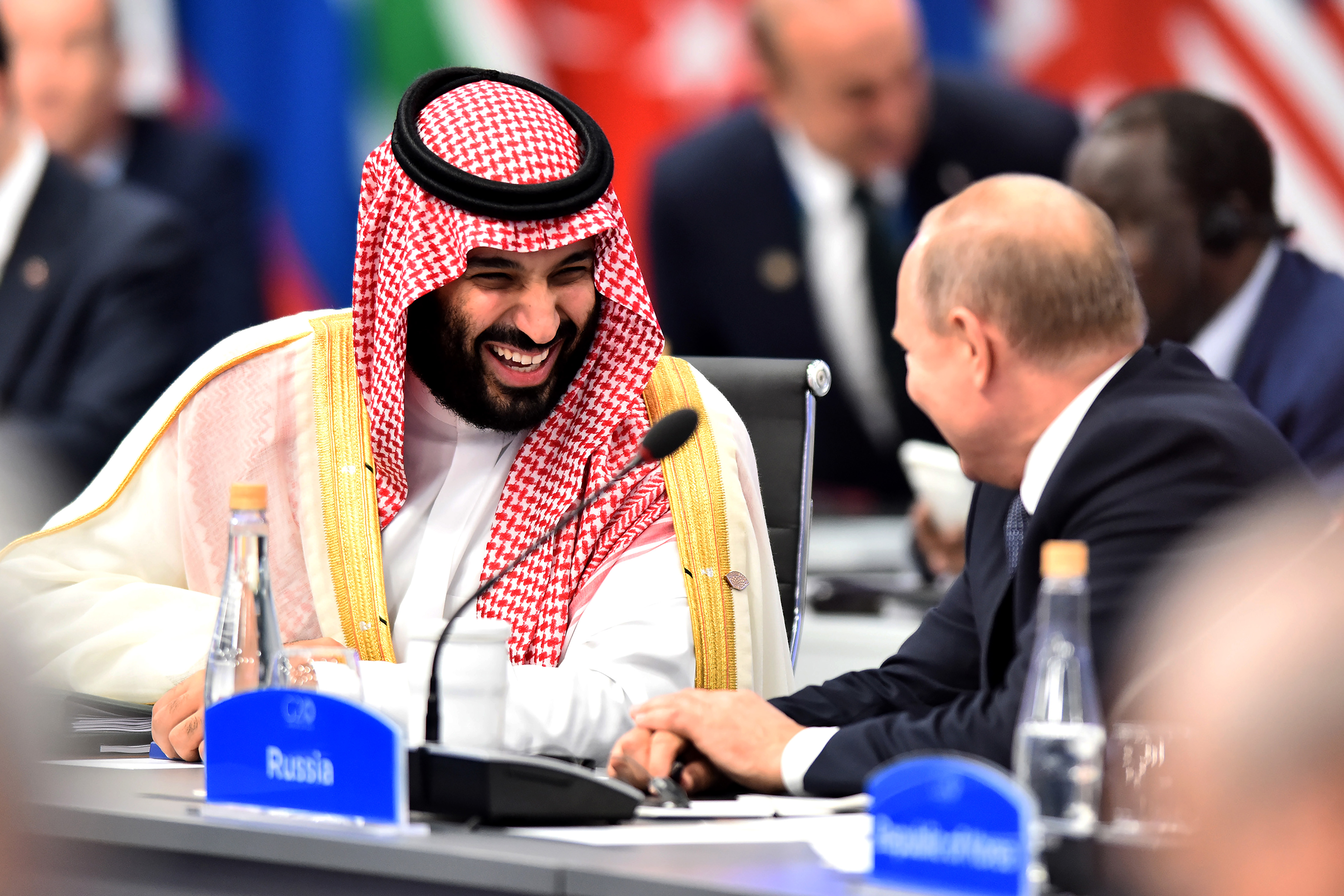 Prime Minister Theresa May said she would raise the topic in a meeting with MBS. President Trump exchanged pleasantries with MBS, and told reporters they "had no discussion" but that "we might."
French President Emmanuel Macron also told MBS on the sidelines that "Europeans would like international experts to be part of the investigations into the death of Khashoggi," according to a spokeswoman form Elysee Palace.
12:04 p.m. ET, November 30, 2018
President Trump sees "some good signs" for trade talks with Chinese President Xi Jinping
President Donald Trump struck a cautiously optimistic tone on Friday about the prospect of reaching a deal on trade with Chinese President Xi Jinping when the two meet Saturday evening.
"We're working very hard. If we could make a deal that would be good," Trump said during a bilateral meeting with Japanese Prime Minister Shinzo Abe.
Trump said his National Economic Council Director Larry Kudlow and his representatives are dealing with the Chinese "on a constant basis" in the lead-up to his dinner with Xi and the President said the US officials are seeing "some good signs."
11:35 a.m. ET, November 30, 2018
Trump's international trips are often clouded by the Mueller investigation. The G20 is no different.
Hanging over Trump's second G20 summit is the latest twist in special counsel Robert Mueller's ongoing investigation -- and it's not the first time the investigation has followed the President outside the United States.
Trump's international trips have been repeatedly marred by developments in the investigation:
11:24 a.m. ET, November 30, 2018
Argentine president urges dialogue and unity in opening speech
Argentine President Mauricio Macri kicked off the all-leader G20 session with a message of unity.
"The essence of the G20 is to foster dialogue while respecting differences," Macri said in his opening remarks, expressing his hope that the summit would "lay the foundations for consensus for the next 10 years."
"Many people look at us and have doubts regarding these summits and what they're good for. It is our duty to show to the world that today global challenges require global responses."
He cited several of these challenges, which the G20 members will discuss during the 2-day summit, including climate change, sustainable development, food security, and international trade.
12:05 p.m. ET, November 30, 2018
White House says Mueller investigation undermines US/Russia relationship
White House press secretary Sarah Sanders blamed special counsel Robert Mueller's investigation for hurting the US's relationship with Russia in a statement on Friday, one day after Trump canceled a planned meeting with Vladimir Putin.
"The Russian Witch Hunt Hoax, which is hopefully now nearing an end, is doing very well. Unfortunately, it probably does undermine our relationship with Russia. However, the reason for our canceled meeting is Ukraine. Hopefully, that will be resolved soon so that productive conversations can begin."
A few hours later, Trump echoed Sanders, telling reporters the "sole reason" he canceled his meeting was because of "what took place with respect to the ships and the sailors."
"We don't like what happened. We're unhappy about it," Trump said. "On the basis of what took place with respect to the ships and the sailors, that was the sole reason."
11:00 a.m. ET, November 30, 2018
Argentina's security ministry finds Molotov cocktails near G20 protest site
Argentina's Ministry of Security confirmed to CNN that eight Molotov cocktails were found hidden in a burnt taxi cab, close to where anti-G20 protesters were called to gather. They did not detonate, and authorities continue to investigate the incident.
Demonstrations began Friday morning in front of the Argentine Congress in Buenos Aires. The crowd protested against the government's spending policies, as the country slips into a deep economic crisis and battles high inflation.
10:47 a.m. ET, November 30, 2018
World leaders pose for class photo, with Trump sandwiched in between Macron and Abe
The G20 summit has just held its official welcome, in which Argentine President Mauricio Macri shook hands one by one with world and economic leaders.
Afterward, the leaders gathered on stage to take the class photo, an summit tradition.
President Trump was sandwiched between French President Emmanuel Macron and Japanese Prime Minister Shizo Abe, and seemed to engage in collegial small talk with the two men during the photo.
He did not appear to speak with Vladimir Putin or Mohammed bin Salman during the photo.
The summit will now officially begin, with Macri soon to make his opening remarks.
10:38 a.m. ET, November 30, 2018
Trump-Putin meeting won't be rescheduled after Trump's abrupt cancellation
All eyes are on President Trump and Russian President Vladimir Putin, who had planned to meet at the G20 before Trump abruptly cancelled on Thursday.
The President pinned the cancellation on Russia's refusal to release Ukrainian Navy ships and sailors seized during a maritime confrontation between the two countries last Sunday. According to a White House official, Trump and Putin have not rescheduled their meeting, but are like to mingle alongside the other world leaders at the G20 session.
Trump announced the cancellation on Thursday, on his way to the summit, to mixed responses. Some senators and diplomats criticized the cancellation as weak, but at least one person welcomed the news -- Ukrainian President Petro Poroshenko tweeted after the news broke, "This is how great leaders act!"
Russian Foreign Ministry spokeswoman Maria Zakharova suggested Friday that the "US domestic political situation" was the real reason the meeting was spiked, alluding to Michael Cohen's guilty plea in the Mueller investigation on Thursday.
In response, a White House official told CNN that the Kremlin appeared to be "trying to save face" with their statement.