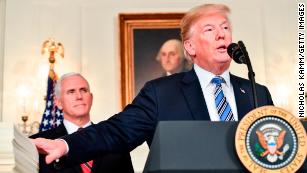 US President Donald Trump speaks about the spending bill during a press conference in the Diplomatic Reception Room at the White House on March 23, 2018. / AFP PHOTO / Nicholas Kamm (Photo credit should read NICHOLAS KAMM/AFP/Getty Images)
1:40 p.m. ET, March 23, 2018
Trump: "I will never sign another bill like this again"
President Trump said he has signed the 2,232-page omnibus spending bill — but warns he will never do this again.
"There are a lot of things we shouldn't have had in this bill but we were, in a sense, forced if we want to build our military, we were forced to have," Trump said.
"There are some things we should have in the bill. But I say to Congress, I will never sign another bill like this again."
1:31 p.m. ET, March 23, 2018
Trump: "I have signed this omnibus budget bill"
President Trump says he has signed the spending bill, avoiding a shutdown. But he isn't happy about it.
"Therefore, as a matter of national security, I've signed this omnibus budget bill. There are a lot of things I'm unhappy about in this bill," Trump said.
1:28 p.m. ET, March 23, 2018
Trump calls the spending bill a "ridiculous situation"
President Trump, while making a statement about the spending bill, pointed to the large stack of papers (more than 2,000 sheets of paper, in fact) and called it a "ridiculous situation that took place over the last week."
1:27 p.m. ET, March 23, 2018
Now: Trump speaks about the bill
President Trump is making a statement about the spending bill any moment. In the meantime, his aides have set up the massive bill in the room where press is waiting.
1:14 p.m. ET, March 23, 2018
Two sources say the President will sign the spending bill
From CNN's Jeff Zeleny
Two sources say President Trump will sign the omnibus spending bill at the 1 p.m. ET event, after his earlier veto threat.
The President may take questions during the signing.
12:49 p.m. ET, March 23, 2018
Trump is making a 1 p.m. statement on the spending bill
President Trump just announced a surprise 1 p.m. statement to address the spending bill, which he has threatened to veto.
We're not sure what this means for the previously scheduled 1 p.m. White House press briefing -- if Trump is simply appearing at the briefing, preempting it, or if this is business as usual -- but we'll keep you posted and cover the event either way.
11:55 a.m. ET, March 23, 2018
What's in the bill: New punishment for Russia
From CNN's Dan Merica
The so-called omnibus spending bill includes measures that bar a host of federal agencies from engaging with Russia and sanctions the country for a vast series of grievances.
It's latest attempt by Congress to take a harder stance on Russia than what the White House has been willing to take so far. Trump reluctantly signed a bill sanctioning Russia in August after both houses of Congress overwhelmingly passed the measure. The Trump administration blew through two key deadlines in the bill, though, and just this month announced new sanctions against Russia that were meant to be rolled out in January.
But this new bill is chock full of messages to Russia. Read them here.
11:27 a.m. ET, March 23, 2018
The spending bill has arrived at the White House
From CNN's Phil Mattingly
An aide tells CNN that the omnibus spending bill has been delivered to the White House.
Will Trump sign it?
11:16 a.m. ET, March 23, 2018
Bob Corker to Trump: I'll "bring you a pen" to veto this bill
Sen. Bob Corker expressed his displeasure with the spending bill Friday morning when he tweeted to President Trump's threat to veto the bill, "Please do, Mr. President."
He called the spending levels "grotesque" and "totally irresponsible."
Trump tweeted:
And Corker responded:
Corker also took to the Senate floor to attack the bill, stating, "What is of great concern to me is the fact that we've made no attempt whatsoever to create any kind of offsets. No attempt whatsoever to try to solve our fiscal issues. And just together, Republicans and Democrats, are running off the cliff."