Trump meets with Brazil's president
3:51 p.m. ET, March 19, 2019
Our live coverage of Brazilian President Jair Bolsonaro's trip to the White House has ended. Scroll through the posts below to see how his meeting with Trump and their news conference unfolded.
2:26 p.m. ET, March 19, 2019
Trump accuses Facebook and Twitter of "collusion" against conservatives
President Trump joined conservative voices in criticizing American social media companies like Facebook and Twitter on Tuesday, accusing the platforms of censoring Republicans and stating the US must "get to the bottom" of it.
"I tell you, I have many, many millions of followers on Twitter and it's different than it used to be: Things are happening, names are taken off, people aren't getting through," Trump said. "You've heard the same complaints. And it seems to be if they're conservative, if they're Republicans, if they're in a certain group, there's discrimination and big discrimination."
"I see it absolutely on Twitter and Facebook," he added, though offered no examples. Trump suggested that "collusion" is happening behind the scenes, be he did not elaborate on who the tech executives might be colluding with.
Here's how he described it:
"We use the word collusion very loosely all the time and I will tell you, there is collusion with respect to that because something has to be going on," he said. "When you get the back scene, back office statements made by executives of the various companies and you see the level of, in many cases hatred, they have for a certain group of people that happen to be in power — that happen to have won the election — you say, 'that's really unfair.' Something's happening with those groups of folks that are running Facebook and Google and Twitter and I do think we have to get to the bottom of it.
2:19 p.m. ET, March 19, 2019
Trump and Bolsonaro share a love of "fake news"
Brazilian President Jair Bolsonaro said Brazil stands side by side with the US on certain values he believes President Trump also espouses.
"In conclusion, may I say that Brazil and the United States stand side-by-side in their efforts to share liberties and respect to traditional and family lifestyles, respect to God, our creator, against the gender ideology of the politically correct attitudes, and fake news," Bolsonaro said.
Trump later said he was happy to hear Bolsonaro use the term "fake news."
Bolsonaro is a former army captain who has been criticized for past misogynistic, racist, and homophobic remarks. Like Trump, he's also a prolific tweeter. Bolsonaro espoused loud pro-America and pro-Trump views during his 2018 election. Bolsonaro has been called the "Trump of the Tropics."
2:13 p.m. ET, March 19, 2019
Trump says US hasn't imposed "toughest" sanctions on Venezeula yet
President Trump, answering a question about the crisis in Venezuela, said the US has yet to impose the "toughest" possible sanctions, but he again reiterated that "all options" are on the table.
"At some point, I would imagine things will change, but we really haven't done the really tough sanctions yet," Trump said. "We can do the tough sanctions, and all options are open so we may be doing that, but we haven't done the toughest of sanctions, as you know."
President Trump did not elaborate on what those sanctions might entail, but said right now the US has imposed sanctions that are "right down the middle."
"But we can go a lot tougher," he added.
What the US has done do far: In January, sanctioned Venezuela's state-owned oil company, bringing to bear the most significant financial pressure so far on Venezuela's embattled President Nicolas Maduro.
2:11 p.m. ET, March 19, 2019
Trump says he intends to designate Brazil a non-NATO ally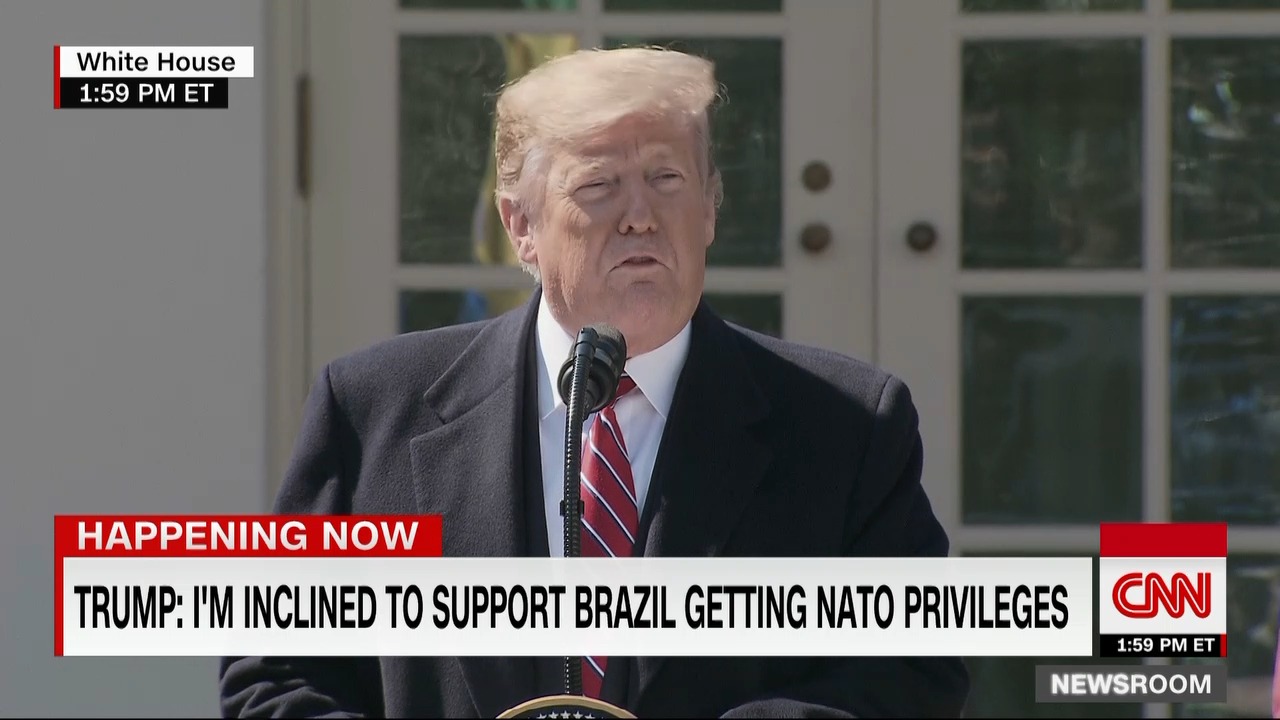 President Trump said he intends to designate Brazil as a non-NATO ally.
"As I told President Bolsonaro, I also intend to designate Brazil as a major non-NATO ally or even possibly, if you start thinking about it, a NATO ally. We have to talk to a lot of people, but maybe a NATO ally," Trump said.
Earlier today, Trump said he is "inclined" to suggest that Brazil be granted NATO privileges.
"We're looking at it very strongly. We're very inclined to do that. The relationship we have now with Brazil has never been better," Trump said.
Brazil has indicated that it hopes to see itself elevated to "major non-NATO ally" status by the Trump administration, a major step that could help it purchase military equipment.
2:05 p.m. ET, March 19, 2019
Trump calls on Venezuela military: Stop supporting Maduro and set your people free
President Trump touted the humanitarian aid the US had sent to Venezeula and called on the country's military to end its support for leader Nicolas Maduro.
Trump said the US has been "really very happy to feed thousands and thousands of  starving Venezuelans."
"They have appreciated it and if the Maduro forces would step aside, it could be a truly great and successful humanitarian project," Trump said. 
"We call on members of the Venezuelan military to end their support for Maduro — who is really nothing more than a Cuban puppet — and finally set their people free."
Trump added that the "twilight hour of socialism has arrived in our hemisphere" and said the "the last thing we want in the United States is socialism."
2:04 p.m. ET, March 19, 2019
Trump praises Bolsonaro and reaffirms US-Brazil ties
President Donald Trump heaped praise on his Brazilian counterpart, President Jair Bolsonaro, at the beginning of their joint press conference today.
Trump congratulated Bolsonaro on a "tremendous election victory" and an "incredible feat."
"Truly incredible challenge but the end result was something the whole world was talking about," Trump said, adding that he expects that the two will "have a fantastic working relationship."
Trump affirmed that Bolsonaro, who has been called the "Trump of the Tropics," shares many of his view, "and we certainly feel very, very true to each other."
He also congratulated the Brazilian President on recovering from a stabbing during his campaign, touting his "great bravery, tremendous bravery."
Trump, who has not been as warmly embraced by many other leaders on the world stage, said today's visit was a chance for the two countries "to forge even stronger ties."
As part of that, Trump announced that he will designate Brazil as a major non-NATO ally. 
1:56 p.m. ET, March 19, 2019
NOW: Trump and Bolsonaro hold joint news conference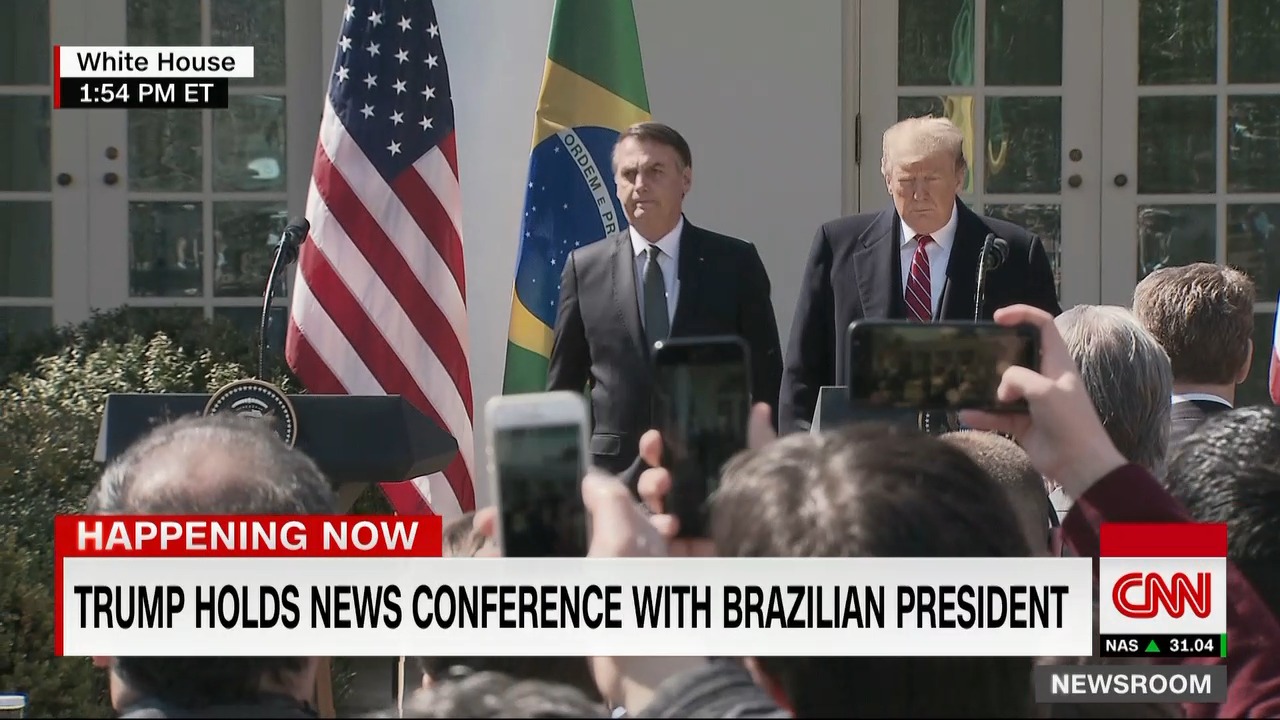 President Trump and Brazilian President Jair Bolsonaro have just started their joint press conference. You can watch it on CNNGo.
2:23 p.m. ET, March 19, 2019
5 questions reporters could ask Trump at today's news conference
Any minute now, President Trump and Brazilian President Jair Bolsonaro will take reporters' questions at a news conference at the White House.
Here are a few questions that could come up:
On Venezuela: You said that "all options are on the table" when it comes to the crisis in Venezeula. What would you like to see happen when it comes to leader Nicolas Maduro and his regime?
On the national emergency: Last week, you issued the first veto of your presidency on a measure that would have blocked the national emergency you declared in order to secure border wall funding. Are you worried Congress may try to overturn it?
On the Mueller report: CNN has reported that White House lawyers expect to have an opportunity to review Robert Mueller's report before it reaches lawmakers and the public? What do you expect to find in it?
On John McCain: Earlier today, you said you were "never a fan" of the late senator. Why are you continuing this years-long feud?
On Michael Cohen: This morning, partially redacted search warrant documents pertaining to the raid on your former personal attorney's home were released. Do you have anything you'd like to say to your former fixer?