Trump and Biden duel in Iowa
8:52 p.m. ET, June 11, 2019
Our live coverage has ended. Scroll through the posts below to read more about President Trump and 2020 Democratic candidate Joe Biden's separate trips to Iowa or follow CNN Politics.
8:35 p.m. ET, June 11, 2019
Trump's speech is toned-down, but he's still criticizing Democrats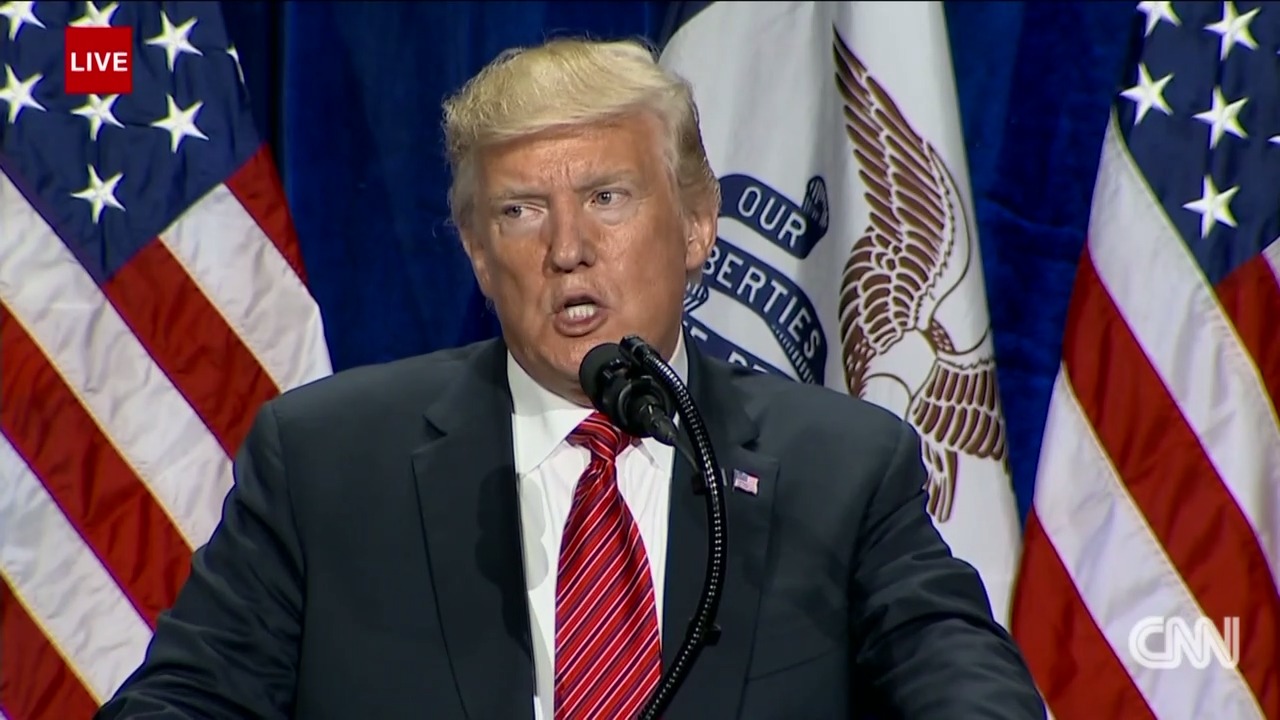 President Trump's relatively toned-down fundraiser speech included a part criticizing Democrats. 
Here's what he told the crowd in West Des Moines:
"The Democrat party has never been angrier — they're so angry… For what? For what? These are angry people. Every day the Democrat party is becoming more and more unhinged and more and more extreme. They're going crazy. Do you love it? I sort of love it."
He lamented the Mueller report, which he claimed was conducted by "18 Democrats, many of them contributed to crooked Hillary."  
He tied the Democratic party to socialism, pointing to Democratic support for Bernie Sanders' healthcare plan and Alexandria Ocasio-Cortez's Green New Deal, which received boos. 
The Green New Deal, he said, was "conceived and made up by a young woman who is well, let's see how she works out." Trump added that the deal "would totally destroy the American economy. Other than that it's not bad."
Trump is still on stage and his speech is ongoing.
8:41 p.m. ET, June 11, 2019
After protester interrupts his speech, Biden tells crowd: "Be nice, this is not a Trump rally"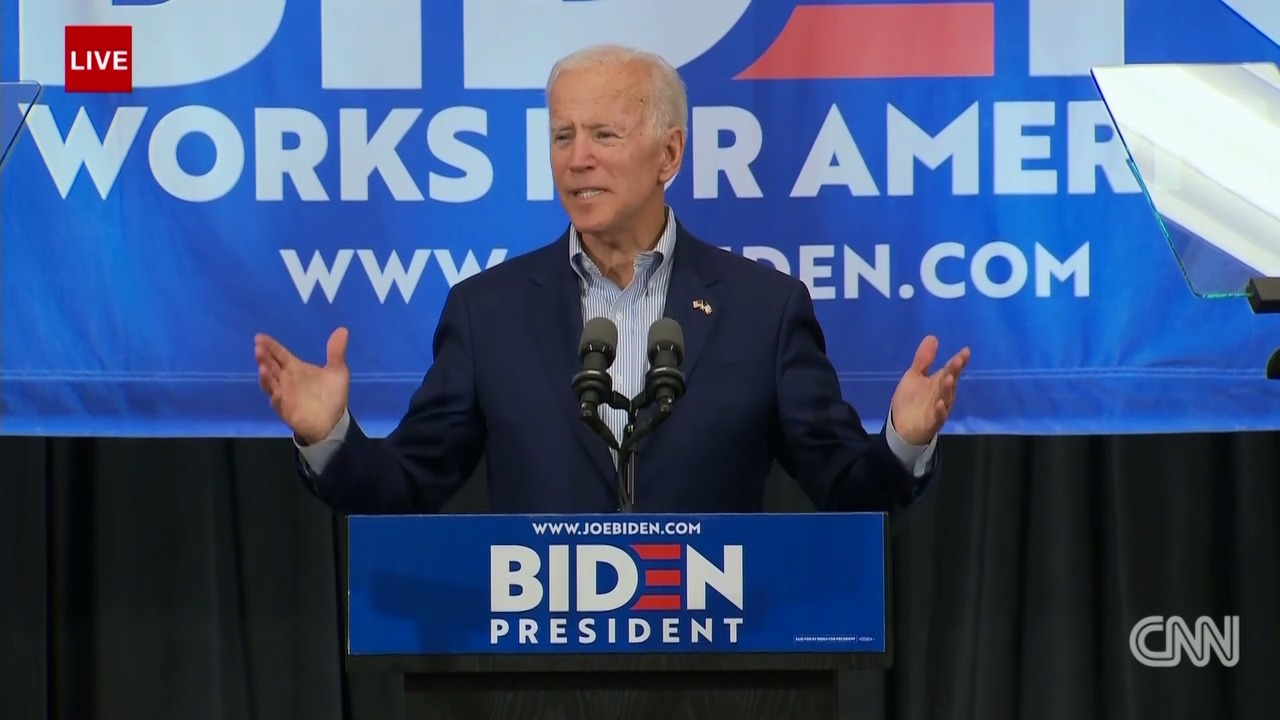 Democratic presidential candidate Joe Biden sought to set himself apart from President Trump tonight in Iowa as he criticized the President's policies.
Biden blasted Trump on his stance on climate change, saying the President is "motivated by the wrong thing."
He challenged the President's position on health care, telling the crowd that "Donald Trump is trying to take away your protections for pre-existing conditions."
"I am not going to let the American people forget about the Affordable Care Act," Biden said.
He then went on to explain why he thinks Trump poses a "fundamental threat to America."
As Biden spoke about Trump's remarks after white nationalist violence in Charlottesville, Virginia, in 2017, a protester in the crowd yelled out, "What about unborn babies, he talks about this killing…." The crowd shouted back and drowned out the protester, who was removed from the event.
Biden tried to quell the crowd, and said, "That's OK. Be nice, this is not a Trump rally."
8:04 p.m. ET, June 11, 2019
NOW: Trump takes the stage in Iowa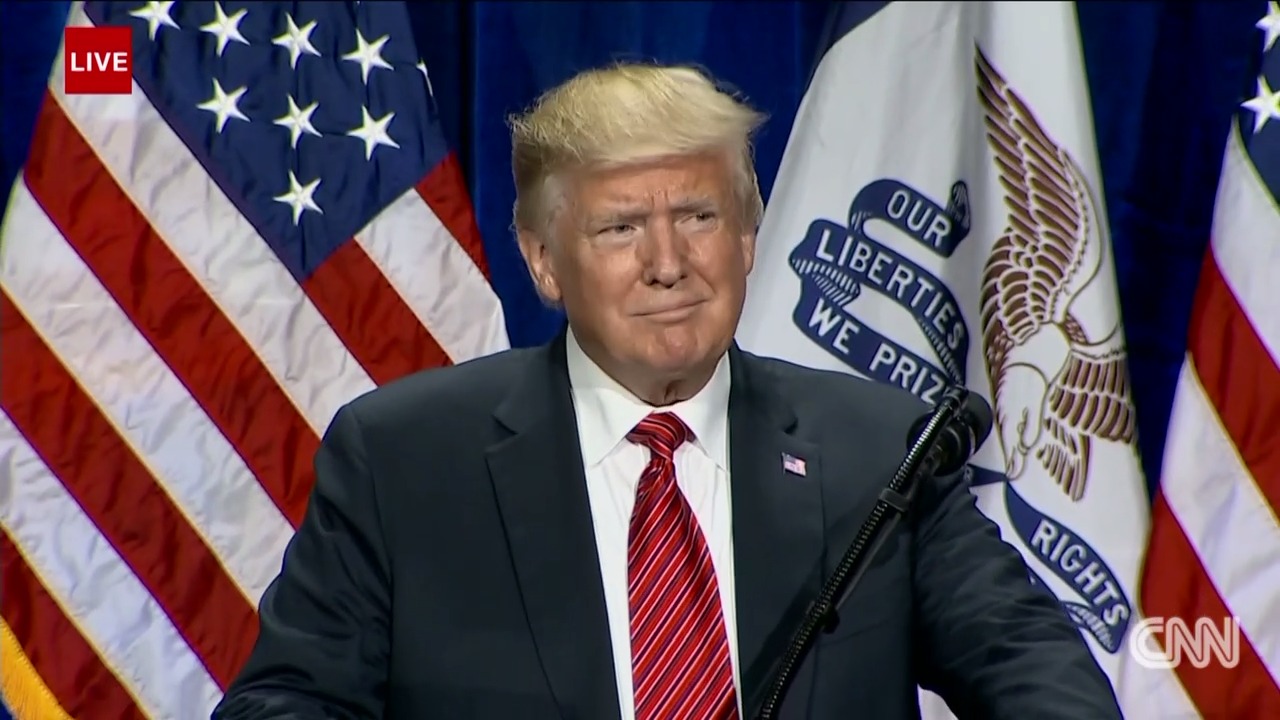 President Trump just took the stage in West Des Moines, where he's speaking at a dinner and fundraiser with the state's Republican Party.
"It is wonderful to be back in Iowa right here in the heartland of America," Trump said. "You know it is the heartland of America and I love it and we won it by a lot and we're going to win it again by a lot."
You can watch his speech live here.
Where's Biden? Democratic presidential candidate Joe Biden is also in eastern Iowa. You can watch that event live here.
7:32 p.m. ET, June 11, 2019
Tickets for tonight's GOP fundraiser with Trump start at $250
President Trump's fundraiser tonight will benefit the Iowa Republican Party, not his campaign, an aide said.
Tickets for the event started at $250 for general admission, with higher prices for a dinner with the President.
About his trip to Iowa: Trump's visit today serves as something of counter-programming for a state crowded with Democratic presidential candidates — nearly two dozen of whom have been campaigning for the Iowa caucuses early next year.
Trump, who has complained that Democrats are being treated more fairly by the press than he was, is intent on keeping the state in the Republican column in 2020.
Trump spent a significant amount of time in Iowa during the 2016 presidential campaign. He carried Iowa's six electoral votes, defeating Hillary Clinton 52% to 42%, a staggering turnaround after Barack Obama twice won the state.
7:46 p.m. ET, June 11, 2019
Here's what Joe Biden will say about President Trump tonight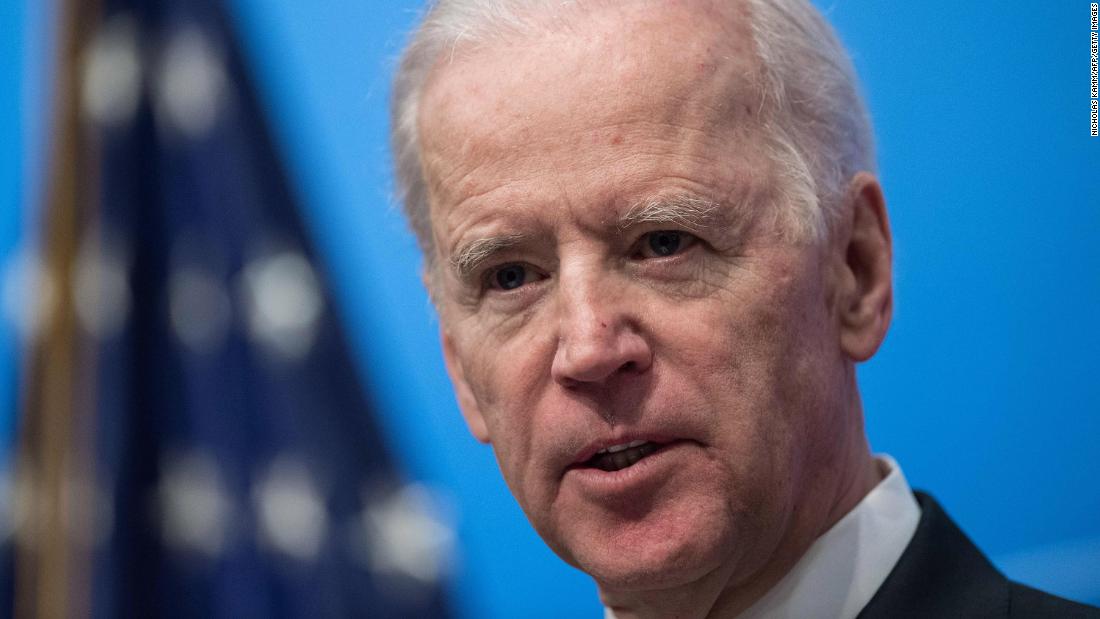 Democratic presidential candidiate Joe Biden is scheduled to speak in Iowa soon. President Trump is also about to give a speech in the state — at a separate event.
Earlier today, the former vice president released a copy of his prepared remarks. It's full of mentions to Trump. Here's a look at some of the key lines:
On China: "He thinks his tariffs are being paid by China. Any beginning econ student at Iowa or Iowa State could tell you that the American people are paying his tariffs. The cashiers at Target see what's going on — they know more about economics than Trump."
On climate change: "We're seeing devastating floods all across America — right here in Davenport. You've gone through it. Farmers all across Iowa can't plant their fields. Record flood levels, millions of dollars in damage and cleanup. And still Trump denies climate change."
On the border: "We see it at the border where Trump has ripped children from the arms of their parents and put them in cages. This isn't who we are."
On Trump's reelection campaign: "I've said many times that we can overcome four years of Trump — but if we give him eight years in the White House he will forever and fundamentally alter the character of this nation."
7:22 p.m. ET, June 11, 2019
Here's what's happening at tonight's fundraiser in Iowa
President Trump will be wheels up shortly from Council Bluffs for West Des Moines for the Republican Party of Iowa's "America First Dinner."
The party sold over 700 tickets to this evening's event (They were available for purchase to the general public). The President will participate in a photo line at a VIP reception before his remarks. 
Trump is scheduled to speak at 7:30 p.m. ET.
6:00 p.m. ET, June 11, 2019
In Iowa, Trump signs executive order "to promote agricultural biotechnology"
President Trump signed an executive order "to promote agricultural biotechnology" at an event in Iowa today.
Ahead of signing the order, Trump said it would "speed up reviews of biotechnology so that farmers can get access to critical scientific advances faster and reap the full benefits of American innovation for many years into the future."
Trump also toured Southwest Iowa Renewable Energy in Iowa today.
5:32 p.m. ET, June 11, 2019
Protester interrupts Biden at community event in Iowa
A protester interrupted former Vice President Joe Biden, a 2020 Democratic presidential candidate, during his community event in Mount Pleasant, Iowa.
The protester was heard yelling in the background during Biden's remarks about President Trump and Charlottesville.
The protester yelled, "You have blood on your hands, you have blood on your hands… no he is talking about the Ku Klux Klan… he supports the murder of unborn babies and he wants us to pay for it."
The crowd in the room started clapping, chanting and eventually drowned out the protester.
Biden continued speaking and went on to talk the US' standing in the world.
"The fact is that we have never had a president do or say anything like that, Republican or Democrat, since the Civil War and to draw a moral equivalence between those folks was just way out of hand, way out of reach," Biden said of Trump's remark after white nationalist violence in Charlottesville, Virginia, in 2017.
At the time, Trump said that there were "people that were very fine people on both sides."
In April, Trump said he was referring to supporters of the Confederate general Robert E. Lee when he said there were "fine people" on both sides.