Joe Biden elected president
4:14 p.m. ET, November 7, 2020
Here's a look at how people are celebrating Biden's win across the US
From California to New York, people are celebrating President-elect Joe Biden's projected win today.
Here's what those celebrations looks like:
California
Delaware
Florida
New York
Pennsylvania
Washington, DC
4:04 p.m. ET, November 7, 2020
DACA recipient calls Biden's victory a moment of "hope"
Ambar Pinto, a Deferred Action for Childhood Arrivals program recipient, celebrated Joe Biden's victory with scores of others in Washington, DC, this afternoon.
"It's a moment of a lot of emotion and a lot of hope," Pinto told CNN. "We took Trump out of office and now there's hope and a future for immigrants."
Some context: In early August, acting Homeland Security Secretary Chad Wolf told lawmakers he stands by the Trump administration decision to limit the DACA program following the Supreme Court's decision in June.
"In no way did the Supreme Court decision tell the department to process new DACA applicants," Wolf told the Senate Homeland Security Committee. Legal experts have opposed that argument, saying that the decision allowed for new applicants and a Maryland judge eventually directed the administration to take new applications.
In July, Wolf issued a memo saying that new applications for DACA, the Obama-era program that shields certain undocumented immigrants from deportation, would not be accepted and renewals would be limited to one year instead of two amid an ongoing review.
4:08 p.m. ET, November 7, 2020
Atlanta erupts in celebration after Biden's victory
From CNN's Leinz Vales
Supporters of President-elect Joe Biden and Vice President-elect Kamala Harris flocked to midtown Atlanta, Georgia, to celebrate their projected victory over President Trump and Vice President Mike Pence. 
"This is a very progressive, liberal, young, growing community of mid-town Atlanta and you can see right after we made our projection today, this area, which is the center of Atlanta started off in a spontaneous celebration," CNN's Gary Tuchman said as he stood among a large crowd of Biden supporters. 
"It has been absolutely jubilant and it's quite a unique celebration seeing this very busy section of Atlanta so full of people having a good time celebrating," Tuchman added. 
Remember: CNN is yet to project a winner in Georgia. There are 16 electoral votes at stake in the state.
See video from Atlanta:
4:02 p.m. ET, November 7, 2020
Kamala Harris spoke with Pelosi and Hillary Clinton
From CNN's Arlette Saenz
Along with her conversation with President Barack Obama, Vice President-elect Kamala Harris also spoke with House Speaker Nancy Pelosi and former Secretary of State Hillary Clinton today, a campaign aide says.
3:58 p.m. ET, November 7, 2020
Giant eagle seen in the streets of Philadelphia because America
A giant man-made eagle was seen parading around the streets of Philadelphia, Pennsylvania, following President-elect Joe Biden's victory over President Trump today.
The city is home to the Philadelphia Eagles NFL team which won the Super Bowl in 2018 and currently has a record of 3-4-1.
3:51 p.m. ET, November 7, 2020
Cindy McCain congratulates Biden: "I know Joe will unify the country toward a better future"
3:39 p.m. ET, November 7, 2020
Biden supporters flock to Miami's iconic Freedom Tower
From CNN's Sara Weisfeldt and Rosa Flores
Hundreds of Joe Biden supporters flocked to the iconic Freedom Tower in downtown Miami today to celebrate his victory over President Trump.
Freedom Tower is considered the "Ellis Island of the South" for its role in welcoming Cubans who fled Fidel Castro's communist regime.
The Cuban-American vote is credited with slimming Biden's edge in Miami-Dade County.
And on the day Biden was projected to be president, hundreds drove to Freedom Tower to honk their horns, wave their "Biden 2020" signs, while others sang "We Are The Champions."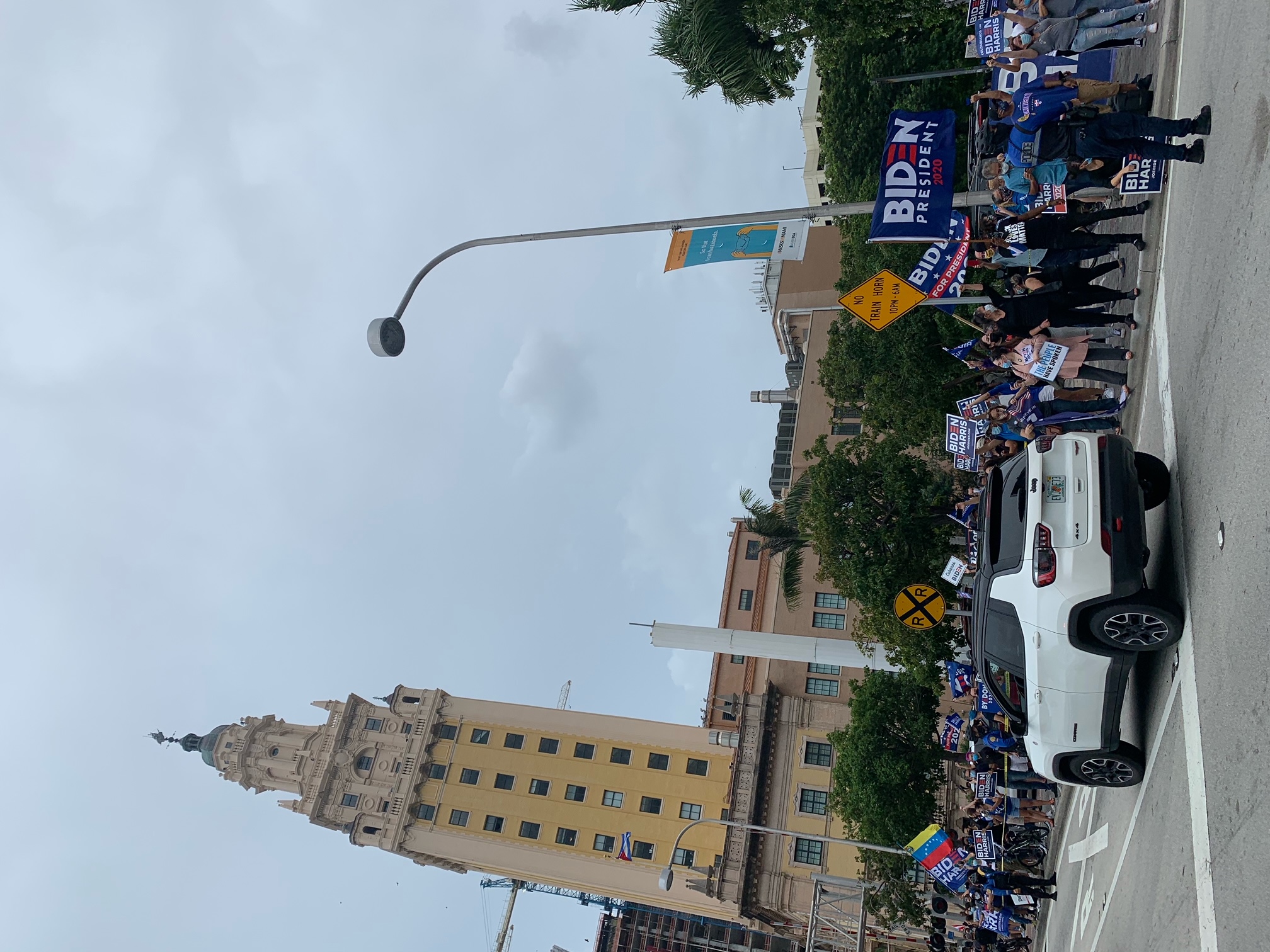 4:10 p.m. ET, November 7, 2020
Delaware Democrat celebrates hometown President-elect Joe Biden
From CNN's Leinz Vales
Delaware Sen. Chris Coons said his state is "jubilant" about the Joe Biden and Sen. Kamala Harris' victory. 
"There were tears of joy, cow bells, cars honking, people cheering in my neighborhood when the announcement was made that a number of major news organizations had called the election for Joe Biden," Coons told CNN's Jake Tapper.
The first state in the union has never elected a president in United States history, Biden will be its first.
"Joe Biden is not just a Delawarean," Tapper said. "He is the most famous Delawarean in the world." 
Coons, one of Biden's first congressional endorsers for his presidency and his successor in the Senate, went on to explain why the Biden-Harris victory is "historic."
"This is an historic day not just for Joe and Delaware, but for Kamala Harris and for all of us who are excited to see the first Black woman who is the daughter of immigrants ascend to the vice presidency," Coons said.
Watch Sen. Coons reaction:
3:32 p.m. ET, November 7, 2020
Kamala Harris' sister on her win: "I am so very proud of you, sis"
From CNN's Jasmine Wright
Vice President-elect Kamala Harris' sister Maya tweeted to her sister "Madam Vice President-elect Kamala Harris. I am so very proud of you, sis."
Read the tweet: