Trump goes to Alabama after deadly tornadoes
4:10 p.m. ET, March 8, 2019
Our live coverage has ended. Scroll through the posts below to read more about Trump's visit to Alabama following the deadly tornadoes.
3:06 p.m. ET, March 8, 2019
President Trump stops at memorial for the tornado's 23 victims
During his visit to Lee County, Alabama, President Trump and first lady Melania Trump stopped at a memorial to honor the 23 people who died during last weekend's tornadoes.
They stood in front of the 23 white crosses, each with a red heart and flowers. The victims ranged in age from 6 to 89.
Funerals will continue this week for the victims. Several donors, including local groups and the Poarch Band of Creek Indians tribe, have donated tens of thousands of dollars to assist in the funeral fund.
2:16 p.m. ET, March 8, 2019
Trump walks through devastated Lee County with survivors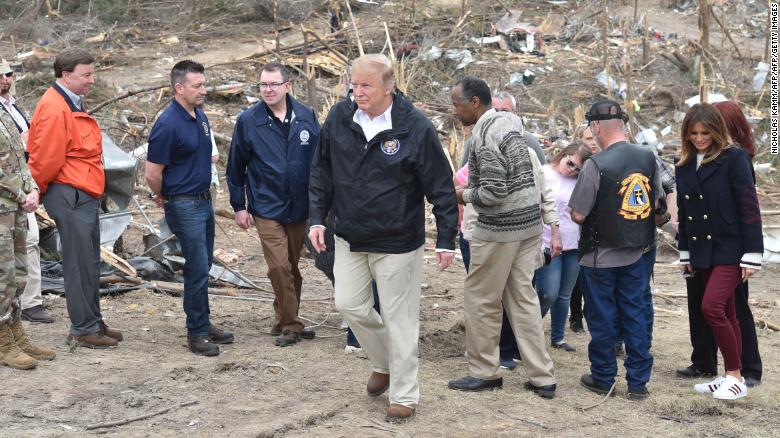 On Friday afternoon, President Donald Trump and first lady Melania Trump visited tornado-devastated areas in eastern Alabama.
He made a few stops in Lee County, which bore the brunt of the damage, including the city of Opelika and the community of Beauregard. There, he met with survivors and volunteers working on relief efforts.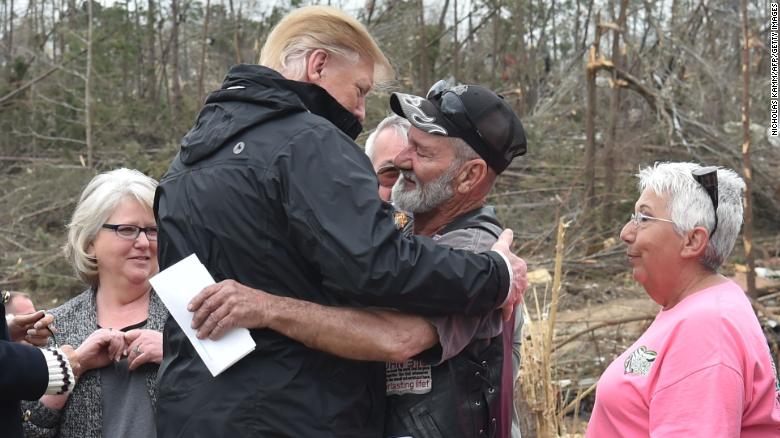 The tornadoes last weekend killed at least 23 people and injured dozens. The victims ranged in age from 6 to 89, with four children killed, Lee County Coroner Bill Harris said.
Twelve tornadoes struck the state and about 30 tornadoes hammered the Southeast that day, said Chris Darden of the National Weather Service office in Birmingham.
1:45 p.m. ET, March 8, 2019
President and first lady meet tornado survivors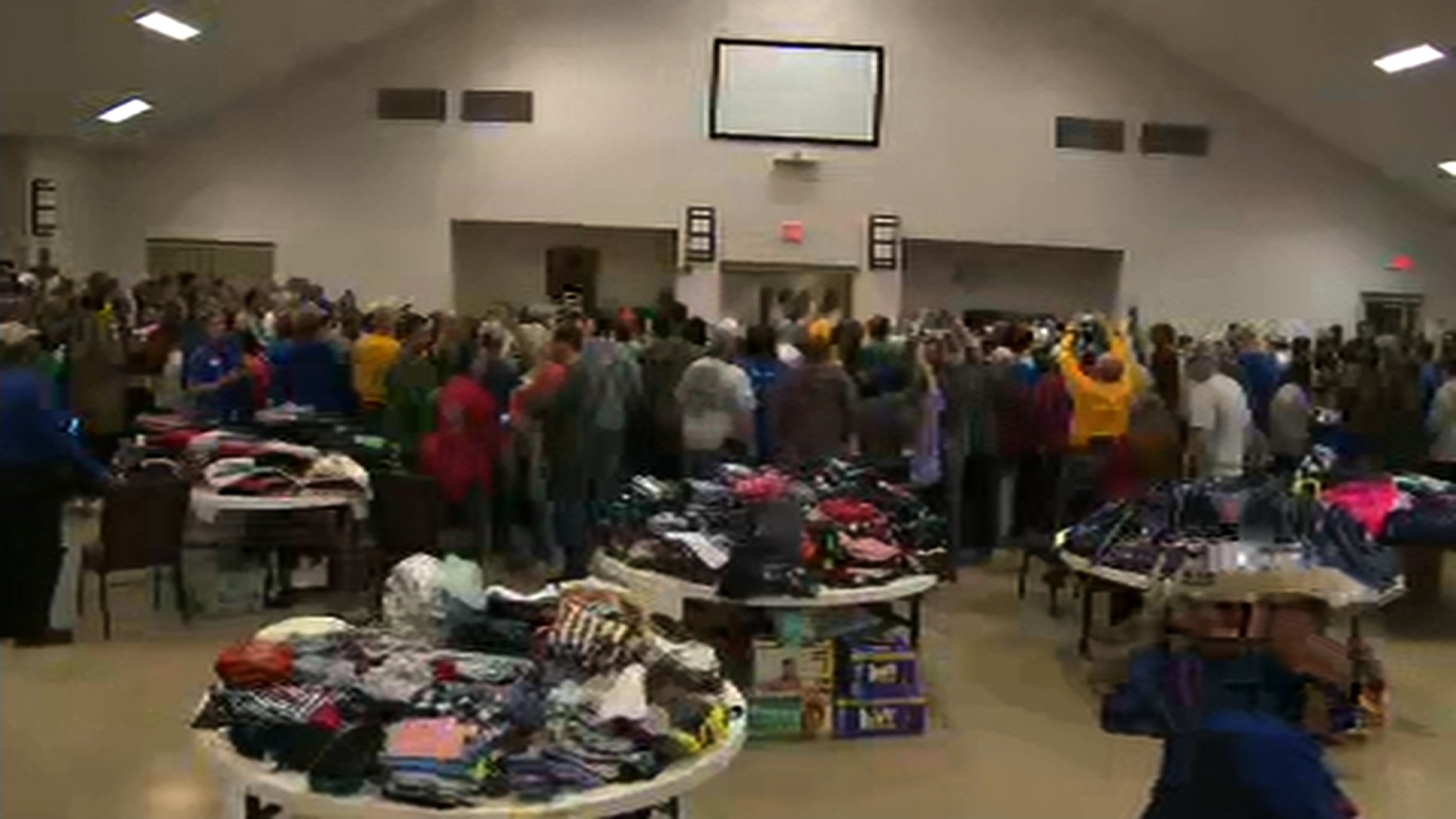 President Trump and first lady Melania Trump are visiting the disaster relief center at Providence Baptist Church in Opelika, Alabama.
They will meet volunteers and survivors, and thank first responders who are contributing to the the ongoing relief efforts.
The Trumps are also joined by Reverend Rusty Sowell, senior pastor of Providence Baptist Church, and other officials, including several Alabama congressmen and Alabama Gov. Kay Ivey.
1:18 p.m. ET, March 8, 2019
Here's what it looked like when the President flew over tornado-torn areas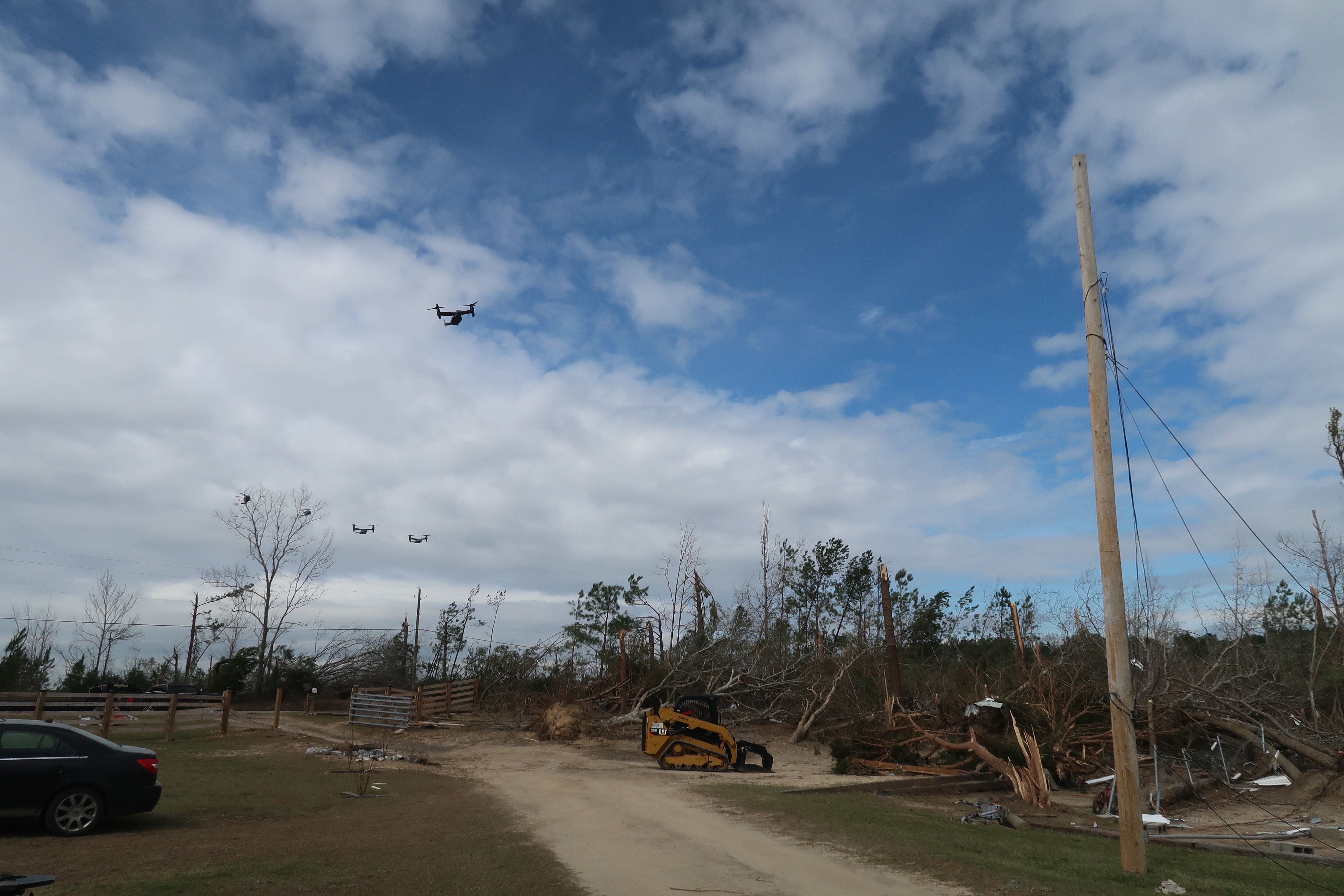 President Trump just went on a flyover over Lee County, Alabama. 
The President and First Lady Melania Trump are meeting with individuals impacted by the recent tornadoes in Opelika, Alabama.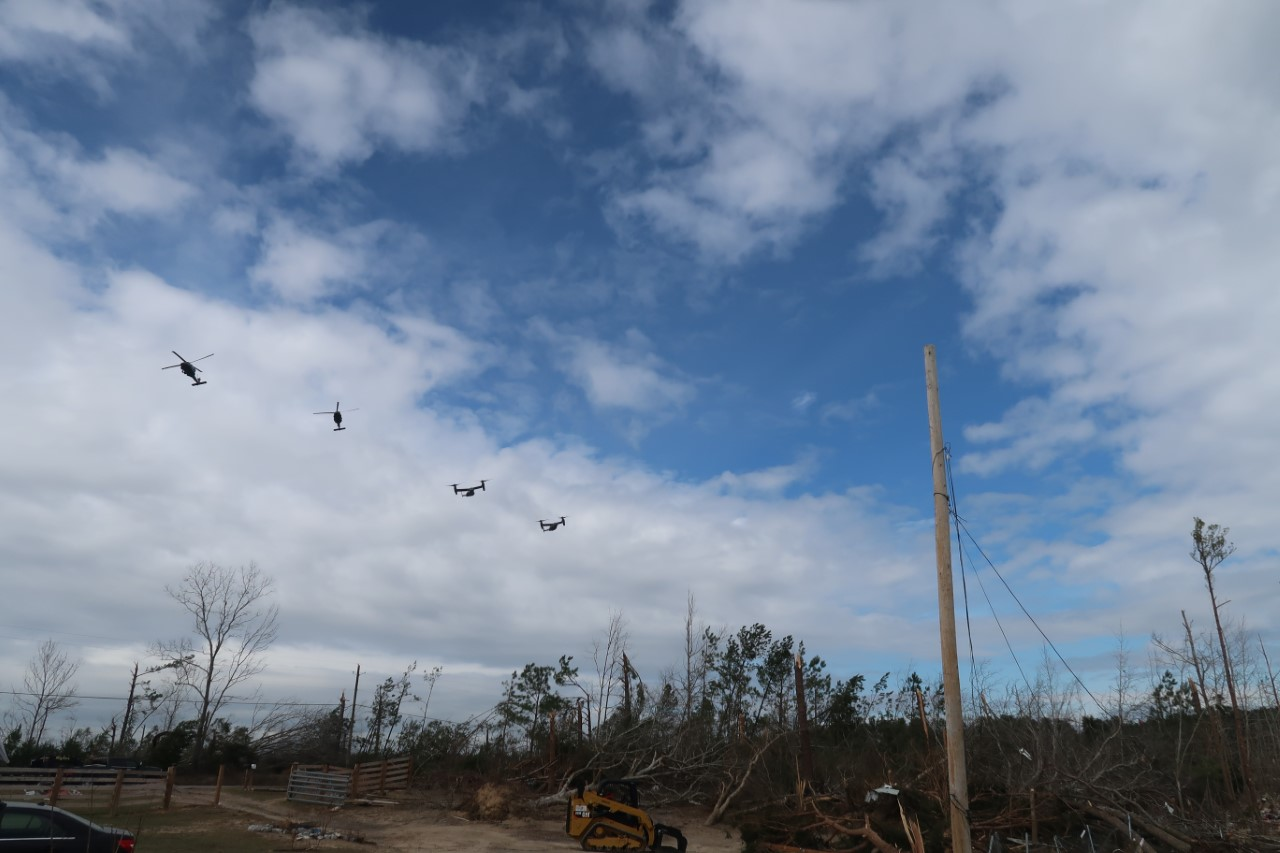 11:58 a.m. ET, March 8, 2019
Trumps arrive in Georgia to tour storm damage
President Trump and the first lady have arrived in Ft. Benning, Georgia, and they will will soon head to Lee County, Alabama, to tour storm damage.
But as they touched down, this news broke: White House communications director and Assistant to the President Bill Shine resigned after just nine months on the job. "Bill continues to support President Trump and his agenda and will serve as Senior Advisor to the 2020 re-election campaign," the White House said in a statement.
11:52 a.m. ET, March 8, 2019
Trump tweets on Cohen from Air Force One: "He lied!"
President Trump is on Air Force One on his way to Alabama to survey tornado damage, but at the moment his mind is somewhere else.
In a tweet, Trump claimed that his former lawyer Michael Cohen "directly asked" him for a pardon and therefore lied under oath when testifying before Congress last week. 
 "He lied! Additionally, he directly asked me for a pardon. I said NO. He lied again! He also badly wanted to work at the White House. He lied!" Trump tweeted.
What this is all about: Cohen said in his open testimony before the House that he "never" asked for a pardon.
"I have never asked for it, nor would I accept a pardon from President Trump," Cohen said before the House Intelligence Committee.
The prospect of a pardon for Cohen was raised more than once between Cohen's lawyer and attorneys representing the President, according to multiple sources familiar with the matter. The depth of those discussions — including whether a pardon was truly on the table in exchange for Cohen's cooperation — is being disputed publicly among the different factions.
Cohen told Congress over the past week that his former attorney spoke separately with two attorneys for the President, Rudy Giuilani and Jay Sekulow, about the prospect of a pardon, the sources said. Cohen also testified to Congress that he spoke directly to Sekulow about pardons, according to the sources, which Sekulow denies.