Trump announces reelection bid at Florida rally
9:52 p.m. ET, June 18, 2019
Our live coverage of President Trump's campaign kickoff rally has ended. Scroll through the posts below to see how it unfolded or follow CNN Politics.
9:55 p.m. ET, June 18, 2019
Trump wraps up his official kickoff rally
 President Trump's Orlando rally has wrapped up after more than 75 minutes.
Though it was billed as the official kickoff rally to his 2020 campaign, it was short on fresh material, the President repeatedly slammed 2016 rival Hillary Clinton. 
9:47 p.m. ET, June 18, 2019
Behind Trump's claim that Democrats have an "open borders" agenda
President Trump accused the Democrats of having an agenda of "open borders." 
Facts first: No prominent Democrat is campaigning on an agenda of literally open borders. (Trump deploys this claim with varying degrees of literalism, sometimes making clear he means it literally and sometimes not.)
While Democrats have roundly opposed Trump's border wall, many have supported increased spending for border security that would fund technology and more border patrol agents.
9:35 p.m. ET, June 18, 2019
Trump briefly mentions Biden and calls him "Sleepy Joe"
Though he has repeatedly slammed Hillary Clinton tonight, President Trump made two brief references to 2020 rival Joe Biden in Orlando at his 2020 kickoff rally. 
While touting the economy under his administration, Trump referenced former President Barack Obama's "magic wand" comments regarding the GDP. 
"We'll tell Sleepy Joe that we found the magic wand. Sleepy guy," he said, quickly moving on to the next portion of his speech.
He also made a passing reference to Biden earlier when he was talking about China.
"We have never taken in 10 cents from China. We would lose $500 billion a year with China. We rebuilt China. They have done a great job, but they took us for suckers. And that includes Obama and Biden. They took us for suckers," Trump said.
He did not mention any of the other Democratic contenders by name. 
9:28 p.m. ET, June 18, 2019
Trump recognizes Sarah Sanders: "We're gonna miss her"
President Trump appeared to again break from prepared remarks to recognize outgoing press secretary Sarah Sanders, who tweeted earlier today that this was her last trip aboard Air Force One as a member of the White House staff. 
"My only special interest is you — I don't have a special interest, I don't care. And by the way, by the way, a woman who has been so good so talented so wonderful and we're sort of going to be losing, I have a feeling she's going to be running for a certain gubernatorial position," Trump said
He continued: "But a woman who's a special woman, and her father, by the way, he's out there fighting for us all the time, Sarah Huckabee Sanders." 
Trump then beckoned her to the stage for brief remarks, where she appeared to receive the biggest applause of the evening. 
Her voice appearing to crack, Sanders called it the "honor of a lifetime" and said she had the opportunity to sit on "front row of history and watch you drastically change our country for the better." 
She told the crowd she will spend time with her kids but will continue to be a strong voice for the administration. 
"We're gonna miss her," he said as he re-took the podium, calling Sanders a "warrior."
9:24 p.m. ET, June 18, 2019
Trump launches a new campaign — but his message is the same
President Trump's campaign branded tonight's rally as a blockbuster re-election launch. They jazzed it up with new signs, a live band outside the venue and even trotted out the First Family and Vice President on stage for show. 
But the minute President Trump took the stage, the crowd at the Amway Center heard the same message that Trump supporters have gotten for the last four years. 
Immigration. Fake news. Democrats. Hillary Clinton. Even shot at the Academy Awards. The President is relying on his old playbook and continuing to air his grievances, just like he did before. 
9:32 p.m. ET, June 18, 2019
Trump takes credit for gains in US energy production
President Trump took credit for the US being the "No. 1 producer of energy in the world — because of what we've done, right now." 
Facts first: The US Energy Information Administration said in 2017 that 2016 was the fifth straight year the US had been the "world's top producer of petroleum and natural gas hydrocarbons." Under Trump, the US has become the world leader in crude oil production.
9:14 p.m. ET, June 18, 2019
Trump polls crowd on 2020 slogan: Keep America Great is the clear favorite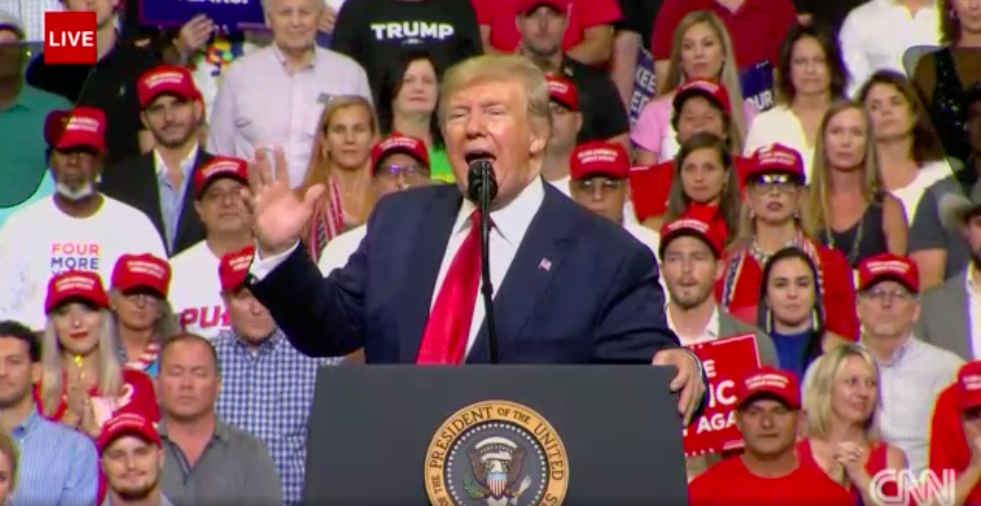 President Trump spent several minutes during his rally tonight musing about which slogan to pick for his 2020 campaign: Make America Great or Keep America Great.
So, in Trump fashion, he decided to poll the crowd — and Keep America Great was the clear winner, based on cheers.
"My ear drums will never be the same," Trump said after the cheers for Keep America Great rang out in Amway Center.
But before he polled the crowd, Trump laid out the stakes, making clear he is attached to the Make America Great Again slogan.
"How do you give up the greatest of all time?" Trump asked. "And if I lose people are going to say, 'What a mistake that was!'"
9:15 p.m. ET, June 18, 2019
Trump on a trade deal with China: "We'll see what happens"
President Trump noted that he spoke with China's President Xi today but remained noncommittal on a deal.
Trump formally announced earlier today that he and Xi will have a meeting at the G20 later this month and trade talks will resume. 
Tonight, he called Xi a "terrific person."
As for a deal, he said, "We'll see what happens," reiterating that he wants a "good deal and a fair deal or we're not going to have a deal at all — and that's okay, too."
He also responded to what he said was criticism from "fake news" (but actually, economists) regarding Americans ultimately paying the price for China tariffs, claiming to his supporters that the US is "taking in billions" from China and "You're not paying much, if anything at all, in the case of China."
In addressing trade with China, Trump said the US has had a regular $500 billion trade deficit with China. 
Facts first: The US trade deficit with China has never once been $500 billion. Accounting for trade in both goods and services, it was $379 billion in 2018, and a record $419 billion in goods trade alone.