President Trump meets with Japan's prime minister
8:40 p.m. ET, April 18, 2018
Our live coverage has ended. Scroll down to read about Japanese Prime Minister Shinzo Abe's trip to President Trump's Mar-a-Lago estate.
8:29 p.m. ET, April 18, 2018
Longtime Trump lawyer warns the President that Michael Cohen could turn on him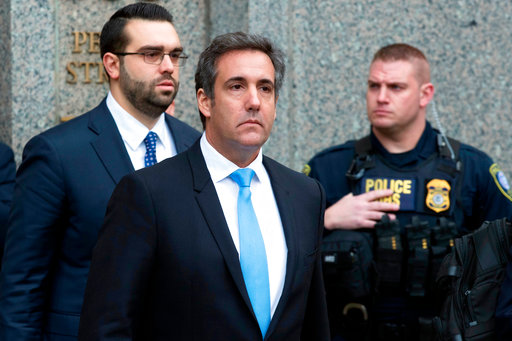 Jay Goldberg, a longtime lawyer for Donald Trump, said he warned the President to be careful about his personal lawyer Michael Cohen, whom he predicted could end up cooperating with prosecutors.
Goldberg, who negotiated the President's divorces from Ivana and Marla Trump decades ago, said he received a call from the President on Friday seeking advice about Cohen.
Goldberg said he told the President that "anybody who is facing 30 years never stands up."
"Without exception, a person facing a prison term cooperates," Goldberg said.
He also warned Trump that in addition to cooperation, the person "may also wear a wire."
Goldberg said the President had no response.
He also told Trump not to speak to special counsel Robert Mueller.
"They can jam you up even if you're telling the truth," he told the President.
He also recommended an attorney to add to the President's team.
The Wall Street Journal first reported the conversation.
7:36 p.m. ET, April 18, 2018
Japan agrees to start trade talks
Japan's Prime Minister Shinzo Abe, speaking during a joint news conference this evening, said he has agreed to "start talks for free, fair and reciprocal trade" with the US.
"First of all, we must further strengthen the economic ties between the two countries," Abe said.
Abe mentioned that under Trump administration exports from US have already been increasing significantly.
"In order to benefit both Japan and the US, we will further expand trade and investment between the two countries," he said.
Why Trump wants to talk trade with Japan
Japan sells far more goods to the United States than it buys back, creating a surplus of nearly $70 billion at the end of last year. Countries that run big surpluses with the United States -- especially China, which has by far the biggest -- have been frequent targets of Trump's ire.
Unlike many American allies, Japan is still subject to new US tariffs on exports of steel and aluminum to the United States.
7:09 p.m. ET, April 18, 2018
Trump says nobody has been "tougher" on Russia than him
President Trump insisted that new sanctions would be slapped on Russia when the time is right.
"We'll do sanctions as soon as they very much deserve it," Trump said at the end of a news conference in Florida.
Stepping back to his microphone after concluding his event with his Japanese counterpart, Trump maintained he had imposed tough punishment on Moscow for its destabilizing actions.
"There's been nobody tougher on Russia than President Donald Trump," Trump said.
6:55 p.m. ET, April 18, 2018
Japan PM Abe: "Maximum pressure" should be maintained on North Korea
Japanese Prime Minister Shinzo Abe said that North Korea should not be rewarded for engaging in dialogue and that "maximum pressure" should be maintained on Pyongyang towards the goal of denuclearization of the Korean peninsula.
Prime Minister Abe was speaking with the aid of a translator at a joint press conference with US President Donald Trump in Palm Beach, Florida on Wednesday. Abe said that the diplomatic relationship between Japan and North Korea could "normalize" if North Korea "takes the right path."
He said, "For that to happen, a comprehensive resolution of multiple concerns, including abduction, nuclear and missiles, will be the fundamental pre-condition to the upcoming historic US-North Korea summit. We strongly hope for a breakthrough in the situation."
US President Donald Trump said he will be meeting with Kim Jong Un in the coming weeks to discuss the denuclearization of the Korean peninsula. Trump said he will be doing everything possible to make the meeting a "tremendous success". He also recognized one of Abe's top political concerns -- the issue of Japanese citizens abducted by North Korea.
6:57 p.m. ET, April 18, 2018
Trump offers no signals on whether he'll fire Mueller or Rosenstein
President Trump on Wednesday downplayed speculation he's moving to fire special counsel Robert Mueller or deputy attorney general Rod Rosenstein. 
"They've been saying I'm going to get rid of them for the last three months, four months, five months, and they're still here," Trump told reporters in Florida.
He maintained the special counsel's look into whether his campaign colluded with Russia was a "hoax," and insisted he'd been fully cooperative with investigators.
"We are giving tremendous amounts of paper," Trump said. "This was really a hoax created largely by the Democrats as a way of softening a loss."
He continued: "We are hopefully coming to an end. It has been a very bad thing for our country."
8:11 p.m. ET, April 18, 2018
President Trump vows to raise abduction issue with Kim Jong Un
President Trump vowed to raise the issue of abducted Japanese citizens during his planned summit with Kim Jong Un, a key request of Prime Minister Shinzo Abe.
"Abduction is a very important issue for me because it's very important for your Prime Minister," Trump said in Florida.
Trump said Prime Minister Shinzo demonstrated a high "level of enthusiasm" on the issue during dinner on Tuesday evening.
"I said to him then and there when we were at the table we will work on that issue," Trump said. "We will try to bring those folks home."
The spate of abductions
According to the Japanese government, North Korean operatives kidnapped at least 17 Japanese citizens in the late 1970's and early 1980's, possibly dozens more.
Some were kidnapped alone, while walking to and from school. Others were taken in pairs while out on dates, including a couple snatched from the beach after walking to see the sunset.
In 2002, North Korea admitted to the kidnappings for the first time but allowed only five abduction victims to return home to Japan. Information on the remaining 12 was sketchy at best.