10:15 p.m. ET, April 16, 2018
Our live coverage has ended. Scroll down to see how the day unfolded.
10:15 p.m. ET, April 16, 2018
Sean Hannity: "I never paid Michael Cohen for legal fees"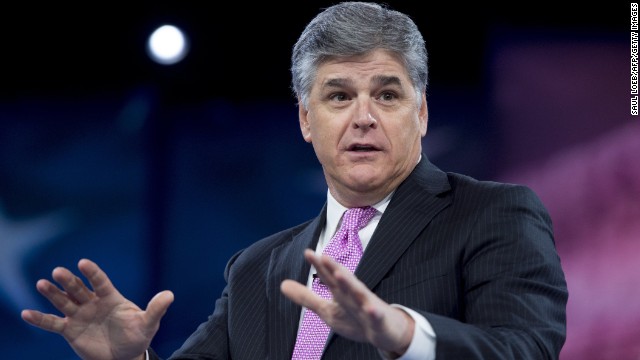 Sean Hannity reiterated tonight on his Fox News show that Michael Cohen never represented him in legal matters.
"I never retained his services," he said. "I never received an invoice. I never paid Michael Cohen for legal fees. I did have occasional brief conversations with Michael Cohen. He is a great attorney about legal questions I had, or I was looking for input and perspective."
He continued: "My discussions with Michael Cohen never rose to any level that I needed to tell anyone that I was asking him questions. To be absolutely clear, they never involved any matter, any — sorry to disappoint so many — matter between me or third party, a third group at all. My questions exclusively almost focused on real estate."
Hannity's remarks come hours after he was identified as Cohen's mystery third client. Cohen's lawyers had publicly identified President Trump and former GOP fundraiser Elliot Broidy as clients, but revealed Hannity's name only after the judge ordered them to.
Earlier today, Hannity, speaking on his radio show, said he never paid fees for Cohen's services.
"What else can you say except that, 'I never gave him a retainer, never received an invoice, never paid any fees,'" he said. "I might have handed him 10 bucks. 'I definitely want attorney-client privilege on this.' Something like that."
Law professor Alan Dershowitz, who was a guest on Hannity's show tonight, called him out for not disclosing his relationship with Cohen.
"Sean, I do want to say that I really think that you should have disclosed your relationship with Cohen when you talked about him on this show," he said during a segment. "You could have said that you had asked him for advice or whatever. But I think it would have been much, much better had you disclose that relationship."
Hannity told Dershowitz that his relationship with Cohen was minimal. He said their relationship was about real estate, not politics.
8:53 p.m. ET, April 16, 2018
Stormy Daniels' attorney on Hannity revelation: "It was like ... a bomb went off" inside hearing 
Stormy Daniels' attorney Michael Avenatti said "it was like ... a bomb went off" inside the courtroom today when an attorney revealed Fox News host Sean Hannity was Michael Cohen's mystery third client.
"I mean, there were gasps," he said. "There were eight to 10 journalists who all of a sudden abruptly stood up." 
Cohen had told the court earlier he had at least 10 clients between 2017 and 2018, including the President, and the former GOP fundraiser Elliot Broidy who acknowledged paying $1.6 million to a Playboy model with whom he had an affair.
The disclosure came in a hearing where Judge Kimba Wood also ordered prosecutors to turn over material seized in a raid last week to Cohen's legal team so they can say how much they believe is subject to attorney-client privilege.
8:18 p.m. ET, April 16, 2018
Sketches from today's court hearing
Artist Jane Rosenberg created these sketches today during Michael Cohen's court hearing in New York.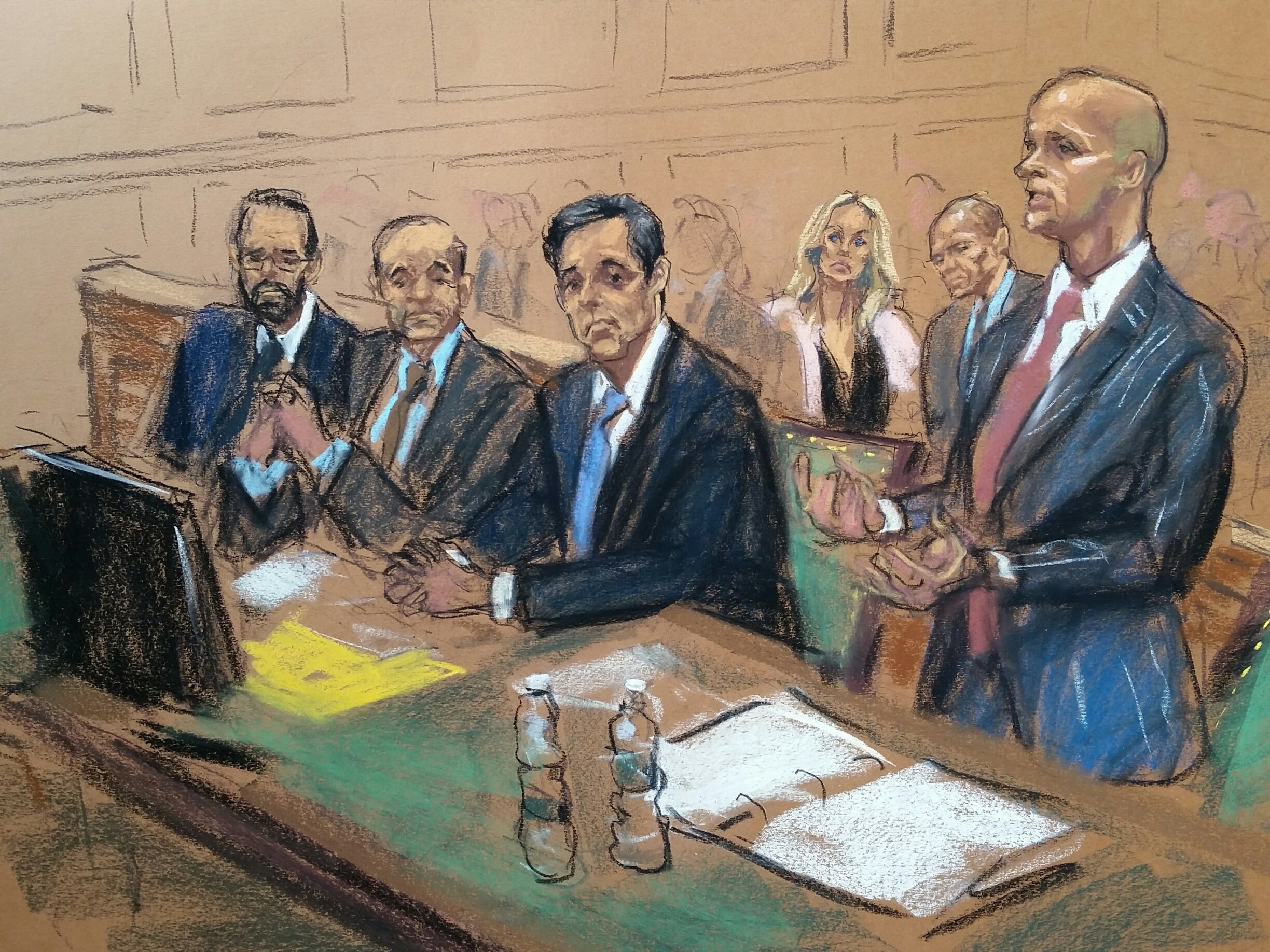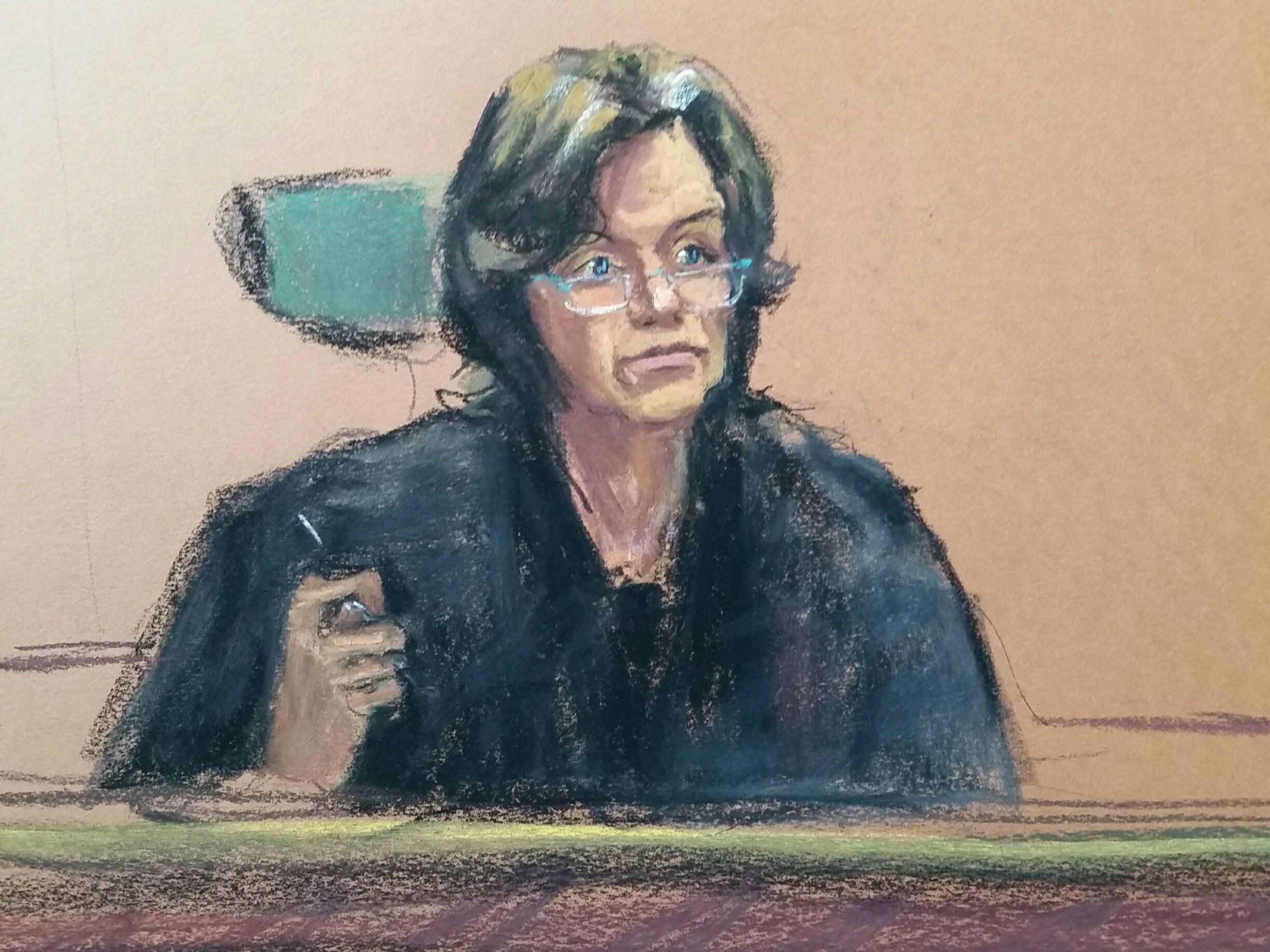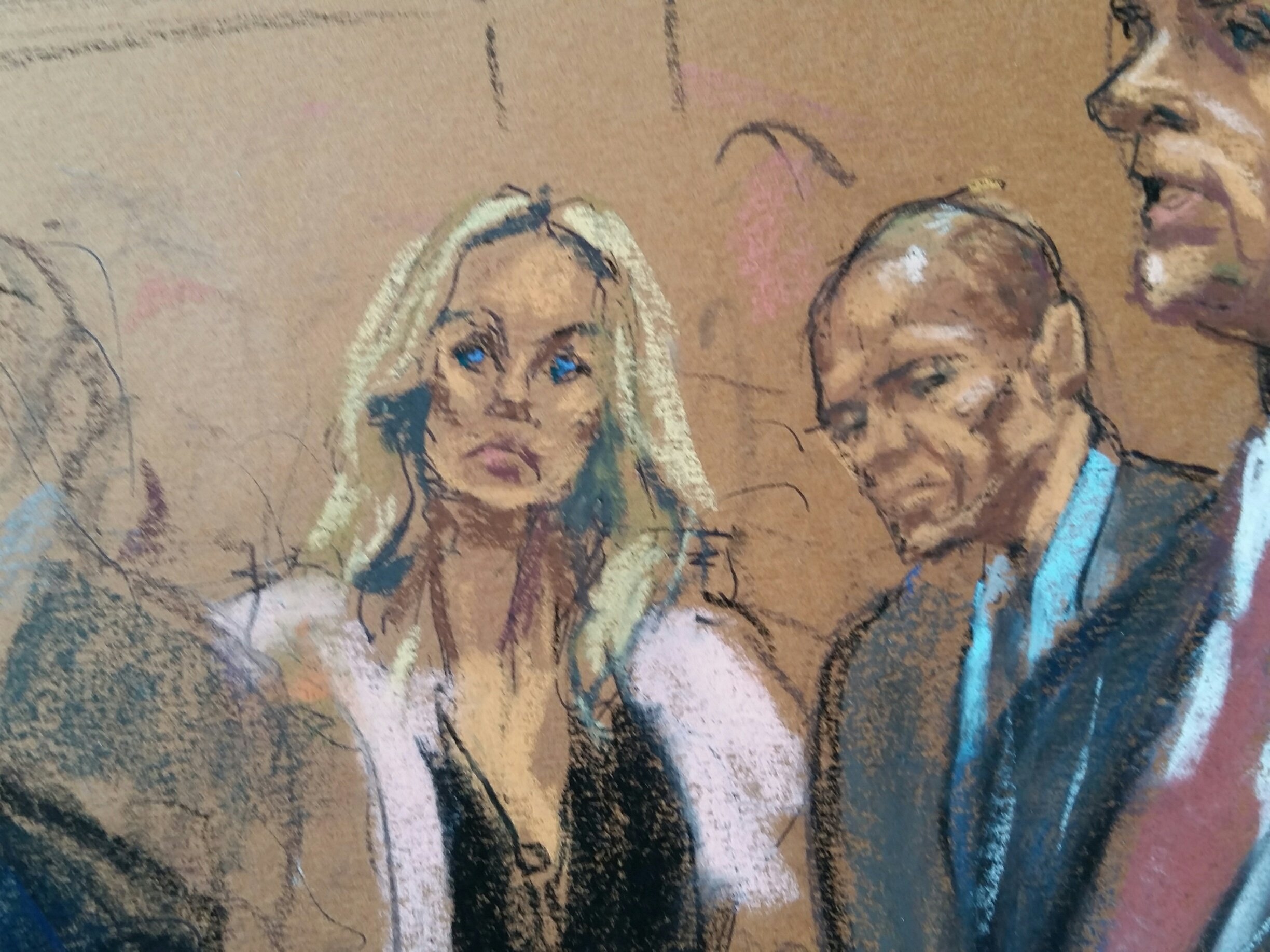 8:22 p.m. ET, April 16, 2018
Trump's legal team is "pleased" with judge's decision in Cohen case, official says
From CNN's Jim Acosta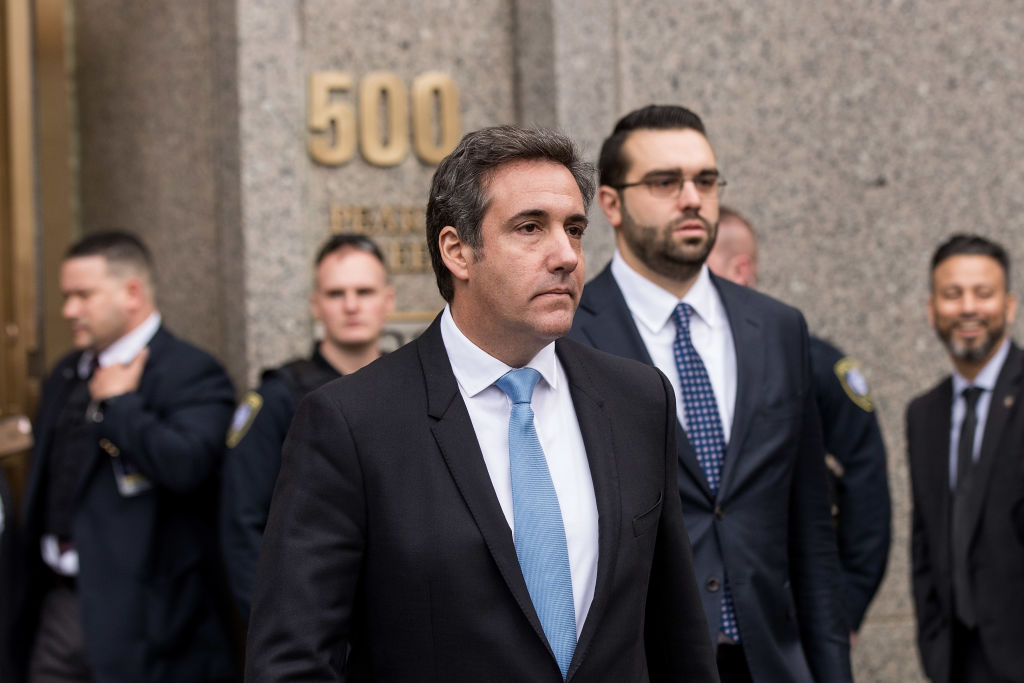 President Trump's legal team was "pleased that the judge took the matter seriously" in today's hearing regarding his personal lawyer Michael Cohen, a White House official said.
The official said the ruling means "the judge, not the prosecutors, is running the show."
As for the revelation that Cohen was representing Fox News host Sean Hannity, the official said the President's team was not concerned about it. The official said the relationship between Cohen and Hannity, while interesting, does not appear to impact the President's case. 
7:55 p.m. ET, April 16, 2018
What you need to know about today's decision in the Cohen hearing
A federal judge in New York heard arguments from Michael Cohen's attorneys today, following FBI raids last week on his office, home and hotel room.
After hearing from his attorneys, here's what the judge decided:
— Judge Kimba Wood allowed Cohen and President Trump to review material seized in the FBI raids, so they can weigh in on how much of it is subject to attorney-client privilege.
— She also rejected Cohen's request for a temporary restraining order. Cohen's attorneys had filed an order on Friday, asking the court to stop federal prosecutors from using some of the records they seized.
— A government "taint team" of investigators separate from the investigation is permitted to do a mechanical keyword search to determine what material is protected.
— The judge will then decide whether the government "taint team" or an appointed special master would ultimately review the seized materials before prosecutors can use the evidence in the investigation.
— Meanwhile, investigators will not review the seized material. 
What happens now
The government will begin the process of providing materials to Cohen's team. This could take more than a week to process.
Cohen's lawyers will work with Trump's lawyers to provide access to all the material relevant to the President. They will get to review the material. 
6:07 p.m. ET, April 16, 2018
Madeleine Albright: Trump is the "most undemocratic President" in modern US history
Former Secretary of State Madeleine Albright told CNN's Jake Tapper today that President Trump is "the most undemocratic President in modern American history."
"That his instincts are anti-Democratic. That he has done everything to malign the press. That he has underplayed the whole role of the judicial department," she said. "What he really does is make clear that he doesn't understand the way a Democratic system works and that gives a lot of comfort to those authoritarian, proto-fascist people that are out there. And he is not playing the role the US needs to play, which is the leader of the free world."
Albright, whose new book, "Fascism: A Warning," was released last week, said Trump is giving comfort to leaders who don't support democracy.
"It used to be that the United States makes clear what democracy is about, freedom of speech and independent judiciary and not propaganda and the number of different ways," she said. "So we are not carrying that out. That seat in America now is empty."
9:15 p.m. ET, April 16, 2018
Sean Hannity has few rules, and now Fox News has a problem
Analysis by Brian Stelter
Sean Hannity operates at Fox News with few rules. He seemingly says and does whatever he wants, even when it embarrasses his own colleagues.
With his high ratings come huge headaches for Fox.
Case in point: Monday's courtroom revelation about Hannity being a client of President Trump's lawyer Michael Cohen.
While his off-air relationships might be just a logical extension of Hannity's on-air cheerleading for Trump, it still came as a surprise, immediately raising questions about both Hannity and Fox.
By any standards of any normal newsroom, the Cohen-Hannity relationship is a glaring conflict of interest.
5:32 p.m. ET, April 16, 2018
Cohen's attorney: His life was "turned upside down"
From CNN's Kara Scannell
Stephen Ryan, an attorney for Michael Cohen, said Trump Organization materials were seized in the FBI raid of his office last week.
He added that Cohen's "life has been turned upside down."
Ryan also called the investigations by Congress and the special counsel into whether there was collusion between the Russians and the Trump campaign a "dry hole."