CNN hosts 2020 town hall at SXSW
10:42 p.m. ET, March 10, 2019
Our live coverage of the three CNN town halls from Austin, Texas, has concluded for the night. Get caught up by scrolling through our posts below, or visit CNN Politics for more.
10:11 p.m. ET, March 10, 2019
Buttigieg hung around after his town hall and met with voters
Pete Buttigieg, the mayor of South Bend, Indiana, remained at the Moody Theater to meet with voters after his town hall wrapped up tonight.
He shook hands with voters and spoke with them briefly.
10:08 p.m. ET, March 10, 2019
Pete Buttigieg talks abolishing the electoral college and changing the Supreme Court
South Bend Mayor Pete Buttigieg defended his position on abolishing the electoral college Sunday at CNN's town hall, stating that the presidential candidate "who gets the most votes ought to be the person that wins."
Buttigieg has made this position central to his 2020 pitch and Democrats are moved by it, in part, because Hillary Clinton received over 3 million more votes in the 2016 election.
"We ought to make sure that everybody has the same voice," he said. "In Indiana write live because our state is very conservative, most years we have no voice at all in the presidential process. The same is true for some big states and some small states, some because they are liberal. All of them disfranchised and without a voice in the presidential process."
Buttigieg also suggested upping the number of Supreme Court justices from nine to 15.
Here's why he said wants to do that:
"What we need to do is stop the Supreme Court from sliding toward being viewed as a nakedly political institution. I'm for us contemplating whatever policy options will allow that to be possible. One of them involves having 15 instead of 9 justices, but I'm not just talking about suppose I get elected as president and daring the next president who might be conservative to throw on a couple more. That's the last thing we want to do. What we need to do is stop every vacancy from becoming this apocalyptic battle that harms the country."
9:45 p.m. ET, March 10, 2019
Buttigieg slams John Bolton and suggests he shouldn't be allowed near the Situation Room
South Bend Mayor Pete Buttigieg slammed National Security Adviser John Bolton, suggesting that someone that was involved in the run up to the Iraq War shouldn't be "allowed that near the Situation Room to begin with."
Buttigieg did not mention Bolton by name, but when asked a question about the conflict in Venezuela, the mayor and veteran of the Iraq War accused Bolton of "carelessly" throwing out the possibility of using military force in Venezuela to deal with the presidency of Nicolás Maduro.
"The situation in Venezuela is highly disturbing. The regime lost its legitimacy," Buttigieg said. "That being said, that doesn't mean we carelessly threaten the use of military force, which it appeared the national security adviser was doing at one point."
He added: "Hinting that troops might be sent to South America. I don't understand how somebody leading us into the Iraq War is allowed that near the Situation Room to begin with."
Bolton was an early supporter of the Iraq War and pushed for the initial invasion during his time, after the Sept. 11, 2001, terrorist attacks, as President George W. Bush's undersecretary of state for arms control and international security.
9:45 p.m. ET, March 10, 2019
Buttigieg, a veteran, says his military experience could bring "a lot of perspective" to the presidency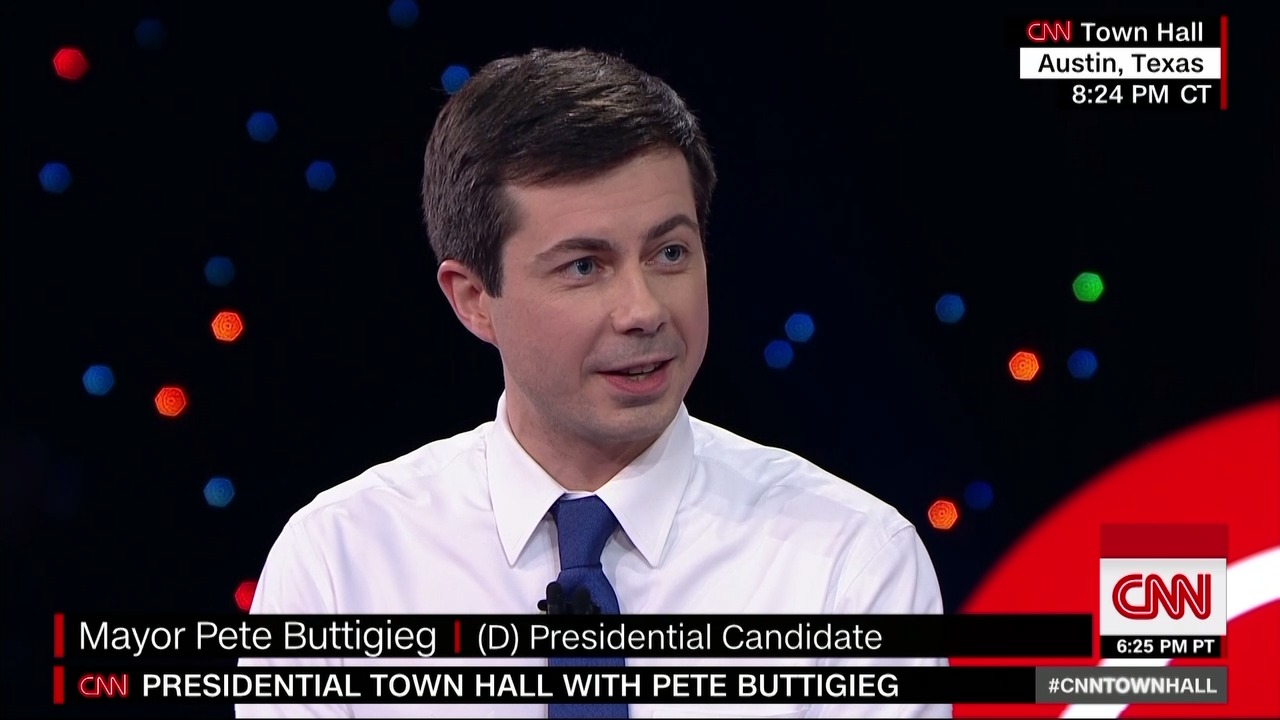 Pete Buttigieg, a veteran of the war in Afghanistan, said he thinks his military experience could bring "a lot of perspective" to the office of the presidency.
"You can never lose touch with why politics matters," he said.
Serving in the military also brings Americans together, Buttigieg said.
He continued:
"When I got into the vehicle, a big part of my job was driving and guarding vehicles in movement. And somebody got in my vehicle, they didn't care whether I was a Republican or drat cat. They didn't care if I was going home to a boyfriend or girlfriend. They wanted to know if I was doing my job well and keep them safe. We learned to trust each other with our lives. Even though our lives back home were so different. I think we need to get back to that."
Buttigieg also said the US must "put an end to endless war."
"The Taliban are serious about being ready to lay down their arms. That's a good sign. But I'm also concerned that the Afghan government seems to be an afterthought of this process because the peace needs to be sustainable. At the end of the day, we can't be the guarantees of peace this Afghanistan," he said.
9:34 p.m. ET, March 10, 2019
Buttigieg calls VP Mike Pence the "cheerleader for the porn star presidency"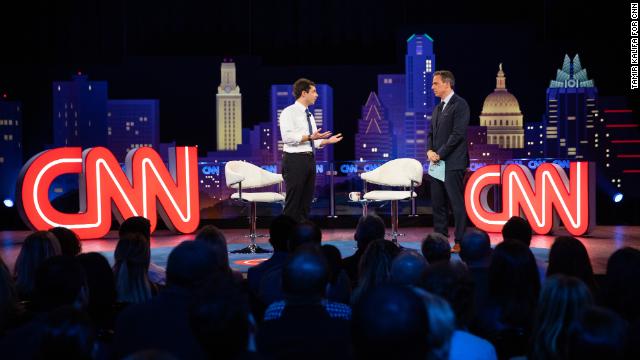 Pete Buttigieg called Vice President Mike Pence the "cheerleader for the porn star presidency" on Sunday, lambasting the former governor of his home state of Indiana for defending President Donald Trump and questioning whether he stopped "believing in scripture when he started believing Donald Trump."
The answer came when CNN's Jake Tapper asked whether Pence "would be a better or worse president than President Trump?"
"Does it have to be those two?" he asked.
Buttigieg went on to say about Pence that "used to at least believe… he believes in our institutions and was not personally corrupt, but then how could he get on board with this President?"
"His interpretation of scripture is pretty different than mine to begin with," he said. "My understanding of scripture it's about protecting the stranger and the prisoner and the poor person and that idea. That's what I get in the gospel when I'm at church and his has a lot more to do with sexuality and a certain view of rectitude."
9:33 p.m. ET, March 10, 2019
Buttigieg: I'm married because of "the grace of a single vote on the US Supreme Court"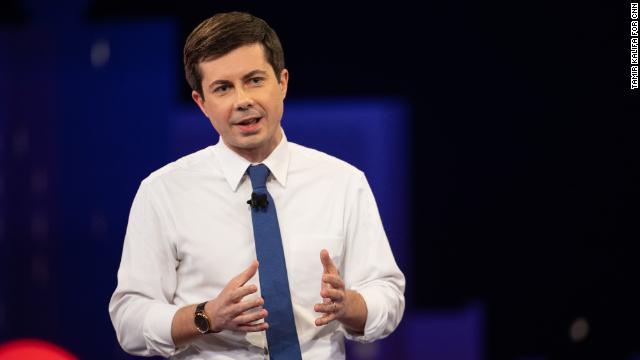 Pete Buttigieg said gaining the legal ability to marry his husband gave him a personal view of the importance of policy decisions by politicians "who had power over me and millions of others."
"That intimate thing in our lives exists by the grace of a single vote on the US Supreme Court," the mayor of South Bend, Indiana, said at a CNN town hall Sunday.
Buttigieg, who came out as gay during his 2015 re-election campaign, said he entered politics "in Mike Pence's Indiana" at a time that "you could either be out, or you could be in office, but you couldn't do both."
He called for a federal equality law to extend non-discrimination protections to LGBT people and said, "We've got to end the war on transgender Americans."
"Let's be under no illusion: There are attacks on transgender Americans from the Oval Office. Picking on troops, people willing to lay down their lives for this country, not to mention teenagers in high schools," Buttigieg said.