CNN hosts 2020 town hall at SXSW
7:31 p.m. ET, March 10, 2019
Delaney on Green New Deal: "We have to have a goal around climate that's realistic"
Former Rep. John Delaney explained his criticism of the progressive-backed Green New Deal on Sunday, arguing that climate change is so critical it needs realistic solutions, not something that can't be achieved.
"It is a time for bold solutions. But we also have to put our shoulder behind things that can actually get done," he said. "Because climate, Jake, is not like other issues. We have an infrastructure issue in this country. But if we wait five years to deal with our infrastructure, it's a missed opportunity. But it doesn't get exponentially worse so we have to deal with climate change right away."
Delaney said he would get a bipartisan carbon tax bill passed in his first year as president. "We have to have a goal around climate that's realistic," he said on Sunday.
Delaney had previously said that the Green New Deal was "as realistic as Trump saying that Mexico is going to pay for the wall."
7:21 p.m. ET, March 10, 2019
He wants universal health care, but his solution isn't a government-only system
Former Maryland Rep. John Delaney wants universal health care, but he said a government-only solution is "not the right answer."
"We shouldn't have health care tied to people's jobs. So we need universal health, but a theme of my campaign is being honest about the problems and honest about the solutions. Right? Having a government-only solution to health care is not the right answer," he said.
His proposal, he said, would be to leave Medicare alone.
Here's how Delaney described his plan:
"It creates a new system from when you're born to you're 65. We roll medicaid into that. You get it as a right of citizenship but if you don't want it, you can opt out. Get a small tax credit. Or you can buy a supplemental system. And it's fully paid for by eliminating the corporate deductibility of health care."
"That's the right solution to the problem we have in health care," he added. "It provides everyone with access. It keeps a vibrant, private market, and it will ensure that Americans have high-quality health care and good access, right, and we can do things to control the cost of health care."
7:15 p.m. ET, March 10, 2019
Delaney touts his blue-collar roots at CNN town hall
Former Rep. John Delaney has been running for President since 2017, but the Maryland Democrat told CNN earlier this year that one of the key mistakes he has made is not explaining his blue-collar roots.
That changed at the outset of his CNN town hall, when Delaney, who is worth millions and formerly ran two publicly traded companies, responded to a question on his wealth by noting his upbringing.
"I grew up in a time when we had institutions in our society that really supported people. And I don't think we see that here today," he said. "I mean, I grew up in a blue collar family. My dad was an electrician. Neither of my parents went to college. I needed scholarships from my dad's union to give me the opportunity to get the education that I have received. And I had this amazing kind of American dream-type life where I worked hard and played by the rules."
Delaney previously told CNN he and his campaign could probably "do better" at explaining his upbringing.
"For someone who, in many ways, is from the other side of the tracks and has to fight for everything I have gotten, you learn to be as professional as possible because that is what you have to do," he said.
7:11 p.m. ET, March 10, 2019
He's been running since 2017. Here's what he's said he's learned.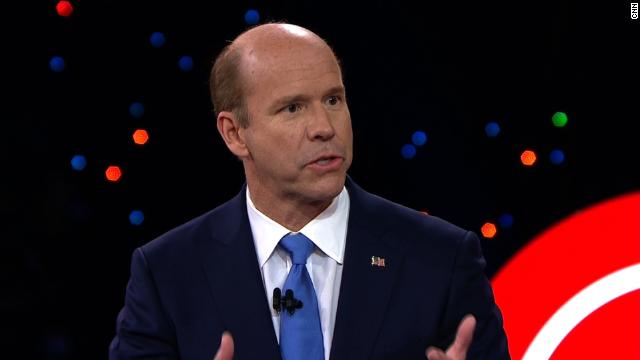 John Delaney has been running for president for almost two years -- he was the first Democrat to announce his campaign way back in 2017.
Here's what he told CNN's Jake Tapper he learned about the experience:
"Well, it's given me an amazing opportunity to listen to people, which is in many ways the most important thing for people who have the privilege to lead our country to do. To hear what's going on in communities, listen to the average American and hear what their concerns are and what's happening in their communities. So not only is it giving me an opportunity to introduce myself to people, Jake, but giving me the opportunity to really listen about what's really happening in our country."
6:58 p.m. ET, March 10, 2019
She came to the US from the Philippines in 2013 and wants to hear more about legal immigration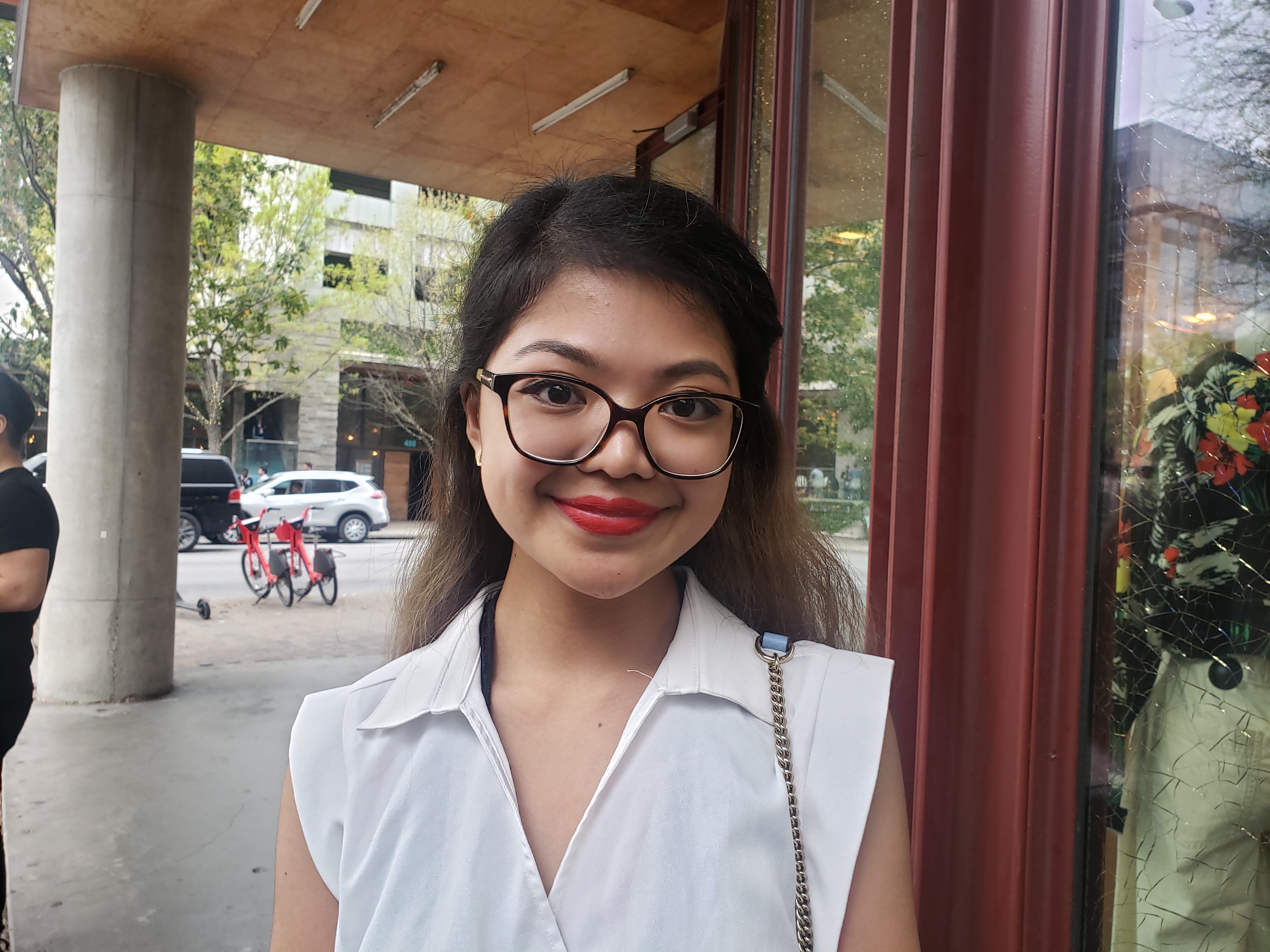 Rica Llagas knows how hard it is become a US citizen.
The 19-year-old San Marcos student migrated to the US in 2006 and became a US citizen in 2013.
Today, she wants to hear directly from the candidates about their plans to make immigration more comprehensive.
"I know how hard it is to get here legally. It's very expensive, very time consuming process and I have a lot of sympathy for those who come here illegally, so I want to see how they mitigate the situations and make legal immigration something that's more comprehensive and speedier," Llagas said.
She also wants to know how they plan to help students deal with mounting debt that come with college loans.
6:53 p.m. ET, March 10, 2019
SOON: John Delaney takes the stage at Moody Theater
Former Maryland Rep. John Delaney will take the stage soon at the Moody Theater at South by Southwest in Austin, Texas.
After his hour is up, Rep. Tulsi Gabbard will take questions for an hour at 8 p.m. ET, followed by Mayor Pete Buttigieg of South Bend, Indiana, at 9 p.m. ET.
Here's what it looks like inside the Moody Theater:
6:48 p.m. ET, March 10, 2019
Delaney, the first Democrat to announce his 2020 bid, is up first
Rep. John Delaney, a former congressman from Maryland, was the first Democrat to announce his campaign in July 28, 2017.
A self-made businessman, Delaney at one point was the youngest CEO on the New York Stock Exchange. Delaney has been running the longest, but is still working to gain name recognition.
He launched with a Washington Post op-ed titled "Why I'm Running For President" and campaign announcement video. In his op-ed, Delaney wrote that he was running in hopes America could "rise above our broken politics and renew the spirit that enabled us to achieve the seemingly impossible."
Watch his campaign video:
6:30 p.m. ET, March 10, 2019
These 3 Democrats will speak at tonight's CNN town hall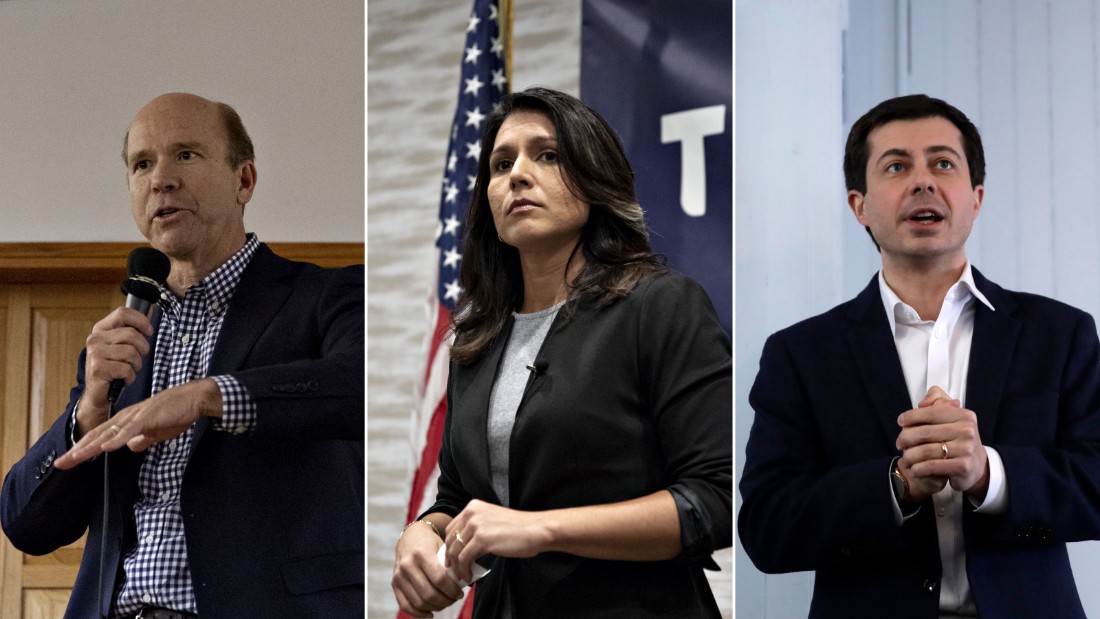 Three contenders for the 2020 Democratic nomination will answer questions at a town hall in Austin, Texas, moderated by CNN's Jake Tapper and Dana Bash.
The town hall at the South by Southwest conference will feature:
Former Maryland Rep. John Delaney: The three-term congressman was the first Democrat to announce he would run for president back in 2017.
Hawaii Rep. Tulsi Gabbard: The Iraq War veteran jumped into the race in early February.
South Bend, Indiana, Mayor Pete Buttigieg: He would be the party's first gay nominee. Buttigieg announced an exploratory committee in January.
How to watch: The "CNN Democratic Presidential Town Hall @ SXSW" will air on CNN, CNN International and CNN Español, beginning at 7 p.m. ET and 4 p.m. PT. Viewers without a cable subscription can watch in the video player above or via CNNgo on mobile devices and connected televisions.