Trump's State of the Union address
12:08 a.m. ET, February 6, 2019
Our live coverage of President Trump's State of the Union has ended, but if you want to read and see how the night unfolded, you can...
12:06 a.m. ET, February 6, 2019
Pelosi: "It will take days to fact-check all the misrepresentations that the President made tonight"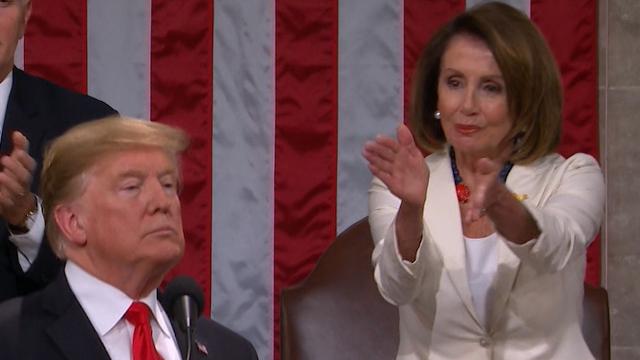 House Speaker Nancy Pelosi responded to Trump's Tuesday night address in a statement, criticizing the President for threatening "the United States Congress not to exercise its constitutional responsibility of oversight."
"It will take days to fact-check all the misrepresentations that the President made tonight," the California Democrat's statement said.
the statement continued: "President Trump must now take concrete steps to work with Democrats to strengthen the health and economic security of families across America. After two years of the President's empty words, the American people deserve real results."
12:05 a.m. ET, February 6, 2019
Fact check: Trump claimed ISIS controlled "more than 20,000 square miles in Iraq and Syria." He's right.
President Trump claimed tonight in his speech that ISIS controlled "more than 20,000 square miles in Iraq and Syria."
"When I took office, ISIS controlled more than 20,000 square miles in Iraq and Syria. Just two years ago. Today, we have liberated virtually all of the territory from the grip of these bloodthirsty monsters." 
Fact check: Trump is right about the amount of territory re-captured from ISIS during his time office.
At the end of 2016, ISIS controlled territory in Syria and Iraq was about 23,320 square miles, according to IHS Jane's. On Tuesday, Gen. Joseph Votel, the commander of US Central Command, said the group is "down to about 20 square miles that they still control."
Tonight, Trump pointedly chose not to repeat his false statement that ISIS has been defeated, a claim his own generals have contradicted. On Tuesday, Votel said the fight against the terror group is "not over."
12:04 a.m. ET, February 6, 2019
Fact check: Trump said the US would be at war with North Korea without him. That's questionable.
In his State of the Union Speech, President Trump claimed that had he "not been elected President of the United States, we would right now ... be in a major war with North Korea."
This is questionable.
Remember: The diplomatic thaw did not begin with Trump. It began in early 2018 when South Korean President Moon Jae-in welcomed North Korean athletes to the winter Olympics in PyeongChang in February. In April, Moon and Kim Jong Un held the first inter-Korean summit in more than a decade at the Korean demilitarized zone. 
Before that, Trump's rhetoric had arguably raised tensions. His August 2017 threat to meet North Korea "with fire, fury and, frankly, power the likes of which the world has never seen before," prompted Pyongyang, the next day, to threaten to strike the US territory of Guam with an "enveloping fire."
Trump did break precedent by hastily agreeing to an historic summit in Singapore with Kim. The June 2018 talks led to a vaguely worded commitment to "complete denuclearization." Talks between the US and North Korea have faltered due to both sides' drastically different definitions of denuclearization, but Trump announced during the speech that he would meet for a second summit with Kim on February 27-28 in Vietnam.
11:56 p.m. ET, February 5, 2019
Bernie Sanders slams Trump in post-Democratic rebuttal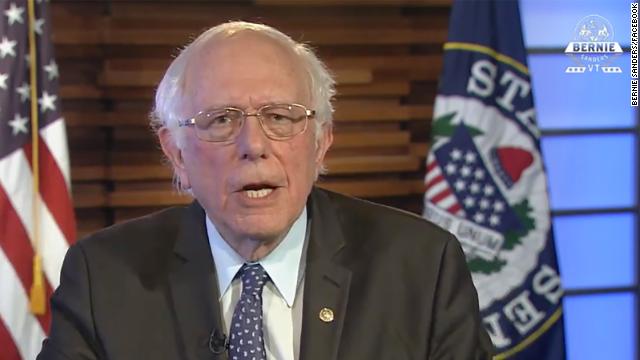 Sen. Bernie Sanders disputed President Trump's touting of economic boom times in America during his own live-streamed response to the State of the Union speech.
"Despite what President Trump says, this is not a 'hot economy' when 43% of households can't afford to pay for housing, food, childcare, health care, transportation and a cell phone without going into debt," Sanders said late Tuesday night. "That is not a hot economy for ordinary Americans."
He also spelled out the costs of the government shutdown and placed the blame squarely on Trump's insistence on funding for a border wall.
"No, President Trump, building a wall is not an emergency," Sanders said. "What we need to do is not waste billions of dollars on a wall, but to finally address the need for comprehensive immigration reform, including a path to citizenship for millions of undocumented people."
Sanders, who is expected to enter the Democratic presidential primary soon, had come under criticism of his own from some in the party who felt his decision to give the remarks, though he has done the same in past years, risked casting a shadow over Stacey Abrams' speech. (Abrams delivered the Democratic response following Trump's address.)
Earlier in the day, Symone Sanders, a national press secretary for the Vermont senator during his 2016 presidential campaign and now a CNN contributor, said she would have advised him not to give the talk.
"If Sen. Sanders is somebody that's thinking about throwing his name in the ring for president, and he knows he has an issue with people saying that they don't think he supports and uplifts the voices of black women, of people of color, do not step on Stacey Abrams," she said. "Do not give more fodder to the people that are already going to be critical of you in the first place.
12:15 a.m. ET, February 6, 2019
Fact check: Trump claimed the southern border is "lawless." Here's what we know about crime there.
In his State of the Union speech, President Trump said the southern border is "lawless," while making the case for sending an additional 3,750 troops to the border.
"The lawless state of our southern border is a threat to the safety, security and financial well-being of all Americans," Trump said.
Here's what we know about the nature of crime around the border region as well as security there:
There were 19,555 Border Patrol agents assigned to patrol the nation's borders in fiscal year 2018. It was the first year that had a net staffing gain in five years.
The majority of Border Patrol agents are assigned to the southern border. 
Those Border Patrol agents apprehended 396,579 immigrants crossing the border illegally in 2018, which was down from a peak of 1,643,679 arrests nineteen years ago. Meanwhile, Border Patrol agents seized tens of thousands of pounds of illegal drugs at the border in past years.
One thing to note: Studies and officials have also found that the US side of the border is relatively safe compared to other US cities.
"Violent crime rates have remained the same or dropped in many border cities" in the last five years prior to 2016, for which data is available, found an analysis by the Texas Tribune.
For example, "border communities like Laredo, El Paso, Edinburg and Brownsville all saw fewer than 400 crimes for every 100,000 residents," according to the 2016 report.
"You've got to understand, we're a border city so we have a lot of local law enforcement," said Ponce Treviño, Webb County Jail commander, told the Tribune.
Former Customs and Border Patrol Commissioner David Aguilar said in 2015 that "border communities are safer than the interior locations of each of the border states. Violent crime is lesser along the border than it is in the interior," reported the Huffington Post.
11:43 p.m. ET, February 5, 2019
Abrams: "I am very disappointed by the President ... I still don't want him to fail"
Stacey Abrams, a rising star in the Democratic Party, delivered its response to the State of the Union from southwest Atlanta.
The former Democratic gubernatorial candidate, who donned a white brooch as a hat tip to the suffragettes, set a personal tone, starting off what might be considered her biggest spotlight moment to date, talking about her childhood, saying that her family "went back and forth between lower middle class and working poor.
Yet, even when they came home weary and bone-tired, my parents found a way to show us all who we could be." She added that "faith, service, education and responsibility" were their family values.
"Our power and strength as Americans lives in our hard work and our belief in more…..but we do not succeed alone – in these United States, when times are tough, we can persevere because our friends and neighbors will come for us," Abrams said. 
Recalling distributing meals to furloughed federal workers during the recent shutdown, Abrams said that making Federal Workers' "livelihoods a pawn for political games is a disgrace. The shutdown was a stunt engineered by the President of the United States, one that defied every tenet of fairness and abandoned not just our people - but our values."
Regarding the immigration debate, Abrams said "we know bipartisanship could craft a 21st century immigration plan, but this administration chooses to cage children and tear families apart. Compassionate treatment at the border is not the same as open borders." Adding "America is made stronger by the presence of immigrants – not walls."
Abrams, who's own race was mired in controversy over voter irregularities, said there is much this country can do, "But none of these ambitions are possible without the bedrock guarantee of our right to vote."
"Let's be clear: voter suppression is real. From making it harder to register and stay on the rolls to moving and closing polling places to rejecting lawful ballots, we can no longer ignore these threats to democracy. While I acknowledged the results of the 2018 election here in Georgia – I did not and we cannot accept efforts to undermine our right to vote."
Abrams continued, "in this time of division and crisis, we must come together and stand for, and with, one another. America has stumbled time and again on its quest towards justice and equality; but with each generation, we have revisited our fundamental truths, and where we falter, we make amends."  
As she wrapped up her remarks, Abrams said "even as I am very disappointed by the president's approach to our problems – I still don't want him to fail. But we need him to tell the truth, and to respect his duties and the extraordinary diversity that defines America."
Watch:
11:31 p.m. ET, February 5, 2019
Fact check: Trump's claim that the Senate has failed to act on confirmations is misleading
President Trump blasted the Senate for failing to confirm more than 300 nominees to executive branch positions.
"This new era of cooperation can start with finally confirming the more than 300 highly qualified nominees who are still stuck in the Senate – in some cases years and years waiting. Not right. The Senate has failed to act on these nominations, which is unfair to the nominees and very unfair to our country. Now is the time for bipartisan action," Trump said during his State of the Union speech.
Fact check: This is misleading. While it is true that confirmations for the Trump administration's nominations lag behind the rate of confirmation for other American presidents, it is inaccurate to suggest that it is entirely the Republican controlled-Senate's fault.
The Senate has not confirmed 274 of the 705 key executive branch positions tracked by the Washington Post and the nonpartisan Partnership for Public Service. While Trump and Senate Republicans sharply criticize Democrats for slowing down the confirmation process, more than half of those positions — 144 to be exact — are open because the Trump administration has not yet nominated a candidate, according to their study. The jobs range from ambassadorships to important undersecretary roles to governorships at the Federal Reserve board.
Overall, Partnership's analysis shows that 54% of Trump civilian executive branch nominations have been confirmed, much lower than the 77% of Obama nominees confirmed at the same point in his presidency.
11:30 p.m. ET, February 5, 2019
How New York's governor responded to Trump's remarks on the state's Reproductive Health Act
Earlier tonight, President Trump referenced a newly passed law in New York that allows abortions after 24 weeks if the fetus is not viable or when necessary to protect the life of the mother.
The Reproductive Health Act also preserves access to abortions and removes abortion from the state's criminal code, among other protections.
What Trump said:
"Lawmakers in New York cheered with delight upon the passage of legislation that would allow a baby to be ripped from the mother's womb moments before birth. These are living, feeling, beautiful babies who will never get the chance to share their love and dreams with the world."
New York Gov. Andrew Cuomo responded with this:
"Tonight President Trump proposed rolling back the protections provided by Roe v. Wade — the law of our nation for 46 years affirmed and reaffirmed by numerous Supreme Courts.
Never.
New York has a message to those who spread lies and fear to control women's reproductive health decisions: Not going to happen. Not now, not ever."