Trump's State of the Union address
11:21 p.m. ET, February 5, 2019
Fact check: Trump makes inaccurate connection between El Paso's crime rate and the wall
President Trump made an inaccurate connection between El Paso's previously high crime rates and the construction of a border wall during his speech tonight.
What he said:
"The border city of El Paso, Texas, used to have extremely high rates of violent crime -- one of the highest in the country, and considered one of our nation's most dangerous cities. Now, with a powerful barrier in place, El Paso is one of our safest cities."
What we know: The President's statement, which has been repeated by public officials and the White House over the course of the last year, makes an inaccurate connection. 
According to an analysis of FBI crimes data and city law enforcement data analyzed by the El Paso Times, violent crime in El Paso peaked in 1993. Border fence construction didn't begin until 2008, and was completed in 2009.
But violent crime fell long before the wall was built in El Paso, with violent crime falling 34% between 1993 and 2006 in the city. And according to the El Paso Times, from 2006 to 2011, violent crime in El Paso actually increased by 17 percent.
11:10 p.m. ET, February 5, 2019
Fact check: Trump falsely claims that the US spent more than $7 trillion in the Middle East
President Trump brought up US expenditures for conflicts "in Afghanistan and Iraq," and claimed, "We have spent more than $7 trillion dollars in the Middle East."
Fact check: This is false – never mind that Afghanistan isn't in the Middle East.
And it's not the first time Trump has floated this claim about spending on wars in Iraq and Afghanistan. The non-partisan Congressional Research Service said that between 2001 and 2014, the operational costs for the wars in Iraq and Afghanistan were $1.6 trillion.
A CNN analysis found that in order to get to $7 trillion, you have to add future spending, most of which is for veterans over the next 35 years.
11:05 p.m. ET, February 5, 2019
How Trump's Cabinet is responding to his address
Following Trump's State of the Union address, members of his administration were quick to applaud the President for his remarks through statements.
Here's a look at how some of his Cabinet responded:
Treasury Secretary Steven Mnuchin: "President Trump's pro-growth, pro-worker policies are delivering rising wages and historically low unemployment for the benefit of all Americans."
Homeland Security Secretary Kirstjen Nielsen: "DHS frontline personnel have made it clear what they need from Congress to end the crisis and fully secure the border. It is time Congress recognizes the facts on the ground and takes this problem seriously."
Acting Attorney General Matthew Whitaker: "President Trump's speech presented a hopeful, optimistic vision for this country. An America with a secure southern border would be an America with less crime, less addiction, and better wages for working families."
Transportation Secretary Elaine Chao: "Tonight the President issued a bipartisan call to repair and restore America's aging infrastructure. Over the last two years, due to the President's policies, our economy has generated historic levels of economic and job growth for Americans and widespread private sector investment."
Commerce Secretary Wilbur Ross: "Under President Trump's leadership, common-sense policies have brought hope to the forgotten American worker. The President's strong defense and foreign policy initiatives have restored American leadership on the international stage."
Secretary of State Mike Pompeo: "In his first two years, President Trump has strengthened America at home and abroad by putting the interests of the American people first and reasserting American leadership around the world."
11:02 p.m. ET, February 5, 2019
Fact check: Trump's claim that he would support legal immigration is at odds with his administration's stance
In his address tonight, President Trump claimed he would support the "largest numbers ever" of immigrants — but only if they came here legally.
"I want people to come into our country, in the largest numbers ever, but they have to come in legally," he said.
Fact check: This is at odds with what's been the administration's stance on legal immigration. Trump has both sought to cut legal immigration and has made it more difficult for asylum seekers. 
Administration officials have signaled a desire to curtail a number of aspects of the legal immigration system, from family-based immigration to the diversity visa lottery.
While major overhauls of legal immigration policies would require Congress to pass legislation, immigrant rights advocates say there are signs the Trump administration is already reshaping the system in more subtle ways, making it more difficult to obtain certain visas. The Trump administration has also slashed the number of refugees the US has taken in. 
Last week, the administration also began implementing the so-called Migrant Protection Protocols, which allows for the administration to return some migrants seeking asylum in the United States to Mexico to await their immigration court hearing.
As of last week, more than a dozen migrants had been returned to Mexico under the Trump administration's new asylum policy since execution of the program began, according to senior DHS officials.
11:15 p.m. ET, February 5, 2019
Van Jones calls Trump's address "psychotically incoherent"
CNN's Van Jones fired back at fellow contributor Rick Santorum's analysis of President Trump's second State of the Union address Tuesday night, saying the speech was a mix of "cookies and dog poop."
"I saw this as a psychotically incoherent speech with cookies and dog poop," said Jones, moments after the speech had concluded.
"He tries to put together in the same speech these warm kind things about humanitarianism and caring about children. At the same time, he is demonizing people who are immigrants in a way that was appalling."
Jones made his point in response to Santorum's argument that Trump had put forth concrete proposals that represented outreach to Speaker of the House Nancy Pelosi and Democrats, and that it lacked red meat for his conservative base.
Trump offered "a couple [of proposals] for the base, a couple for the other side and 'this is what I want to do,'" said the former Republican senator.
Watch:
10:59 p.m. ET, February 5, 2019
This Missouri Republican shouted, "Yes!" when Trump brought up paid family leave
Rep. Ann Wagner confirmed to CNN after the State of the Union that she was the member to shout in approval when Trump discussed paid family leave.
"That was me!" the Missouri Republican said.
What happened: After President Trump mentioned his administration's work on a nationwide family leave plan, someone in the audience shouted, "Yes!"
"I am also proud to be the first president to include in my budget a plan for nationwide paid family leave so that every new parent has the chance to bond with their newborn child," Trump said.
Watch:
10:48 p.m. ET, February 5, 2019
Fact check: Trump can take credit for some of the "economic boom," but not all of it
President Trump, speaking to the full chamber, touted his administration's economic gains since he took office.
"In just over two years since the election, we have launched an unprecedented economic boom -- a boom that has rarely been seen before," he said.
Fact check: Trump can claim some credit for the acceleration of the economy on his watch, but not most of it.
He inherited a labor market in the later stages of a long recovery from the Great Recession, with fairly consistent job creation. Growth in monthly payrolls reported by the Bureau of Labor Statistics averaged 217,000 jobs under President Obama's second term, and under Trump it has averaged 203,000, pushing the overall unemployment rate to the lowest level since 1969 and unprecedented levels for people of color.
The economy has added 4.87 million jobs since Trump took office, not 5.3 million, the number he cited. 
Wage growth has picked up since late 2017 especially for rank and file workers, but not to the above 3.5% rates seen in the late 1990s and mid-2000s. Some of the pace of the increase had to do with states and cities raising their minimum wages, which the President had no hand in.
Indeed, the economy grew at a rate of 4.2% in the second quarter of 2018, fueled in part by the surge in government defense spending, as well as a large corporate tax cut that temporarily goosed business investment. By the third quarter of 2018, growth slowed to a rate of 3.4%.
A key point to remember: Economists forecast a further deceleration through 2019, as the effects of the fiscal stimulus wear off and as businesses and consumers confront higher interest rates.
10:51 p.m. ET, February 5, 2019
Abrams: "We are coming for America, for a better America"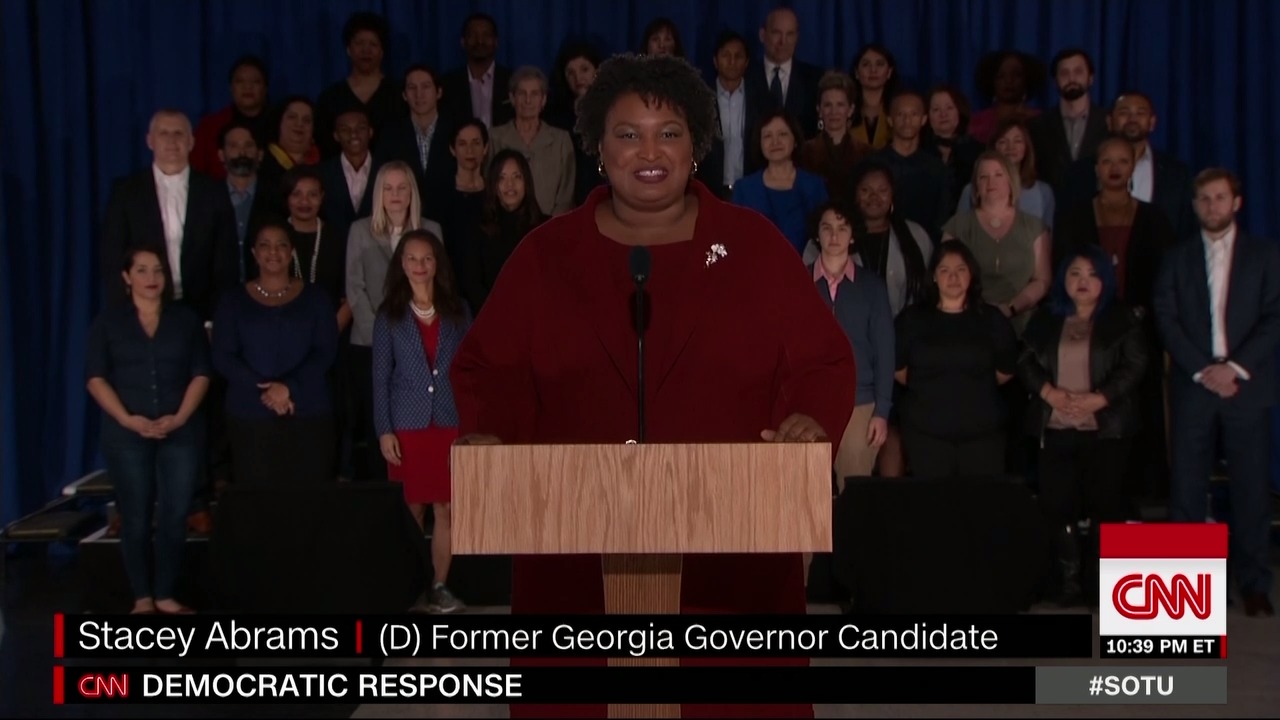 Former Georgia gubernatorial candidate Stacey Abrams is giving the Democratic rebuttal to Trump's State of the Union.
"Tonight, we are coming for America, for a better America," she said.
She recounted a story from her childhood, echoing that language.
Now, we only had one car, so sometimes my dad had to hitchhike and walk long stretches during the 30 mile trip home from the shipyards. One rainy night, Mom got worried. We piled in the car and went out looking for him — and eventually found Dad making his way along the road, soaked and shivering in his shirtsleeves. When he got in the car, Mom asked if he'd left his coat at work. He explained he'd given it to a homeless man he'd met on the highway. When we asked why he'd given away his only jacket, Dad turned to us and said, "I knew when I left that man, he'd still be alone. But I could give him my coat, because I knew you were coming for me."
About the venue: Abrams is delivering her remarks from the IBEW Local 613 union hall in southwest Atlanta. This was the first local endorser of her 2018 campaign for Governor of Georgia. She has always had strong ties with labor. 
Several members of IBEW Local 613 were in the audience.
Watch:
10:50 p.m. ET, February 5, 2019
Stacey Abrams gives the Democratic response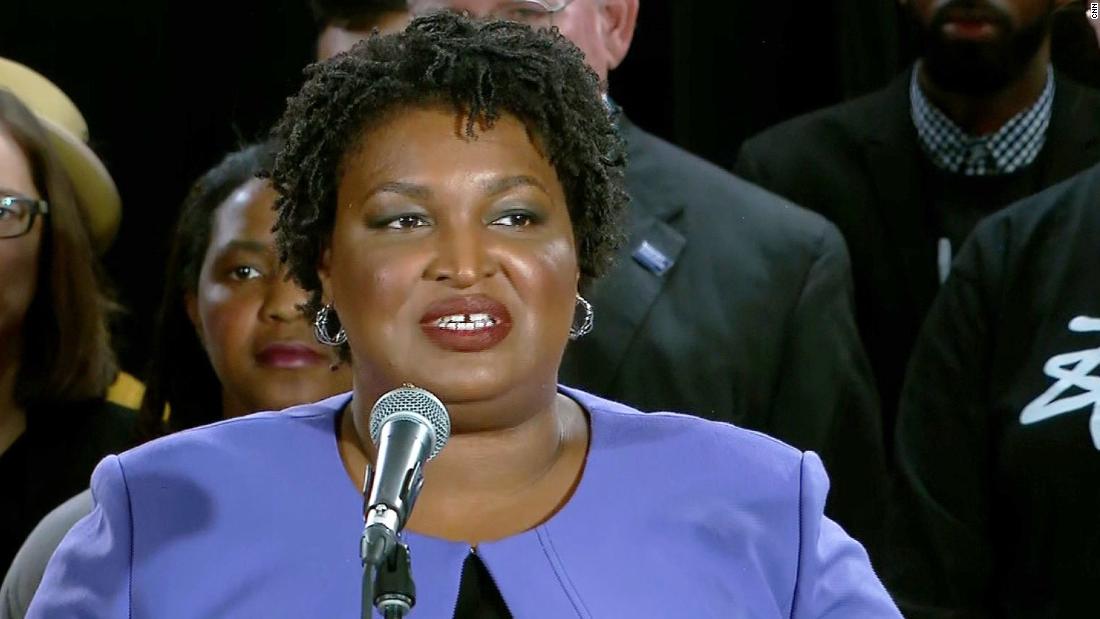 Former Georgia gubernatorial candidate Stacey Abrams is now giving the Democratic response to President Trump's State of the Union address.
Abrams, who is seen as a rising star in the Democratic party, has already released excerpts of her speech.
In her speech, she blasts Trump for the shutdown, saying it was "engineered by the President of the United States, one that defied every tenet of fairness and abandoned not just our people — but our values."
We'll bring you highlights from her speech momentarily.