Trump's State of the Union address
10:13 p.m. ET, February 5, 2019
Trump's youngest guest is a 10-year-old cancer survivor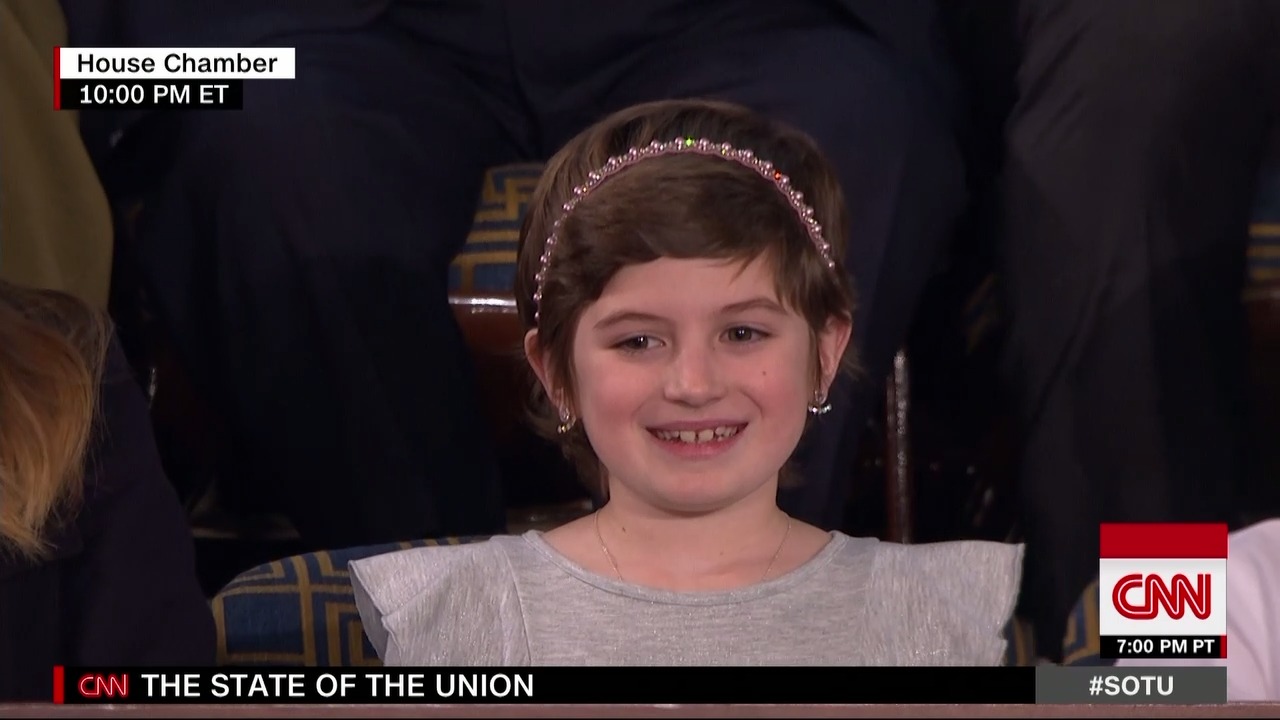 President Trump just introduced his youngest guest: 10-year-old Grace Eline.
"Joining Melania in the gallery this evening is a very brave 10-year-old girl, Grace Eline," Trump said. "Every birthday since she was 4, Grace asked her friends to donate to St. Jude's children's hospital. She did not know that one day she might be a patient herself."
About Grace: At 9 years old, Eline was diagnosed with germinoma, a type of brain cancer.
"Grace recently finished chemotherapy and today shows no evidence of the disease. She is determined to help other children who are fighting cancer," said the White House.
Watch:
10:10 p.m. ET, February 5, 2019
Trump makes bipartisan policy pitches: infrastructure and prescription drugs
President Trump made two key bipartisan policy pitches in his address, urging a divided Congress to work with him to pass legislation improving US infrastructure and addressing the high cost of prescription drugs.
On passing infrastructure legislation, the President said: "This is not an option. This is a necessity."
And when he turned to health care — "the next major priority for me" — he prompted House Speaker Nancy Pelosi to quickly rise to her feet with calls for protecting "patients with pre-existing conditions."
The President said he wants to work with Congress on legislation to lower healthcare costs and prescription drug pricing.
"We must do more. It's unacceptable that Americans pay vastly more than people in other countries for the exact same drugs, often made in the exact same place," Trump said. "This is wrong, this is unfair and together we will stop it and we'll stop it fast."
Watch:
10:02 p.m. ET, February 5, 2019
Fact check: Trump claims 1 in 3 women assaulted on journey to border
President Trump, during his State of the Union address tonight, made his argument against illegal immigration, claiming that "1 in 3 women is sexually assaulted on the long journey north."
Fact check: Indeed, the trek to the US-Mexico border has been reported to be violent. According to data from Doctors Without Borders, 68.3% of migrants and refugees "entering Mexico reported being victims of violence during their transit toward the United States," and nearly one-third of women said they'd been sexually abused. 
But this needs some perspective. This very violence is why women choose to travel in caravans, to achieve safety in numbers. Trump has offered no specifics about how his policies would address the scourge of sexual violence faced by migrants.
The administration has argued in the past that by building the wall, migrants will be deterred from making the journey.
10:01 p.m. ET, February 5, 2019
Women lawmakers flip the script and surprise Trump with applause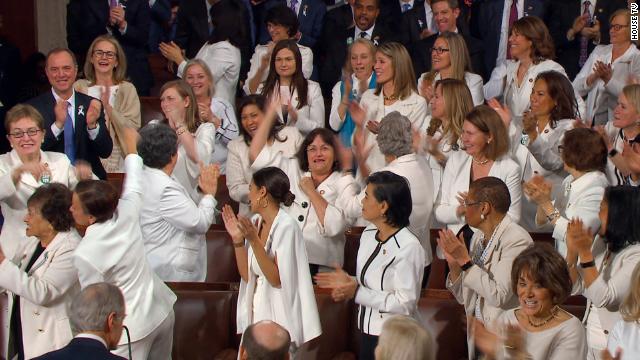 Dressed in all white, a group of Democratic women just stood to cheer during President Trump's State of the Union — and even Trump was surprised.
Trump was discussing women in the workforce when the moment happened.
"No one has benefited more from a thriving economy than women who have filled 58% of the newly created jobs last year," Trump said.
Many lawmakers in the room, including some Democratic women, stood to cheer.
"You weren't supposed to do that," Trump joked. "Thank you very much. Thank you very much. All Americans can be proud that we have more women in the workforce than ever before."
Then, Trump urged the women to keep standing.
"Don't sit yet. You're going to like this. And exactly one century after Congress passed the constitutional amendment giving women the right to vote, we also have more women serving in congress than at any time," he said.
Speaker of the House Nancy Pelosi stood up after that line, and gestured for others in the room to do the same.
Watch:
9:51 p.m. ET, February 5, 2019
Trump on the wall: "I will get it built"
Trump reiterated his promise of a wall on the southern border, saying, "I will get it built."
Democrats and Republicans failed to come up with a long-term agreement regarding Trump's demand for border wall funding, which resulted in the longest government shutdown in US history.
"My administration has sent to congress a common-sense proposal to end the crisis on the southern border. It includes humanitarian assistance, more law enforcement, drug detection at our ports, closing loopholes that enable child smuggling, and plans for a new physical barrier or wall to secure the vast areas between our ports of entry," Trump said.
"In the past, most of the people in this room voted for a wall, but the proper wall never got built. I will get it built," he added.
Watch:
9:52 p.m. ET, February 5, 2019
Trump urges Congress to confront "urgent national crisis" at US southern border
In his speech tonight, President Trump urged Congress to pass legislation to confront what he called "an urgent national crisis" at the US southern border.
Remarking on the 10 days that remain before funding lapses once again, Trump said Congress must "fund our government, protect our homeland and secure our southern border."
"Now is the time for Congress to show the world that America is committed to ending illegal immigration and putting the ruthless coyotes, cartels, drug dealers, and human traffickers out of business," Trump said.
Trump also once again called attention to the latest caravan of migrants making its way toward the United States and accused Mexican cities without evidence of bussing undocumented immigrants to the US southern border.
Trump drew hoots of disapproval from Democrats when he called attention to the caravans and touted his deployment of additional troops to the southern border.
Trump argued border security is a "moral issue."
"The lawless state of our southern border is a threat to the safety, security and financial well being of all America," he said.
Watch:
9:42 p.m. ET, February 5, 2019
Trump commuted her sentence. Tonight, Alice Johnson is at his State of the Union.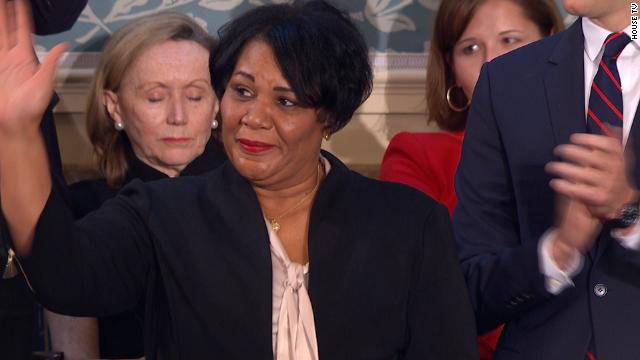 President Trump just highlighted the story of Alice Johnson, one of his 13 guests at tonight's address.
Johnson, a first-time nonviolent drug offender, had her sentence commuted by Trump last June following his Oval Office meeting with Kim Kardashian West.
"In June, I commuted Alice's sentence — when I saw Alice's beautiful family greet her at the prison gates, hugging and kissing and crying and laughing, I knew I did the right thing," Trump said during his speech.
More about Johnson: She had served 21 years of a life sentence after she was convicted on charges of conspiracy to possess cocaine and attempted possession of cocaine, according to the nonprofit organization Can-Do, which advocates for clemency for nonviolent drug offenders.
"Alice, thank you for reminding us that we always have the power to shape our own destiny," Trump said.
Watch:
9:38 p.m. ET, February 5, 2019
Trump slams "ridiculous partisan investigations"
In his address, President Trump slammed "ridiculous partisan investigations" and called for an end to "war and investigation."
House Speaker Nancy Pelosi, who is seated directly behind Trump and next to Vice President Mike Pence, appeared to shake her head at Trump's mention of investigations.
The Trump administration has been hampered with several investigations, including multiple probes into the 2016 election, and there is an expectation that more oversight investigations will arise now that Democrats hold the majority in the House.
Here's what Trump said:
"An economic miracle is taking place in the United States and the only thing that can stop it are foolish wars, politics, or ridiculous partisan investigations," Trump said. "If there is going to be peace and legislation, there cannot be war and investigation. It just doesn't work that way. We must be united at home to defeat our adversaries abroad. This new era of cooperation can start with finally confirming the more than 300 highly qualified nominees who are still stuck in the Senate, in some cases years and years waiting, not right. The Senate has failed to act on these nominations, which is unfair to the nominees and very unfair to our country."
Watch the moment here:
9:33 p.m. ET, February 5, 2019
Fact check: Behind Trump's claim that the US is the planet's No. 1 producer of oil and natural gas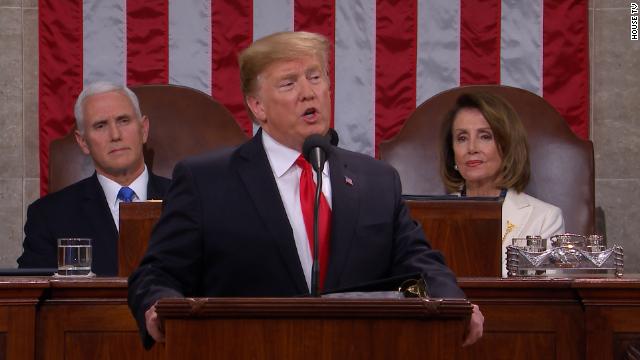 President Trump, speaking in the House chamber tonight, claimed that "We have unleashed a revolution in American Energy – the United States is now the No. 1 producer of oil and natural gas in the world."
Fact-check: This is true, but needs context.  
What you need to know: The US became the world's largest crude oil producer in August 2018, when it surpassed Russia for the first time since 1999 in terms of total daily crude production, according to the US Energy Information Administration. Earlier in the year, the US surpassed Saudi Arabia's crude oil production for the first time since 1973. It has been the largest producer of natural gas since 2011. 
The rise in US oil and gas production is due in large part to advances in fracking technology that allowed drillers to access reserves socked away in shale formations buried deep underground. Production dipped in 2015 and 2016 as a result of overproduction and a collapse in oil prices, but recovered quickly once supply stabilized and prices increased, just as Trump was coming into office.
The Trump administration often touts its moves to relax Obama-era rules on oil and gas production, such as one restricting the flaring of methane from fracking sites. He has also opened public lands to more drilling. It's unclear though, given the decade of increased energy production in the US, how much of an impact any of those moves have had.