Trump's State of the Union address
10:49 p.m. ET, February 5, 2019
President Trump's speech clocks in at 82 minutes
President Trump just wrapped up his State of the Union speech.
Trump spoke for 82 minutes in the House chambers in front of Democratic and Republican lawmakers and their guests.
Trump made some major announcements, including a second summit with North Korea's Kim Jong Un, during his speech. He also called for bipartisanship and unity.
10:32 p.m. ET, February 5, 2019
What were those papers Pelosi was holding?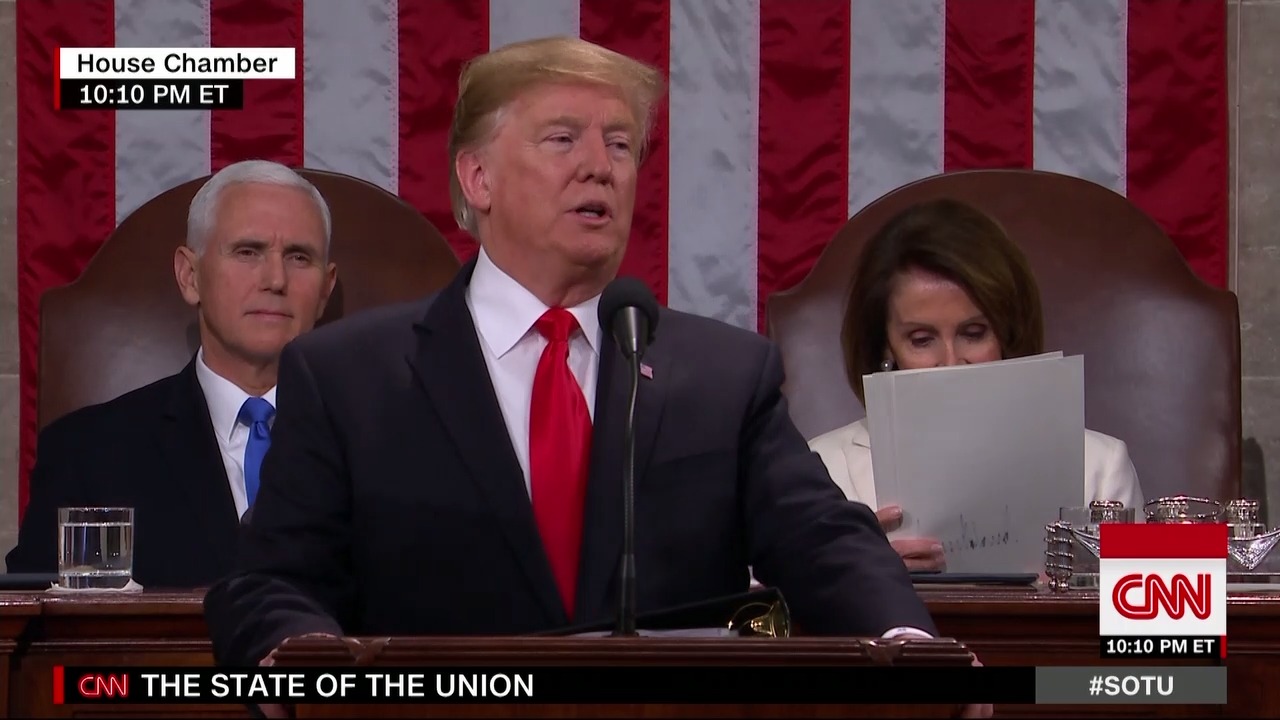 Watching Trump's speech and notice House Speaker Nancy Pelosi was holding a stack of papers?
Her spokesman Drew Hammill confirmed that she's looking at a copy of President Trump's speech whenever she's looking at the papers in front of her.
The President handed her a copy at the beginning of the speech.   
10:29 p.m. ET, February 5, 2019
Congress just sang "Happy Birthday" to a Pittsburgh synagogue shooting survivor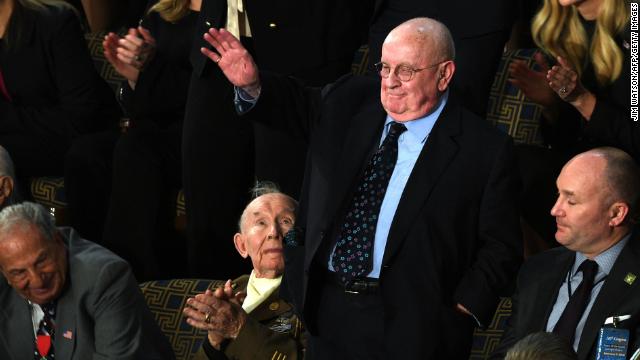 Lawmakers inside the US Capitol for Trump's State of the Union erupted into song to wish a Holocaust survivor who also escaped Pittsburgh synagogue shooting a happy birthday.
As President Trump introduced Judah Samet, he mentioned it was his 81st birthday today.
"Tonight, we are also joined by Pittsburgh survivor Judah Samet. He arrived at the synagogue as the massacre began, but not only did Judah narrowly escape death last fall, more than seven decades ago, he narrowly survived the Nazi concentration camps. Today is Judah's 81st birthday," Trump said.
The room the started singing "Happy Birthday."
"They wouldn't do that for me, Judah," Trump joked.
Watch:
10:34 p.m. ET, February 5, 2019
Trump recognizes SWAT officer from Pittsburgh synagogue shooting
Timothy Matson is a survivor of the anti-Semitic Tree of Life Synagogue massacre in Pittsburgh that left 11 dead last October.
Matson, a member of the Pittsburgh police department's SWAT team, was a first responder that day.
"He suffered multiple gunshot wounds and saved countless lives in that heinous, anti-Semitic attack," according to the White House.
Trump thanked Matson during his speech:
"Just months ago, 11 Jewish Americans were viciously murdered in an anti-semitic attack on the Tree of Life Synagogue in Pittsburgh. S.W.A.T. Officer Timothy Matson raced into the gunfire and was shot seven times chasing down the killer. And he was very successful. Timothy has just had his 12th surgery and he's going in for many more, but he made the trip to be here with us tonight. Officer Matson, please. Thank you. We are forever grateful. Thank you very much."
Watch:
10:35 p.m. ET, February 5, 2019
Trump on troop withdrawal: "It is time to give our brave warriors in Syria a warm welcome home"
President Trump talked up his efforts to accelerate the end of the US's troop presence in Syria and Afghanistan.
"It is time to give our brave warriors in Syria a warm welcome home," Trump said, noting the US would continue to work to "destroy the remnants of ISIS."
Trump also touted the peace talks in Afghanistan to end the US's longest-running war, saying he has "accelerated" negotiations to reach a political settlement.
"Our troops have fought with unmatched valor -- and thanks to their bravery, we are now able to pursue a political solution to this long and bloody conflict," Trump said.
Pointing to the conflict spanning nearly two decades, Trump said the US must at least try to reach a peace settlement.
"It's time," he said.
Watch:
10:19 p.m. ET, February 5, 2019
Trump: "If I had not been elected president of the United States, we would ... be in a major war with North Korea"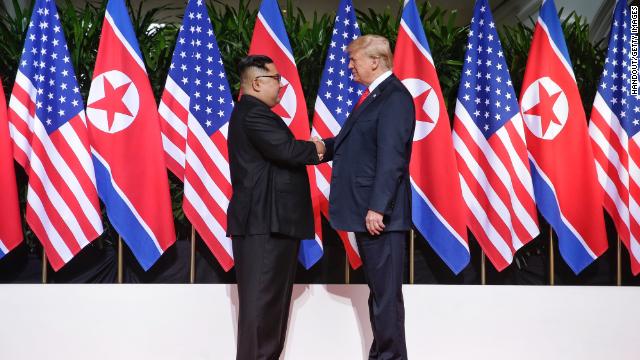 President Trump just officially announced his second summit with North Korean leader Kim Jong Un. It's scheduled for Feb. 27 and 28.
"If I had not been elected president of the United States, we would right now, in my opinion, be in a major war with North Korea," Trump said. "Much work remains to be done, but my relationship with Kim Jong Un is a good one. Chairman Kim and I will meet again on February 27th and 28th in Vietnam."
What we know about the summit: A source familiar with the summit's planning said which city it will be held in is still under discussion, but it could end up being Hanoi or Da Nang.
State Department Special Representative to North Korea, Steve Biegun, is heading to Pyongyang tomorrow to solidify some details of the summit, including the city. He will also press for the North Korean counterpart to attend a series of working level meetings between now and the summit. 
Watch:
10:15 p.m. ET, February 5, 2019
Fact check: Trump claims "countless Americans" were murdered by undocumented immigrants. Here's what the statistics show.
In his State of the Union address tonight, President Trump claimed that, "Year after year, countless Americans are murdered by criminal illegal aliens."
Trump has repeatedly cited crimes committed by undocumented immigrants—both during his presidential campaign and during his tenure in office. This is the second time he's invited family members of victims to the State of the Union. 
Fact check: The Bureau of Justice does not include citizenship in its breakdown of national arrest statistics, so there is no reliable federal data to quantify the number of crimes committed by undocumented immigrants.
Here's what the statistics do show on immigration and crime:
A 2018 study by the libertarian Cato Institute, which reviewed criminal conviction data from the Texas Department of Public Safety, found that immigrants — legal or illegally — are less likely than native-born Americans to be convicted of a crime. Throughout the country, there is also generally a decrease in the number of violent crimes, according to the FBI.
Other studies have found that murder, rape, robbery and aggravated assault have not increased alongside an uptick in undocumented immigration since 1990, that undocumented immigrants do not contribute to an increase in drug overdoses and DUI deaths, and that young, undocumented immigrants engage in less crime than their American or legal immigrant peers.
10:17 p.m. ET, February 5, 2019
Trump says he will ask Congress to pass legislation banning late-term abortions
President Trump made a point to address a controversial piece of legislation in Virginia, which would loosen restrictions on late-term abortions -- a measure that embattled Democratic Virginia Gov. Ralph Northam supported.
Trump said he would ask Congress to pass legislation banning this type of procedure:
"These are living, feeling, beautiful babies who will never get the chance to share their love and their dreams with the world. And then we had the case of the governor of Virginia, where he stated he would execute a baby after birth, to defend the dignity of every person, I am asking congress to pass legislation to prohibit the late-term abortion of children who can feel pain in the mother's womb."
Last week, Northam's office responded to backlash he had received for his comments voicing support for the legislation.
"No woman seeks a third trimester abortion except in the case of tragic or difficult circumstances, such as a nonviable pregnancy or in the event of severe fetal abnormalities, and the governor's comments were limited to the actions physicians would take in the event that a woman in those circumstances went into labor," Ofirah Yheskel, Northam's spokesperson, wrote in a statement, CNN reported at the time.
Watch:
10:13 p.m. ET, February 5, 2019
Trump's youngest guest is a 10-year-old cancer survivor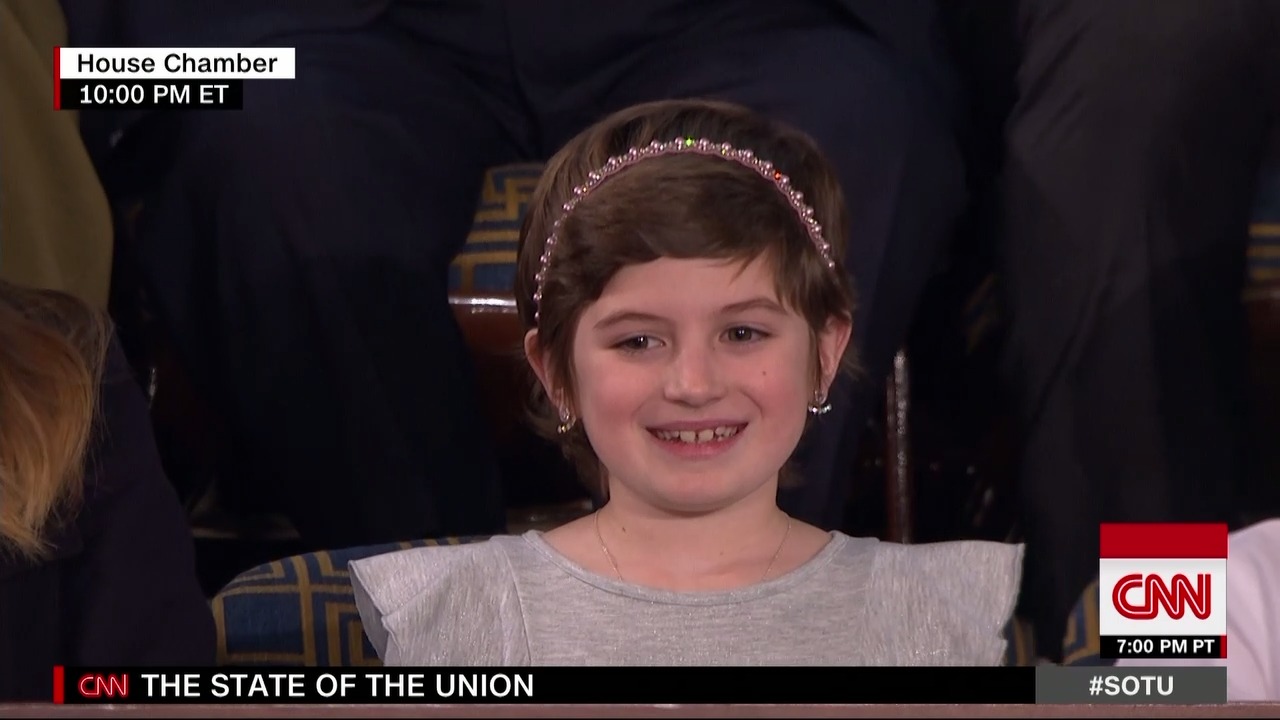 President Trump just introduced his youngest guest: 10-year-old Grace Eline.
"Joining Melania in the gallery this evening is a very brave 10-year-old girl, Grace Eline," Trump said. "Every birthday since she was 4, Grace asked her friends to donate to St. Jude's children's hospital. She did not know that one day she might be a patient herself."
About Grace: At 9 years old, Eline was diagnosed with germinoma, a type of brain cancer.
"Grace recently finished chemotherapy and today shows no evidence of the disease. She is determined to help other children who are fighting cancer," said the White House.
Watch: