Trump's State of the Union address
7:39 p.m. ET, February 5, 2019
Which Supreme Court justices are attending State of the Union (and which aren't)
Supreme Court Chief Justice John Roberts and Justices Elena Kagan, Brett Kavanaugh, and Neil Gorsuch are all expected to attend the State of the Union address tonight, according to a Supreme Court spokesperson.
Here's who's not attending tonight: Justices Ruth Bader Ginsburg, Stephen Breyer, Sonia Sotomayor, Samuel Alito, and Clarence Thomas are not expected to be there.
Ginsburg, who last night made her first public appearance since her December cancer surgery, did not attend President Trump's previous State of the Union address.
7:29 p.m. ET, February 5, 2019
Trump wants to inspire Americans with his speech
President Trump's tone in his State of the Union speech will be incompatible with the President's normal combative rhetoric, a senior administration official told reporters on Friday.
"Well the State of the Union is unlike other occasions in the year. And one tries to, in that occasion, when you have 60 — 60 to 70 unfiltered minutes to the American public you get a chance to explain your whole agenda," the official said.
"And you get to strike the tone and optimism that you think is appropriate in that venue."
With that in mind, Trump will say, according to an excerpt: "Together, we can break decades of political stalemate, we can bridge old divisions, heal old wounds, build new coalitions, forge new solutions, and unlock the extraordinary promise of America's future."
The speech will address issues of concern to all Americans, like the cost of prescription drugs, infrastructure and national security — a section that is likely to include mention of the rising US role in Venezuela's political meltdown.
The speech is also likely to contain material that will overshadow any conciliatory moves by the President.
Judging by his own teases over the last few days, he has no plan to steer clear of his demand for funding for his border wall as a deadline looms 12 days away that threatens to close down the government again.
7:18 p.m. ET, February 5, 2019
Here's a preview of Trump's State of the Union address
The document below was given out to people who attended a State of the Union surrogate meeting on Monday.
According to the document, the theme of President Trump's address will be "Choosing Greatness."
Read the document: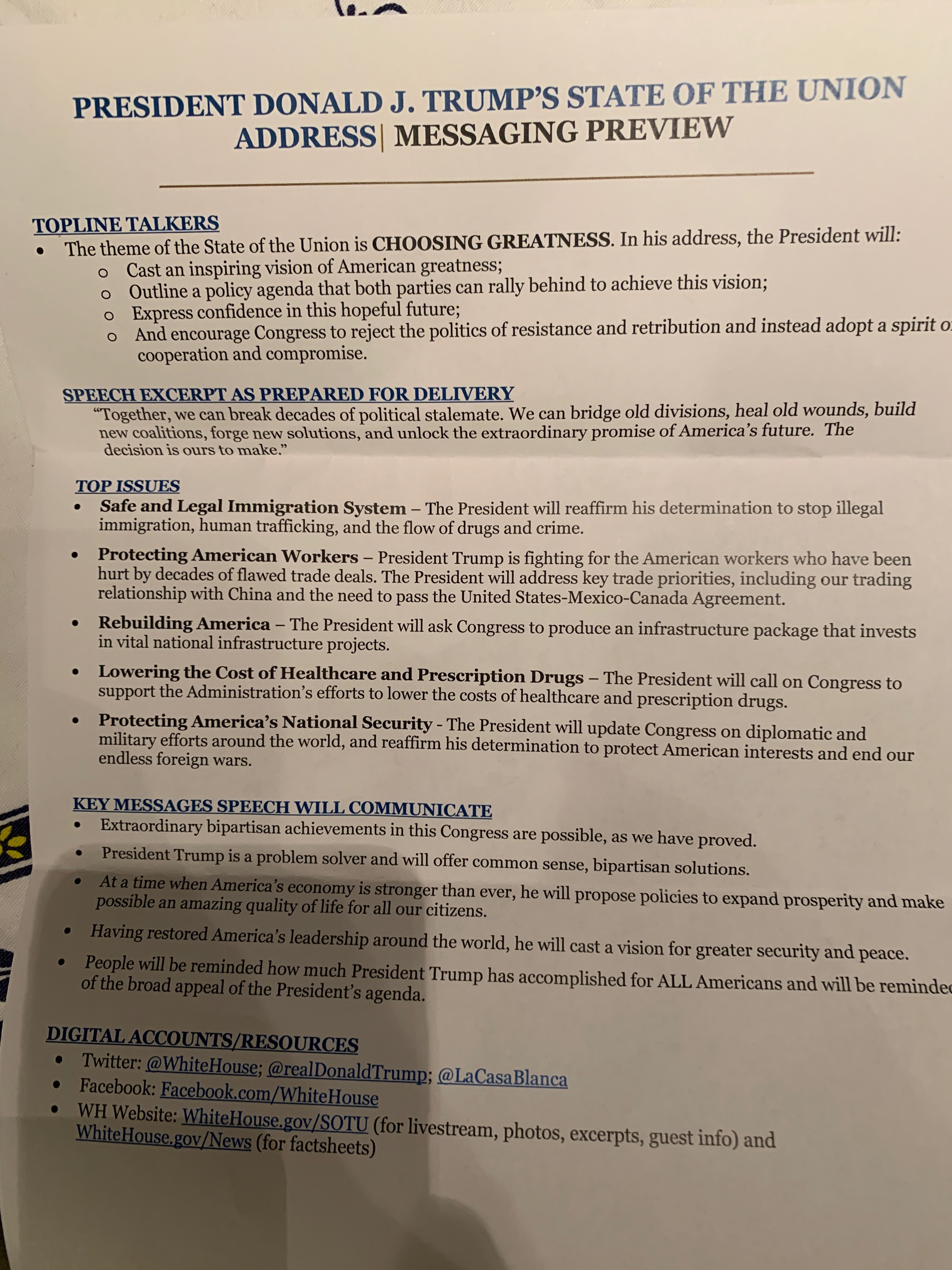 7:07 p.m. ET, February 5, 2019
Melania Trump will travel solo to the Capitol for the State of the Union — again
First lady Melania Trump will be departing the White House solo for the second year in a row.
She'll be leaving 40 minutes ahead of her husband for his State of the Union address. 
"Mrs. Trump knows this is an important night, and wants to ensure the experience of her guests is special, and that they feel comfortable," the first lady's deputy chief of staff for communications Stephanie Grisham told CNN. 
She's breaking tradition: Last year, the first lady disrupted the longstanding tradition of the first couple exiting the White House together and both getting into "The Beast," the armored limousine of the President, for the brief drive to the Capitol.  
Instead, the first lady made a previously publicly unannounced decision to take an entirely separate motorcade to the State of the Union.
6:59 p.m. ET, February 5, 2019
5 things to watch for in Trump's State of the Union address
This year's State of the Union follows the longest government shutdown in US history — so there's a lot of things you may want to pay attention to.
Here's what to watch for tonight:
Nancy Pelosi and the Democrats: As speaker of the House, Pelosi will sit directly behind Trump. The two had a long back-and-forth during the shutdown that ultimately resulted in the address being postponed.
Trump's script: Trump's rallies and Twitter account often go off-script — could this address follow suit?
The speech's tone: State of the Union addresses tend to be an even mix of looking back at past successes and looking forward to future goals. We'll be watching to see how Trump lays out two of his biggest campaign promises — the wall and immigration — as he reflects on the past year.
The Russia investigation: A lot has happened in the past year of special counsel Robert Mueller's probe. Will the President mention any of it?
The first lady: Last year, Melania Trump traveled to the State of the Union in a different car than the President. We'll be watching for her whereabouts this year.
Watch more:
6:45 p.m. ET, February 5, 2019
Trump tweets that he's looking forward to the State of the Union
Hours ahead of his State of the Union address, President Trump tweeted that he is looking forward to the speech.
He included a picture of a headline from Drudge Report that states his approval rating is at 48%.
Note: Trump's overall approval rating stands at 40% approve to 55% disapprove, according to the latest CNN poll.
6:37 p.m. ET, February 5, 2019
Some members are already gathering on the House floor
Some House members were spotted on the floor a few hours before President Trump's speech, with some saving seats along the center aisle to get a good spot for the President's arrival.
Republican Reps. Louie Gohmert, of Texas; Matt Gaetz, of Florida; and Billy Long, of Missouri were among those spotted hovering near or sitting in aisle seats. Gohmert, for example, has been sitting there for hours. 
Also spotted on the House floor was Democratic Rep. Jeff Van Drew, of New Jersey, and Democratic Rep. Joyce Beatty, of Ohio. 
6:30 p.m. ET, February 5, 2019
Nancy Pelosi is bringing a chef who fed furloughed government employees during the shutdown
Speaker of the House Nancy Pelosi has invited a bunch of guests to this year's State of the Union address.
Among them is José Andrés, the renowned chef who recently provided free meals to furloughed workers during and after the partial government shutdown.
Andrés' #ChefsForFeds campaign opened a kitchen and café near the White House to feed government employees who were not getting paid during the shutdown — and the movement soon expanded to 12 states and Puerto Rico. 
Here is who else she's invited, according to a list provided by her office:
Transgender service members and OutServe-Servicemembers Legal Defense Network and SPART*A representatives Capt. Jennifer Peace and Maj. Ian Brown, US Army
Jeremy Butler, chief operations officer of Iraq and Afghanistan Veterans of America
Tom Perez, chairman of the Democratic National Committee
DC Mayor Muriel Bowser
New Jersey Lt. Gov. Sheila Oliver
New Jersey State Senate Majority Leader Loretta Weinberg
Fred Guttenberg, the father of Jaime Guttenberg, a Marjory Stoneman Douglas High School shooting victim
Charlie Mirsky, co-founder & political director of March For Our Lives
Mattie Scott, president of San Francisco Brady Campaign
Angelica Salas, executive director of the Coalition for Humane Immigrant Rights of Los Angeles
Chef Tyler Florence
Leana Wen, president of Planned Parenthood
Kristin Rowe-Finkbeiner, executive director/CEO and co-founder of MomsRising
Lily Eskelsen García, president of the National Education Association
Leo Gerard, president of the United Steelworkers
Mary Kay Henry, president of the Service Employees International Union
Doug McCarron, president of the United Brotherhood of Carpenters and Joiners of America
Richard Trumka, president of The American Federation of Labor and Congress of Industrial Organizations
Paul Pelosi, husband of Nancy Pelosi
Alexandra Pelosi, daughter of Nancy Pelosi
6:26 p.m. ET, February 5, 2019
Why a lot of women are wearing white tonight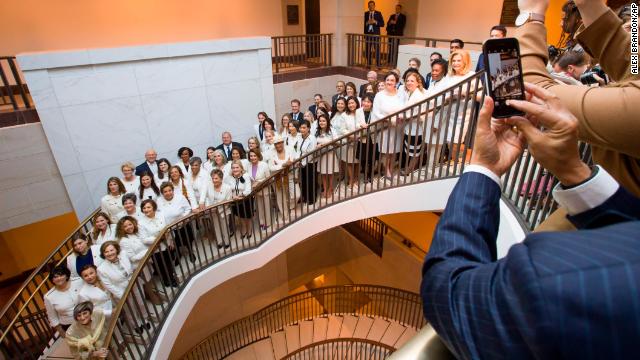 The House Democratic Women's Working Group is inviting female members of both parties to wear white to the State of the Union address as a symbol of solidarity.
"Wearing suffragette white is a respectful message of solidarity with women across the country, and a declaration that we will not go back on our hard-earned rights," Rep. Lois Frankel of Florida, the chair of the working group, told CNN.
Frankel pointed out there have never been as many Democratic women serving in Congress as there are today.
This won't be the first time: In 2017, the same group coordinated Democratic women wearing white to Trump's joint address to Congress. At the time, the women said they were wearing white not only in memory of the women's suffrage movement but also to show Trump their support for a number of issues affecting women, including affordable health care, reproductive rights and equal pay.