Trump's VA pick withdraws nomination
12:49 p.m. ET, April 26, 2018
What you need to know about Ronny Jackson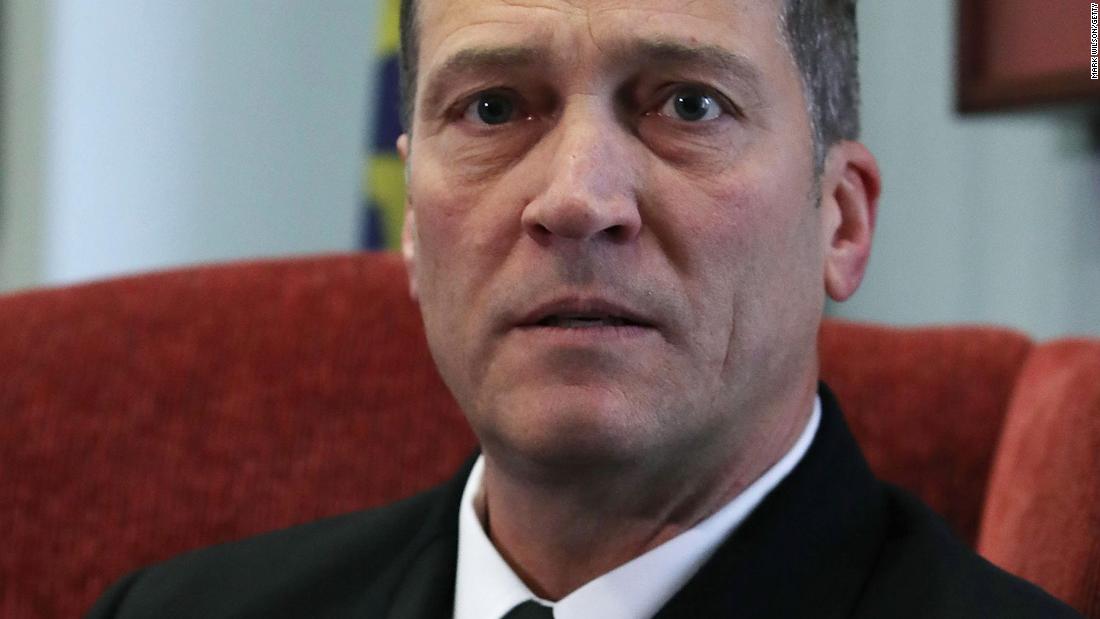 Dr. Ronny Jackson was Trump's nominee to lead Veterans Affairs. He has served as the White House physician under several administrations.
His confirmation hearing was put on hold indefinitely after whistleblowers accused Jackson of excessive drinking and a toxic work environment under his leadership, among other things. Jackson has denied these allegations.
When asked about the allegation against Jackson, Trump said he would leave it up to him to step down.
After days of news about those allegations, Jackson withdrew his nomination on Thursday.
Though he won't be VA secretary, Dr. Jackson will stay on as White House physician, according to press secretary Sarah Sanders.
12:52 p.m. ET, April 26, 2018
Trump: Ronny Jackson is "a great man and he got treated very unfairly"
President Trump, who was speaking in the Rose Garden during a Take Your Kids to Work Day event, said of Dr. Ronny Jackson, "He's a great man and he got treated very unfairly."
 "He's a hell of a man," Trump said.
12:42 p.m. ET, April 26, 2018
Trump "hates what happened" to Jackson, Sarah Sanders tells a kid
White House press secretary Sarah Sanders thought she'd get some softball questions when she welcomed the children of White House reporters for Take Your Child To Wok Day.
But one enterprising boy -- dressed in a bow tie -- asked her if President Trump still trusted Dr. Ronny Jackson.
Sanders, after jokingly asking who the boy's mom or dad was, said President Trump believes Ronny Jackson is a "great guy and a great doctor."
The President has a great deal of respect for Admiral Jackson — he's a terrific guy, really likes him a lot. And hates what has happened over the last several days. But certainly thinks he's a great guy and a great doctor," Sanders said.
Another kid asked Sanders why Trump fired James Comey. "He did some things that weren't very nice," Sanders explained, which gave Trump a "pretty good reason" to let him go.
11:20 a.m. ET, April 26, 2018
President Trump didn't mention VA nomination at Wounded Warriors event
President Trump welcomed a group of Wounded Warriors to the White House this morning, just hours after his pick to lead Veterans Affairs withdrew his nomination.
rump delivered remarks hailing the assembled vets and promising his administration would have their backs, but there was no mention of Dr. Ronny Jackson.
Trump did, however, make an offhand comment about asking for updates on his cabinet, asking his aides, "Who is doing the best?"
10:36 a.m. ET, April 26, 2018
Jeff Flake: A lot of Republicans had concerns about Jackson from the beginning
Sen. Jeff Flake said Dr. Ronny Jackson made the right decision to withdraw his name from the VA nomination.
But he added that there should have been better vetting of Jackson to begin with.
"Well it was certainly the right decision. He wasn't gonna go anywhere. But I have to say there should have been better vetting done in the first place," Sen. Flake told CNN.
"The President was saying that it was just Democrats who had an issue, it wasn't. A lot of Republicans, a lot of my colleagues were very uneasy about this nomination from the beginning just because of the lack of experience and qualifications."
10:31 a.m. ET, April 26, 2018
Senators uncertain about promoting Ronny Jackson's military rank
Dr. Ronny Jackson is awaiting a promotion of his military rank, something that requires approval from the Senate Armed Services Committee. Senators are uncertain they will support that yet. 
Sen. Lindsey Graham said he's sure there will be an investigation into the allegations and said, "While I'm fully prepared" to support him based on his career "I want to hear more about these allegations."
Sen. Blumenthal said there needs to be a full inspector general investigation before there's any promotion to two stars.
10:00 a.m. ET, April 26, 2018
Dr. Jackson will stay on as White House physician
White House press secretary Sarah Sanders noted earlier that Dr. Ronny Jackson is at the White House for work today. 
Separately, a second official said the plan is for Dr. Jackson to remain on as the White House physician as long as he is assigned here. His assignment could change, of course, but there is no immediate plan for him to resign or retire.
This would mean that the allegations against him were serious enough to warrant him withdrawing his nomination, but not serious enough for him to resign. 
10:04 a.m. ET, April 26, 2018
Trump said this senator should "pay a big price." Here's how his campaign is responding.
This morning, President Trump said Sen. Jon Tester, who led the congressional oversight on Dr. Ronny Jackson's now-failed nomination to lead the VA, should have a "big price to pay in Montana."
An official for the Tester campaign told CNN that the idea that the senator was going after Jackson to pick a fight with Trump is laughable and disagreed with Trump's comments.
"Jon's focus from the beginning is making sure we have strong leadership at the top of the VA so our veterans are taken care of. Jon has worked with the president to get 8 bills signed into law on the VA," the official noted. "That is his goal."
 "This isn't political for him, it is about doing right by our veterans," he said.
Jon Tester also released a statement following Jackson's announcement that he has withdrawn his nomination:
"I want to thank the servicemembers who bravely spoke out over the past week. It is my Constitutional responsibility to make sure the veterans of this nation get a strong, thoroughly vetted leader who will fight for them. The next Secretary must have a commitment to reform a strained health care system and a willingness to stand up to special interests who want to privatize the VA. My sleeves are rolled up and ready to work with Chairman Isakson to vet and confirm a Secretary who is fit to run the VA."
9:49 a.m. ET, April 26, 2018
Trump: Nobody has the experience to run the VA
The Department of Veterans Affairs is one of the largest government agencies, charged with taking care of about 20 million veterans.
Jackson's nomination was a major surprise, and many questioned whether or not he had the experience to run such a large department.
Speaking to Fox News this morning, President Trump acknowledged Jackson's lack of experience, but added that no one has that experience.
"Nobody has the experience" to run the VA, Trump said. "It's a big monster."