Rod Rosenstein expects to be fired
6:07 p.m. ET, September 24, 2018
Our live coverage has concluded — for now. For the latest on Rod Rosenstein, who is due to meet with President Trump on Thursday amid reports he may have offered to resign, see our report on CNN Politics.
5:28 p.m. ET, September 24, 2018
Susan Collins: I'm "very concerned" about reports Rosenstein may be out at DOJ
Republican Sen. Susan Collins of Maine tweeted Monday afternoon that she was "very concerned by reports that Deputy AG Rosenstein will either be fired or forced to resign."
"The AG made the correct decision to recuse himself from the DOJ investigation into Russia's attempts to interfere in our elections. The Deputy AG plays a critical role in overseeing the investigation headed by special counsel Mueller," she said in a follow-up tweet.
5:22 p.m. ET, September 24, 2018
Warner says it's time for GOP to protect Mueller with Rosenstein fate in limbo
Sen. Mark Warner, the top Intel Democrat, says that it's time for Republicans to step up and protect the Mueller investigation with Rod Rosenstein's fate hanging in the balance
"I think there's broad bipartisan support to protect the Mueller investigation. That ought to be passed right away," Warner told reporters
"There's been a lot of my Republican colleagues along the way who have said if the time comes, they'll step up. We'll see later this week if that time comes along," he added.
"You've got the potential, even if Mueller's not fired, for his budget to be cut back, his investigatory activities to be cut back."
5:46 p.m. ET, September 24, 2018
Rosenstein overestimated how angry Trump would be, source says
Deputy Attorney General Rod Rosenstein overestimated how angry President Trump would be after the New York Times' explosive report, a senior administration official told CNN.
Rosenstein offered his resignation to Chief of Staff John Kelly after the story was published last Friday, and met with Kelly on Monday to discuss the matter before speaking to the President.
Rosenstein expected to be fired by Trump Monday, said another source familiar with the case.
While Trump asked associates after the story was published if he should "just fire him (Rosenstein)," he was also skeptical that the information came from former FBI Deputy Director Andrew McCabe, who Trump frequently calls untrustworthy.
Though Trump used to remark that Rosenstein was no ally of his, their relationship has improved in recent months.
[Note: This headline initially said Rosenstein "underestimated" Trump's anger. It's been corrected.]
4:50 p.m. ET, September 24, 2018
Republican senator warns against firing Rosenstein
When speaking to reporters Monday, Republican Sen. Orrin Hatch of Utah warned President Trump not to fire Rod Rosenstein.
"I like Rosenstein, personally," Hatch said. While the decision was "up to the president," he added, "I think if he did something like that it would cause a furor that I don't think we need right now."
However, Hatch, a close ally of Trump's, backed up the President when a reporter asked about the potential constitutional repercussions of firing Rosenstein.
"Everything's a constitutional crisis around here lately, it seems to me," Hatch responded. "And this president's been mistreated as far as I'm concerned."
3:55 p.m. ET, September 24, 2018
What you need to know about the man who could replace Rosenstein
If Rod Rosenstein leaves the Department of Justice, it would spark immediate questions about the long-term job security of special counsel Robert Mueller.
Noel Francisco, the solicitor general and longtime conservative lawyer, would take on oversight of Mueller's investigation into Russian meddling in the 2016 presidential election. He would be asked to sign off on decisions such as issuing subpoenas, the breadth of the investigation, or reviewing Mueller's report and its submission to Congress.
As solicitor general, Francisco is the Justice Department's top Supreme Court litigator, and has defended the Trump administration's positions since his appointment last year.
In a recent case, Francisco argued for presidential authority to remove administrative law judges, seen by some as a potential groundwork for granting presidential power over the special counsel.
Prior to becoming solicitor general, Francisco was a lawyer at Jones Day and was a colleague of White House Counsel Don McGahn, who is set to depart the White House this fall.
3:10 p.m. ET, September 24, 2018
President Trump says he will meet with Rosenstein Thursday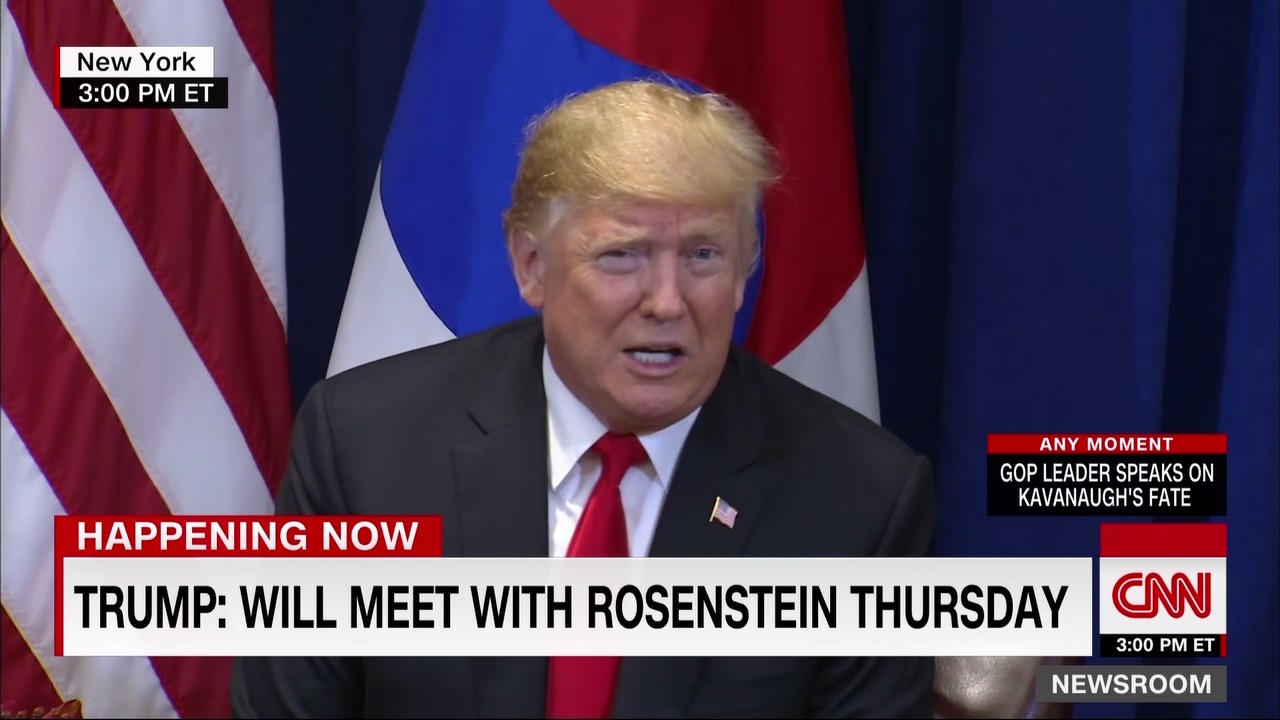 President Trump, taking reporters' questions at the UN, did not say if he's going to fire Deputy Attorney General Rod Rosenstein.
Instead, he mentioned his planned meeting with Rosenstein.
"I'm going to meet with Rod Rosenstein on Thursday when I get back from all of these meetings, but we'll be meeting at the White House and we'll be determining what's going on. We want to have transparency, we want to have openness, and I look forward to meeting with Rod at that time," Trump said.
Asked what he would like to do with his deputy attorney general, Trump said, "Well we're going to have a meeting on Thursday when I get back." He added, "I spoke with Rod today and we're going to have a meeting on Thursday when I get back to the White House."
Watch more:
2:24 p.m. ET, September 24, 2018
GOP allies had urged Trump not to fire Rosenstein ahead of Kavanaugh confirmation
Just this past weekend, CNN's Kevin Liptak, Jim Acosta and Gloria Borger reported that Republican allies of the President had urged him to hold off on a purge of Justice Department officials, including Deputy Attorney General Rod Rosenstein, until Brett Kavanaugh is safely in place on the Supreme Court.
From their report:
In the immediate hours after The New York Times reported Friday on Rosenstein's supposedly sarcastic musings about wearing a wire to document chaos in the administration, Trump questioned whether to fire him immediately, people familiar with the conversations said.
Some of his staunchest allies seemed to goad him to do it. Fox News hosts Laura Ingraham and Jeanine Pirro posted messages on Twitter declaring Rosenstein must swiftly be dismissed.
But in Washington, more cautious voices warned of outcry on Capitol Hill if Trump moved to fire the man who oversees special counsel Robert Mueller's Russia investigation. The fallout could muddle efforts to get Kavanaugh confirmed, Trump's allies warned, particularly as some senators are wavering in their support amid the sexual assault claims against the nominee, which the judge has denied. Ingraham — who'd earlier declared on Twitter "He needs to go. Today" — deleted her tweets.
1:23 p.m. ET, September 24, 2018
Did Sessions hint at big news ahead of Rosenstein reports?
Attorney General Jeff Sessions delivered what some might say was an ominous line in a speech in Alabama Monday morning, before news broke that his number two, Deputy Attorney General Rod Rosenstein, had discussed resigning and was on his way to the White House.
Responding to a long welcoming applause at a public safety conference, Sessions told the crowd:
"Thank you so much. That is a warm welcome and I appreciate it. It will make my day and who knows, I may need this today. Going back to Washington, you never know what's going to happen next in the capital city, that's for sure."
Sessions was speaking at the Justice Department's National Public Safety Partnership Symposium where he touted a federal crime reduction program and announced a turnaround in national violent crime statistics.