The Mueller report is out
1:03 p.m. ET, April 18, 2019
No collusion in RNC platform change on Ukraine, report says
The controversial GOP platform change about Ukraine wasn't done "at the behest" of candidate Donald Trump or the Russian government, according to the report.
"[T]he investigation did not establish that one campaign official's efforts to dilute a portion of the Republican Party platform on providing assistance to Ukraine were undertaken at the behest of candidate Trump or Russia," the report said.
Some background: Before the 2016 Republican convention, Trump campaign aides blocked language from appearing in the platform that endorsed the US government sending lethal arms to Ukraine and aggressively supporting Ukraine's anti-corruption bureau, according to public reports from CNN and other outlets.
1:00 p.m. ET, April 18, 2019
Your 1 p.m. catch-up on what we've learned so far from the Mueller report
The Department of Justice released a redacted version of the special counsel Robert Mueller's report this morning. CNN is going through the document now, and we've been posting highlights here.
In the first moments the report was released, we learned that Mueller wasn't able to conclude "no criminal conduct occurred" and that the special counsel believed it had the authority to subpoena Trump — but decided against doing so. (Read more about the initial report highlights here.)
Here's what we've learned since we last caught you up:
"This is the end of my Presidency": In May 2017, after President Trump learned from then-Attorney General Jeff Sessions that Deputy Attorney General Rod Rosenstein had appointed Mueller, Trump "slumped back in his chair and said, 'Oh my God. This is terrible. This is the end of my Presidency. I'm f***ed.'"
Trump tried to remove Mueller: Trump called former White House lawyer Don McGahn at home and directed him to call the acting attorney general and say Mueller "had conflicts of interest and must be removed." McGahn refused.
Why obstruction failed: Mueller said obstruction by President Trump failed because others refused to "carry out orders."
Another note on obstruction: The special counsel wrote about how the President's public comments can be considered as obstruction efforts because of his power.
12:53 p.m. ET, April 18, 2019
Mueller: President's efforts to mislead press on the Trump Tower meeting were not criminal
Special counsel Robert Mueller provides an extensive recounting of how President Trump and his aides handled the fallout of the June 9, 2016 meeting at Trump Tower between Russians and senior campaign officials.
The report, citing interviews with former White House communications officials Hope Hicks and Josh Raffel, says Trump directed aides on multiple occasions not to publicly disclose emails setting up the meeting. Later, the report affirms that Trump himself dictated a misleading statement to the press, saying the meeting primarily discussed adoption. 
The report describes White House officials learning — sometimes with shock — about the meeting. For example, then-White House chief of staff Reince Priebus first learned about the meeting in late June 2017 from Fox News host Sean Hannity (the report does not say how Hannity learned of it). 
Hicks recalls being "shocked" by the emails setting up the meeting, concerned they looked "really bad." Together with senior advisers Ivanka Trump and Jared Kushner, Hicks discussed the emails with Trump, who told the group "he did not want to know about it" and refused to hear details of the matter. He said he was confident the emails would never leak.
When Trump learned the New York Times was working on a story about the Trump Tower meeting, Trump initially directed Hicks not to comment — which she said was odd, according to Mueller, "because he usually considered not responding to the press to be the ultimate sin."
Later, when Hicks showed Trump a draft statement about the meeting attributed to his son, the President deemed it too revealing. He told Hicks "to say only that Trump Jr. took a brief meeting and it was about Russian adoption." 
Trump Jr. expressed concern about that statement, however, insisting the word "primarily" be inserted to suggest the meeting included other topics aside from just adoption.
"Boss man worried it initiates a lot of questions," Hicks wrote back to Trump Jr. Ultimately the statement was released with the world "primarily" included.
In his report, Mueller describes finding at least three occasions when Trump directed Hicks or others not the publicly disclose information about the Trump Tower meeting. Ultimately, however, Mueller determines that Trump's efforts were only directed at keeping information from the press.
He says they would only amount to obstructive action if there were attempts to withhold the information from congressional investigators or the special counsel's office.
12:57 p.m. ET, April 18, 2019
Mueller: There is no proof that Trump campaign adviser George Papadopoulos told campaign about Russian dirt
Robert Mueller never found any evidence that Trump campaign adviser George Papadopoulos told anyone on the campaign that he was tipped off about the Russians having emails that could damage Hillary Clinton.
Papadopoulos was told in April 2016 by a Kremlin-linked professor that the Russians had thousands of emails that were damaging to Clinton, according to court filings. That wasn't publicly known at the time. It wasn't until months later, when WikiLeaks and other Russian-backed websites, started releasing tens of thousands of embarrassing emails stolen from the Democratic National Committee. 
"When interviewed, Papadopoulos and the campaign officials who interacted with him told the (special counsel's) office that they could not recall Papadopoulos's sharing the information that Russia had obtained 'dirt' on candidate Clinton in the form of emails or that Russia could assist the campaign through the anonymous release of information about Clinton," the report said.
The report continued: "No documentary evidence, and nothing in the email accounts or other communications facilities reviewed by the office, shows that Papadopoulos shared this information with the campaign."
12:49 p.m. ET, April 18, 2019
You can now search the entirety of Mueller's report
A quick note: We've just made it so the entirety of the Mueller report is searchable on CNN.com.
Looking for suggestions? Here's a list of terms to control-F search.
12:43 p.m. ET, April 18, 2019
Mueller considered different possible collusion crimes
Special counsel Robert Mueller looked at potential crimes outside of conspiracy as he investigated collusion, including crimes under campaign finance law and regarding individuals potentially acting as illegal foreign agents for the Russian government.
"Among other things, the evidence was not sufficient to charge any campaign officials as an unregistered agent of the Russian government or other Russian principal," according to the report.
Investigators conducted some searches of former Trump lawyer Michael Cohen under this potential crime, but ultimately did not charge him with it, according to previously unsealed search warrants.
They also looked at whether the Trump Tower meeting could be considered a campaign finance violation.
12:41 p.m. ET, April 18, 2019
How the Trump campaign is reacting to the Mueller report
Following the release of the Robert Mueller report, Trump's campaign manager said the President "has been fully and completely exonerated yet again."
"Now the tables have turned, and it's time to investigate the liars who instigated this sham investigation into President Trump, motivated by political retribution and based on no evidence whatsoever," Brad Parscale said in a statement.
Here's the full statement from the Trump campaign:
"President Trump has been fully and completely exonerated yet again. Now the tables have turned, and it's time to investigate the liars who instigated this sham investigation into President Trump, motivated by political retribution and based on no evidence whatsoever. There is simply no denying that 'spying did occur' on the Trump campaign during the 2016 election, as Attorney General Barr himself noted in testimony before Congress. Barr went on to testify that there was a 'failure among a group of leaders there at the upper echelon [of the FBI]… [and] I feel I have an obligation to make sure that government power is not abused.' Now that the collusion and obstruction conspiracy theories have been exposed for the pathetic hoaxes they always were, the Obama-era DOJ and FBI must answer for their misdeeds and the scam that they perpetrated against the American people. Justice will be served."
12:42 p.m. ET, April 18, 2019
Mueller cites Congress' right to investigate the President
Special counsel Robert Mueller's report lays out the case for why Congress is able to investigate and take action against President Trump on obstruction of justice.
In the report, Mueller provided a legal justification for why the special counsel was able to investigate obstruction of justice, even if they could not indict a sitting President.
The lengthy section, citing legal precedents, also alludes to Congress' power under checks-and-balances to investigate and potentially impeach the President over obstruction of justice. 
"The conclusion that Congress may apply the obstruction laws to the President's corrupt exercise of the powers of office accords with our constitutional system of checks and balances and the principle that no person is above the law," the report states
See it: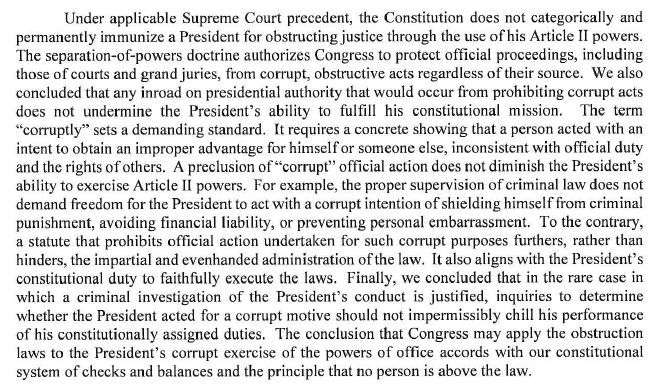 12:29 p.m. ET, April 18, 2019
Democratic presidential candidate calls on Barr to resign
Democratic presidential candidate Eric Swalwell has called for Attorney General William Barr to step down following today's news conference.
Here's what he said in a statement:
"He has proved that he's an embedded Trump ally who puts this President's political future above of the rule of law. That makes him unfit to serve. He must resign."
Swalwell is a member of the House Judiciary Committee
"You can be the President's defense attorney or America's Attorney General, but you can't be both," he said. "William Barr was tainted from the moment he sent an unsolicited memo to the Justice Department panning Robert Mueller's obstruction investigation, way back in June 2018."