The Mueller report is out
4:40 p.m. ET, April 18, 2019
GOP Senate Intel chair appeared to brief White House counsel on FBI investigation in 2017, report says
Senate Intelligence Chairman Richard Burr appeared to brief the White House counsel's office about the targets of the FBI's Russia investigation in March 2017, the special counsel's report says.
The report states that FBI Director James Comey briefed the Gang of Eight — the Intelligence Committee and congressional leaders — about the investigation on March 9, 2017, before he revealed its existence publicly at a House hearing on March 20, 2017.
"The week after Comey's briefing, the White House counsel's office was in contact with SSCI Chairman Senator Richard Burr about the Russia investigations and appears to have received information about the status of the FBI investigation," the report states.
In a footnote, the report states that the White House counsel's office was briefed by Burr on the "existence of 4-5 targets," citing notes from former deputy White House Counsel Annie Donaldson. The notes included references to former national security adviser Michael Flynn, former Trump campaign chairman Paul Manafort, a redacted individual due to an ongoing investigation and "Greek Guy," which is likely George Papadopoulos — although the footnote also notes that the Intelligence Committee "does not formally investigate individuals as 'targets.'" 
"The notes on their face reference the FBI, the Department of Justice and Comey; and the notes track the background materials prepared by the FBI for Comey's briefing to the Gang of 8 on March 9," the footnote says. 
Burr spokeswoman Caitlin Carroll said that Burr did not recall the specific conversation with White House counsel Don McGahn in March 2017.
"However, any conversations between the two would have been in reference to the need for White House personnel to voluntarily comply with the Senate Intelligence Committee's Russia investigation," she said. "If specific individuals were discussed, they would have been those known to the Committee, the White House, and the media. The chairman's stewardship over the committee's bipartisan and fact-based investigation over the last two years speaks for itself."
4:29 p.m. ET, April 18, 2019
Trump ignored reporters' questions as he left the White House
President Trump and first lady Melania Trump just left the White House. They are headed to Mar-a-Lago in Florida for the weekend.
Trump, who waved to cameras, ignored all questions and did not talk to reporters.
4:45 p.m. ET, April 18, 2019
An aide warned Jeff Sessions that Russian ambassador was "old school KGB guy"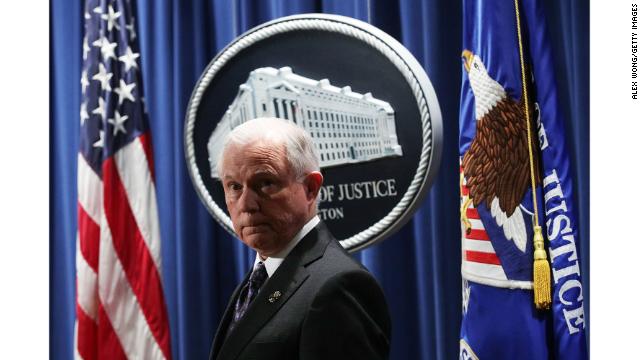 Former Russian ambassador to the US Sergey Kislyak repeatedly tried to meet with President Trump's aides. The highest-ranking official caught up in Kislyak's outreach was former Attorney General Jeff Sessions.
During Sessions' meeting with Kislyak in September 2016, Sessions criticized Russian aggression in Ukraine and they discussed NATO. Sessions told investigators that Kislyak mentioned that the Kremlin was receptive to Trump's public overtures. None of the attendees who spoke to special counsel Robert Mueller — Sessions and at least two of his Senate aides — told Mueller that Russian meddling came up during the meeting. 
One of Sessions' aides told him that Kislyak was an "old school KGB guy" and advised him against accepting an invitation from Kislyak for a one-on-one meeting at his personal residency.
Kislyak tried to meet Sessions again after Trump's victory, but Sessions was out of town. Kislyak did end up meeting with other Trump aides during the transition, like Jared Kushner and Michael Flynn.
4:15 p.m. ET, April 18, 2019
Sessions rebuffed efforts to stop recusal
At the direction of President Trump, White House counsel Don McGahn and other aides made extensive and repeated attempts to prevent then-Attorney General Jeff Sessions from recusing himself from the investigation into Russian interference in the 2016 presidential election, according to special counsel Robert Mueller's report. 
In early March 2017, after media reports revealed that Sessions had not disclosed two meetings he had with Russian Ambassador Sergey Kislyak before the election, prompting questions about whether Sessions should recuse himself, Trump called McGahn and "urged him" to contact Sessions "to tell him not to recuse himself." 
"McGahn understood the President to be concerned that a recusal would make Sessions look guilty for omitting details in his confirmation hearing; leave the President unprotected from an investigation that could hobble the presidency and derail his policy objectives; and detract from favorable press coverage of a Presidential Address to Congress the President had delivered earlier in the week," the report says.
McGahn followed Trump's direction, calling Sessions to say Trump was "not happy" about the possibility he might recuse himself. After Sessions told McGahn he intended to comply with the recusal rules, McGahn reported that back to Trump, who reiterated his displeasure.
Over the course of the rest of the day, McGahn "continued trying on behalf of the President to avert Sessions's recusal," contacting Sessions' personal counsel and chief of staff, Senate Majority Leader Mitch McConnell, and Sessions himself twice more. Other White House advisers also contacted Sessions that day to oppose his recusal, according what Sessions told Mueller.
That afternoon, Sessions announced his recusal.
3:59 p.m. ET, April 18, 2019
Carter Page didn't coordinate with Russians despite ties to Russian spies, Mueller says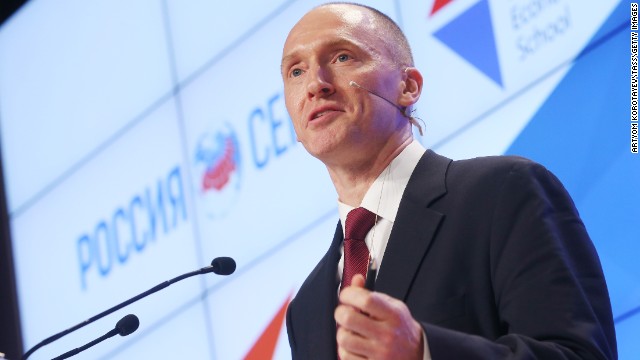 Investigators scrutinized Trump campaign adviser Carter Page and concluded that he didn't collude with the Russians despite his previous ties to Russian spies and campaign-era contracts with Russians.
"Russian intelligence officials had formed relationships with Page in 2008 and 2013 and Russian officials may have focused on Page in 2016 because of his affiliation with the Campaign. However, the investigation did not establish that Page coordinated with the Russian government in its efforts to interfere with the 2016 presidential election," the report says. 
During one of Page's multiple interviews with investigators in 2017, he appears to have partially confirmed a detail that first appeared in the controversial Trump-Russia dossier. 
The dossier said Page met the president of Rosneft, a state-run oil company, and discussed a deal for Trump to lift US sanctions in exchange for future energy cooperation between the two countries.
What's in the report: Special counsel Robert Mueller's report said Page actually met Andrey Baranov, Rosneft's head of investor relations. Page told investigators they "might have mentioned the possibility of a sale of a stake in Rosneft in passing." But Page has always vehemently denied brokering any quid-pro-quo regarding Trump and Rosneft.
Some of the details of Page's meeting have been previously reported from Page's testimony on the Hill.  
Years before Trump ran for president, Russian spies in New York City targeted Page for recruitment, according to old court filings that Mueller cited in his report. Page had many contacts and meetings with one of the spies, and the Russians faced criminal charges in 2015.
3:52 p.m. ET, April 18, 2019
Fact check: Did Barr act improperly when he shared report with POTUS lawyers?
In his remarks prior to releasing the redacted report from special counsel Robert Mueller, Attorney General William Barr said that President Trump's lawyers were given the chance to read a final version of the redacted report before it was publicly released.
That has sparked a debate over whether Barr acted properly in sharing the report with the President's lawyers before sending it to Congress. In his remarks, Barr defended his decision, claiming it was "was consistent with the practice followed under the Ethics in Government act, which permitted individuals named in a report prepared by an Independent Counsel the opportunity to read the report before publication."  
Facts first: It's unusual that Barr relies on an act covering independent counsels, since neither he nor Mueller operates under it. That said, there's nothing in the special counsel regulations that pertain to Barr and Mueller that either prohibit or mandate sharing advance copies of a report with outsiders. 
The Ethics in Government act Barr references covers independent counsels (Robert Mueller, instead, was a special counsel). Regulation -- which expired in 1999 -- around independent counsels left it up to the courts to determine whether "any individual named in such report" would be permitted to review the report before its release. "(T)he court may make any portion of a final report ... available to any individual named in such report," according to the US code which addresses information disclosure from independent counsel reports.   
David Kendall, a lawyer for then-President Bill Clinton during Ken Starr's independent counsel investigation, sent a letter to Starr requesting that those named in his report be allowed to see the report before its release. Kendall closed his letter by asking Starr "to join with us in seeking a Rule 6(e) order from the Chief Judge to allow us to review the draft 'report' and file comments with it."  
While Starr disagreed with Kendall's legal interpretation of the regulations surrounding independent counsels and denied Kendall's request, it was not up to Starr to release the report to Kendall, et al. -- which is why Kendall was requesting Starr's support in asking the court to allow a review of the draft.  
Barr's suggestion that allowing those mentioned in the report to see it before its release "was consistent with" former practices is irrelevant because those practices and the act cited do not apply to Barr and Mueller's authority. Barr is not legally prohibited from allowing people to see the report before releasing it, so his justification for doing such is unnecessary and out of place.
3:43 p.m. ET, April 18, 2019
House Majority Leader: "Impeachment is not worthwhile at this point"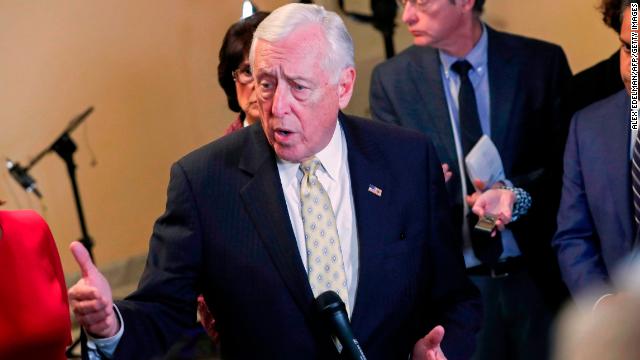 House Majority Leader Steny Hoyer, a Democrat from Maryland, told CNN there is nothing he has seen so far in special counsel Robert Mueller's report that would change the House leadership strategy to avoid impeachment proceedings.
"Based on what we have seen to date, going forward on impeachment is not worthwhile at this point. Very frankly, there is an election in 18 months and the American people will make a judgement," Hoyer said.
3:10 p.m. ET, April 18, 2019
Former New Jersey Gov. Chris Christie was interviewed about lunch he had with Trump
The special counsel team interviewed former New Jersey Gov. Chris Christie in February 2019, two weeks after the release of his book, according to Robert Mueller's report.
The focus of the Christie interview appears to have been a White House lunch he had with President Donald Trump on February 14, 2017, one day after the resignation of Trump's former national security adviser Michael Flynn. Christie also recounted that meal in his book.
Here's what the report says about the interaction:
"Now that we fired Flynn, the Russia thing is over," Trump told Christie, according to Christie.
Christie laughed and responded, "No way."
Christie continued: "This Russia thing is far from over" and "[w]e'll be here on Valentine's Day 2018 talking about this." 
"Christie told the President not to talk about the investigation even if he was frustrated at times," according to the report. Christie also told Trump that he "would never be able to get rid of Flynn, 'like gum on the bottom of your shoe.'"
According to the report, Trump also asked Christie twice to reach out to former FBI Director James Comey to say that Trump "really like[s] him. Tell him he's part of the team." Christie told the special counsel he never intended to fulfill those requests.
"He thought the President's request was 'nonsensical,'" the report says, "and Christie did not want to put Comey in the position of having to receive such a phone call." 
3:17 p.m. ET, April 18, 2019
Here's your 3 p.m. catch-up on the Mueller report
A redacted version of special counsel Robert Mueller's report has been public for about four hours now.
Here's what we've learned since our last catch-up:
Trump's aides refused his orders: Mueller's report paints a vivid picture of Trump's aides repeatedly ignoring or brushing aside his dictates — both in the interest of guarding the President from his own worst instincts and of protecting themselves from further legal implications.
Mueller declined to prosecute some close to Trump: The special counsel declined to prosecute "several" people on a range of charges, including Donald Trump Jr. and then-Attorney General Jeff Sessions.  
Mueller looked into the tapes: The special counsel examined whether President Trump learned during the presidential campaign of the rumored existence of compromising tapes made of him years earlier when he visited Moscow.
About Trump's written answers: Mueller considered Trump's written responses "inadequate" and sought an interview with Trump — but ultimately decided not to issue a subpoena for the interview. 
This is who financed an effort to get Clinton's emails: Security contractor Erik Prince, who is the brother of Education Secretary Betsy DeVos, helped finance an effort to obtain Hillary Clinton's deleted emails in 2016.