The Mueller report is out
12:07 p.m. ET, April 18, 2019
Mueller: Obstruction by Trump failed because others refused to "carry out orders"
In the report, special counsel Robert Mueller outlined why obstruction by President Trump failed. It failed because others refused to "carry out orders."
"The President's efforts to influence the investigation were mostly unsuccessful, but that is largely because the persons who surrounded the President declined to carry out orders or accede to his requests," the report said.
"(James) Comey did not end the investigation of (Michael) Flynn, which ultimately resulted in Flynn's prosecution and conviction for lying to the FBI. (Don) McGahn did not tell the Acting Attorney General that the special counsel must be removed, but was instead prepared to resign over the President's order. (Corey) Lewandowski and Dearborn did not deliver the President 's message to (Jeff) Sessions that he should confine the Russia investigation to future election meddling only. And McGahn refused to recede from his recollections about events surrounding the President's direction to have the special counsel removed, despite the President's multiple demands that he do so. Consistent with that pattern, the evidence we obtained would not support potential obstruction charges against the President's aides and associates beyond those already filed," the report said.
See it:

12:28 p.m. ET, April 18, 2019
Trump on Mueller appointment: "This is the end of my Presidency"
In May 2017, after President Trump learned from then-Attorney General Jeff Sessions that Deputy Attorney General Rod Rosenstein had appointed special counsel Robert Mueller, Trump "slumped back in his chair and said, 'Oh my God. This is terrible. This is the end of my Presidency. I'm fucked.'"
According to the report, "The President returned to the consequences of the appointment and said, 'Everyone tells me if you get one of these independent counsels it ruins your presidency. It takes years and years and I won't be able to do anything. This is the worst thing that ever happened to me.'"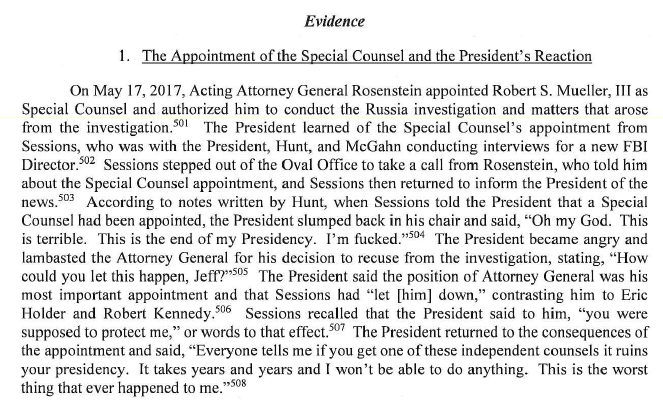 See More:
12:24 p.m. ET, April 18, 2019
Trump told his White House lawyer to remove Mueller. He refused.
On June 17, 2017, after media reports indicated that special counsel Robert Mueller was investigating whether President Trump had obstructed justice, Trump called former White House lawyer Don McGahn at home and directed him to call the acting attorney general and say Mueller "had conflicts of interest and must be removed."
McGahn declined to do so, deciding that he would "rather resign than trigger what he regarded as a potential Saturday Night Massacre."
See it:

Hear it:
11:42 a.m. ET, April 18, 2019
Mueller describes previously unknown effort by Trump to get Sessions to curtail investigation
Special counsel Robert Mueller described a previously unknown example of the President's attempts to curtail the investigation involving Trump's former campaign aide Cory Lewandowski.
Mueller says that on June 19, 2017, Trump met in the Oval Office with Lewandowski and dictated a message intended for then-Attorney General Jeff Sessions, who at that point had recused himself from matters involving the probe.
In the message, Sessions was told to publicly announce the investigation was "'very unfair' to the President, the President had done nothing wrong, and Sessions planned to meet with the special counsel and 'let [him] move forward with investigation election meddling for future elections.'" Lewandowski told Trump he understood his instructions.
A month later, Trump checked back in with Lewandowski on the status of his message. Lewandowski said the message would be delivered soon.
Ultimately, Lewandowski declined to deliver the message personally, instead asking a senior White House official — Rick Dearborn — to do it instead. Mueller's report says Dearborn was "uncomfortable with the task and did not follow through."
See it: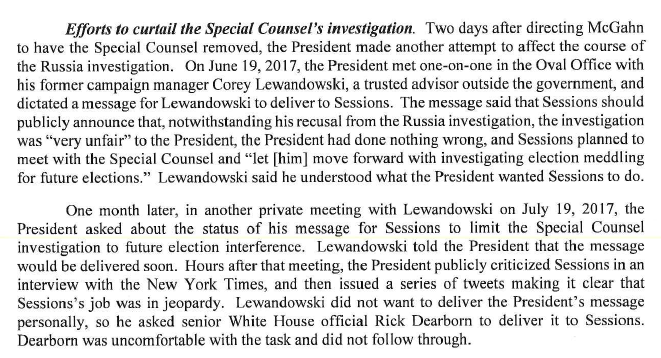 11:40 a.m. ET, April 18, 2019
Just to catch you up, here's what we've learned from the Mueller report (so far)
The Department of Justice released a redacted version of the special counsel Robert Mueller's report moments ago.
CNN is still going through the report, but here are the highlights so far:
Mueller wasn't able to conclude "no criminal conduct occurred": The investigation was unable to clear the President on obstruction. The report states that the evidence obtained "about the about the President's actions and intent presents difficult issues that prevent us from conclusively determining that no criminal conduct occurred."
What the Trump campaign knew: The special counsel's investigation into possible collusion found that members of the Trump campaign knew they would benefit from Russia's illegal actions to influence the election, but didn't take criminal steps to help, Robert Mueller's report said.
Why Mueller didn't subpoena Trump: The special counsel believed it had the authority to subpoena President Trump — but decided against doing so because it would delay the investigation, according to the report. Prosecutors also believed they already had a substantial amount of evidence.
11:38 a.m. ET, April 18, 2019
House Intel Committee has also requested Mueller testify
The House Intel Committee has also requested that Robert Mueller testify before them "at the earliest opportunity," Chairman Adam Schiff tweeted out on Thursday morning.
11:38 a.m. ET, April 18, 2019
The printers are buzzing in the Senate Judiciary office on Capitol Hill
Outside of the Senate Judiciary Committee office, the printers are buzzing.
It's one of the only sounds on this very quiet day in Dirksen Senate Office Building. Members are on recess and there are some murmurs or staff conversations from down the hall. Otherwise, just the sound of printing as Washington learns what is inside this redacted report.