The Mueller report is out
1:38 p.m. ET, April 18, 2019
Trump Jr. told others about Clinton dirt, including Ivanka Trump and Hope Hicks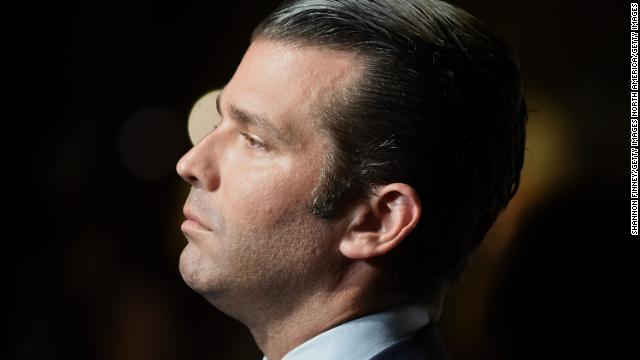 Donald Trump Jr., at a morning meeting with top campaign and Trump campaign members, announced "that he had a lead on negative information about the Clinton Foundation" in the days before the Trump Tower meeting, special counsel Robert Mueller wrote. 
Then-deputy campaign manager Rick Gates, a top Mueller cooperator, recounted that Trump Jr. believed the information would come from a group in Kyrgyzstan — potentially a reference Aras Agalarov, the Azerbaijani-Russian who helped to orchestrate the meeting, according to the special counsel.
Mueller wrote that, according to Gates, Trump Jr., Eric Trump, former Trump campaign chairman Paul Manafort, then-White House communications director Hope Hicks, Ivanka Trump and Trump's son-in-law Jared Kushner all attended the meeting. Ivanka Trump and Kushner attended late, according to Gates, Mueller wrote.
According to the report, Gates said Manafort, however, cautioned the group to be careful and raised doubts the upcoming meeting would actually yield vital information.
Hicks later denied knowing about the meeting in advance, and Kushner said he did not recall knowing about it.
1:31 p.m. ET, April 18, 2019
Trump's outside legal team reviewed the Mueller report at the Justice Department, his lawyer says
President Trump's lawyer Jay Sekulow said they were not briefed on special counsel Robert Mueller's report.
"We were not briefed," Sekulow said. "We were able to review it in the SCIF at DOJ. No DOJ personnel present and no interaction."
Sekulow would not say whether they then talked to Trump about it, saying he would not talk about those discussions.
3:25 p.m. ET, April 18, 2019
Special counsel investigated rumored compromising tapes of Trump in Moscow
The special counsel examined whether President Trump learned during the presidential campaign of the rumored existence of compromising tapes made of him years earlier when he visited Moscow.
According to a footnote in the special counsel's report, in October 2016, prior to the election, former Trump lawyer Michael Cohen received a text from Russian businessman, Giorgi Rtskhiladze, that said: "Stopped flow of tapes from Russia but not sure if there's anything else. Just so you know..."
Rtskhiladze told the special counsel that "tapes" referred to "compromising tapes of Trump rumored to be held by persons associated with the Russian real estate conglomerate Crocus Group," which had helped host the 2013 Miss Universe Pageant, according to the report. Cohen told the special counsel that he spoke to Trump about the issue after receiving Rtskhiladze's text.
Rtskhiladze, however, told prosecutors that he was told the tapes were fake, but that he didn't convey that to Cohen. 
Scott Balber, a lawyer for Aras Agalarov, founder of Crocus Group, said the allegation that "compromising tapes rumored to be held by persons associated with the Russian real estate conglomerate Crocus Group," is "total nonsense." He added that Crocus Group does not have any compromising tapes.
Why this matters: The footnote raises the matter in the context of explaining that former FBI Director James Comey had briefed the President-elect in January 2017 on a dossier compiled by retired British spy Christopher Steele, including that "the Russians had compromising tapes of the President involving conduct when he was a private citizen during a 2013 trip to Moscow for the Miss Universe Pageant."
About the dossier: The controversial 35 pages of intelligence memos compiled by Steele paint a picture of widespread conspiracy of collusion between the Trump campaign and the Russian government.
See more:
1:18 p.m. ET, April 18, 2019
Mueller thought Trump's written answers were "inadequate"
Special counsel Robert Mueller considered President Donald Trump's written responses "inadequate" and sought an interview with Trump, but ultimately decided not to issue a subpoena for the interview. 
Why this matters: The criticism stands in contrast to the attorney general saying Thursday the White House had "fully cooperated." 
In a report appendix, the special counsel wrote that it sought an interview with the President for more than a year, beginning in December 2017, and considered an interview "vital to our investigation." 
The special counsel agreed to receive written responses from Trump, but it "viewed the written answers to be inadequate."
"We noted, among other things, that the President stated on more than 30 occasions that he 'does not 'recall' or 'remember' or have an 'independent recollection' of information called for by the questions. Other answers were 'incomplete or imprecise,'" the report states. 
"The written responses, we informed counsel, 'demonstrate the inadequacy of the written format, as we have had no opportunity to ask follow-up questions that would ensure complete answers and potentially refresh your client's recollection or clarify the extent or nature of his lack of recollection,'" the special counsel added.
Why there wasn't a subpoena: The special counsel said it considered a subpoena, but ultimately decided against it because the investigation had already "made significant progress."
"We thus weighed the costs of potentially lengthy constitutional litigation, with resulting delay in finishing our investigation, against the anticipated benefits for our investigation and report," the report states. "We determined that the substantial quantity of information we had obtained from other sources allowed us to draw relevant factual conclusions on intent and credibility, which are often inferred from circumstantial evidence and assessed without direct testimony from the subject of the investigation."
1:15 p.m. ET, April 18, 2019
Trump asked campaign aides to find Clinton's emails
After Trump publicly asked Russia to hack Hillary Clinton's emails at a July 2016 press conference, he privately and repeatedly "asked individuals affiliated with his campaign to find the deleted Clinton emails," the report says.
The public request was also followed within five hours by Russian intelligence's first effort to infiltrate Clinton's emails, the special counsel said.
They sent 15 email accounts connected to Clinton's campaign malicious links, Mueller said. This was only a small part of the broad effort the Russians made to hack the Democratic Party for damaging information and election officials.
One of the campaign people Trump asked was Michael Flynn, who later told investigators that Trump repeatedly made the request, according to the report. Flynn then tried to get Clinton's emails and reached out to "multiple" associates — including GOP operative Peter Smith, whose efforts have been detailed in press accounts.
Why this matters: This confirms for the first time that a senior Trump campaign adviser was involved in Smith's pursuit to find Clinton's emails. Smith killed himself in May 2017 and left a note saying there was "no foul play."
This seems to contradict what an unnamed Trump campaign official told The Wall Street Journal in June 2017, that if Mr. Flynn coordinated with Smith, it was only in Flynn's capacity as a private individual. 
During Smith's shadowy pursuit of the emails, he told associates that he was working with Russian hackers. But the investigation concluded that Smith was never actually in contact with any Russians. 
In emails to associates while trying to find the emails, Smith claimed he was working "in coordination" with the Trump campaign and name-dropped Flynn, Sam Clovis, Steve Bannon and Kellyanne Conway. The Mueller investigation established that Smith communicated with "at least" Flynn and Clovis but did not find any evidence suggesting that Smith was in contact with the other Trump campaign officials.
Mueller's office interviewed multiple people about Smith's efforts, according to footnotes in the report, and Flynn provided a lot of information about his role and Trump's interest in the emails. Flynn was a marquee cooperator in the investigation and pleaded guilty to lying to the FBI in 2017.
1:13 p.m. ET, April 18, 2019
Sarah Sanders admitted to Mueller that her public comments about the FBI weren't based in fact
Speaking to Robert Mueller about her comments following the firing of FBI Director James Comey, White House press secretary Sarah Sanders conceded she made statements to the media that were not based in fact.
Specifically, Sanders said her assertion in response to a question about FBI agents supporting Comey wasn't "founded on anything," according to Mueller. 
In a back-and-forth during a briefing, a reporter told Sanders the "vast majority" of FBI agents supported Comey. 
"We've heard from countless members of the FBI that say very different things," Sanders said.
What Sanders told Mueller: She said that comment was a "slip of the tongue" made "in the heat of the moment."
See More:
1:03 p.m. ET, April 18, 2019
No collusion in RNC platform change on Ukraine, report says
The controversial GOP platform change about Ukraine wasn't done "at the behest" of candidate Donald Trump or the Russian government, according to the report.
"[T]he investigation did not establish that one campaign official's efforts to dilute a portion of the Republican Party platform on providing assistance to Ukraine were undertaken at the behest of candidate Trump or Russia," the report said.
Some background: Before the 2016 Republican convention, Trump campaign aides blocked language from appearing in the platform that endorsed the US government sending lethal arms to Ukraine and aggressively supporting Ukraine's anti-corruption bureau, according to public reports from CNN and other outlets.