The Mueller report is out
10:34 a.m. ET, April 18, 2019
Legal analyst Elie Honig examined Barr's remarks. Here's what he found.
Attorney General William Barr just wrapped up his news conference on special counsel Robert Mueller's report and legal analyst Elie Honig examined his prepared remarks.
Here's what Honig found:
On the hacking, the bar here is did they participate in the hacking effort? This line of the conspiracy is up to the prosecutor, and this is very narrowly defined. We will have to see what Mueller says about efforts to receive and publish the information once hacked, which may not have been seen as criminal but could be problematic from a legal and ethical standpoint. 
Under applicable law, publication of these types of materials would not be criminal unless the publisher also participated in the underlying hacking conspiracy. Here, too, the special counsel's report did not find that any person associated with the Trump campaign illegally participated in the dissemination of the materials.
The first hint that Barr and Mueller did not approach obstruction in the same manner. Barr says he accepted the framework from Mueller, nonetheless, but it was not solely the basis of Barr and Rosenstein's ultimate decision.
Although the Deputy Attorney General and I disagreed with some of the special counsel's legal theories and felt that some of the episodes examined did not amount to obstruction as a matter of law, we did not rely solely on that in making our decision. Instead, we accepted the special counsel's legal framework for purposes of our analysis and evaluated the evidence as presented by the special counsel in reaching our conclusion. 
This is a debatable premise to negate the idea of obstruction. In fact, it could be argued this would speak to motive for obstruction.
And as the special counsel's report acknowledges, there is substantial evidence to show that the President was frustrated and angered by a sincere belief that the investigation was undermining his presidency, propelled by his political opponents, and fueled by illegal leaks.   
10:26 a.m. ET, April 18, 2019
We're waiting to see the Mueller report. Here's where things stand right now.
We're expecting Attorney General William Barr to release a redacted version of special counsel Robert Mueller's report soon.
While Barr just held a news conference and answered several questions about the forthcoming report, it still hasn't been released. Here's what we know so far:
What's in it: Barr, at the news conference, said the report shows no collusion between Russia and the Trump campaign during the 2016 election. "So that is the bottom line ... the Special Counsel confirmed that the Russian government sponsored efforts to illegally interfere with the 2016 presidential election but did not find that the Trump campaign or other Americans colluded in those schemes."
About the redactions: Barr said there are "limited" redactions in the report, and none of them were made due to executive privilege. He said an almost unredacted version of the report will be available to some Congressional leaders (That one will only redact grand jury information.)
Timing: Congressional committees will be sent a redacted version of the report at 11 a.m. ET. Sometime after that, a copy will be posted on the special counsel's website.
10:25 a.m. ET, April 18, 2019
Barr says "no evidence that any Americans" helped Russian government — but one has been charged
Attorney General William Barr asserted in his statement that Robert Mueller found "no evidence that any Americans" helped the Russian government or the Internet Research Agency in their schemes to influence the 2016 election.
But one American was charged with aiding the Internet Research Agency— though he did so without knowing the full extent of the alleged conspiracy — and is serving six months in prison for the crime of identity fraud.
That American, a Californian named Richard Pinedo, admitted to selling to Russians involved in the Internet Research Agency effort to disrupt the election online accounts that allowed them to post propaganda on social media that could affect American voters.
Pinedo, 29, is in federal prison in California for another month.
Barr in his statement quoted directly from Mueller's report that the special counsel had not identified evidence that US persons "knowingly or intentionally coordinated" with the Internet Research Agency.
Pinedo ran a website that sold dummy bank accounts to eBay, Facebook and other online service users having trouble with the transaction service PayPal. His service allowed people online to breeze through PayPal's financial verification steps and, in the case of the Russians, buy ads on Facebook. 
Prosecutors told a judge last year that Pinedo gave them "significant assistance" as part of his guilty plea, and that his admissions and testimony "saved the government significant time and resources in the investigation." He helped them identify previously anonymous Russians and the details of their alleged scheme.
The criminal case against the Internet Research Agency is continuing, with a Russian company charged in the case pleading not guilty.
10:12 a.m. ET, April 18, 2019
House Judiciary Committee sends a letter to Robert Mueller requesting his testimony by May 23
Rep. Jerry Nadler, chairman of the House Judiciary Committee, has sent a letter to special counsel Robert Mueller asking him to testify soon.
"I request your testimony before the the Judiciary Committee as soon as possible — but, in any event, no later than May 23, 2019," he wrote.
Speaker of the House Nancy Pelosi and Senate Minority Leader Chuck Schumer have already called on Mueller to testify.
Here's Nadler's letter:
2:09 p.m. ET, April 18, 2019
Trump tweets "game over" moments after Barr's news conference
President Trump tweeted "game over" moments after Attorney General William Barr held a news conference detailing special counsel Robert Mueller's report.
He tweeted an image of himself that appropriated the font style from "Game of Thrones."
HBO later issued a statement in response to Trump's tweet.
"Though we can understand the enthusiasm for Game of Thrones now that the final season has arrived, we still prefer our intellectual property not be used for political purposes," HBO said
Some background: Trump has used appropriated images from the "Game of Thrones" before.
In the past, HBO has responded, saying: "We were not aware of this messaging and would prefer our trademark not be misappropriated for political purposes."
(HBO and CNN share parent company WarnerMedia.)
10:07 a.m. ET, April 18, 2019
Barr: "I have no objection to Bob Mueller testifying"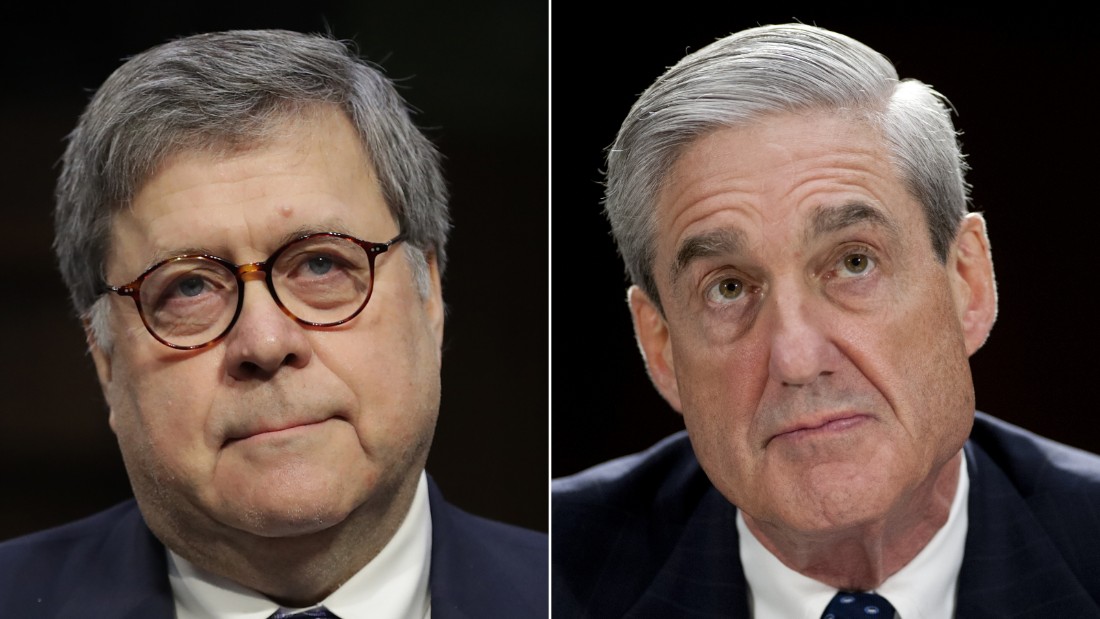 Asked if special counsel Robert Mueller should testify before Congress about his report, Attorney General William Barr said he has no objection.
"I have no objection to Bob Mueller testifying," he said.
Barr is scheduled to testify next month in front of the Senate and House Judiciary Committees.
10:03 a.m. ET, April 18, 2019
Read Barr's prepared remarks about the release of the redacted Mueller report 
Attorney General William Barr just delivered remarks on the release of special counsel Robert Mueller's redacted report on the investigation into Russian interference in the 2016 presidential election. 
Click or tap here for a copy of the full remarks as prepared for delivery.