1:36 p.m. ET, July 24, 2019
We're hearing a lot about Joseph Mifsud today. Here's what you should know about him.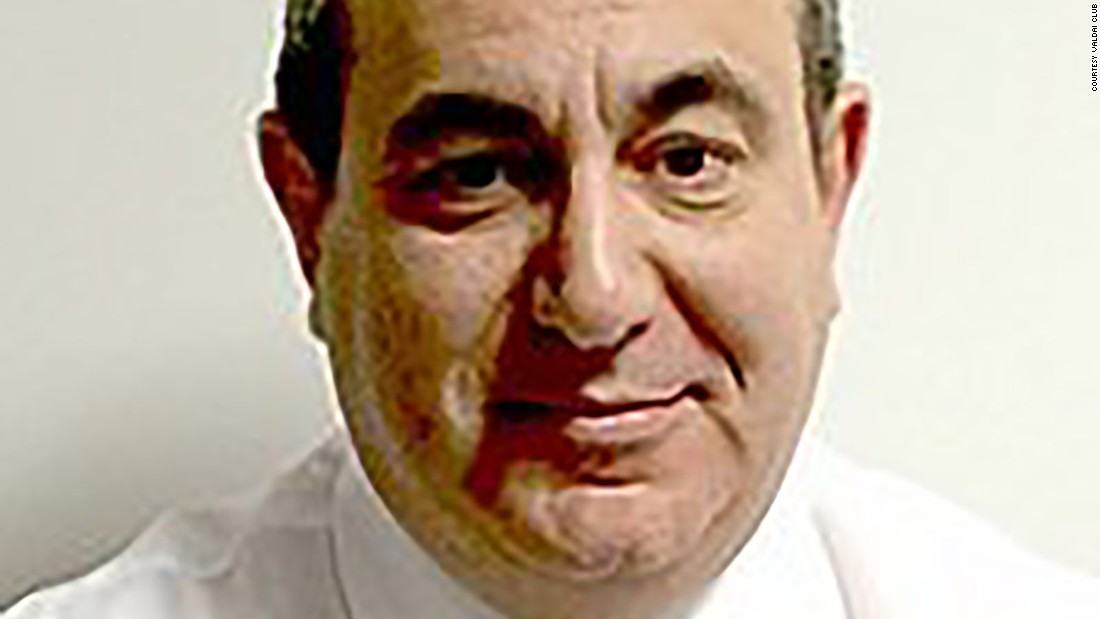 There's been a lot of talk today about Joseph Mifsud, a Malta-born professor who was in contact with Trump campaign adviser George Papadopoulos throughout 2016 before the election.
Mueller's team, in court filings and their final report, describe Mifsud as someone who has vast connections to the Russian government and tried to bring Papadopoulos closer to the Russians.
How he's linked to the Mueller probe: The Mueller investigation determined that Mifsud told Papadopoulos that Russia "could assist the Campaign through the anonymous release of information damaging to candidate Clinton." That conversation happened months before it was publicly known that Russia hacked the Democrats.
But after leaving prison, Papadopoulos has rallied Republican lawmakers and right-wing conspiracy theorists on the belief that Mifsud did not have serious connections to Russia and was actually a Western intelligence agent. There is little evidence to support these theories, and the Mueller report laid out Mifsud's vast Russian ties. He has vanished since his name came up in the probe.
1:28 p.m. ET, July 24, 2019
Mueller says his investigation is not a witch hunt
President Trump has often referred to Robert Mueller's investigation as a "witch hunt."
The President even used those words this morning ahead of the hearings, describing Mueller's investigation as "the Greatest Witch Hunt in U.S. history, by far!"
This afternoon, Mueller was asked if his investigation is a "witch hunt."
Here's what Mueller said:
Rep. Adam Schiff: When Donald Trump called your investigation a witch hunt, that is also false, is it not?
Mueller: I like to think so, yes.
Schiff: Your investigation is not a witch hunt, is it?
Mueller: It is not a witch hunt.
1:30 p.m. ET, July 24, 2019
Mueller corrects an exchange from the first hearing
In his opening statement to the House intelligence committee, Special Counsel Robert Mueller clarified an answer he gave to Rep. Ted Lieu. 
His original answer was seen as Mueller saying the only reason the President was not indicted was because, as president, he cannot be indicted. 
However, Mueller clarified the correct view is that they made no assessment as to whether there was a crime or not because of the OLC guidance.
 "Now before we go to questions, I want to add on correction to my testimony this morning. I want to go back to one thing that was said this morning by Mr. Lieu who said, and I quote, you didn't charge the President because of the OLC opinion. That is not the correct way to say it," Mueller said.
Mueller then corrected Lieu's wording: "As we say in the report, and as I said at the opening, we did not reach a determination as to whether the President committed a crime. With that, Mr. Chairman, I'm ready to answer questions."
What you need to know about the OLC opinion: Internal Justice Department policies say that a sitting president cannot be indicted. The policy comes from the OLC — the Office of Legal Counsel — and it dates back to the Nixon administration. It is binding on all Justice Department employees, including Mueller and his team of prosecutors.
In his report, Mueller directly explained how this had a major impact on his internal deliberations.
In effect, Mueller framed his entire obstruction investigation around the notion that he couldn't bring any charges against Trump, even if he found ironclad evidence against him, because of the OLC opinion.
1:38 p.m. ET, July 24, 2019
GOP congressman says evidence of collusion is "like the Loch Ness Monster"
Republican Rep. Devin Nunes, the ranking member on the House Intelligence Committee, compared evidence of collision to the Loch Ness Monster.
"Democrats have argued for nearly three years that evidence of collusion is hidden just around the corner. Like the Loch Ness Monster, they insist it's there, even if no one can find it," he said.
Nunes continued to slam Democrats, calling former special counsel Robert Mueller's testimony today a "Hail Mary attempt" for the party.
"They said they want to, quote, bring the Mueller report to life and create a television moment through ploys, like having Mr. Mueller recite passages from his own report. In other words, this is political theater, it's a Hail Mary attempt to convince the American people that collusion is real and that it's concealed in the report," he said.
Listen to Nunes' full statement:
1:11 p.m. ET, July 24, 2019
Trump thanks Democrats for holding Mueller hearing
President Trump just tweeted again about Robert Mueller's testimony.
This time, the tweet came as the House Intelligence Committee was underway.
Trump thanked Democrats for holding the morning hearing, saying, "Now, after 3 hours, Robert Mueller has to subject himself to #ShiftySchiff - an Embarrassment to our Country!"
Read his tweet:
2:36 p.m. ET, July 24, 2019
This is who's sitting beside Robert Mueller at the hearing
f Robert Mueller's longtime aides joined him during his testimony before Congress today.
Aaron Zebley, who was deputy special counsel, is expected to advise Mueller if he needs help with any questions he cannot fully answer himself, CNN has reported. He was also sworn in with Mueller.
Here's what you need to know about Zebley:
He has worked for Mueller for decades.
As Mueller's No. 2, Zebley had "day-to-day oversight" of the investigations conducted by the special counsel's office, according to Mueller's spokesman Jim Popkin.
Mueller had been leading the FBI since 2001. When Congress extended his term another two years in 2011, he tapped Zebley as his chief of staff.
After Mueller left the FBI, Zebley found himself at the Justice Department as the senior counselor in the National Security Division.
Zebley also represented former Hillary Clinton aide Justin Cooper, who helped manage her private server.
Other notable investigations: He was part of the FBI team that investigated the September 11th terrorist attacks and was involved in the trial of al-Qaeda operative Zacarias Moussaoui, who was convicted and sentenced to life in prison for his role in the attacks.
1:00 p.m. ET, July 24, 2019
There is frustration at DOJ with Mueller's answer to this congressman
There's frustration at the Justice Department over the exchange between Robert Mueller and Rep. Ted Lieu.
In case you missed it, here's that exchange:
Lieu: So to recap what we've heard, we have heard today that the President ordered former White House counsel Don McGahn to fire you. The President ordered Don McGahn to then cover that up and create a false paper trail. And now we've heard the President ordered Cory Lewandowski to tell Jeff Sessions to limit your investigation so that he — you stop investigating the President. I believe a reasonable person looking at these facts could conclude that all three elements of the crime of obstruction of justice have been met, and I'd like to ask you the reason, again, that you did not indict Donald Trump is because of (Office of Legal Counsel) opinion stating that you cannot indict a sitting president, correct? 
Mueller: That is correct.
The Mueller answer today to Lieu and to another Democratic member near the end of the hearing contradicts what Justice officials have said were the answers from the special counsel team during a March 5 meeting that included Mueller and his top lieutenants and Attorney General William Barr, Deputy Attorney General Rod Rosenstein and other officials.  
One person familiar with the matter reiterated today that at least three times during the March 5 meeting, Jim Quarles told Justice Department officials it was not a case of "but for" the OLC opinion there would be an indictment of the President.
The special counsel team also told officials that they were careful to not leave the impression that they would indict the president if not for the OLC opinion that a sitting president cannot be charged. 
1:24 p.m. ET, July 24, 2019
Democratic chair: The Mueller report "tells a story about lies. Lots of lies."
Adam Schiff, the chair of the House Intelligence Committee, said former special counsel Robert Mueller's report "tells a story about lies. Lots of lies."
Here's how he phrased it: 
Lies about a gleaming tower in Moscow and lies about talks with the Kremlin. Lies about the firing of FBI Director James Comey, and lies about efforts to fire you, Mr. Mueller, and lies to cover it up. Lies about secret negotiations with the Russians over sanctions and lies about Wikileaks. Lies about polling data and lies about hush money payments. Lies about meetings in the Seychelles to set up secret back channels, and lies about a secret meeting in New York Trump Tower. Lies to the FBI, lies to your staff, and lies to our Committee. And lies to obstruct an investigation into the most serious attack on our democracy by a foreign power in our history.
Schiff, a Democrat, said the "deception continues" even after Mueller's report.
"The President and his acolytes say your report found no collusion, though your report explicitly declined to address that question, since collusion can involve both criminal and non-criminal conduct," he said. "They say the President has been fully exonerated, though you specifically declare you could not exonerate him." 
Listen to Schiff's full statement:
12:57 p.m. ET, July 24, 2019
4 things to know from the first hearing
The second hearing with former special counsel Robert Mueller just started. Here are the key takeaways so far from Mueller's testimony. 
About Mueller's performance: While his tone has been halting and shaky at times, there have been some combative answers as well.
He has defending his team: In the last part of the briefing, Mueller finally gave a full throated defense of his team. 
His most significant answers so far: It was his answer to Ted Lieu about whether he would indict the President if not for the OLC memo. But Mueller cautioned not to over-read his answer, telling Lieu  "The only thing I want to add is I'm going through the elements with you. That does not mean I subscribe to what you're trying to prove through those elements." Later in the hearing, he offered a more nuanced take when asked about making a decision not to prosecute, Mueller said: "No, we made the decision not to decide whether to prosecute or not."  
A note about impeachment: Democrats could not get Mueller to endorse the idea that they should pursue impeachment based on his findings. He refused to even explain what he wrote in the report about there being process outside criminal justice system for dealing with the wrongdoings of the President.