The debate about slavery reparations
12:07 p.m. ET, June 19, 2019
Cory Booker's testimony on reparations: "I believe this is an urgent moment"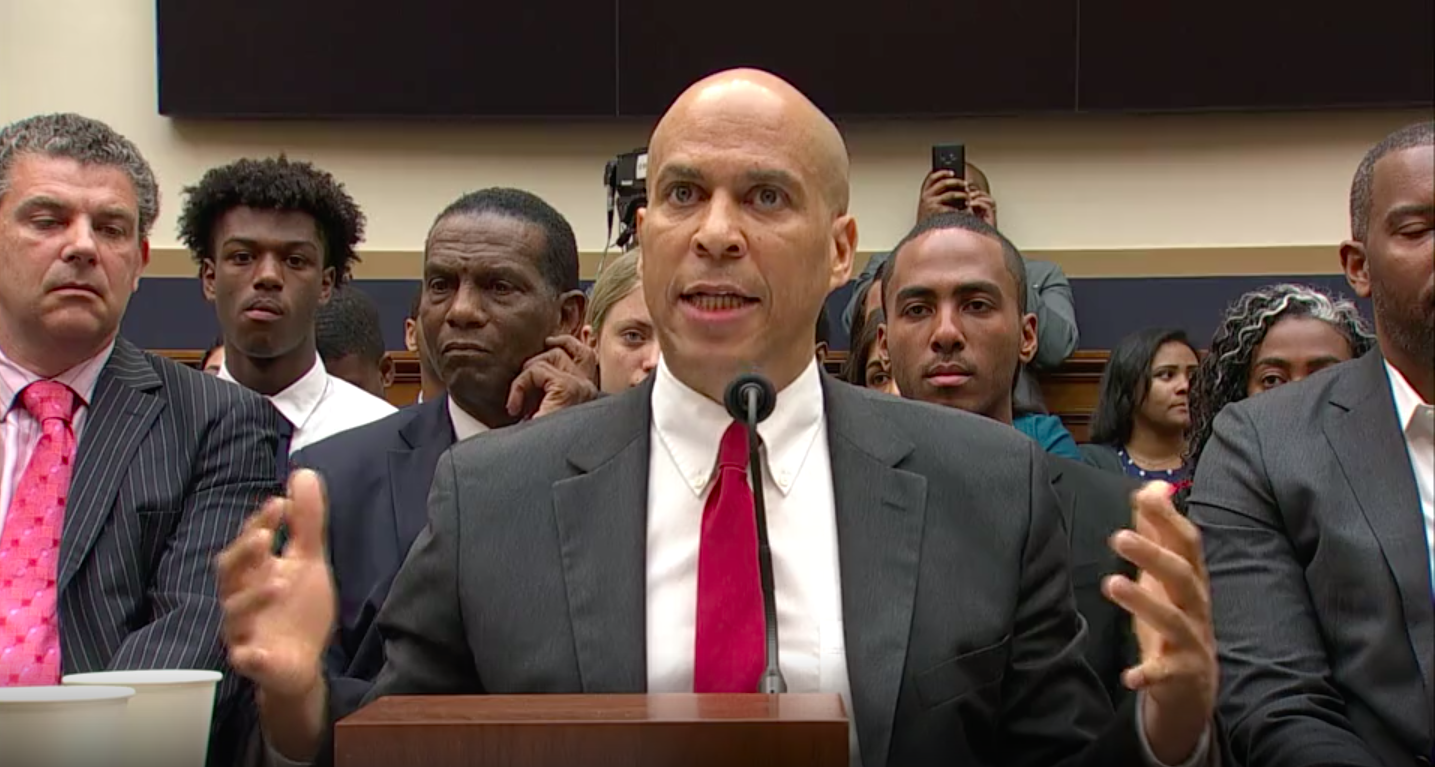 New Jersey Democratic Sen. Cory Booker testified before a House panel during a hearing on reparations for slavery Wednesday, bringing a political issue from the campaign trail to the front and center on Capitol Hill.
Booker, the first witness to speak, talked about his experiences in low-income, black neighborhoods and the injustices he saw.
"And I feel a sense of anger where we are in the United States of America where we have not had direct conversation about a lot of the root causes of a lot of the inequities and the pain and the hurt manifested in economic disparities, manifested in health disparities, manifested in a criminal justice system that is indeed a form of new Jim Crow," Booker said.
Booker also told the panel that America has not yet grappled with racism and white supremacy and that the hearing presents a "historic opportunity to break the silence, to speak to the ugly past and talking constructively about how we will move this nation forward."
Watch more:
1:36 p.m. ET, June 19, 2019
Reparations could cost between $17 billion and $5 trillion
How do you put a cash value on hundreds of years of forced servitude?
Academics, lawyers and activists have taken a shot at calculating the cost, and their results vary. Most formulations have produced numbers from as low as $17 billion to as high as almost $5 trillion.
The most often-quoted figure, though, is truly staggering, as anthropologist and author Jason Hickel notes in his 2018 book, "The Divide: Global Inequality from Conquest to Free Markets":
"It is estimated that the United States alone benefited from a total of 222,505,049 hours of forced labor between 1619 and the abolition of slavery in 1865. Valued at the US minimum wage, with a modest rate of interest, that is worth $97 trillion today."
Keep in mind, the total US federal budget for fiscal year 2018 was $4.1 trillion.
Where would the money come from? Generally, advocates for reparations say that three different groups should pay for them: governments, private companies and rich families that owe a good portion of their wealth to slavery.
11:33 a.m. ET, June 19, 2019
Why some people oppose against reparations
We're talking a lot about reparations, or compensating the descendants of American slaves.
Opponents of reparations argue that all the slaves are dead, no white person living today owned slaves or that all the immigrants that have come to America since the Civil War don't have anything to do with slavery. Also, not all black people living in America today are descendants of slaves (like former President Barack Obama).
Others point out that slavery makes it almost impossible for most African-Americans to trace their lineage earlier than the Civil War, so how could they prove they descended from enslaved people?
Writer David Frum noted those and other potential obstacles in a 2014 piece for The Atlantic entitled "The Impossibility of Reparations," which was a counterpoint to Coates' essay. Frum warned that any reparations program would eventually be expanded to other groups, like Native Americans, and he feared that reparations could create their own brand of inequality.
"Within the target population, will all receive the same? Same per person, or same per family? Or will there be adjustment for need? How will need be measured?" asks Frum, a former speechwriter for President George W. Bush. "And if reparations were somehow delivered communally and collectively, disparities of wealth and power and political influence within black America will become even more urgent. Simply put, when government spends money on complex programs, the people who provide the service usually end up with much more sway over the spending than the spending's intended beneficiaries."
Read more about reparations — and the arguments for and against them — here.
11:20 a.m. ET, June 19, 2019
A massive crowd showed up this morning for the hearing
Many people showed up at 7 a.m. to get inside the room for the hearing.
After the hearing room reached maximum capacity, many people were left waiting in the hallway waiting to get in. 
Capitol Hill police officers were trying to organize the massive crowds waiting to get inside the reparations hearing in the House. 
Here's what it looked like: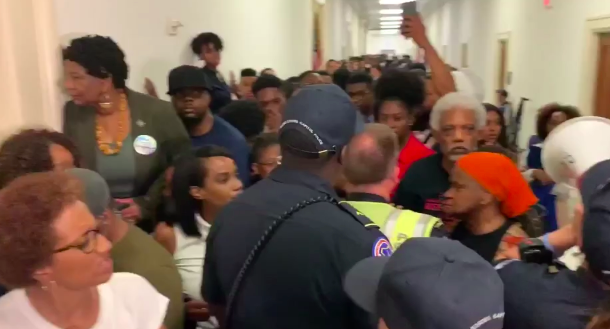 11:11 a.m. ET, June 19, 2019
Here's what 2020 presidential candidates said about reparations
The idea of reparations for slavery mostly existed outside the mainstream political debate in the past. But in the last few months, democratic candidates for president have been pushing it to the forefront of conversation.
Here's what some candidates have said about reparations so far:
Elizabeth Warren: During a CNN town hall in Jackson, Mississippi, in March, Warren brought up housing and employment discrimination and said it was time to start having a conversation. "I believe it's time to start the national full-blown conversation about reparations in this country," Warren said.
Cory Booker: Since being on the campaign trail, Booker has expressed his frustration with the conversation around reparations — stating that it is being "reduced to a box to check on a presidential list, when this is so much more of a serious conversation." He has taken the lead in the Senate on a proposal that would establish a commission to study possible reparations.
Julian Castro: The former Housing and Urban Development Secretary said he has been talking about reparations during his time on the campaign trail and thinks the country "will never truly heal until we address the original sin of slavery."
John Hickenlooper: He has also come out in support of the house bill that would appoint a committee to make recommendations about reparations. "We must own our past, and acknowledge the shame, the sin, the injustice, and the ongoing consequences of enslaving an entire race of people," Hickenlooper said.
Other contenders who said they support H.R. 40, a piece of legislation that would establish a commission to study the issue, include Pete Buttigieg, John Delaney, Kirsten Gillibrand, Amy Klobuchar, Beto O'Rourke, and Tim Ryan.
Bernie Sanders has said he believes the country must address racial disparities, but questions exactly what "reparations" would look like.
Watch more:
10:58 a.m. ET, June 19, 2019
The House Judiciary Committee is having a hearing on reparations. Here's what you need to know.
Compensating the descendants of American slaves is suddenly a hot topic on the campaign trail, with presidential candidates voicing support for slavery reparations.
New proposals also seek financial redress for decades of legalized segregation and discrimination against African-Americans in employment, housing, health and education.
Some history: The idea of giving black people reparations for slavery dates back to right after the end of the Civil War. For decades it's mostly been an idea debated outside the mainstream of American political thought.
Why we talking about this now: Writer Ta-Nehisi Coates reintroduced it to the mainstream with a piece, "The Case for Reparations," in 2014 in The Atlantic. And now several Democratic presidential candidates, who need the votes and energy of liberal voters to succeed in the primaries, have said they support some form of reparations for slavery.
So, what are the prospects of reparations moving forward? Despite the words of support from these Democratic presidential candidates, slavery reparations still face an uphill battle.
The idea isn't popular with the American public. A 2016 Marist poll found that 68% of Americans don't think the US should pay reparations to the descendants of slaves. Unsurprisingly there's a racial divide to this. Some 81% of white Americans are against reparations, while 58% of African Americans support them. What is surprising is the generational divide the poll revealed. Millennials surveyed were much more likely than Baby Boomers or Gen-Xers to support reparations. Even still, a total of 49% of millennials opposed them.
10:46 a.m. ET, June 19, 2019
Mitch McConnell opposes slavery reparations: "None of us currently living are responsible"
Senate Majority Leader Mitch McConnell said he opposes paying reparations for slavery Tuesday — a day before the House Judiciary Committee's subcommittee on the Constitution, Civil Rights, and Civil Liberties is set to hold a hearing on legislation related to the issue.
"I don't think reparations for something that happened 150 years ago for whom none of us currently living are responsible is a good idea," the Kentucky Republican told reporters in response to a question about whether reparations should be paid or a public apology should be made by Congress or the President.
He continued:
"We've tried to deal with our original sin of slavery by fighting a civil war, by passing landmark civil rights legislation. We elected an African American president," he said.
He also argued it would be difficult to figure out who would receive the compensation because of the "waves of immigrants" who have faced "dramatic discrimination" in the country.
Listen to his full statement:
10:39 a.m. ET, June 19, 2019
A House panel is hearing testimony about slavery reparations today
A House panel is holding a hearing on reparations for slavery today, bringing a political issue from the campaign trail to the front and center on Capitol Hill.
Here's who we're expecting to hear from:
New Jersey Democratic Sen. Cory Booker
Writer Ta-Nehisi Coates
Actor Danny Glover
Some background: The House Judiciary Committee's subcommittee on the Constitution, Civil Rights and Civil Liberties will hear from the three as it considers legislation that would establish a commission to study the consequences and impacts of slavery and make recommendations for reparations proposals.
The measure, HR 40, is sponsored by Democratic Rep. Sheila Jackson Lee of Texas. Booker introduced a companion version of the bill to the Senate in April.