8 states vote in key primary elections
10:51 p.m. ET, June 5, 2018
Democrats claim victory in 42nd red-to-blue flip of the Trump era
Democrats claimed victory in a Missouri state Senate seat Tuesday in their 42nd red-to-blue since Donald Trump took office.
Democrat Lauren Arthur, a state representative, led Republican Kevin Corlew, also a state representative, by over 20 points with over 80% of precincts reporting in a district that backed both Trump in 2016 and Mitt Romney in 2012.
The district has gone Democratic before. Jason Kander won the district by 11 points during his failed 2016 Senate bid. The swing is significant given the seat's previous representative -- Republican Ryan Silvey -- who won reelection in 2016 by 20 percentage points.
But who's counting: Arthur's win represents the 42nd state legislative seat Democrats have flipped since Trump took office in January 2017, a trend that national Democratic operatives argue show voters are prepared to rebuke the President in November.
10:24 p.m. ET, June 5, 2018
Analysis: So how big a deal is the L.A. County printing error?
CNN reporters Chris Cillizza and Harry Enten are chatting about tonight's results. We're posting the highlights.
Chris Cillizza: So, Harry Enten, let's chat L.A. County. How big a deal is this? Does it just mean that the count takes longer?
Harry Enten: It could be a big one. I emphasize could. According to Maeve Reston's reporting, you got about 118,000 voters who were left off the voting roster. It means that those voters who wanted to could cast a provisional ballot. Some, of course, wouldn't have voted at all. But some probably didn't cause it was just too much of a hassle. The big question is how many of those voters were in the 39th district, which we're watching tonight. That is unknown. We do expect those who would cast a provisional ballot to be Democratic. It will take a while to count these ballots. But we knew the count in the state was going to take a long time anyway.
Chris Cillizza: Do we know how many districts have a piece of L.A. County? Eight?
Harry Enten: A lot of them. It's a huge county. But as you point out, not many of the races are competitive or that we particularly care about. One more note. Antonio Villaraigosa is running for governor. He's the former mayor of Los Angeles. He is fighting for a spot in the top two. This could be impacting his future. Or at a minimum, it could be that we won't know it for a long while to come.
9:34 p.m. ET, June 5, 2018
118,000 voters in Los Angeles County were left off rosters because of a printing error
The Los Angeles County Registrar-Recorder said that the names of 118,522 voters were omitted from the voter roster because of a random printing error.
Poll workers use the roster to check in voters at their polling place.
In an interview, a spokesman with the county registrar said the office did not know what parts of the county were affected, but some 1,530 precincts of the 4,357 Los Angeles County voting locations were impacted.
"We are working to see what precincts are affected," said Michael Sanchez, a spokesman with Los Angeles Registrar, who explained that the office had discovered a random printing error on the roster.
"We don't know yet. We are still in the thick of it."
Voters whose names did not appear on the roster were supposed to be given provisional ballots, but clearly that did not happen in some cases. The department received calls and complaints throughout the afternoon, several hours before polls closed.
While all registered voters can still cast a provisional ballot before the polls close at 8 p.m. PT, the irregularity could potentially cause major headaches in counting votes in the governor's race and the highly competitive contest in the 39th Congressional District, which is represented by retiring Congressman Ed Royce.
8:58 p.m. ET, June 5, 2018
Voting in South Dakota delayed due to connectivity issue with electronic poll books
South Dakota had a few problems but one area was delayed an hour and 45 minutes this morning, so the polls will stay open until then.
Votes can't be released for state until all polls are closed, so they are on the delay for an hour and 45 minutes.
The South Dakota Secretary of State's office says eight counties were using electronic poll books from a new vendor and kept losing connectivity.
In Hughes County, voters couldn't check in for 10 to 15 minutes. Poll books and a printed voter registration list were sent to precincts on the edge of Pennington County.
Connectivity issues were repaired by mid-morning, but it caused significant delays.
8:31 p.m. ET, June 5, 2018
This pro-Republican group gave $1.5 million to benefit 3 key California races
The pro-House Republican group Congressional Leadership Fund sought to elevate Republican candidates in three key California congressional districts by partnering unannounced with a lesser known group, a CLF official confirmed to CNN.
According to the official, CLF transferred $1.5 million to Iowa-based American Future Fund to spend on races in CA-39 (Ed Royce), CA-48 (Dana Rohrabacher) and CA-49 (Darrell Issa), in addition to committing resources on the ground. CLF's involvement was first reported by Politico. The group aligned with House GOP leadership had not previously disclosed its role.
In CA-39, CLF put its resources behind Young Kim and Bob Huff; in the 48th district, the group backed incumbent Rep. Dana Rohrabacher and Republican Scott Baugh; in the 49th district, they boosted Diane Harkey and Rocky Chavez. The spending, which included direct mail and TV advertising, was meant to help coalesce Republican votes around leading candidates in California's messy top-two primary.  
CLF decided to become involved after conducting their first CA survey in April, which showed Republicans at risk of being boxed out in these districts. But the group opted against national Democrats' strategy of transparently endorsing candidates in their messy primaries, as the DCCC did in CA-39 and CA-48.
"We wanted to do this project under the radar," the CLF official said.
6:38 p.m. ET, June 5, 2018
Why Democrats are worried about this California district
There's been a steady trickle of voters in Costa Mesa, CA-48, which is held by Republican Rep. Dana Rohrabacher. He's been called "Putin's favorite Congressman," and he's running for reelection -- not that those ties will hurt him.
The state has a "direct primary," commonly known as a "jungle primary," which means the top two candidates will advance to the general election in November regardless of party.
Democrats in California are concerned they could get shut out of districts like this one, which they want to flip from Republican control in November, because too many Democrats are on the ballot and may split the vote.
At least two Democrats -- Laura Oatman and Michael Kotick -- dropped out.
Oatman dropped out after the filing deadline, so her name will still appear on the ballot. But she has endorsed businessman Harley Rouda and asked her supporters to vote for him.
8:10 p.m. ET, June 5, 2018
What today's primaries mean for November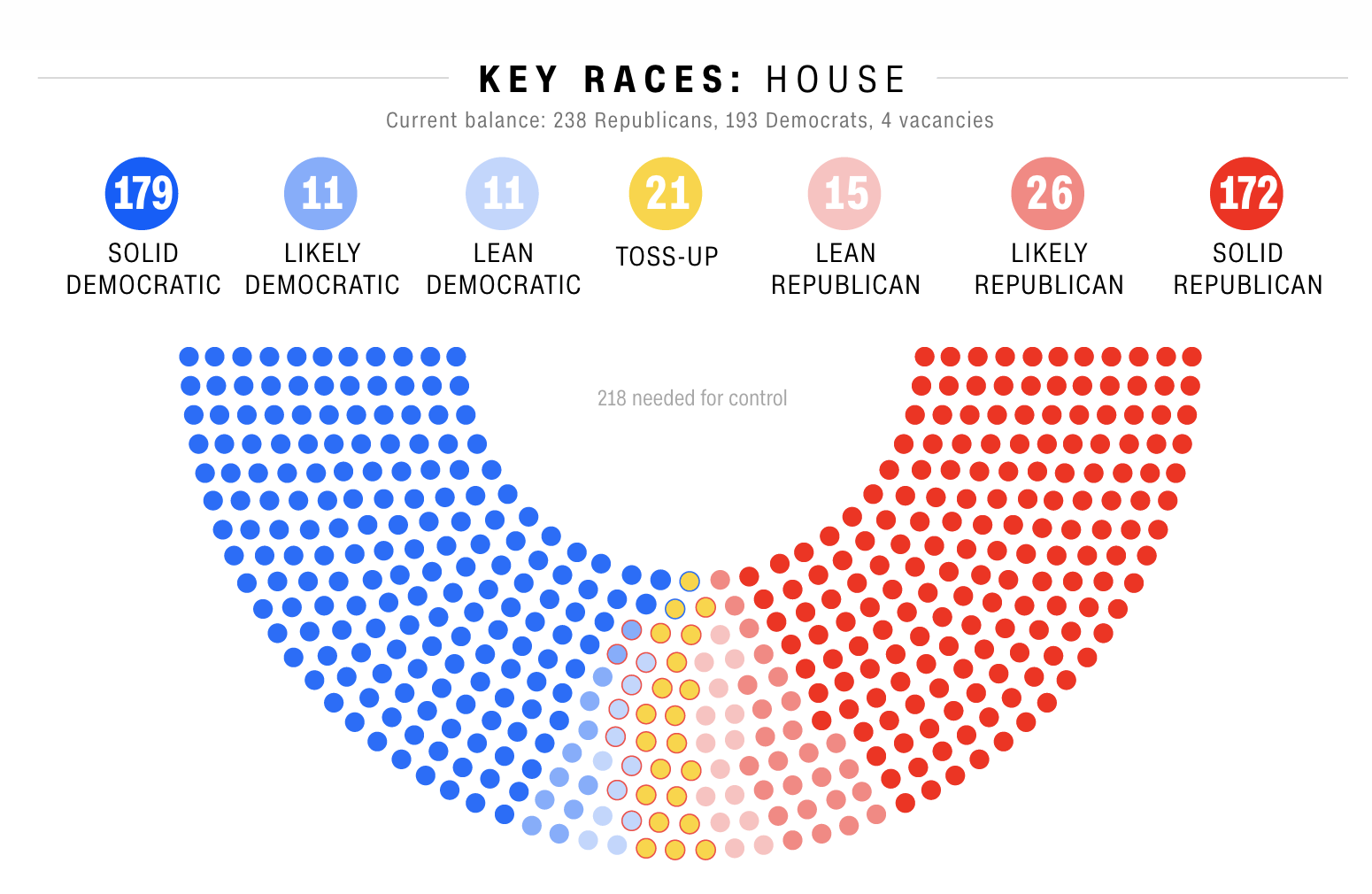 Democrats are defending more than two dozen Senate seats, including 10 in states President Donald Trump won in 2016, and Republicans have just eight Senate seats up for re-election.
Here's a look at what's coming up in the November midterm elections:
California
Eight of the nine House seats rated as competitive by CNN are currently held by Republicans, some of which are in districts Clinton won in 2016. If Democrats are going to take back the House, they will need (and may get) a few of these to do it. California has a competitive governor's race to replace outgoing Gov. Jerry Brown, with top contenders in Lt. Gov. Gavin Newsom and former Los Angeles Mayor Antonio Villaraigosa, both Democrats.
Iowa
Two-term GOP Rep. Rod Blum's race is rated as a toss-up. Blum won 51% and 54% in his northeastern Iowa district during his first two campaigns but could face his toughest race in a year that could favor Democrats.
Mississippi
Sen. Thad Cochran's upcoming retirement -- announced in early March -- sets up a special US Senate election in Mississippi, meaning both of the state's Senate seats will be on the ballot come November. GOP Sen. Roger Wicker is up for re-election and is facing a primary challenge from state Sen. Chris McDaniel.
Montana
Democratic Sen. Jon Tester will face voters for the third time, but this year he's coming on the heels of Trump's 21-point win in Big Sky Country. Republicans see this seat as a perfect opportunity for a flip, but party members have yet to coalesce around one candidate.
New Jersey
Five of New Jersey's 12 congressional seats are on CNN's competitive ratings this year. The two open seats left by retiring GOP Reps. Rodney Frelinghuysen and Frank LoBiondo are seen as big targets for Democrats to flip. Democratic Sen. Bob Menendez is up for a third term this year.
New Mexico
Four-term GOP Rep. Steve Pearce is running for governor, which leaves a slight opening for Democrats in this southern New Mexico district. The area trends conservative, as CNN rates this House race as likely Republican. Democratic Sen. Martin Heinrich is up for re-election.