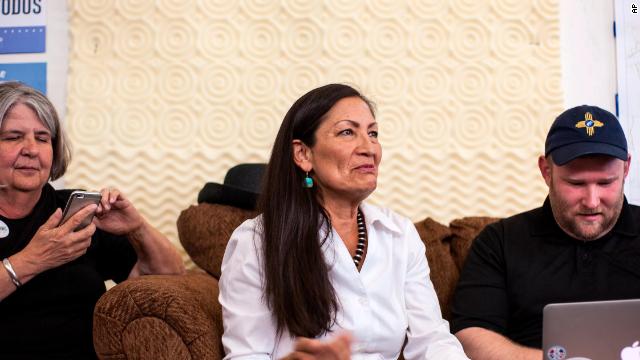 Deb Haaland has won the primary for New Mexico's 1st Congressional District, CNN projects, putting her on track to become the first Native American woman in Congress.
The former Democratic state party leader, an enrolled member of the Pueblo of Laguna, is seeking to replace Rep. Michelle Lujan Grisham, who is leaving her post representing the solidly Democratic district to run for governor. Haaland outlasted a strong field that included former US Attorney Damon Martinez and Antoinette Sedillo Lopez, an activist and former law professor.
"Tonight, New Mexico made history," Haaland said in a speech Tuesday, calling hers a "victory for working people, a victory for women and a victory for everyone who has been sidelined by the billionaire class."
There are 23 tribes in New Mexico, according to the state's Indian Affairs Department, and Native Americans make up a little more than 10% of the total population.
Haaland will face Republican Janice Arnold-Jones, who ran unopposed, in November.