Arizona and Florida vote in primary elections
12:34 a.m. ET, August 29, 2018
CNN's live coverage of tonight's primaries has concluded. Stay tuned to CNN Politics for more.
12:19 a.m. ET, August 29, 2018
CNN projection: A professor just won Arizona's Democratic governor's primary
Arizona State professor David Garcia won the Democratic primary for governor in Arizona, CNN projects.
He defeated Democratic state Sen. Steve Farley and Kelly Fryer, the CEO of the YWCA Southern Arizona.
Garcia will face Arizona Gov. Doug Ducey in November.
12:15 a.m. ET, August 29, 2018
CNN projection: Rep. Martha McSally wins Arizona GOP primary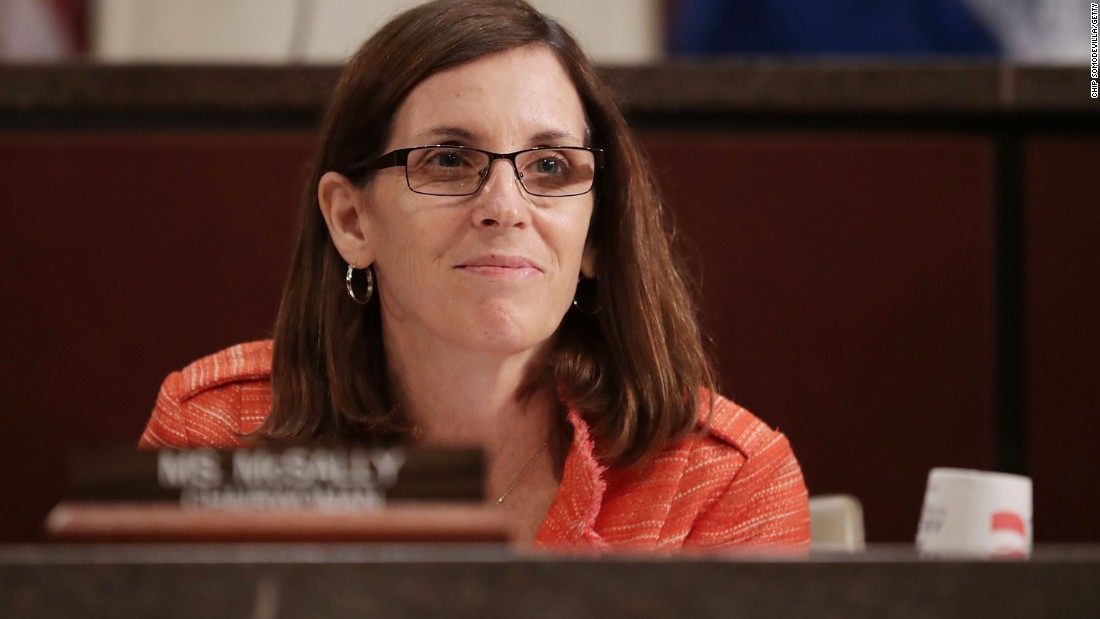 Rep. Martha McSally, a former fighter pilot and the favored pick of the GOP establishment, has won the Republican Senate primary in Arizona, CNN projects.
She defeated former state Sen. Kelli Ward and former Maricopa County sheriff Joe Arpaio.
She'll now face Democratic Rep. Kyrsten Sinema in a marquee match-up for the seat that became vacant when Arizona's other senator and intra-party Trump critic, Jeff Flake, announced he would retire rather than likely lose a primary over his criticism of the President.
Why this matters: Trump didn't endorse, but he gave McSally a shout-out at a recent event at Fort Drum in New York. He noted that McSally is "not only an Air Force veteran, but the first woman ever to fly a fighter jet in combat in US history."
McSally -- who sharply criticized Trump when the "Access Hollywood" tape was released in 2016 -- closely aligned herself with him on issues like immigration during her Senate primary run.
One thing to note: In the race's final days, both Ward and Arpaio set off controversy related to their handling of McCain's illness and death. On Monday, Ward tweeted -- in what she later denied was a reference to McCain's illness -- that "Political correctness is like a cancer!" Arpaio, meanwhile, complained that he offered McCain's family condolences only to find that Cindy McCain had blocked him on Twitter.
11:49 p.m. ET, August 28, 2018
CNN projection: Gov. Doug Ducey wins the GOP primary in Arizona
Arizona Gov. Doug Ducey, facing a potentially tough battle for re-election in the fall, has won the GOP primary, CNN projects.
What's next: Democratic state Sen. Steve Farley, Arizona State University education professor David Garcia and Kelly Fryer, the CEO of the YWCA Southern Arizona, are facing off to challenge Ducey in a traditionally red state that has shifted to the left in recent years: Hillary Clinton lost by just 4 percentage points in 2016.
The primary also came days before Ducey faces a major decision: Who to appoint to fill Sen. John McCain's seat. He'll have to choose between a Trump-like Republican and someone in the McCain mold -- or could try to bridge the gap, potentially with a placeholder pick.
11:47 p.m. ET, August 28, 2018
CNN projection: Rep. Kyrsten Sinema wins Democratic Senate primary in Arizona
Rep. Kyrsten Sinema has won the Democratic primary for Senate in Arizona, CNN projects. She was expected to easily defeat attorney Deedra Abboud and was already campaigning for November, when she will take on the Republican primary winner for the seat of retiring Republican Sen. Jeff Flake.
Some background: Sinema, who is the second most moderate Democrat in the House, made health care central to her messaging.
In one of Sinema's ads, she recounts her family's struggle with health care costs. "We were just kids when my dad lost his job. We lost our car, we lost our home, and we lost our health insurance. I know what it's like for a family to struggle to make ends meet," Sinema says in the spot. "Health care needs to be more affordable.
12:14 a.m. ET, August 29, 2018
He won Florida's Democratic primary, and he rarely mentioned Trump
Andrew Gillum, who CNN projects will win the Florida Democratic governor's race, didn't talk about President Trump on the campaign trial.
"I didn't talk a whole bunch about Trump as I moved around the state," Gillum told CNN's Don Lemon. "We all know that the President is uniquely unqualified for the position that he holds. He is dangerous to himself and to the country, in my opinion."
Instead, he said he focused on talking about everyday issues with Floridians:
"They feel like they had it worse before Trump and it has been bad for quite some time for them and what they want to know is what are you going to do for me and how do you make sure that I can work one job instead of multiple jobs as a way to make ends meet."
Asked by Lemon how it felt to be vying to be the first black governor of Florida -- "That's a big deal. Can you imagine?" -- Gillum responded, "Well, I will tell you, I am vowing to be the next governor of the state of Florida, and I just so happen to be black."
Watch:
11:12 p.m. ET, August 28, 2018
Her daughter was killed in the Parkland shooting. Then she ran for school board — and won.
The mother of a student killed in the Stoneman Douglas High School shooting earlier this year has won a spot on the Broward County School Board, according to unofficial Broward County election results.
Lori Alhadeff, a former teacher whose daughter Alyssa was killed in the shooting, won the District 4 seat handily on Tuesday, propelling herself onto the school board that oversees the high school where her daughter was killed.
But not all parents impacted by the school shooting in Parkland, Florida, saw success on Tuesday.
Ryan Petty, whose 14-year-old daughter Alaina was also killed in the shooting, narrowly lost a chance to vie for the school board seat, according to CNN's projection.
Why this matters: The two ran in tandem as a tribute to their lost children and pledged reform to the county school board. 
The Feb. 14, 2018 shooting spurred both parents and students into politics. In addition to Alhadeff and Petty, as host of students from Stoneman Douglas High School, where 17 people were killed, turned to the political arena to make a point about gun laws. Both parents pointed to the fallout from Feb. 14, 2018 shooting as the point they realized they needed to run for office.