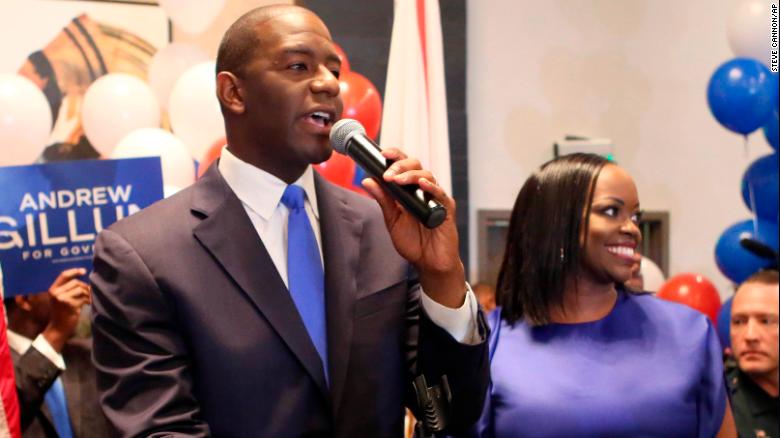 Andrew Gillum, who CNN projects has won Florida's Democratic governor's race, thanked his supporters tonight and told them his plans "for a state that makes room for all of us."
"I sincerely believe that what is going to deliver us to victory is the fact that they are everyday, hardworking people in this state who believe ... that they deserve a voice in our government, too," he told supporters at his headquarters. "And we're going to give it to them."
He added:
"This is not my moment. This is our moment."
Gillum is the first black candidate to win a major-party gubernatorial nomination in Florida. He will face Rep. Ron DeSantis, a Trump-endorsed Republican, in a race that pits two 39-year-olds who in many ways mirror their parties' national moods against each other.
"The point has never been lost on me that my name on the ballot is simply a vessel, is simply the name. But what is underneath that name are all the issues that we care so deeply about," Gillum said before ticking off key issues.
Those include fair wages for teachers, reforms in public education, livable wages for Floridians, clean water and oceans, Medicare expansion and better transportation.
Gillum continued:
"The job of the governor of the state of Florida is to do what is in the best interest of the people of the state of Florida. I look forward to being that governor because I know that beneath my name is also a desire by the majority of people in this state to see real criminal justice reform take hold in the state of Florida."
Gillum, who is one of seven siblings, also described his humble upbringing and his parents' commitment to work -- his father was a construction worker and his mother was a school bus driver.
"Because of their example, it instilled in me a quality of hard work that I'll never forget," he said.