President Trump rallies in New Mexico
11:15 p.m. ET, September 16, 2019
Trump's New Mexico rally was 95 minutes
President Trump has just wrapped a wide-ranging, 95-minute rally in Rio Rancho, New Mexico.
He vowed to win the state, which he lost by a significant margin in 2016, and made multiple appeals to Hispanic voters.
Trump also spent time during the rally railing against the New York Times, handicapping his 2020 Democratic rivals, touting the US car industry — even as the United Auto Workers are on strike, lamenting the emoluments clause, and threatening that Democrats want to "demolish everything" that Republicans have gained. 
Trump will stay overnight in the Albuquerque area and will travel to California in the morning for a fundraising swing.
11:12 p.m. ET, September 16, 2019
Trump says he's an environmentalist after explaining why he weakened standards for light bulbs
As he has before, President Trump said — perhaps at least part facetiously — that his own appearance was one of the reasons he weakened energy efficiency standards for light bulbs.
"I wanted incandescent light. I wanted to look better, OK? I wanted to pay less money to look better," he said. (Advocates of the tighter standards note that buyers of efficient bulbs earn savings in the long run.)
Trump also lamented that today's "cars have so much junk on them now to save a tiny little fraction of gasoline.
He also described himself as an "environmentalist," saying he wants clean air and clean water.
10:41 p.m. ET, September 16, 2019
Trump says he is "more elite than" the elite
As he has at other rallies, President Trump made a case that he and his supporters are more "elite" than people generally considered "the elite."
He said he has "always taken offense" when others are called elite.
Trump said that "if we go by the old standards — better houses, better schools, made much more money, lived better," he is "more elite than them."
The crowd was largely quiet, as Trump said that they too make more money and have better homes than the elite.
10:32 p.m. ET, September 16, 2019
Trump repeats false claims on tariffs, the estate tax, and veterans program
In rapid succession, President Trump repeated several of his frequent false claims at his rally in New Mexico tonight.
He took credit for the passage of the Veterans Choice health care program, saying, "We got Choice for the vets. Choice. Everybody said it was impossible."
The program was actually created by a bipartisan bill co-authored by Sens. Bernie Sanders and John McCain and signed into law by former President Barack Obama in 2014.
Trump claimed that China is "eating" his tariffs on imported Chinese goods, though a bevy of studies have found that Americans are bearing the overwhelming majority of the costs.
He claimed that he had eliminated the estate tax, though it remains in existence; his tax law raised the threshold, so the tax applies to fewer people, but did not abolish it.
And he claimed that unions "love" his US-Mexico-Canada trade agreement, though the labor movement is generally opposed to the deal in its current form. (The AFL-CIO has demanded changes to make its provisions more enforceable.)
10:14 p.m. ET, September 16, 2019
Trump calls New York Times' Kavanaugh story a "smear"
As he did on Twitter earlier in the day, President Trump slammed the New York Times for its Sunday essay about Supreme Court Justice Brett Kavanaugh, calling it a "smear."
He called Kavanaugh a "brilliant man" who has been wrongly accused.
As CNN reported, the essay by two Times reporters included a previously unreported allegation of sexual misconduct by Kavanaugh at Yale University in the 1980s (which he denies). But the essay omitted important details that were included in the reporters' book on Kavanaugh: friends of the woman at the center of the alleged incident, who declined to be interviewed by the reporters, said she did not remember it.
"The woman involved said she didn't know anything," Trump said, criticizing the Democrats who have nonetheless called for Kavanaugh's impeachment.
The "left," he said, wants "to demean you, to libel you."
The Times attached an Editors' Note to the essay after its initial publication, and inserted the information had originally left out. Trump described the Times' comments as as a "major apology," though the Times did not apologize.
9:59 p.m. ET, September 16, 2019
Trump makes a series of false claims about the Green New Deal
President Trump warned New Mexico of Democrats' energy policies, making a series of false claims about the Green New Deal. (Among other things, he baselessly said the Green New Deal would limit people to one car apiece.)
Trump boasted of ending what he called a "cruel war on American energy" under Obama, then took credit for the US becoming the world's top energy producer— which happened under Obama in 2012.
9:57 p.m. ET, September 16, 2019
Trump touts Hispanic Heritage Month in New Mexico
President Trump commemorated Hispanic Heritage Month during his Rio Rancho, New Mexico, rally Monday evening. 
"Yesterday marked the beginning of Hispanic Heritage Month. Who is Hispanic?" he said to loud applause, pausing for a few moments.
As he has previously at many rallies, Trump touted Hispanic American employment and poverty numbers. 
Monday night's crowd here is diverse, with many supporters holding "Latinos for Trump" signs distributed by the campaign encouraging attendees to text "VAMOS" to a designated number.
"Viva Trump," a pastor said after delivering the invocation earlier Monday, prompting raucous applause from the crowd.
9:54 p.m. ET, September 16, 2019
Trump claims he's building "a lot of wall" along the border, but all of it has been replacement work
As the crowd chanted "build that wall," President Trump claimed, as usual, that his promised wall on the Mexican border is being built "fast" and that he is building "a lot of wall."
He vowed to build 500 miles by the end of next year.
One thing to note: As of the end of August, zero additional miles of border barriers had been erected during Trump's presidency, US Customs and Border Protection has told CNN. Sixty miles of existing barrier had been replaced; Trump has argued in recent months that this replacement work should be counted as his wall.
9:28 p.m. ET, September 16, 2019
NOW: Trump takes the stage in New Mexico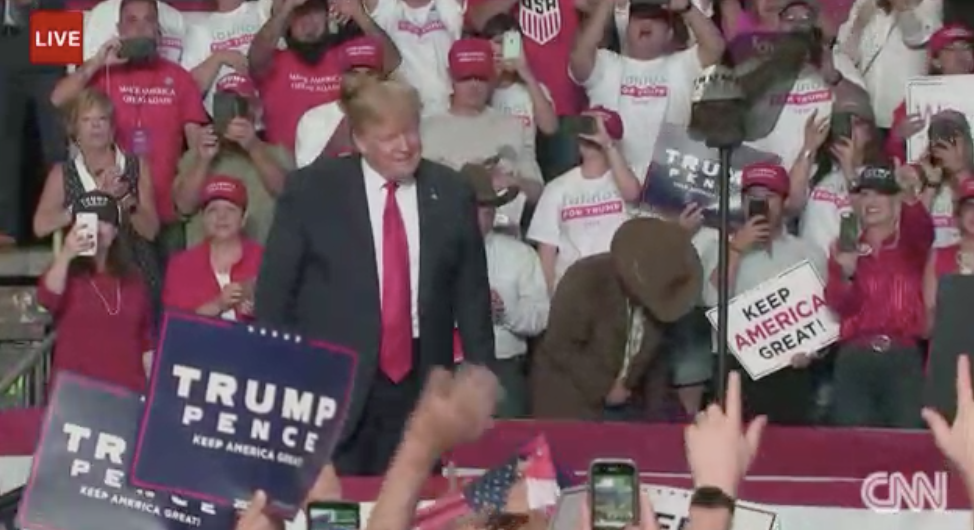 President Trump just took the stage at his rally in New Mexico.
It's his first trip to the "Land of Enchantment" as president.
The President kicks off a three-day swing out West rallying supporters in Rio Rancho, a suburb of Albuquerque, this evening.
He will spend the night in the Albuquerque area, then travel to California for a slate of fundraising events Tuesday in Palo Alto and Beverly Hills. Trump will attend additional fundraisers in Los Angeles and San Diego on Wednesday before returning to Washington.
According to voter registration statistics from the New Mexico Secretary of State, 33% of voters in Sandoval County, where the rally is being held, are registered Republicans as of August 2019. Forty-three percent are registered Democrats.
Trump's last trip to New Mexico was met with resistance: protesters lit fires, smashed a door and threw rocks outside his Albuquerque rally in May 2016, the scene of chaos taking place in the weeks after he became the presumptive Republican nominee. Inside the convention center, sporadic protesters disrupted Trump's rally.