1:30 p.m. ET, March 13, 2019
Read Manafort's full statement to the court
Paul Manafort spoke briefly to Judge Amy Berman Jackson before he was sentenced today to an additional 43 months in prison.
During his remarks, Manafort apologized and said his "behavior in the future will be very different."
Here's what he said to the court: 
In my previous allocution, I told Judge Ellis I was ashamed and that it was my conduct which brought me to that day of judgment. For it, I said I took full responsibility. Apparently I was not clear in saying what is in my heart. I say it now. I am sorry for what I have done that should bring me to this today.
The last two years have been the most difficult years that my family and I have ever experienced.
The person who I have been described as in public is not someone who I recognize. While I know that I am not that person, I feel shame and embarrassment for the suffering that I have caused to my family and friends and all who have been affected by my behavior.
Let me be very clear. I accept responsibility for the acts that have caused me to be here today. Furthermore, I want to apologize for all that I did that contribute to these actions and to the effects that they had on both people and institutions.
While I cannot undo the past, I can ensure that the future will be very different. I stand here today committing myself to this change.
I am especially upset at myself for the pain that I have caused to my family and my friends. If nothing else, their suffering will be a major deterrent to any future behavior of mine.
As I have sat in solitary confinement for the past nine months, I have reflected on my life and what is important to me. I can see that I have behaved in ways that did not always comport to my personal code of values. I am upset with myself for these failures and understand that many of these mistakes are what has brought me here today.
Because of this new self-awareness, I can say to you with conviction that my behavior in the future will be very different. I have already begun to change and I am confident that the lessons of the past two years will be the guide for my future.
What has been uplifting to me during his crisis is the incredible support I have received, not just from my family and friend's but from so many strangers.
I have been strengthened by the letters I have received from from all of them and have positively grown from their prayers and encouragement.
This exposure to the goodness of people has had an energizing impact on my life and has given me the ability to cope with the difficulties of being in solitary confinement. 
Their encouragement has focused me on how I want to conduct my life when this ordeal is over.
I stand here today to assure the court that I am a different person from the one who first came before you in October of 2017.
I have had the time to reflect on my life and my choices, and the importance of family and friends. My reflections have instilled in me the commitment to turn my notoriety into a positive and show the world who I really am.
I see more clearly both myself and my life, both past and present.
I can assure you that I feel the pain from these reflections and I know that it was my conduct that brought me here today.
For all of my mistakes, I am remorseful.
With the power of prayer and God's guiding hand, I know that my family and I will emerge stronger from our suffering, and I look forward to setting forth on this journey.
Again, I apologize to all who have been negatively affected by my behavior. I take responsibility for the consequences of my actions and pledge to do all I can to accelerate the healing process.
I appreciate the time that you have committed to this case and ask that you find compassion in your sentencing, if nor for me then for my family. I promise you that if you do, you will not regret it. Thank you.
1:03 p.m. ET, March 13, 2019
Manhattan DA just unsealed charges against Manafort
Paul Manafort has been charged with a new criminal case not even an hour after learning his prison sentence for federal crimes. 
The Manhattan District Attorney charged Manafort with mortgage fraud, falsifying business records and conspiracy on Wednesday, the prosecutor's office announced.
A second federal judge had, minutes earlier, determined Manafort spend 7.5 years in total in federal prison for a decade's worth of financial and lobbying crimes and obstruction of justice.
"No one is beyond the law in New York," said District Attorney Cyrus Vance in New York, according to a statement.
A grand jury there approved the indictment on March 7.
Manafort had made broad admissions and apologized for his crimes. He has not yet entered a plea in the Manhattan case. 
Manafort allegedly committed financial crimes in New York from 2015 through 2018, which stretches over his time as Trump campaign chairman.
Federal prosecutors separately took him to trial last summer over mortgage fraud that began when his Ukrainian lobbying income declined around 2015 and reached into 2017, they said. Manafort even attempting to use his sway as a political heavyweight to lock down money from banks to supplement his income. He later admitted to that activity, federal prosecutors alleged at his trial.
12:54 p.m. ET, March 13, 2019
Manafort's lawyer gave a statement — but it was interrupted by protesters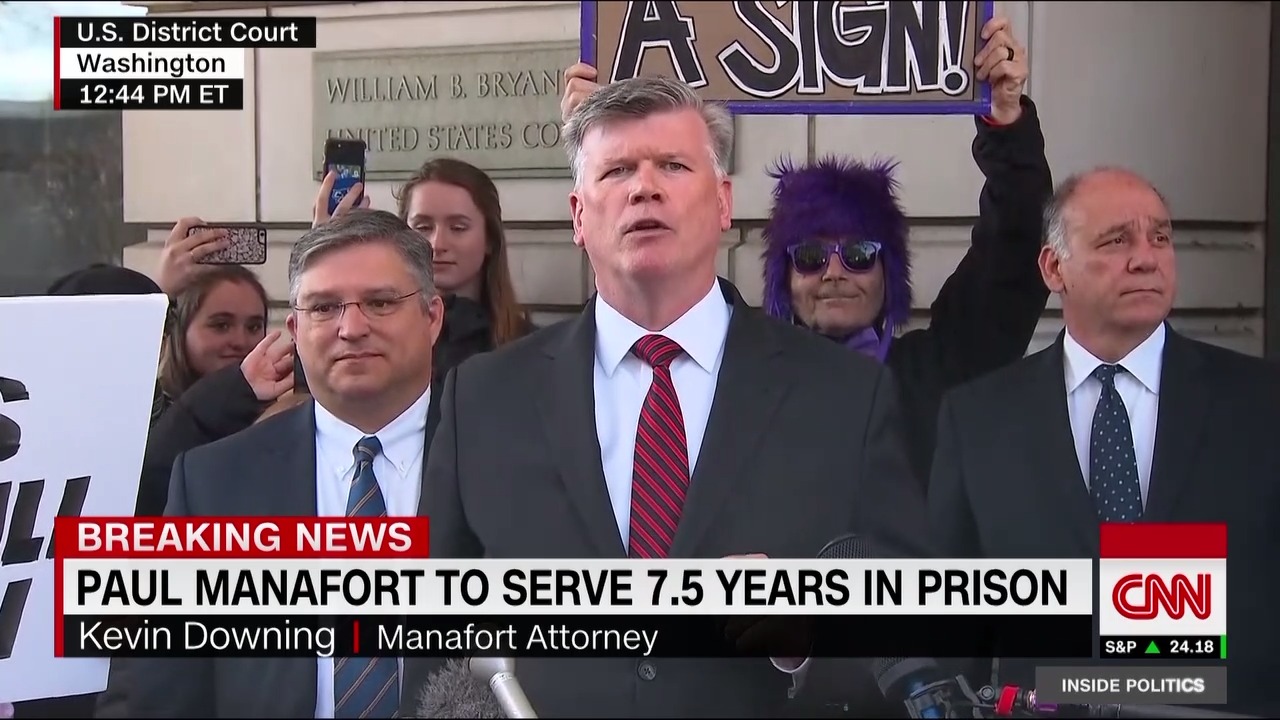 Kevin Downing, Paul Manafort's attorney, just gave a brief statement outside of the courthouse following the sentencing.
He started by saying Judge Amy Berman Jackson "conceded that there was absolutely no evidence of any Russian collusion in this case."
"So that makes two courts, two courts have ruled no evidence of any collusion with the Russians," Downing said.
Protesters nearby started chanting "liar" and heckled Downing as he gave the rest of his statement.
Some background here: President Trump last week weighed in on Manafort's first sentencing by twisting a federal judge's words to claim that there was no collusion with Russia in the 2016 campaign. (While the judge noted that Manafort wasn't accused of collusion and that the trial focused on unrelated financial crimes, he did NOT declare that there was no collusion in 2016.)
12:57 p.m. ET, March 13, 2019
Manafort charged with fraud in New York after DC sentencing
Prosecutors with the Manhattan district attorney's office announced state fraud charges against Paul Manafort, adding to the legal trouble for Donald Trump's former campaign chairman who is already facing years in prison on federal charges.
Earlier today, Manafort was sentenced in a DC court to serve an additional 43 months in prison on top of his sentence he received last week from the court in Virginia.
Manafort will serve a total of seven and a half years in prison for two cases.
 He has not yet entered a plea in the Manhattan case.
12:42 p.m. ET, March 13, 2019
There was very little emotion from Manafort and his family at today's hearing
Paul Manafort was not watching during the first part of the hearing, while prosecutor Andrew Weismann described Manafort's extensive criminal conspiracy and why it deserved a strong sentence.
Weismann spoke for 20 to 30 minutes, and Manafort had his back to the podium for most of the time. On occasion, Manafort stared down at the table in front of him while Weismann was speaking.
Prosecutors described Manafort's assets, which are important in determining how much money he will pay the IRS and banks he defrauded.
At one point during this conversation, his wife, Kathleen Manafort, shook her head "no." (She did this a few times last week when prosecutors made their case that Manafort still had millions of dollars and could easily pay restitution and fines.)
Judge Amy Berman Jackson spoke for about 45 minutes in the final session of today's hearing. By and large, special counsel Robert Mueller's prosecutors watched closely and attentively. Defense attorney Kevin Downing squirmed around his seat at times while Jackson dressed down his legal strategy and criticized his client. Other defense attorneys were looking down at times while Jackson was speaking.
Manafort's family didn't react: As Jackson delivered her sentence, there was really no reaction from Manafort's small cohort of family and friends that were gathered in the courtroom — even when Jackson specifically mentioned the family and the emotional letters they submitted to the court.  
12:23 p.m. ET, March 13, 2019
Manafort to serve total of 7.5 years between two cases
Paul Manafort's full sentence is seven and a half years between the two courts. It appears he will get credit for time served and for good behavior, which will likely shorten that sentence.
Here's how it breaks down:
In Virginia, he was sentenced to 47 months. 
In DC, he was sentenced to 73 months.
The first 30 months will be served concurrently. He then will have 17 months from Virginia and an additional 43 months from DC sentencing to serve consecutively.
12:13 p.m. ET, March 13, 2019
Manafort ordered to serve an additional 43 months in prison
Judge Amy Berman Jackson has ordered Paul Manafort to serve an additional 43 months in prison, on top of his sentence he received last week from the court in Virginia.
12:04 p.m. ET, March 13, 2019
Judge to Manafort: Prison is "hard on everyone, young and old, rich or poor"
Judge Amy Berman Jackson is now correcting statements made about Paul Manafort's solitary confinement, which was a significant feature of his allocution today.
She said he was in jail not for violating the gag order, but because he broke the bail by breaking the law after his arrest.
Jackson reminded the court he was first sent to Northern Neck Regional Jail, saying she was concerned about how far that jail was, but then Manafort's team asked for that location. Then he was moved to Alexandria because of their complaints.
She said Manafort "realized the tactic had backfired immediately." He was in a self-contained ("VIP") suite in Northern Neck, Jackson added.
"I'm not going to split hairs over whether the word solitary was accurate because he had a room of his own," Jackson said.
"It was this disingenuous by the part of the defense and repeated the term over and over ... for public sympathy ..." she added.
What Manafort's detention quarters looks like now: Now he's in protective confinement, not technically solitary. He has a window, radio, newspapers and view of TV. He's released for a few hours a day to walk around and be with other people
"Mr. Manafort, I don't want to belittle or minimize the discomforts of prison for you. It's hard on everyone, young and old, rich or poor," she said.
Jackson noted she hasn't received doctors orders about his health issues.
11:56 a.m. ET, March 13, 2019
"No collusion" is "simply a non-sequitur," judge says
Judge Amy Berman Jackson is now calling out the defense's memo, which stated that the special counsel was never able to charge Russian collusion (this was their approach to the sentencing memo).
"It's hard to understand why an attorney would write that," she said about Manafort's defense team's approach. "No collusion" is "simply a non-sequitur."
The judge said Manafort's argument about the Russia investigation won't affect her sentence.
"The defendant's insistence" that this shouldn't have happened to him "is just one more thing that's inconsistent with the notion of any genuine acceptance of responsibility," Jackson said.