Obama gives 'State of our Democracy' speech
2:12 p.m. ET, September 7, 2018
Former President Barack Obama said President Donald Trump is "capitalizing on resentment that politicians have been fanning for years" and questioned "What happened to the Republican Party?" a preview of Obama's message for the fall's midterms — and his most pointed rebuke to date of his successor in the White House.
Our live coverage of President Obama's speech has concluded, but you can scroll down below for highlights. Visit CNN Politics for more.
1:33 p.m. ET, September 7, 2018
Obama: America has "been through much darker times than these"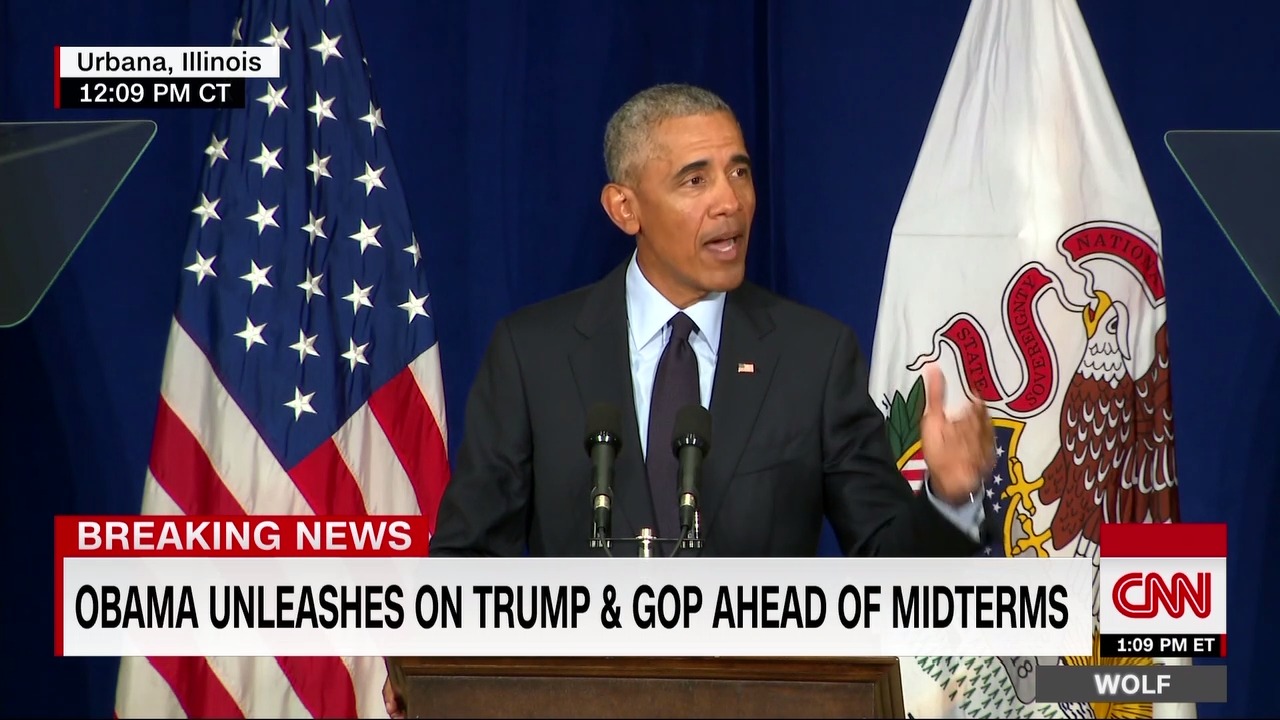 President Obama ended his speech on Friday with a message of hope for those concerned about the country's current path: "We have been through much darker times than these."
Somehow, Obama said, "each generation of Americans carried us through to the other side."
They did that "not by sitting around and waiting for something to happen, not by leaving it to others to do something, but by leading that movement for change themselves," he said.
"And if you do that, if you get involved and you get engaged and you knock on some doors and you talk with your friends and you argue with your family members and you change some minds and you vote, something powerful happens. Change happens. Hope happens."
He told the assembled students that taking America "in the direction of fairness and justice and equality and opportunity" could "be the legacy of your generation."
"You can be the generation that at a critical moment stood up and reminded us just how precious this experiment in democracy really is, just how powerful it can be when we fight for it, when we believe in it."
He ended the speech, which went just over an hour, by telling them, "I believe in you," and promising he would "be right there with you every step of the way."
In other words, the former president is no longer going to shy away from speaking out.
1:16 p.m. ET, September 7, 2018
Obama: The biggest threat to our democracy isn't Trump. It's indifference.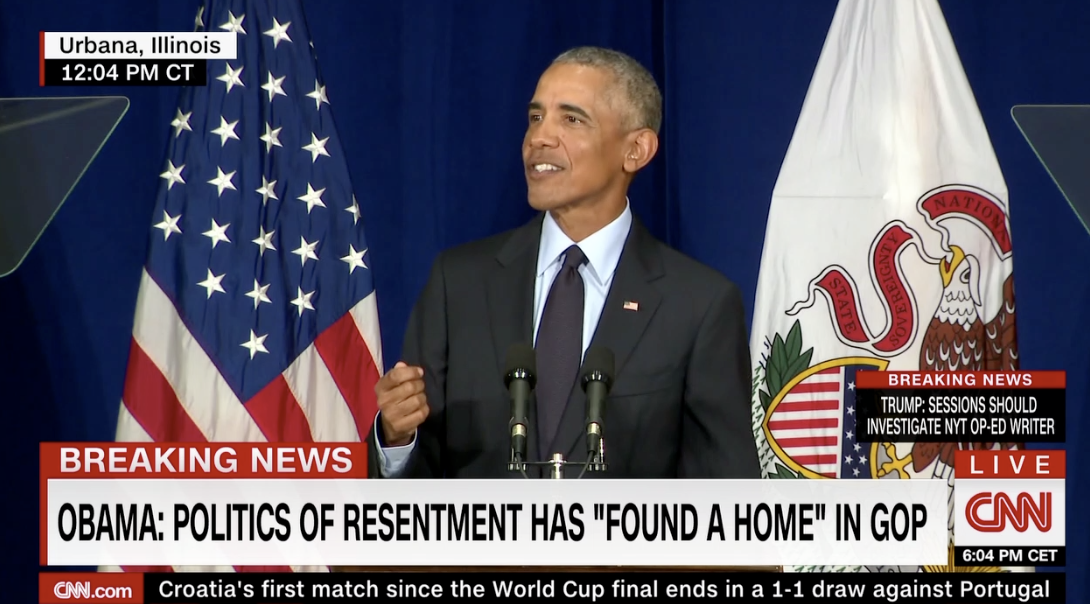 President Barack Obama, calling on Americans to stop looking for reasons not vote and instead look for hard-working people with "America's best interest at heart," told students it was indifference that was the greatest threat to our democracy, and not the current president.
"The antidote to a government controlled by a powerful few, a government that divides is a government by the organized, energized, inclusive many. That's what this moment's about," he said.
Obama continued: "That has to be the answer. You cannot sit back and wait for a savior. You can't opt out because you don't feel sufficiently inspired by this or that particular candidate. This is not a rock concert. This is not Coachella. We don't need a messiah. All we need are decent, honest, hard-working people who are accountable and who have America's best interests at heart."
Because in the end, the threat to our democracy doesn't just come from Donald Trump or the current batch of Republicans in congress or the Koch brothers and their lobbyists or too much compromise from Democrats or Russian hacking. The biggest threat to our democracy is indifference. The biggest threat to our democracy is cynicism. Cynicism led too many people to turn away from politics and stay home on election day.
1:01 p.m. ET, September 7, 2018
Obama blasts congressional Republicans for "abdicating your responsibilities" over Trump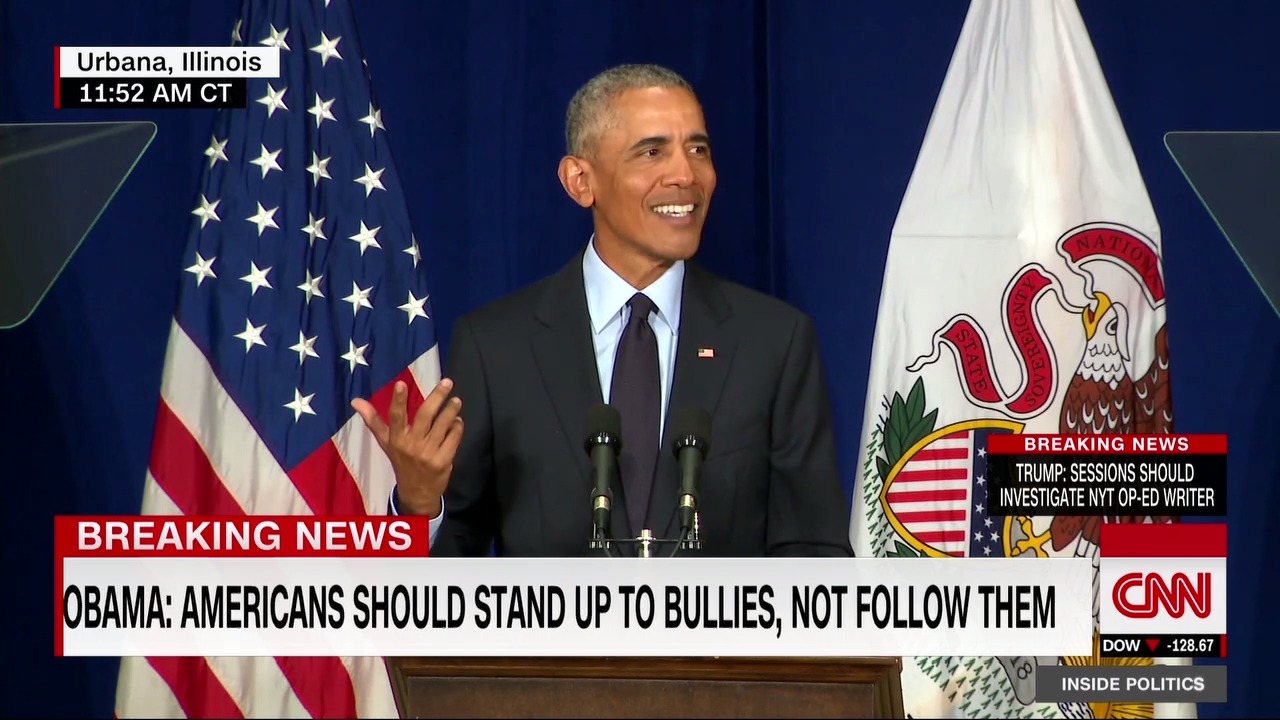 Speaking of ways to make democracy work, President Obama said Americans have to be open to each others' differing opinions, but that doesn't mean abandoning our principles or "maintaining some phony version of civility."
"That seems to be, by the way, the definition of civility offered by too many congressional Republicans right now," he said, hammering them for staying polite while they get what they want, then clicking their tongues and issuing "vague statements of disappointment" when President Trump "does something outrageous," but failing to do anything about it.
"That's not civility. That's abdicating your responsibilities," he said.
1:26 p.m. ET, September 7, 2018
Obama blasts Trump over Charlottesville: How hard can it be to say "Nazis are bad?"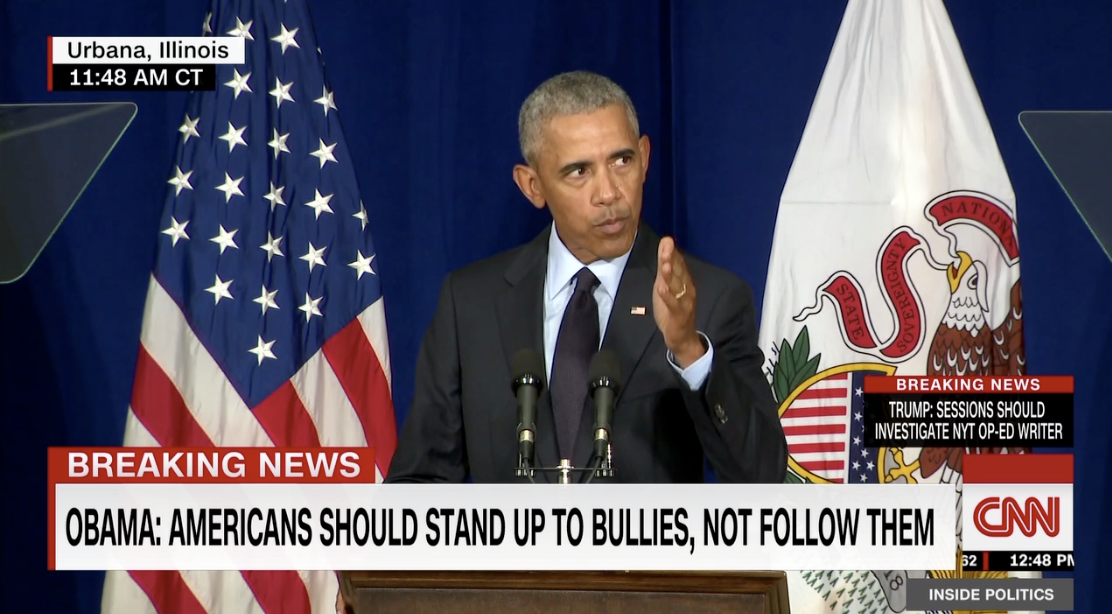 President Barack Obama rebuked President Trump's policies and urged Americans to take a stand against bullies, blasting Trump's attacks on the press, the FBI, Department of Justice and Attorney General Jeff Sessions.
The President's attacks on these institutions, Obama said, shouldn't be partisan issues. "We are Americans. We're supposed to stand up to bullies. Not follow them," he said.
Obama then took a jab at Trump's response to the Charlottesville violence:
"We're supposed to stand up to discrimination, and we're sure as heck supposed to stand up clearly and unequivocally to Nazi sympathizers. How hard can that be, saying that Nazis are bad?"
12:52 p.m. ET, September 7, 2018
Obama on the strong economy: "Let's just remember when this recovery started"
President Obama sought to remind Republicans just who started the economic recovery that's led to strong numbers like this morning's jobs report.
"By the time I left office, household income was near its all-time high, and the uninsured rate hit an all-time low, poverty rates were falling," Obama said. "I mention this just so when you hear how great the economy is doing right now, let's just remember when this recovery started."
He continued, "When you hear about this economic miracle that's been going on, when the job numbers come out, monthly job numbers, and suddenly Republicans are saying it's a miracle, I have to kind of remind them, actually, those job numbers are the same as they were in 2015 and 2016."
1:11 p.m. ET, September 7, 2018
Obama on resistance inside Trump's White House: "That's not how our democracy's supposed to work"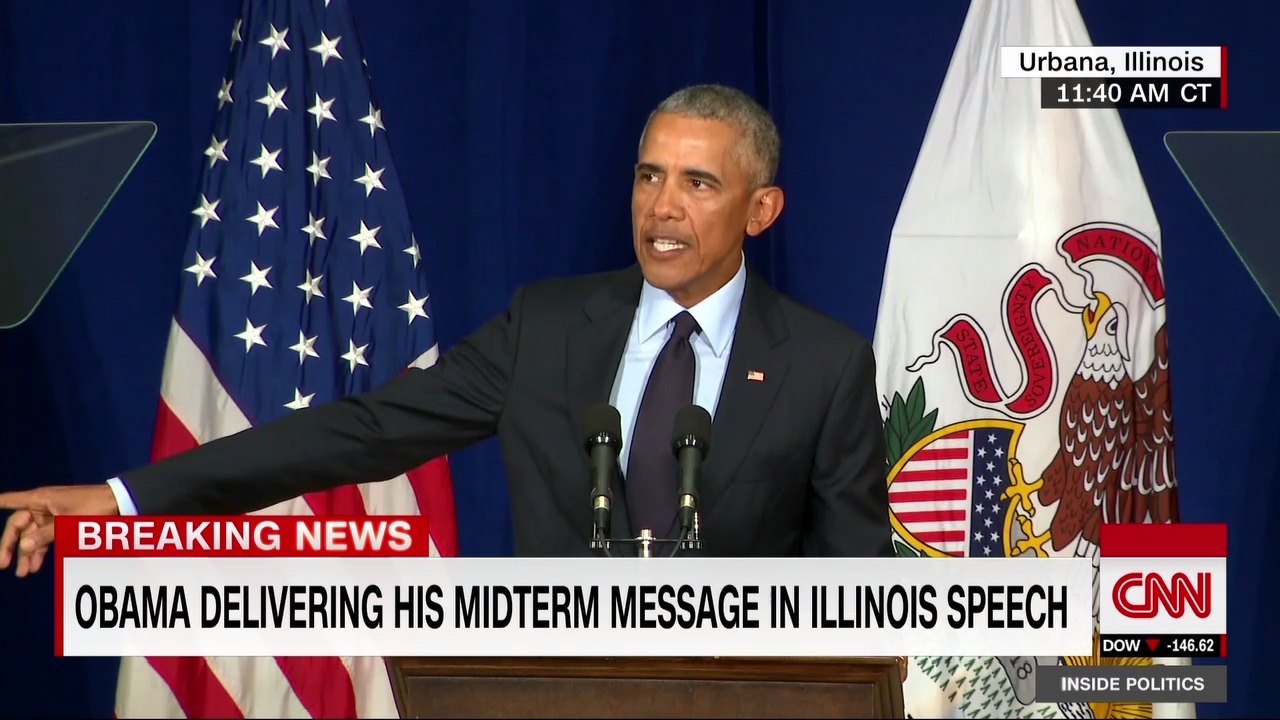 President Obama slammed the idea that there were Trump administration staffers working actively to undermine President Trump and stop him from following some of his work instincts, a theme of Bob Woodward's book as well as the anonymous op-ed that ran in the New York Times.
"The claim that everything will turn out okay because there are people inside the White House who secretly aren't following the President's orders, that is not a check," Obama said. "I'm being serious here. That's not how our democracy's supposed to work. These people aren't elected. They're not accountable." 
He added, "They're not doing us a service by actively promoting 90% of the crazy stuff that's coming out of this white house, and then saying, 'Don't worry, we're preventing the other 10%.' That's not how things are supposed to work. This is not normal. These are extraordinary times. And they're dangerous times."
Watch: