Democratic debate in Nevada
11:48 p.m. ET, February 19, 2020
Here's who won the Nevada debate
Six Democratic presidential candidates took the stage tonight in Las Vegas, days before the Nevada caucuses.
Here are the winners and losers from tonight's debate:
Winners: Sen. Elizabeth Warren, Sen. Bernie Sanders, Pete Buttigieg, and former Vice President Joe Biden and ... the chance of a contested Democratic convention.
Losers: Sen. Amy Klobuchar and Mike Bloomberg
11:47 p.m. ET, February 19, 2020
Fact check: Klobuchar asserts she's won elections in Republican-held areas. Here's what we know.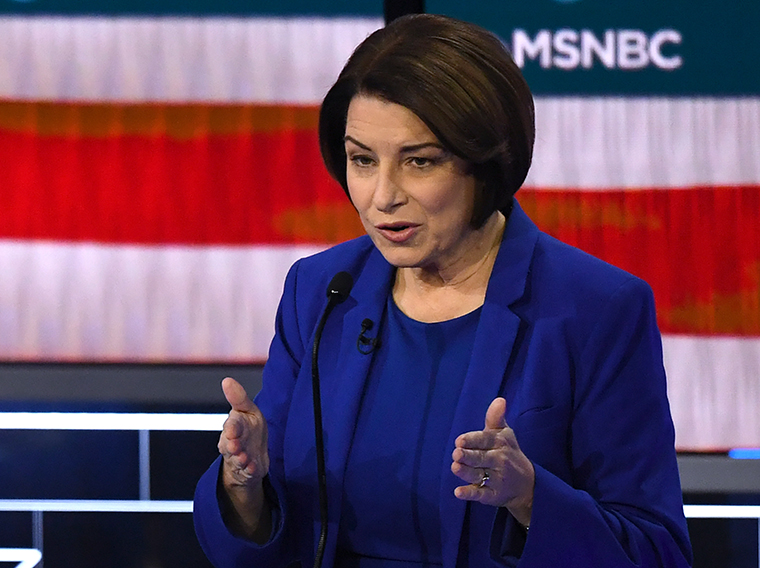 As she has in prior debates, Minnesota Sen. Amy Klobuchar asserted Wednesday that she's won elections in Republican-held areas. 
"I'm the one on this stage that had the highest voter turnout of any state in the country when I led the ticket, as well as bringing in rural and suburban voters. And I've done that as well," she said. "And I'm the only one with the receipts to have done that in Republican congressional districts over and over again." 
Facts first: Partly true. Minnesota had the highest voter turnout rate of any state during each of her Senate campaigns, but Klobuchar is not the only candidate who has won Republican-held congressional districts 
Former Vice President Joe Biden, who spent most of his career as the senator for Delaware, won in Republican congressional districts.  
Biden first won the 1972 election to be senator from Delaware and was repeatedly re-elected to serve in that position by considerable margins until he became vice president in 2009. During that time, Delaware's sole congressional district was held by Republicans from 1973 to 1983, and from 1993 to 2011.
Turnout was highest in Minnesota in years when Klobuchar ran. In her three election years, Minnesota had the highest state voter turnout nationwide.
11:23 p.m. ET, February 19, 2020
Fact check: Biden calls out Bloomberg's use of "stop and frisk"
Former Vice President Joe Biden said that, as mayor of New York, Michael Bloomberg had "stop and frisk – throwing close to five million young black men up against a wall." 
Facts First: There were approximately 5 million total "stop and frisk" stops during Bloomberg's tenure as mayor between 2002 and 2013, but Biden was inaccurate when he said that this was the number of young black men stopped. Of about 5.08 million total stops under Bloomberg, about half, approximately 2.6 million stops, were of black people -- men and women of all ages, according to police data compiled by the New York Civil Liberties Union. 
Biden spokesman Michael Gwin said Biden meant to refer to the total number of stops. Gwin correctly noted that the stops disproportionately targeted young African-American and Hispanic men.    
Some more context: Bloomberg advocated stop and frisk even after a federal judge ruled in 2013 that the way New York was using stop and frisk was unconstitutional. 
He began apologizing for stop and frisk in November 2019, the month he launched his presidential campaign, saying he only belatedly realized that too many innocent people were being harmed. However, his account of what happened has left out important information.
11:12 p.m. ET, February 19, 2020
How the candidates closed out the debate
Each of the six candidates gave a closing statement to wrap up tonight's debate, the last one before the Nevada caucus.
Here's what they said:
Former Vice President Joe Biden:  "I've been knocked down a lot. I know what it's like to be knocked down. But we have to get up and provide safety and security for the American people. Right here in Nevada, the site of the most significant mass murder in American history. Guns. Our kids are getting sent to school having to hide under desks, learn how to run down corridors to avoid being shot. It's immoral."
Former New York City Mayor Mike Bloomberg: "This is a manager job and Donald Trump is not a manager. This is a job where you have to build teams. He doesn't have teams so he makes decisions without knowing what's going or the implications for what he does. We cannot run the railroad this way. The country has to pull together and understand that the people that we elect, and it's not just the president of the United States, they should have experience. They should have credentials."
Former South Bend, Indiana Mayor Pete Buttigieg: "We cannot afford to lean on the same Washington play book. We cannot afford to alienate half the country. We must step forward into the future in order to win and in order to govern a country that will be facing issues, the likes of which we barely thought of just a few years ago."
Sen. Amy Klobuchar: "What I want everyone out there watching to remember is that what unites us is so much bigger than what divides us. And that we need a candidate that can bring people with her. Yes, a fired up Democratic base, but also independents and moderate Republicans. And I have done that every single time I have won every race down to fourth grade. A lot of boasting up here, so I thought I'd add that. Secondly, you need someone who can govern. I have passed over 100 bills as the lead Democrat. And third, you need someone who has the heart to be the president. They were talking a lot about heart conditions up here. We have a president right now that doesn't have a heart."
Sen. Bernie Sanders: "All of us are united in defeating the most dangerous president in the modern history of this country. That we agree on. But where we don't agree, I think is why we are today the only major country on Earth not to guarantee health care for all people. Why three people own more wealth than the bottom half of America when 500,000 people sleep sleep out on the street. Why hundreds of thousands of bright young kids can't afford to go to college and 45 million remain in student debt."
Sen. Elizabeth Warren: "I, for years, have fought for unions to say the way we're going to restructure this economy is we're going to make it easier to join a union and get more power into unions. To fight for students who have been cut out of opportunity over and over because of the rising cost of an education. For me, I am, I've been a politician the shortest time, but I've been the one out fighting for families the longest time. I promise you this. Give me a chance. I'll go to the White House. And I'll fight for your family."
11:06 p.m. ET, February 19, 2020
Who spoke the most during tonight's debate
Sen. Elizabeth Warren led the pack, speaking for almost 17 minutes, followed by Sen. Amy Klobuchar at more than 16 minutes.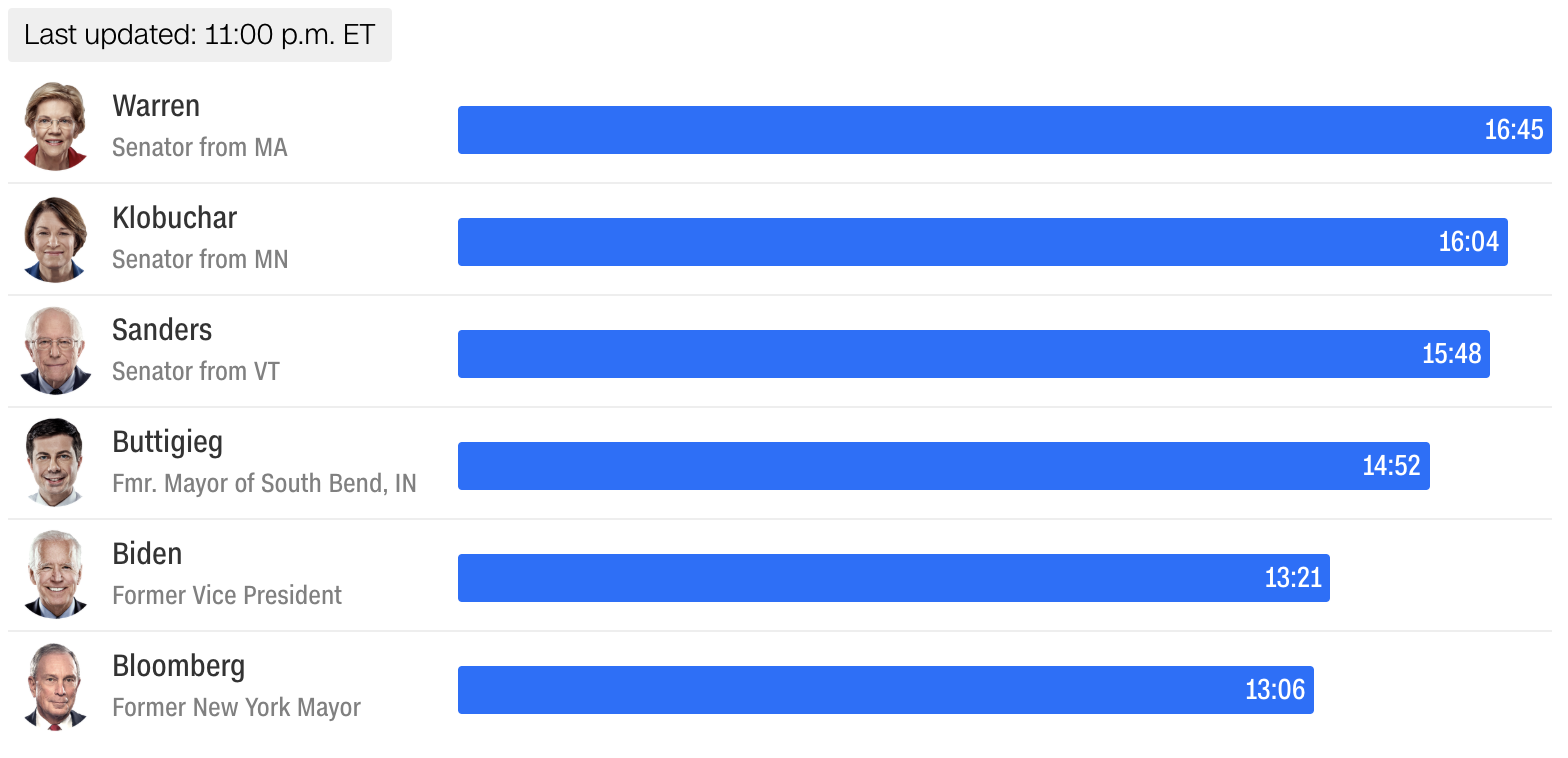 11:05 p.m. ET, February 19, 2020
Protesters interrupt Biden's closing statement
Protesters interrupted former Vice President Joe Biden as he started delivering his opening statement at the debate tonight.
He started his statement, saying, "I'm running because so many people are..."
That's when protesters in the audience began screaming, while others clapped and cheered. The moderator quickly interjected and said they were clearing the room.
Moments later, Biden continued his statement.
10:58 p.m. ET, February 19, 2020
The stage is set for Democratic convention drama
With such a crowded field, there is a real possibility that Democrats will go to their summer convention in Milwaukee with none of the candidates having clinched the nomination.
So, what then?
For five of the six candidates onstage tonight, the answer was to roll the dice, perhaps allow superdelegates in on a second ballot and, as a couple put it, "let the process play out."
Michael Bloomberg, Elizabeth Warren, Joe Biden, Pete Buttigieg and Amy Klobuchar all said that a candidate with a plurality of delegates should not automatically be handed the nomination.
The lone dissenter: Bernie Sanders, who said that whomever wins the most, even if that means they come up short of a majority, should win the nomination.
10:52 p.m. ET, February 19, 2020
Fact check: Bloomberg called Obamacare "a disgrace" after it passed
Former Vice President Joe Biden said former New York City Michael Bloomberg called Obamacare "a disgrace" after it passed. 
"The mayor said, when we passed it, the signature piece of this administration, it's a disgrace," Biden said. "They're the exact words. It was a disgrace. Look it up, check it out, it was a disgrace."
Facts first: This is true. 
Bloomberg did call the final Obamacare bill "a disgrace" during a July 2010 event at Dartmouth College, just months after the law's passage. Bloomberg added that the law did "absolutely nothing to fix the big health care problems" calling it just "another program that's going to cost a lot more money."
Bloomberg defended himself at the debate, saying, "I was in favor of it. I thought it didn't go as far as we should," comments his campaign also made to CNN's KFile on Sunday. His campaign pointed to comments he made in 2013 on a radio program after the bill's passage as a sign of his support. "Congress passed this, so let's try it at least," Bloomberg said. 
"Some parts of Obamacare I don't think will work, I don't think is fair, I don't think is intelligent, whatever. But I don't have a better answer other than let's try this," Bloomberg also said.
10:47 p.m. ET, February 19, 2020
Sanders and Bloomberg debate over the number of homes they own
Sen. Bernie Sanders and former New York City Mayor Michael Bloomberg got into a heated debate tonight over who owns the most homes and where.
Bloomberg kicked off the discussion with a shot at Sanders, calling him the "best known socialist in the country happens to be a millionaire with three houses. What did I miss?"
"I work in Washington, house one. I live in Burlington, house two. And like thousands of other Vermonters, I have a summer camp. Forgive me for that. Where is your home? Which tax haven do you have your home?" Sanders said.
Bloomberg fired back: "New York City, thank you very much. And I pay all my taxes. And I'm happy to do it because I get something for it."