6:48 p.m. ET, February 22, 2020
Sanders leads among white and Latino voters
Entrance polls show Sen. Bernie Sanders with a commanding lead in Nevada among white and Hispanic voters.
With white voters, Sanders has 30% of the vote, followed by former South Bend, Indiana, Mayor Pete Buttigieg with 19%. In terms of Hispanic voters, Sanders commands 54% of the vote, with former Vice President Joe Biden in a distant second with 14%.
When it comes to black voters, Biden leads with 34% followed by Sanders with 28%.
"African Americans make up 11% of the electorate. Hillary Clinton won them going away four years ago, It's part of what drove her success in Nevada," CNN's David Chalian said this afternoon. "It's so important to who wins Nevada and the delegate race for the nomination overall. When you're awarding things proportionally, you can be somebody who prevents the number one candidate from getting a majority."
Watch the analysis:
6:48 p.m. ET, February 22, 2020
Sanders has an early lead in new entrance poll
An entrance poll shows Sen. Bernie Sanders has an early lead in the initial preference of Nevada caucusgoers.
One thing to note: This is an entrance poll of initial preference.
3:55 p.m. ET, February 22, 2020
Biden: "Things are feeling good" in Nevada
Former Vice President Joe Biden stopped by a caucus site this morning in North Las Vegas, Nevada, where he greeted voters, took selfies and shook hands.
Asked whether it's important for him to have a strong showing in Nevada to carry the momentum to South Carolina, Biden replied that he will leave it to pundits to make that judgment but ultimately that "things are feeling good." 
"I think we're coming into an area that it makes a big difference to me, not only going into South Carolina, but Super Tuesday. And I've had a lot of support. So I'm feeling good," he said. 
Biden acknowledged the divisions in the Democratic party, subtly taking a dig at Sen. Bernie Sanders by saying that being able to deliver on promises is key.
3:35 p.m. ET, February 22, 2020
Some campaign volunteers being used to help run Nevada caucuses
A Nevada State Democratic Party (NSDP) spokesperson said it's "common and not unusual" for some campaign volunteers to fill some gaps and help with some of the caucuses.
NSDP spokesperson Molly Forgey said it happened in 2016 and 2008 as well.
The state party said it has the coverage it planned for, claiming it believes there are more than 2,000 volunteers across the state.
6:49 p.m. ET, February 22, 2020
Among very liberal voters, Sanders holds commanding lead, according to entrance polls
Entrance polls in Nevada show that among voters who identity as very liberal, Sen. Bernie Sanders commands 52% percent of the votes.
In a distant second is Sen. Elizabeth Warren with 17% and former Vice President Joe Biden with 9%.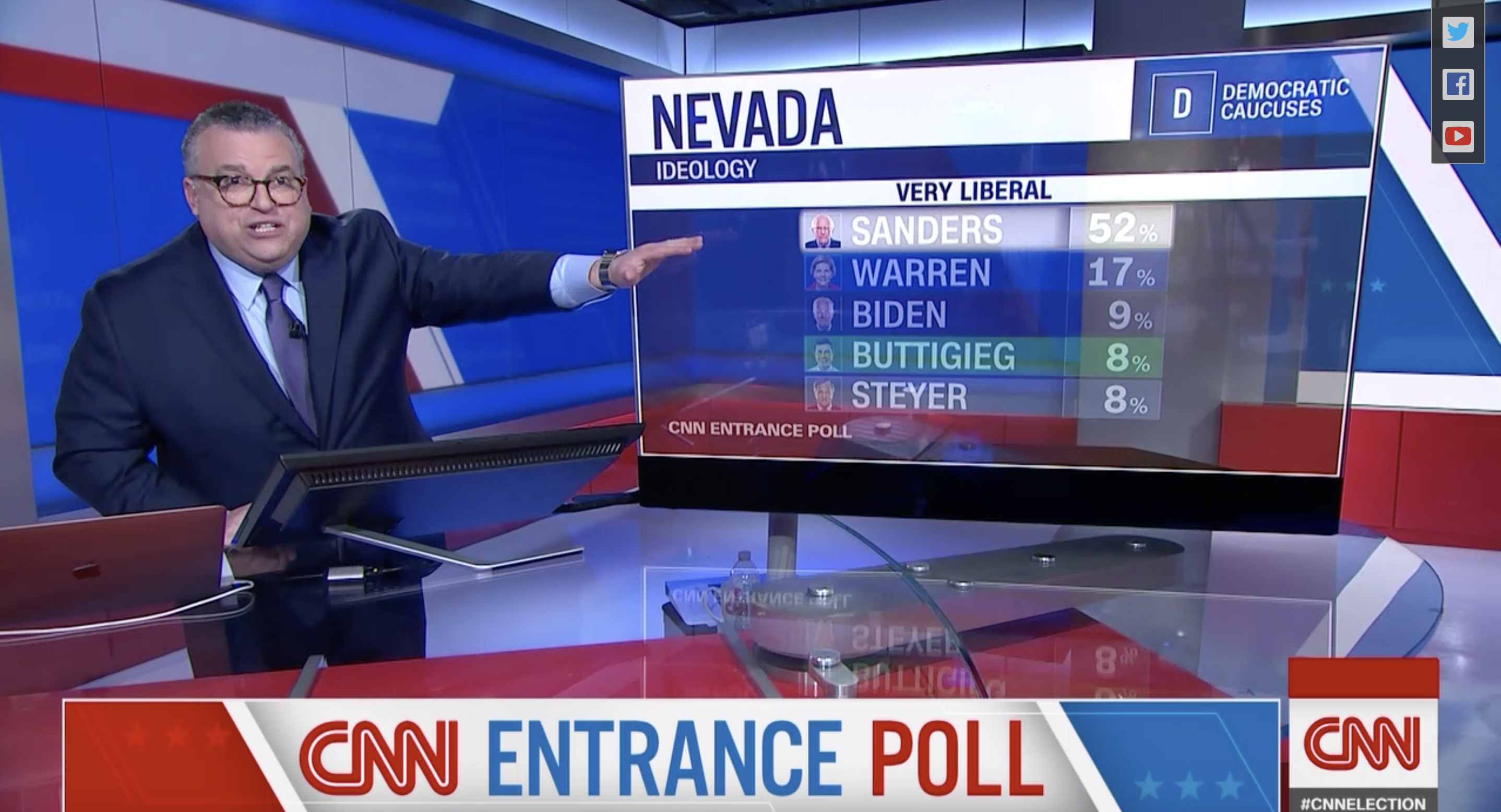 6:49 p.m. ET, February 22, 2020
About half of Latino Nevada caucusgoers say they support Sanders
According to entrance polls, around half of Latino Democratic caucus-goers said they support Sen. Bernie Sanders in Nevada
Significantly fewer caucus-goers (around 1 in 10) support former Vice President Joe Biden, around 1 in 10 for former South Bend, Indiana, Mayor Pete Buttigieg, around 1 in 10 for businessman Tom Steyer, and slightly fewer for Sen. Elizabeth Warren. 
Among black Democratic caucus-goers, over a third support Biden, a quarter went to Sanders, and around 1 in 8 for Steyer and 1 in 8 for Warren.
3:10 p.m. ET, February 22, 2020
Here's why Warren is traveling to Seattle tonight
Sen. Elizabeth Warren woke up in Las Vegas this morning and she and her husband, Bruce, went for an early walk as they often do. Warren is now visiting a caucus site in Henderson, Nevada, to bring supporters donuts and coffee.
But when the results come in later today, the senator will not be in Nevada. She'll be in Seattle, Washington, where her campaign will hold a rally downtown. Other candidates are doing similar things today, of course — skipping ahead to March states.
Why the move: Warren advisers tell CNN that Washington is obviously a state where they'd like to do well, and splitting up the day this way is a way to be in as many places at once. Washington is a vote by mail state, and ballots became available yesterday, so Warren is trying to boost voting for her here as soon as possible.
Warren held a summer outdoor rally in Washington state last year that was easily one of her biggest events of the entire election. That came at a moment when Warren's candidacy was really surging, and she's in a different place now, but clearly the campaign hopes to recreate that kind of momentum here.
2:58 p.m. ET, February 22, 2020
Warren campaign says they've raised $14 million
Sen. Elizabeth Warren's campaign announced today, hours before Nevada caucuses start that they have raised $14 million.
The campaign doubled their initial goal of raising $7 million before today's caucus set earlier this week.
6:49 p.m. ET, February 22, 2020
Entrance poll on health care preference shows good sign for Bernie Sanders
Entrance polling shows that a majority of Democratic caucus-goers support government-backed health care over private insurance -- good news for "Medicare for All" proponents Bernie Sanders and Elizabeth Warren.
There had been signs of trouble for Sanders' fortunes with health care-minded union voters in the Silver State. The powerful Culinary Union singled out Sanders' health care plan the same night he won the New Hampshire primary, distributing a flier saying Sanders would "End Culinary Healthcare" if elected president of the United States.