Robert Mueller submits Russia report
2:26 p.m. ET, March 24, 2019
Attorney General William Barr is expected to provide Congress and the public his summary of the main conclusions from special counsel Robert Mueller's investigation. Follow live updates here.
12:34 p.m. ET, March 24, 2019
Robert Mueller went to church this morning — next to the White House
Robert Mueller was spotted leaving church this morning with his wife Ann in Washington, DC. 
The White House is seen in the background of the photos.
11:03 a.m. ET, March 24, 2019
Barr arrives at Justice Department
Attorney General William Barr's motorcade was seen arriving at the Department of Justice Sunday morning.
Barr announced in a letter to lawmakers on Friday that Mueller had submitted his report, and the newly minted attorney general said at the time he "may be in a position" to speak with lawmakers about "the special counsel's principal conclusions as soon as this weekend."
11:18 a.m. ET, March 24, 2019
How Congress is responding Sunday morning
As of Sunday morning, lawmakers on both sides of the aisle continued to await the release by the Department of Justice on special counsel Robert Mueller's findings.
House Judiciary Committee Chairman Jerrold Nadler, a New York Democrat, told CNN's Dana Bash on "State of the Union" that if necessary, he would subpoena the Justice Department for the Mueller report and "absolutely" be willing to take the fight to the Supreme Court if it came to that.
Georgia Rep. Doug Collins, the top Republican on the House Judiciary Committee, disagreed with Nadler on "Fox News Sunday," saying it was "not the Department of Justice's job" to give Congress information for "a purely partisan investigation that may lead toward impeachment."
Texas GOP Sen. Ted Cruz told CNN in a separate interview on "State of the Union" that the report needed to be released to Congress and the public, although he maintained the investigation "went on far too long."
Florida GOP Sen. Marco Rubio, on NBC's "Meet the Press," joined many of his colleagues on Sunday who said they wanted to see the complete report. He said a full review would be important to judge the underlying investigation and surveillance authority extending back to the previous administration, prior to Mueller's appointment. "What was the underlying criminal predicate for the entire investigation? ... Let's see all of that. Let's put all of that out there as well so we can pass judgment about how the investigation was conducted or at least a predicate for the investigation was conducted during the Obama years."
9:44 a.m. ET, March 24, 2019
The White House has not received the Mueller report yet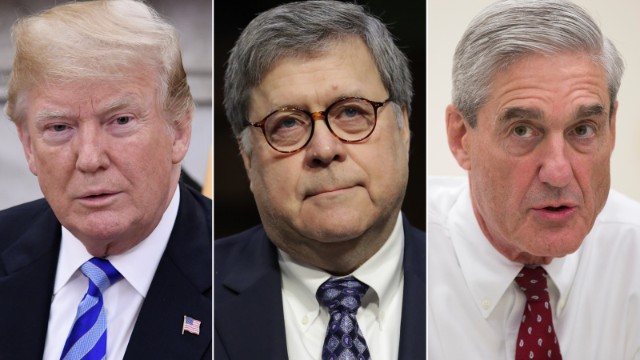 The White House has not received or been briefed on the Mueller report as of Sunday morning, a senior administration official tells CNN.
President Donald Trump and the aides who traveled with him to Palm Beach, Florida, are still in wait-and-see mode like the rest of Washington.
Over the weekend, Trump has voiced uncertainty over what Attorney General William Barr will do next, according to the people familiar with his reaction.  
4:11 p.m. ET, March 23, 2019
'No one is panicking' ahead of next Mueller-related news, source close to Trump says 
Two sources close to President Donald Trump told CNN Saturday that he's happy special counsel Robert Mueller's investigation is over, adding that there is now a wait-and-see approach for what may come next.
One source said "no one is panicking," which was evidenced by the President casually going out to golf at Mar-a-Lago Saturday. The source added that "we're letting it play out," and said there is no war room set up right now in anticipation of the findings of Mueller's investigation, unlike the Clinton White House after former independent counsel Ken Starr finished his investigation
Another official said it wasn't a mistake White House lawyers Emmet Flood and Pat Cipillone are in Florida with Trump this weekend and that it could very well be that they are cautioning the President to lay low until they have a better understanding of what is in the report. 
3:52 p.m. ET, March 23, 2019
Attorney General William Barr, Deputy Attorney General Rod Rosenstein at DOJ reviewing Mueller report
Attorney General William Barr and Deputy Attorney General Rod Rosenstein are working together reviewing and analyzing special counsel Robert Mueller's confidential report this weekend along with a select few advisers, according to a Justice Department official familiar with the process.  
The official told CNN that Barr and Rosenstein are still at the Justice Department at this hour, and the "principal conclusions" that Barr promised lawmakers will be derived from the special counsel's report.
The official said Barr has conveyed to his team that he still wants to get the conclusions to the Hill this weekend, though CNN reported that it's not happening today.
The official also said the expectation continues to be that the document sent to Congress with the conclusions will be made public. 
2:45 p.m. ET, March 23, 2019
Mueller's office is handing off Rick Gates case to the DC US Attorney's office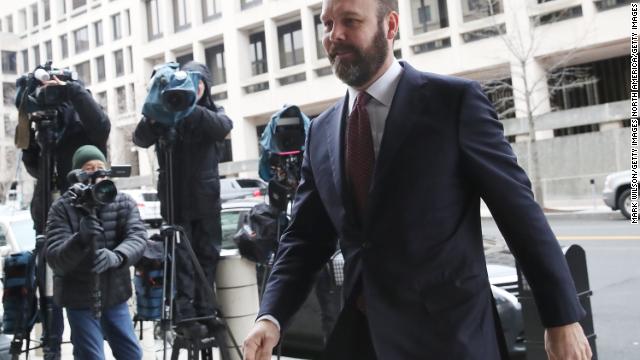 Former Trump campaign official Rick Gates' case before Judge Amy Berman Jackson will be handed off to the DC US Attorney's Office, special counsel Robert Mueller's office said Saturday.
Gates continues to cooperate with prosecutors in several investigations and his sentencing before Jackson has been put off for more than a year since he pleaded guilty to two charges.
On Friday, Mueller handed his report on Russian interference in the 2016 election over to the Justice Department. His office is not recommending any new indictments.  
Two other pending court cases that Mueller's team alone had handled -- the criminal prosecution of former national security adviser Michael Flynn and the pursuit of grand jury testimony from Andrew Miller, who is an associate of Roger Stone -- do not yet have hand-off plans finalized.
The DC US Attorney's Office is already involved in several of the other ongoing criminal cases brought by Mueller, including against Roger Stone, the accused Russian "troll farm" backer Concord Management and Consulting and a fight for subpoenaed documents from an unnamed foreign-owned company.
Jessie Liu, the current DC US Attorney, is President Donald Trump's pick to be the associate attorney general, the No. 3 position at the DOJ.
1:46 p.m. ET, March 23, 2019
DOJ not sending 'principal conclusions' to Hill today
Attorney General William Barr is not sending the "principal conclusions" of the special counsel's report to lawmakers today, multiple Congressional sources and a DOJ official tell CNN.
In a letter to lawmakers yesterday, Barr wrote that he may be in a position to share them "this weekend."