Trump's secretary of state pick faces Senate grilling
4:08 p.m. ET, April 12, 2018
The hearing has ended
Mike Pompeo's hearing in front of the Senate Foreign Relations Committee ended just before 3 p.m. ET. It lasted nearly five hours.
See below for the highlights and big moments.
2:51 p.m. ET, April 12, 2018
Tim Kaine tells CNN he has "serious doubts" about Pompeo nomination
Sen. Tim Kaine, one of two Democrats on the Senate Foreign Relations Committee who voted for Mike Pompeo as CIA director, tells CNN that he has "serious doubts" about Pompeo's nomination to State and his ability to be the top diplomat in the US.
Sen. Jeanne Shaheen, who also voted for Pompeo to CIA, said earlier she still has concerns with him going to State and he didn't resolve them.
And GOP Senator Rand Paul has already said he would oppose Pompeo and reiterated those concerns during his line of questioning.
If all three vote no, Pompeo will not get a favorable recommendation from the committee because GOP only has a one-vote advantage.
Shaheen and Kaine said they hadn't made a final decision yet.
Even with a negative vote in committee, GOP leaders could still move to advance the nomination and take it to the floor - something that is rarely done.
And GOP leaders would need to pick up at least one Democrat to jump ship and support Pompeo, given Paul's opposition and John McCain's absence.
2:20 p.m. ET, April 12, 2018
Muslim lawmakers urge opposition to Pompeo, who said Muslim leaders have a "special obligation" to prevent attacks
Two Muslim lawmakers are urging their colleagues oppose Mike Pompeo's nomination, citing his "long anti-Muslim record" as one that would "render him ineffective as a statesman to Muslim leaders and populations."
Here's an excerpt: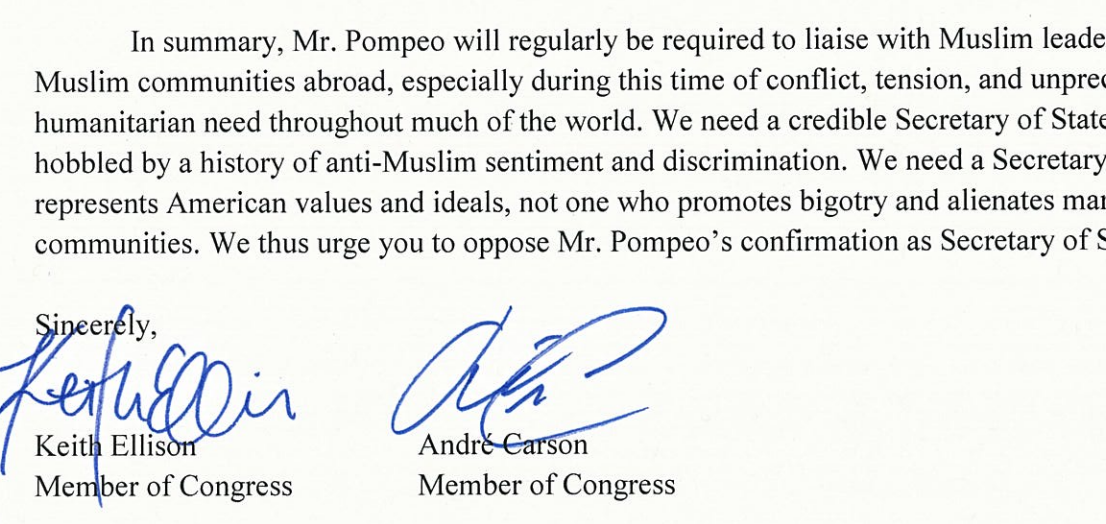 Rep. Keith Ellison and Rep. André Carson, both Democrats, wrote in a letter to Senate Foreign Relations Committee leaders, "We need a credible Secretary of State, not one hobbled by a history of anti-Muslim sentiment and discrimination."
What happened in the hearing earlier today
Sen. Cory Booker pressed Pompeo on that history. The two sparred in an exchange about what Pompeo has claimed is a "special obligation" that falls on Muslim leaders when it comes to preventing terrorist attacks in America.
Booker asked Pompeo: "Do you think that Muslim Americans in this country who serve in our military, who serve in the state department, their failure to speak up, is that -- are they complicit in terrorist attacks?"
Pompeo responded: "Senator, each and every human — not just Americans — each and every human being has an obligation to push back against the extremist use of violence, from whatever faith."
He added, though, that "when it comes to making sure we don't have terrorists brewing in places where Muslims congregate, there is a special place... it's more than a duty, it's an opportunity."
Read their letter here.
2:07 p.m. ET, April 12, 2018
Pompeo weighs in on Michael Cohen raid
Pompeo was asked whether he agrees with President Trump that the Michael Cohen office and hotel search represents an "attack on the country," which Trump claimed.
Pompeo hedged a bit by not taking on Trump's comments directly, but asserted that he "always believed that the rule of law matters," and "absolutely" thinks that includes respect for the execution of search warrants.
1:57 p.m. ET, April 12, 2018
Pompeo: Goal is a "post-Assad Syria one day"
As President Trump's decision on Syria looms, Mike Pompeo said the goal there "one day" is to have a future beyond current leader Bashar al-Assad.
"The other objective is to achieve a diplomatic outcome such that there's more stability, we can take down the violence — so this is a diplomatic task, so that we get to a place where the Syrian people can ultimately govern themselves. And our goal is to make that a post-Assad Syria one day," Pompeo said.
1:21 p.m. ET, April 12, 2018
Pompeo imagines a situation where the US would make a first strike against North Korea
Mike Pompeo said he is on the same page with President Trump when it comes to a first strike against North Korea.
"The President has made clear, and I agree with him, that there may come that day. There may come the day when we see an arsenal of nuclear weapons capable of striking the United States of America," Pompeo said.
"The President has made clear his intention to prevent that from happening and to the extent that diplomatic tools and other tools that America has as its foreign policy power are unsuccessful," he said.
Democratic Sen. Ed Markey pressed Pompeo on if there is any circumstance under which he would concur with John Bolton that a ground invasion of North Korea could be necessary in order to rid the country of its nuclear weapons program.
"Yes, I can imagine times when America would need to take a response that moved past diplomacy," Pompeo said.
They both agreed that the consequences of that move would be "catastrophic."
1:10 p.m. ET, April 12, 2018
He wants to be America's top diplomat, but says he still opposes same-sex marriage
Sen. Cory Booker pressed Mike Pompeo on his same-sex marriage views. In the past, Pompeo has gotten heat for reading a controversial prayer that said America, "worshiped other gods and called it multiculturalism and endorsed perversion and called it an alternative lifestyle."
Pompeo said he remains opposed to same-sex marriage, but added that he respects straight and gay people the same.