Countdown to the midterms: 1 day out
12:02 a.m. ET, November 6, 2018
Our live coverage of the run-up to the 2018 midterm elections has concluded. Stick with CNN Politics on Tuesday to see how America votes.
11:50 p.m. ET, November 5, 2018
Trump hits McCaskill in Missouri
President Trump hit Senator Claire McCaskill in Missouri Monday night, telling the crowd that any support she has been declaring for Trump will disappear the day after the election.
"She was going down and then she said the Democrats are crazy -- and I said that's genius for getting elected," Trump joked to the crowd adding that he appreciate she's support "out of nowhere" on the border.
Trump said that the Senator was "getting a lot of heat" from Democrats, but warned the crowd that she would make up with democrats the day after the election at "lunch."
Trump also hit McCaskill for not voting for several of his referendums saying she will "be a disaster" if elected again.
Trump then invited McCaskill's opponent, Josh Hawley, to the stage in Missouri.
11:37 p.m. ET, November 5, 2018
President Trump on the midterms: "If we don't do so well tomorrow, they will put me on the ticket"
President Trump, at his 11th and closing rally of the final week before the midterms, told the crowd in Cape Girardeau, Missouri, "If we don't do so well tomorrow, they will put me on the ticket. If we do great tomorrow, they will say he has nothing to do with it."
11:18 p.m. ET, November 5, 2018
Acting on tip from US law enforcement, Facebook removes pages ahead of election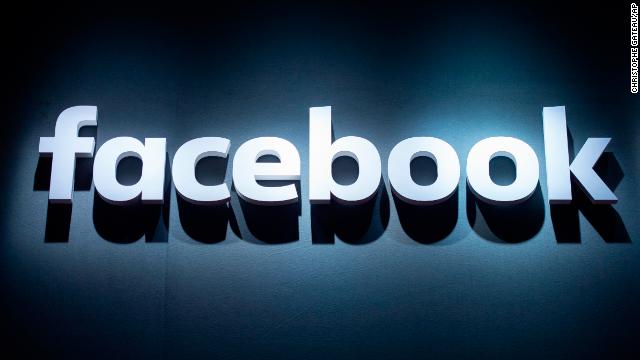 With just hours until polls open in the 2018 midterm elections, Facebook said Monday night that it had taken down a network of Facebook and Instagram pages, acting on a tip from US law enforcement.
"On Sunday evening, US law enforcement contacted us about online activity that they recently discovered and which they believe may be linked to foreign entities," Nathaniel Gleicher, the company's head of cybersecurity, said in a statement. 
The company removed 30 Facebook accounts and 85 Instagram accounts, the statement read.
"Almost all the Facebook Pages associated with these accounts appear to be in the French or Russian languages, while the Instagram accounts seem to have mostly been in English — some were focused on celebrities, others political debate," Gleicher wrote.
"Once we know more — including whether these accounts are linked to the Russia-based Internet Research Agency or other foreign entities — we will update this post," he added. 
Facebook's release comes after Department of Homeland Security Secretary Kirstjen Nielsen, Attorney General Jeff Sessions, Director of National Intelligence Dan Coats and FBI Director Christopher Wray said in a joint statement Monday that there was no indication of a compromise of America's voting infrastructure.
"Americans should be aware that foreign actors — and Russia in particular —continue to try to influence public sentiment and voter perceptions through actions intended to sow discord. They can do this by spreading false information about political processes and candidates, lying about their own interference activities, disseminating propaganda on social media, and through other tactics." 
11:17 p.m. ET, November 5, 2018
Hannity takes stage with Trump after saying he wouldn't
Fox News host Sean Hannity appeared on stage beside Trump and thanked him for his work at a rally in Missouri Monday night, despite saying only hours earlier that he would not hit the stump for the President.
Hannity began by approaching the lectern and telling the audience, "by the way, all those people in the back are fake news," pointing to members of the media located in a press pen.
"I had no idea you were going to invite me up here, and the one thing that has made and defined your presidency more than anything else: Promises Made, Promises Kept," Hannity said, echoing the slogan on a banner that appeared behind the President's lectern.
Hannity then went on to tout improvements in the economy since Trump took office and lauded his decision to leave the Iran nuclear deal.
"Mr. President, thank you," Hannity concluded.
Hannity had previously said in a tweet that he "will not be on stage campaigning with the President. I am covering final rally for my show."
Hannity's colleague at Fox, Jeanine Pirro, appeared on stage after him.
Hannity is not a journalist, but he works at a hugely popular network with "News" in its name, alongside staffers who have to follow policies that forbid this type of political involvement.
Perhaps that's why Fox News reacted to the press release by saying that Hannity was not sponsoring the rally or campaigning for Trump.
Hannity hosted his 9 p.m. show from the rally site, and he interviewed Trump there.
The White House's communications team, led by former Fox News co-president Bill Shine, set up a similar on-site interview in Las Vegas in September. Trump arrived at the arena, walked up to Hannity's stage for a live chat, then began his rally.
But the Trump campaign isn't making a distinction between interviewing the president and showing up at the rally as a "special guest." The campaign's website encourages people to sign up for tickets to the event "w/Sean Hannity, Rush Limbaugh, & Lee Greenwood."
Read more here
10:05 p.m. ET, November 5, 2018
Trump arrives at his final midterm rally. But first, Sean Hannity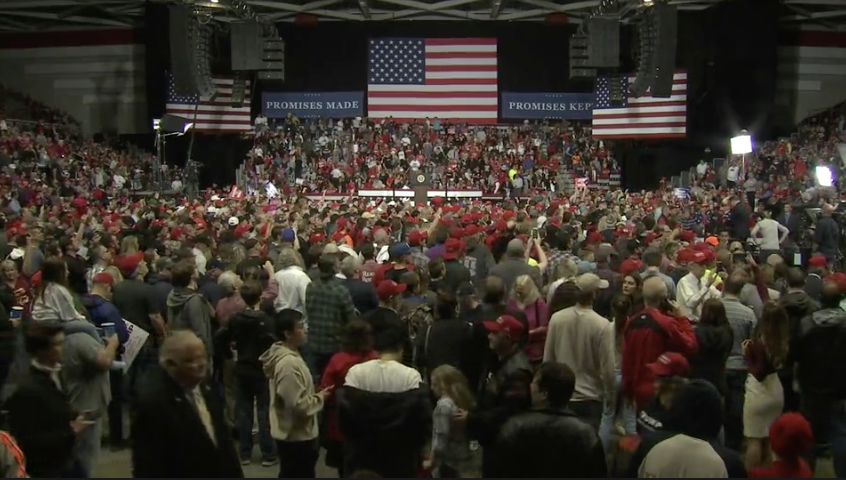 President Trump has just arrived at his third and final rally in Cape Girardeau, Missouri. 
Before he takes the stage, Trump will speak to Sean Hannity live on Fox News.
Hannity anchored the first half of his show from the rally -- he's interviewing POTUS backstage. There are only a few minutes left of Hannity's show, but they could always go into the next hour. 
Hannity has had a slew of Trump supporters on his show today, including Judge Jeanine live here in Missouri.
Once the rally starts, you can watch Trump live here.
9:43 p.m. ET, November 5, 2018
Joe Biden wraps midterm blitz. Next up: a 2020 decision
Former Vice President Joe Biden grasped the microphone tightly as he delivered his closing pitch for Democrats, his normally booming voice gone after a week of campaigning and replaced with something much lower and hoarse.
Biden's mission over the past week was straightforward: help Democrats make their closing argument heading into Tuesday's elections. But his six day, eight-state campaign swing, which took him to college campuses, union halls, suburb fairgrounds and even the early nominating state of Iowa, also carried the trappings of an opening act with chants of "Run Joe Run!" filling many of his 12 rallies over the last week.
"The only thing strong enough to tear apart America is America itself, and we've seen it start, and we have to stop it and that's what Tuesday's about," Biden said Sunday in Yatesville just a few miles from his birthplace of Scranton, Pennsylvania, a city upon which he's centered much of his blue collar, middle-class message.
"We have to make clear that Democrats, Democrats choose hope over fear. Democrats choose unity over division, and most importantly, we choose truth over lies."
"It's time to get up. Remember who in the hell we are. This is America," added Biden, who was struck with laryngitis over his last few days of campaigning.
9:20 p.m. ET, November 5, 2018
Oprah responds to racist robocalls made in her name in Georgia: "Jesus don't like ugly"
Oprah fired back against a racist robocall impersonating her, and said Monday, "Jesus don't like ugly."
"I heard people were making racist robocalls in my name against Stacey Abrams, who I am one hundred percent for, in Georgia," Oprah says in an Instagram video. "I just want to say: Jesus don't like ugly. Mm - mmm! And we know what to do about that: vote. Tomorrow show up and show out, and vote," she says, singing the last "vote." 
A white supremacist group that targeted Florida Democratic gubernatorial candidate Andrew Gillum with racist robocalls is now targeting Georgia Democratic gubernatorial candidate Stacey Abrams.
The prerecorded phone message features a voice impersonating Winfrey, who was in Georgia on Thursday stumping for Abrams, and contains racist and anti-Semitic rhetoric.
The robocall went out to Georgia voters, but it is unclear how many received it.
Abrams' Republican opponent, Brian Kemp, strongly denounced the automated call, calling it "absolutely disgusting" in a statement Friday.
9:20 p.m. ET, November 5, 2018
John Kasich urges voters to "drive the change" at the local level
Ohio Governor John Kasich, a Republican who has been critical of President Trump who has hinted he may consider a 2020 primary challenge, urged voters on election eve to get out and help "drive the change."
"There's a lot that we can do together," Kasich told CNN's Anderson Cooper. "In the meantime, you and I and all these people that watch -- start doing things where you live and drive the change from where you live to the top. It will work."
Watch: