Countdown to the midterms: 1 day out
8:20 a.m. ET, November 5, 2018
So far, more than 31 million people have voted
As of this morning, at least 31,299,060 votes have been cast early or by mail nationwide, according to data collected by Catalist.
CNN is partnering with Catalist, a data company that works with Democrats and others, to compile counts of ballots cast before Election Day, either early in-person or by-mail. 
Here's a breakdown of ballots cast in a few selected states — and how the numbers compare to 2016 and 2014: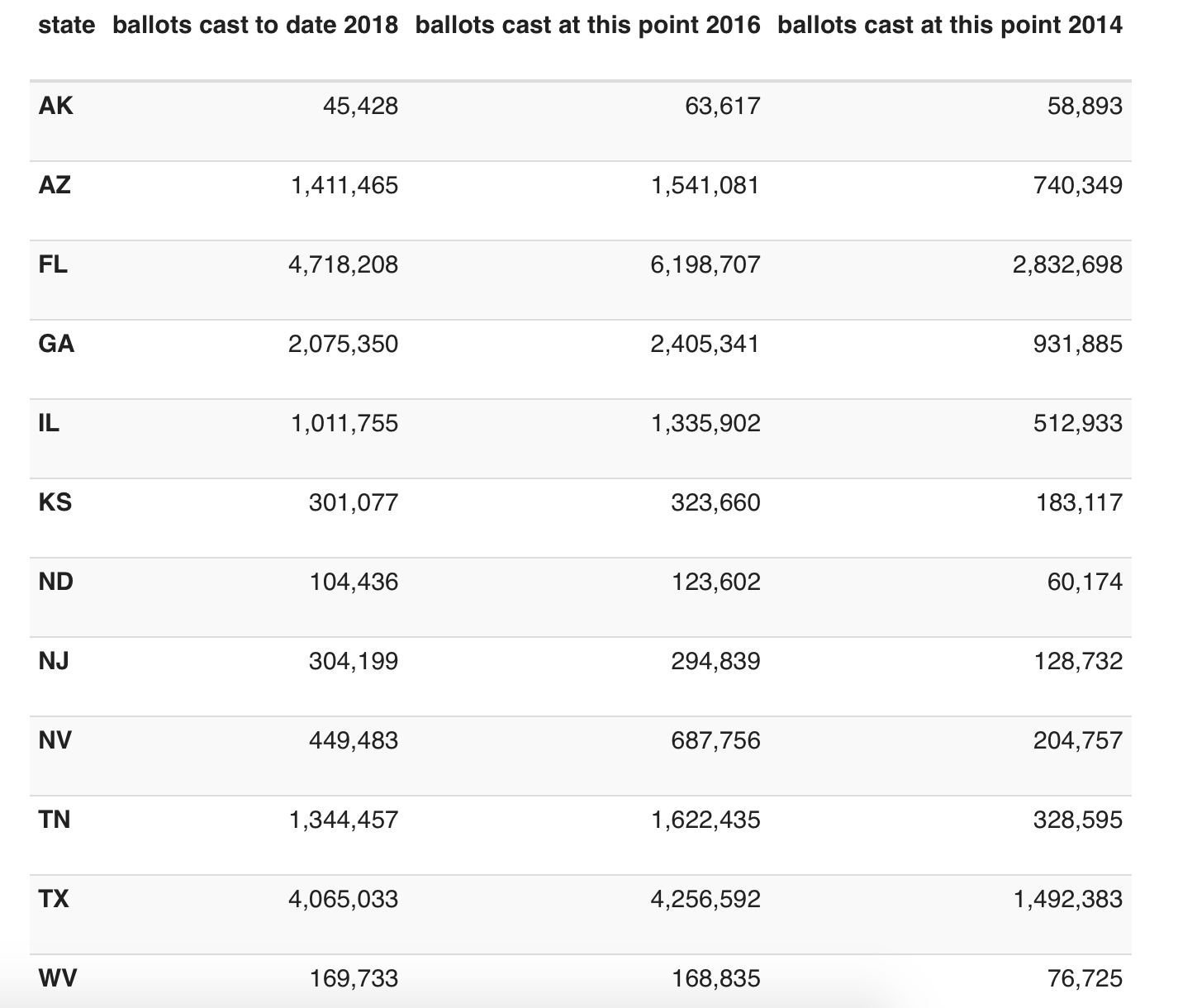 7:52 a.m. ET, November 5, 2018
There's just one day left until the midterms. Democrats are still up.
On the eve of the midterm elections, Democrats continue to hold a double-digit lead over Republicans in a generic Congressional ballot among likely voters, according to a new CNN Poll conducted by SSRS.
The party's 55% to 42% advantage in the new poll mirrors their lead in early October and is about the same as the 10-point edge they held just after Labor Day.
That's a slimmer edge than the party held in CNN's final poll before the 2006 midterm elections and similar to the Republicans' 10-point advantage just before the 2010 midterms.
Here's a few key takeaways from the poll:
Women favor Democrats 62% to 35%.
Men are about evenly divided: 49% back the Republican, while 48% support the Democrat in their district.
When it comes to political independents, 53% back the Democrat while 39% go for the Republican
Democrats also have strong support from black and Latino voters: 88% of black voters and 66% of Latino voters favor the Democrats.
About 7 in 10 likely voters say that when they cast a ballot on Tuesday, they'll be sending a message about President Donald Trump, and more often and not, the message those voters want to send is one of opposition.
8:57 p.m. ET, November 4, 2018
Trump: 'Oprah was a friend of mine until I ran for office'
President Donald Trump said Sunday that he used to be friends with Oprah Winfrey, who went to Georgia to campaign for Democratic gubernatorial nominee Stacey Abrams ahead of Tuesday's election.
Trump slammed Abrams on Sunday at a rally in Macon, Georgia, while campaigning for her opponent, Republican gubernatorial nominee and Georgia Secretary of State Brian Kemp. 
"And she brought Oprah here to help her," Trump said. "Oprah was a friend of mine until I ran for office," he continued, adding, "once I ran for office, we diverged slightly."
Trump said Winfrey "has been down to Mar-a-Lago," and before he ran for office, "we did very well, we had a good relationship, and I like Oprah." 
Trump claimed in the last week of Oprah's show the media mogul interviewed "her five most important people, I assume," and said at the rally he was one of those people. He has previously made this claim. But according to Oprah's website, Trump appeared on "The Oprah Winfrey Show" in an episode that originally aired February 7, 2011, and the last episode of the show aired months later, on May 25, 2011.
"I think they're trying to burn the tape," Trump said.
Trump also appeared on Oprah's show in 1988.
"Oprah was here to endorse Stacey and I'm here to endorse Brian. And you know what? I hope you're going to listen to my endorsement." 
7:30 p.m. ET, November 4, 2018
Joe Biden: 'We have to reset the moral compass of this nation'
As part of his closing argument, former Vice President Joe Biden said that Sunday this election is the most critical of voters lifetimes.
"This is so important for our kids. This is the most important election you've ever been part of, no matter how old or how young you are. The very character of our nation is on the ballot Tuesday," Biden said in Harrisburg, Pennsylvania, where he stumped for Gov. Tom Wolf and congressional candidate George Scott.
Touching on the rise of white supremacy and anti-Semitism, Biden called out President Donald Trump for placing a moral equivalence between the white supremacists in Charlottesville, Virginia, last year and those who opposed them.
"We are in a battle for America's soul," Biden said. "When hatred is given a chance to fester, it gives license for others to come out of the darkness. When this distorted worldview is fueled online, it spreads, ladies and gentlemen. And when the President of the United States of America assigns, as he did, a moral equivalence between those dark forces and those opposing them, that puts fuel on the fire of intolerance and legitimates people who should never be heard.
"Our children are listening and they're watching. And our silence is complicity. Silence is complicity," Biden said. "But folks, we will not be silent."
The former vice president said voters this cycle needed to do something different than they ever have during his career.
"We have to reset the moral compass of this nation," Biden said. "That's what Tuesday is about."
CNN's Kate Sullivan contributed to this report.
5:51 p.m. ET, November 4, 2018
Trump tries to stoke Second Amendment fears on Abrams
President Donald Trump claimed on Sunday that Georgia Democratic gubernatorial nominee Stacey Abrams would take away all guns from the people of the state.
"Stacey and her friends will get rid of it," Trump said of the Second Amendment. 
Abrams has not said she would want to abolish the Second Amendment. She has said, however, that she supports an assault weapons ban in Georgia.
In an interview on CNN's "State of the Union" Sunday morning, Abrams said she wanted "common-sense gun safety legislation."
"I am happy to work with the legislature to figure out how we make an assault weapons ban work," Abrams said.
Trump went on to claim, without evidence, that electing Abrams would turn the state of Georgia into the nation of Venezuela. 
CNN's Sarah Westwood and Eli Watkins contributed to this report.
5:21 p.m. ET, November 4, 2018
Trump again uses Kavanaugh hearings to rally voters in Georgia
Speaking in Macon, Georgia, on Sunday afternoon, President Donald Trump continued to use the contentious confirmation hearings of Brett Kavanaugh in an effort to rally voters to support Republican candidates. 
He used the allegedly recanted claim of a little-known accuser to question the credibility of Kavanaugh's other accusers without mentioning them by name.
The allegation he referred to received little to no attention, unlike the allegation from Christine Blasey Ford, who appeared before the Senate Judiciary Committee to answer questions about her accusations of sexual assault against the judge. Kavanaugh has denied Ford's allegations.
"A woman who accused then-Judge Kavanaugh of horrible, horrible crimes admitted that actually she never met Judge Kavanaugh or Brett Kavanaugh or Kavanaugh period. Never met him. Never saw him," Trump said of the little-known accuser on Sunday. "It was a total lie. She made up the story, and she was forced to admit it."
The crowd then broke out in "lock her up" chants.
Trump made similar remarks on Saturday at a Montana rally, dwelling extensively on Kavanaugh's confirmation — and repeatedly misleading the crowd about the allegations against the judge, blaming Democrats for a "filthy, dirty lie."
The little-known case Trump has seized on came to light in a referral from Senate Judiciary Chairman Chuck Grassley. Grassley, an Iowa Republican, referred the accuser, Judy Munro-Leighton to the Justice Department and FBI for investigation for potentially making false statements and obstruction. Grassley claimed that Munro-Leighton confessed to committee investigators that she had never met Kavanaugh and admitted her allegation was a "ploy" and "tactic" because she opposed the judge's nomination.
CNN's Eli Watkins, Jeremy Diamond and Veronica Stracqualursi contributed to this report.
3:59 p.m. ET, November 4, 2018
Warren: Trump 'wants to see if he can stir up more fear' 
Massachusetts Democratic Sen. Elizabeth Warren said on Sunday in response to a question about President Donald Trump's "caravan" rhetoric that she believed he was seeking to divide the electorate. 
"What Donald Trump wants to do is see if he can turn us against each other," Warren said. "He wants to see if he can stir up more fear."
Warren made her remarks to reporters in Worcester, Massachusetts, on the final Sunday before the midterm elections.
CNN's Eli Watkins and DJ Judd contributed to this report.
3:54 p.m. ET, November 4, 2018
Gillum responds to Perdue remark
Florida Democratic gubernatorial nominee Andrew Gillum responded on Sunday to Agriculture Secretary Sonny Perdue describing the stakes of the Florida governor's election next week as being "cotton-pickin' important." 
"He should go back to Georgia," Gillum told CNN. "We'll take care of Florida. Listen we're trying our very best to end this race on a high note." 
Perdue is the former GOP governor of Georgia and made the remark on Saturday while campaigning for Gillum's opponent, former GOP Rep. Ron DeSantis. 
CNN's Daniella Diaz contributed to this report.
2:16 p.m. ET, November 4, 2018
Trump departs for Georgia, Tennessee 
President Donald Trump left the White House on Sunday afternoon headed for events in Georgia and Tennessee, where he is looking to boost Georgia GOP Secretary of State Brian Kemp's gubernatorial bid and Tennessee GOP Rep. Marsha Blackburn, who is vying to replace outgoing Republican Sen. Bob Corker.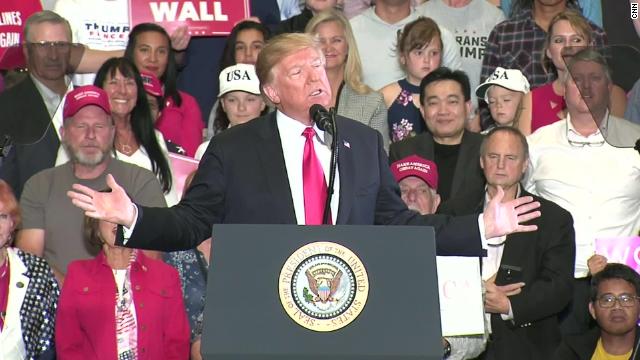 Trump stopped to talk to reporters before he boarded Marine One and seemed to indicate that he felt better about his party's chances of retaining control of the Senate than the House.
"I think we're going to do very well in the Senate," Trump said. "I think we're going to do well in the House. The difference is I can't campaign with all of those House members. There's so many of them, but I can go out and help senators." 
The latest from CNN's Harry Enten said Democrats "remain modest — though not runaway — favorites to gain House control."
CNN's Liz Stark contributed to this report.