Countdown to the midterms: 1 day out
9:43 a.m. ET, November 1, 2018
More than 23 million votes have been cast so far
As of this morning, at least 23,391,086 votes have been cast early or by mail nationwide, according to data collected by Catalist.
CNN is partnering with Catalist, a data company that works with Democrats and others, to compile counts of ballots cast before Election Day, either early in-person or by-mail.
Here's a breakdown of ballots cast in seven key states — and how the numbers compare to 2016 and 2014: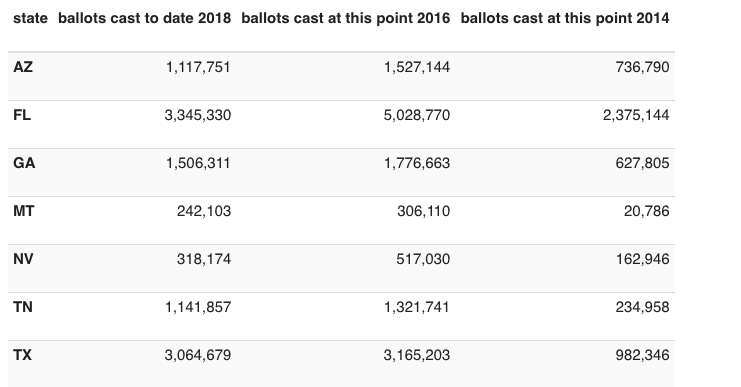 9:17 a.m. ET, November 1, 2018
He once gave CNN the finger. Last night, he apologized.
A man at last night's Trump rally in Fort Myers, Florida, approached CNN's Jim Acosta to apologize for once giving him the finger.
"I just wanted to apologize for flipping you off in Tampa. I got carried away," he said. "I was asking for facts and not opinions."
The man, who was wearing a "Make America Great Again" hat, continued: "But I did get carried away, so I just wanted to apologize for that."
The man did not specify when the Tampa incident took place. Acosta was heavily heckled at a July rally in Tampa, with Trump supporters chanting "fake news" and "go home" behind him as he reported.
Acosta thanked him and said he accepted the apology.
Watch the moment here:
9:00 a.m. ET, November 1, 2018
Here's a step-by-step guide on what to do if you're told you can't vote
Here's something scary: Even if you have the legal right to vote and have done everything to prepare yourself for Election Day, you could still be turned away at the polls.
In recent years, almost two dozen US states have implemented laws that impose new restrictions on voting, which critics say disproportionally affect minority voters.
So, what if you are told your registration didn't go through, or you don't have the required documents? Even if your registration is pending or your voter application has been wrongly purged, you are still allowed to vote.
Or, if you did forget your ID at home or have been removed from the registration system, you can cast a provisional ballot -- a right all voters are entitled to by federal law.
Here's a handy tip sheet on steps to take if you're turned away from the polls:

Read more on what to do if you're told you can't vote here.
8:16 a.m. ET, November 1, 2018
How young voters could shape the 2018 midterms
Typical midterm elections tend to draw out an older, whiter electorate and fewer single women than presidential years.
But because of the deep disdain for Trump among the younger generation, this midterm cycle appears supercharged by younger voters who were stung by the outcome in 2016, and cognizant that their generation could have made the difference for Hillary Clinton.
The bottom line? Strong turnout within that age group could tip some of the closer House races into the Democratic column.
A new poll from Harvard Institute of Politics this week found that 18-to-29-year-olds are far more likely to vote in Tuesday's midterm election than they were in 2010 and 2014. Forty percent of those polled said they would "definitely vote" in the midterms.
Read more about how young voters may shape this election here.
10:49 p.m. ET, October 31, 2018
Abrams says no to moving debate after Kemp drops out to attend Trump rally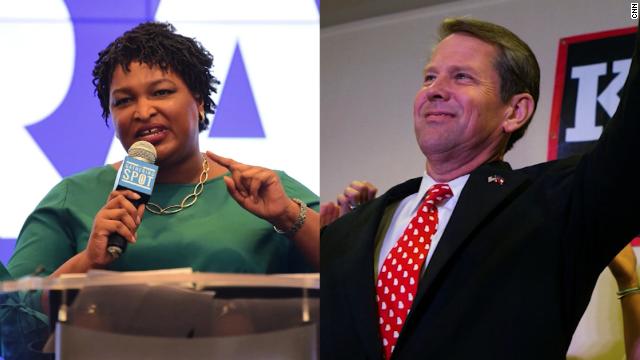 Georgia Democratic gubernatorial candidate Stacey Abrams will not participate in a debate with Republican Brian Kemp on Monday.
The debate was initially scheduled for Sunday evening in Atlanta, but Kemp backed out in order to attend a rally with President Donald Trump, who will be rallying for him in Macon.
Kemp's campaign later said it agreed to debate Abrams on Nov. 5, less than 12 hours before the polls open on Election Day.
"Unfortunately, despite his own advice about the importance of honoring promises, Mr. Kemp has decided he will not be participating in the long-scheduled debate at the agreed upon time. With the news that Mr. Kemp will break his promise, we have moved forward and made plans to hold our own event on Sunday in which Stacey will talk with and answer questions from Georgians. That's what we've promised, and that's what we'll deliver," Abrams' campaign manager Lauren Groh-Wargo said in a statement.
The Abrams campaign said she will be holding an event on Sunday and plans to answer questions from Georgia residents.
8:38 p.m. ET, October 31, 2018
Trump: Andrew Gillum "is too extreme" for Florida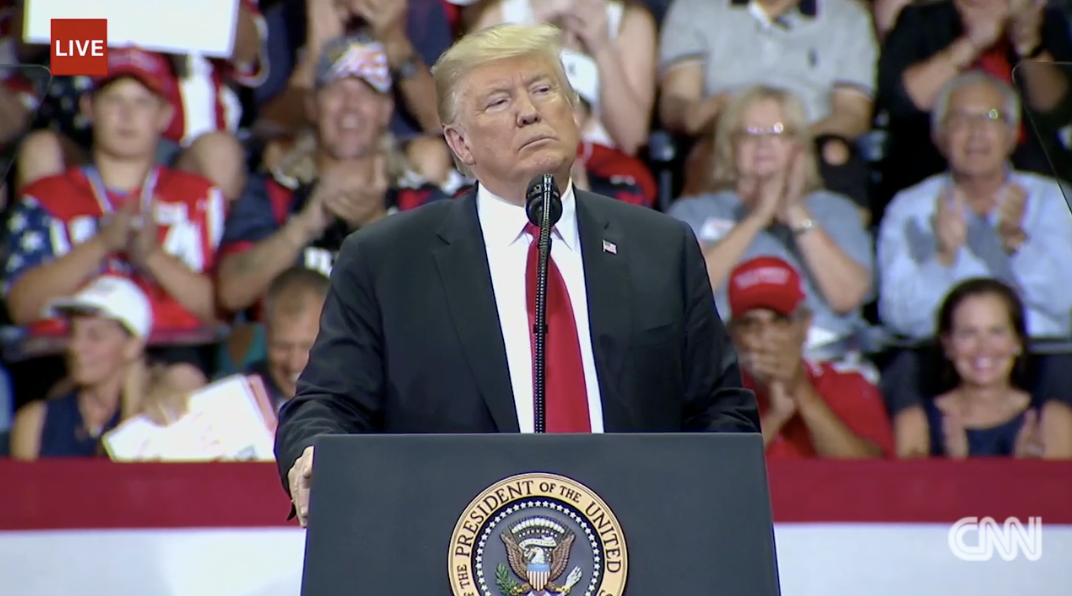 Florida Democratic gubernatorial candidate Andrew Gillum doesn't need to worry about President Trump not using his name anymore. Trump said it multiple times Wednesday night while campaigning alongside Republican Ron De Santis at a rally in Fort Myers.
Trump called Gillum a radical socialist, and said the Democrat wants to "turn Florida into Venezuela."
"Andrew Gillum wants to take a wrecking ball to one of the most successful economies anywhere in the world," the President said.
Trump criticized Gillum on multiple policies, adding that the Tallahassee mayor "is too extreme for the people of Florida — they're not gonna take it long." 
The crowd at one point started shouting "lock him up" while DeSantis claimed Gillum bribed an FBI agent. 
Some background: DeSantis has keyed in on Gillum's 2016 decision to accept a ticket to see the Broadway show "Hamilton" from a group that included an undercover FBI agent, according to text and email records released under subpoena last week, as evidence that an ongoing federal corruption probe in Tallahassee is closer to the mayor than has been reported. DeSantis has also questioned whether a trip Gillum took that year to Costa Rica with his wife, along with lobbyist and longtime friend Adam Corey and his associates, was appropriate. Gillum has said he paid his own way.
No one connected to Gillum or the investigation has been charged with a crime, and Gillum has repeatedly said the FBI has told him he is not a focus of the probe. There has been no suggestion of outright thievery, as suggested by Trump, even by Gillum's political opponents. The probe centers on whether developers successfully influenced city projects, although at one point an undercover agent infiltrated Gillum's inner circle and attended the trip to New York with Corey, Gillum and Gillum's brother.
5:22 p.m. ET, October 31, 2018
Trump trip means Georgia gubernatorial candidates won't debate again — at least not in person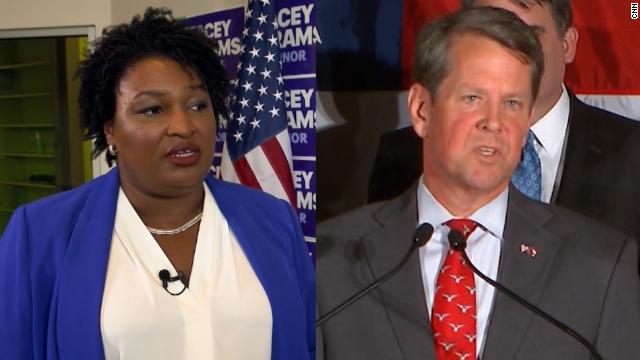 The second and final debate in the hotly contested Georgia governor's race is on ice.
For now, at least, Republican Brian Kemp and Democrat Stacey Abrams will not meet again as planned on Sunday night, less than 48 hours out from Election Day.
The reason: President Donald Trump.
Trump is going to Georgia to stump for Kemp, the GOP secretary of state, on Sunday — and planned the event (4 p.m. ET in Macon) for just about the same time as the debate had been scheduled (5 p.m. ET in Atlanta).
For the Kemp campaign, there really wasn't much of a choice: they're rallying with Trump, about 90 miles away, and asking host station WSB, the Abrams campaign and libertarian candidate Ted Metz to shift accommodate them.
When Abrams and Metz said no, Kemp spokesman Ryan Mahoney tried to blame the Democrat.
"We offered multiple days, times, and venues to debate. Unfortunately, Stacey Abrams cancelled the WSB-TV debate. Abrams is ducking Georgia voters because she can't defend her extreme, radical agenda on live television," he tweeted on Wednesday.
In a statement, the Abrams campaign said Kemp's decision to appear with Trump — rather than at the debate — was "robbing (Georgia voters) of their last chance to hear from both gubernatorial candidates ahead of Election Day."
"It is both unacceptable and unsurprising that Brian Kemp is yet again blaming his failures on someone else and not keeping his promises," Abrams' campaign manager Lauren Groh-Wargo said. "This has been a pattern of behavior for him for as long as voters have known him."
WSB, though, is still holding out hope: anchor Craig Lucie tweeted on Wednesday afternoon that "our debate with the GA Governor candidates is now up in the air."
The station is still searching for an agreeable alternative.