Countdown to the midterms: 1 day out
6:05 p.m. ET, November 5, 2018
Kemp calls targets Abrams with false claims that she will "steal" election with undocumented voters
Republican Brian Kemp's Georgia gubernatorial campaign is targeting Democrat Stacey Abrams with calls to voters in the final days of the election that feature several false claims.
Among the falsehoods are claims that Abrams is trying to "steal" the election with undocumented immigrant voters, that Abrams supports impeaching President Donald Trump, and that Abrams was endorsed by Democratic House Minority Leader Nancy Pelosi.
"Radical Stacey Abrams is so extreme that she wants to allow illegal immigrants to vote in this election," a robocall from the Kemp campaign says. "We can't let her steal this election. It's up to you to stop her."
Another phone bank call from the Kemp campaign says Abrams wants to give undocumented immigrants "the right to vote."
Cody Hall, a spokesman for the Kemp campaign, pointed to comments from Abrams during a campaign stop this month with Massachusetts Sen. Elizabeth Warren, where she said undocumented immigrants were part "of the Blue Wave." He also pointed to a 2009 vote against requiring a citizenship check before voting. In neither instance did Abrams say she supported giving undocumented immigrants the right to vote in the election. 
Another call from the campaign claims Abrams is "endorsed by Hillary Clinton, Nancy Pelosi," and "Stacey Abrams has even said she supports the impeachment of President Trump."
While Clinton did endorse Abrams, Pelosi hasn't announced an endorsement of Abrams and isn't involved in the race.
Jorge Aguilar, a spokesman for Pelosi, said she only endorses in House races. 
Abrams has also never said she supports impeaching Trump. In May, she said impeachment is "absolutely a lever we need to look at" but only if it was shown that the President had "committed high crimes and misdemeanors." 
Abigail Collazo, director of strategic communications for Abrams, blasted the last-minute calls.
"Lies, false accusations, and misleading calls have become the hallmark of Brian Kemp's increasingly desperate campaign," Collazo said.
4:20 p.m. ET, November 5, 2018
Trump calls Democrat running for Ohio governor a "disciple of Elizabeth Warren"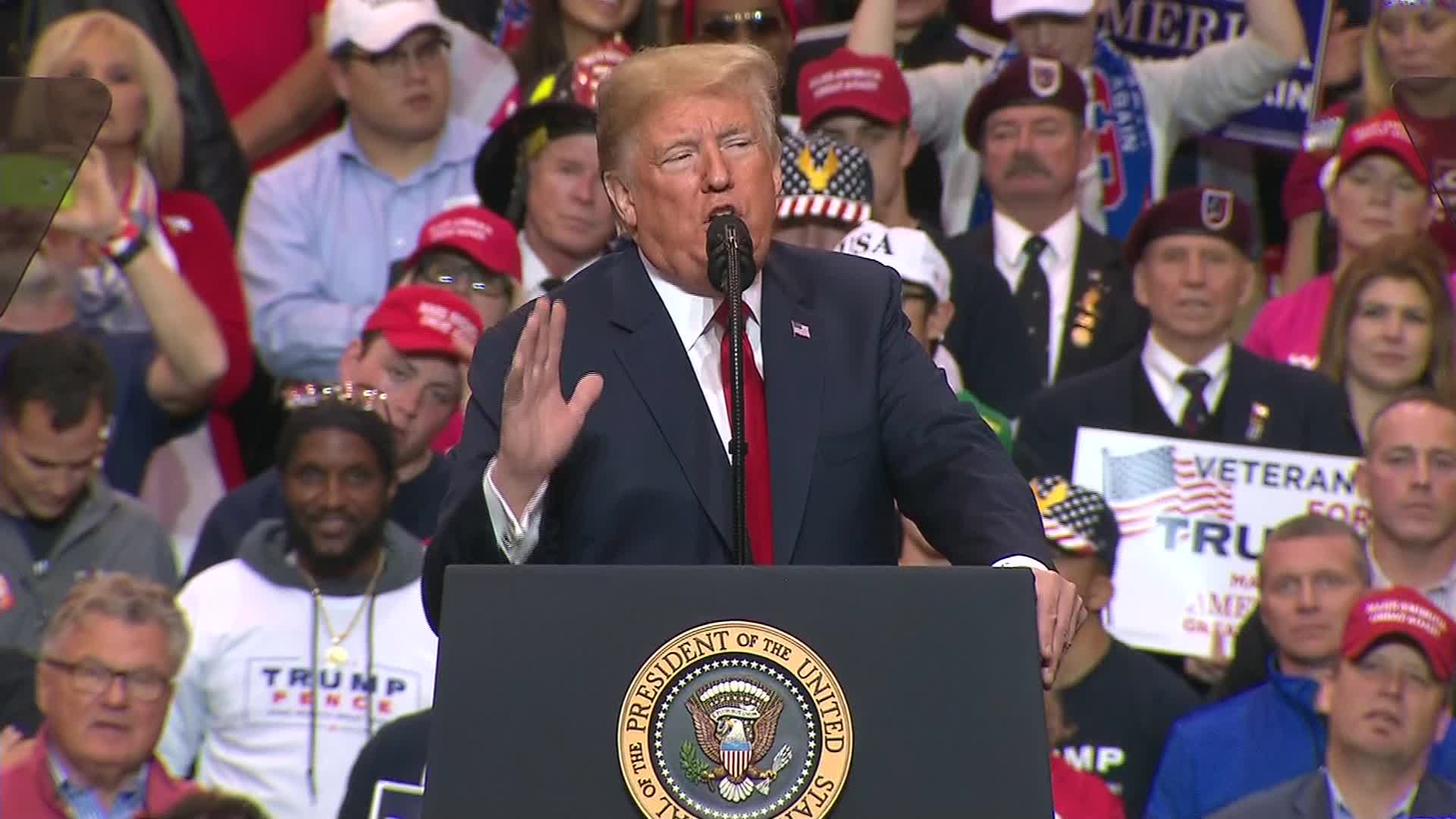 President Trump, who was in Ohio campaigning for gubernatorial candidate Mike DeWine, spent a good portion of the rally bashing Democratic candidate Richard Cordray, former director of the Consumer Financial Protection Bureau.
"Mike's opponent, who was in my administration for a short while, who is -- by the way, terrible, terrible -- is a far-left, radical socialist, and not a good person," Trump said.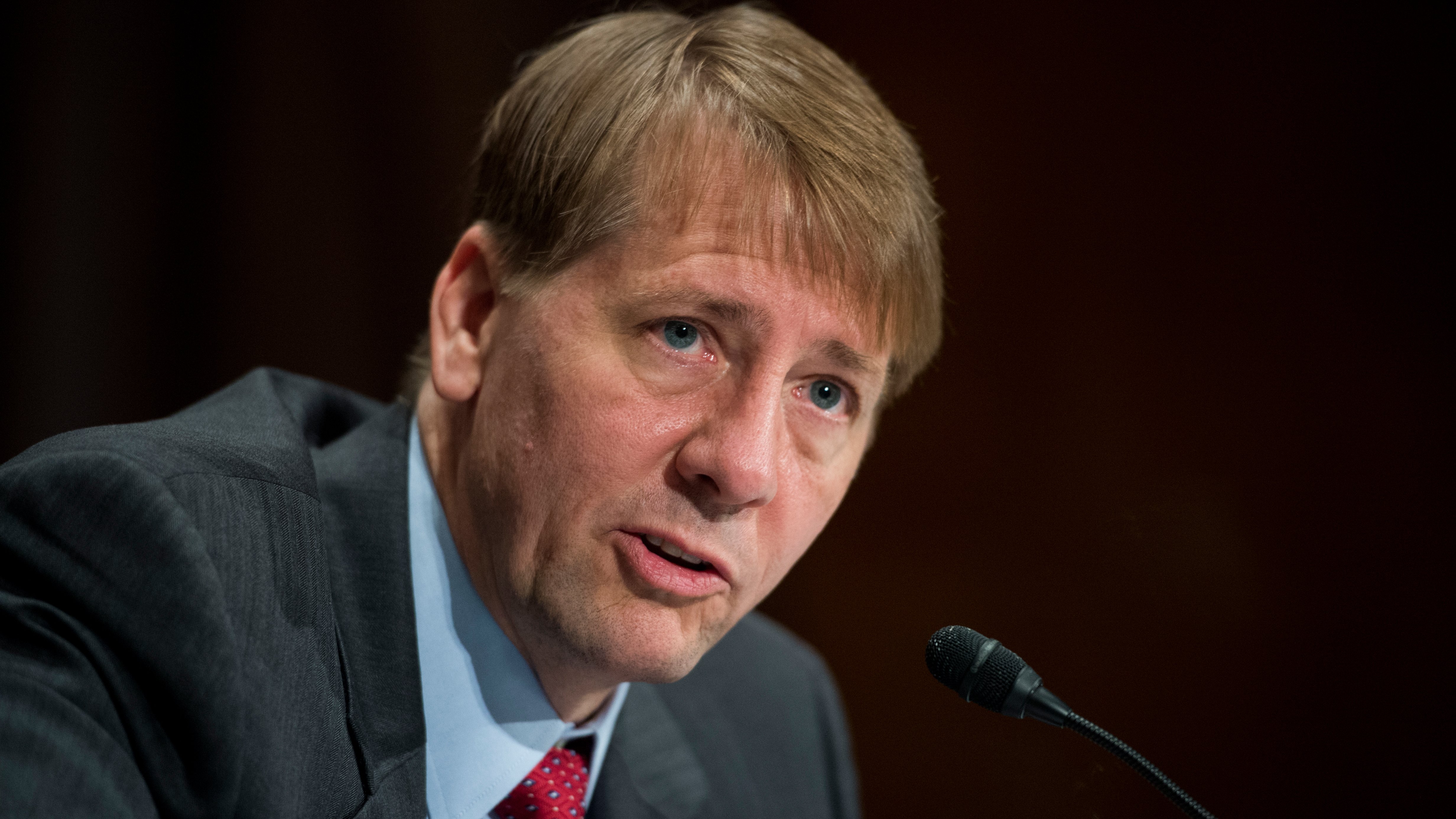 Trump tied Cordray to Sen. Elizabeth Warren, perhaps previewing the 2020 message that will be underway the minute the votes are counted tomorrow. 
"He's a disciple of Elizabeth Warren, who I can no longer call Pocahontas because she has no Indian blood. She has no Indian blood!" Trump said.
Trump recalled that he used to go around saying that he has "more Indian blood" than Warren, boasting, "And I was right!"
3:53 p.m. ET, November 5, 2018
Mike Pence predicts the "blue wave is gonna hit a red wall" in Montana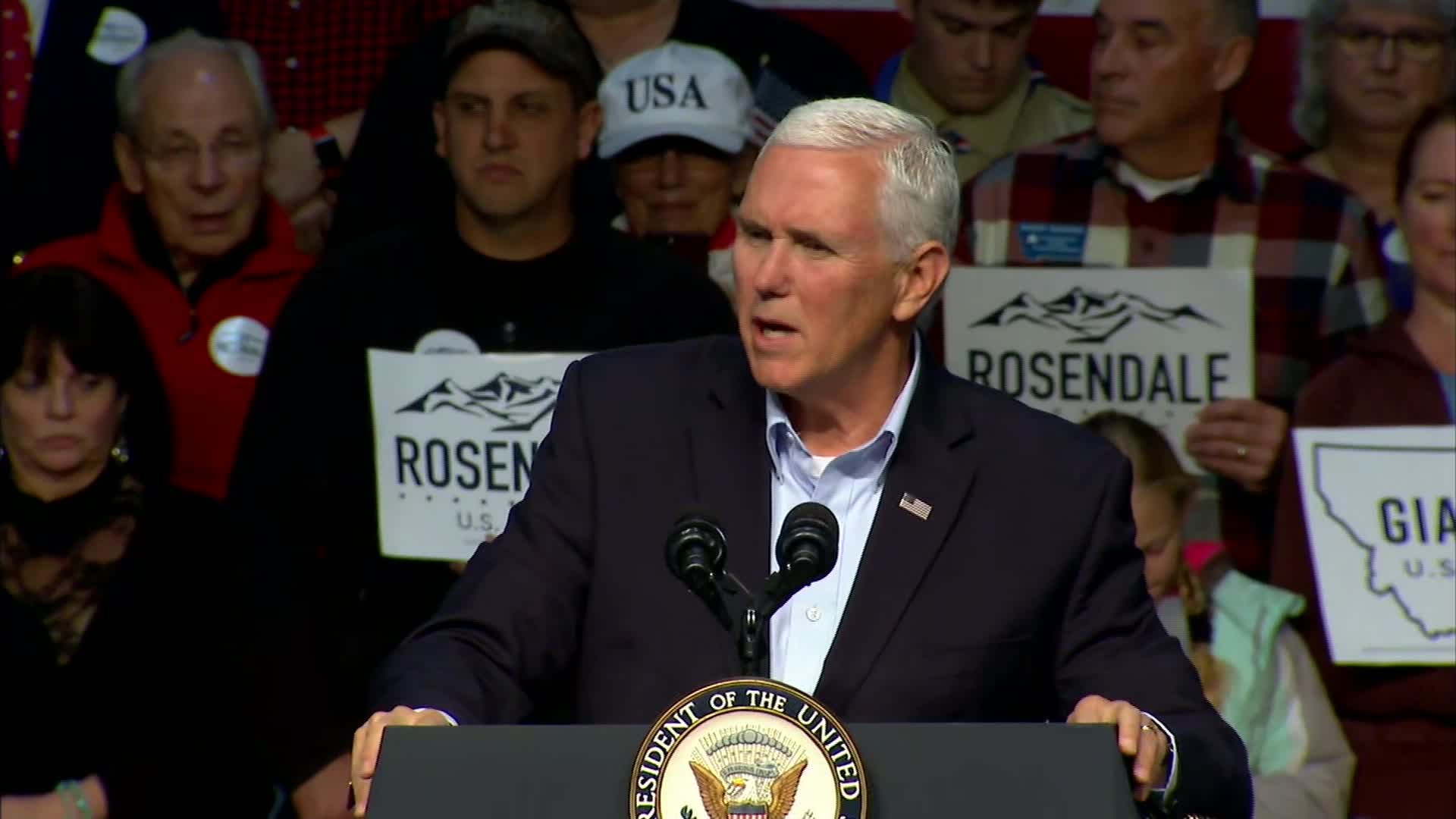 At a Montana rally on Monday, Vice President Mike Pence predicted a Republican victory in Tuesday's midterm election.
"I keep hearing about this blue wave that's coming our way," said Pence in Kalispell, Montana. "But I got to tell you, I got to tell you, it kind of reminds me of a couple years ago today. I mean was standing — I was standing there with a man who would become President of the United States."
He recounted the final rally that he and President Trump attended in Michigan, saying, "You know, that was the night he turned the blue wall red, remember? And I got a feeling that blue wave is gonna hit a red wall right here in Montana and all across America."
Pence campaigned for Montana Senate candidate Matt Rosendale and Rep. Greg Gianforte. Later on Monday, he will head to Rapid City, South Dakota, to campaign for Rep. Kristi Noem, who is running for governor.
3:26 p.m. ET, November 5, 2018
Trump tells crowd in Ohio: Midterms "used to be boring." Now, they are "the hottest thing."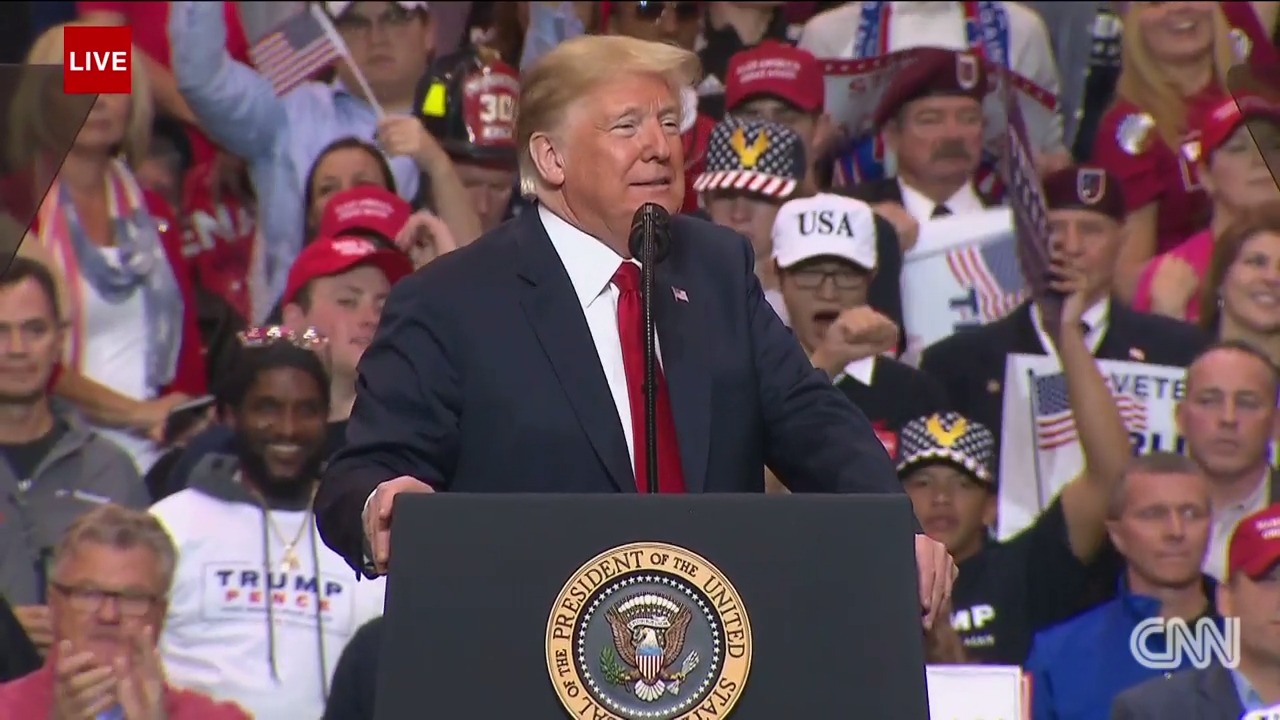 President Trump conducted a poll of the Cleveland crowd Monday afternoon, saying that voters need to imagine he's on the ticket.
He also warned what would happen if Republicans don't get out the vote. 
"Who has already voted?" he asked the crowd, pausing, and then determining, "This is very much a Tuesday state."
He tried again: "Who is going to vote on Tuesday?" he said to loud applause and cheers. 
"Don't forget, don't forget!" he told the Ohioans.
 Trump repeated, as he said in Missouri, that midterm elections "used to be boring." 
"Now it's like the hottest thing," he said of the local and state races.
"These guys are making a fortune because of me and you. That's true," he said, gesturing to the media.  
Trump continued: "I mean, who ever even heard of midterm?" 
He told the crowd that when they cast their ballots, they should imagine him on the ticket.
"In a sense, I am on the ticket, you've gotta go out to vote," he said, adding, "You have to protect your rights and your freedoms."
The President repeated his "Democrats produce mobs, Republicans produce jobs" tagline, warning the crowd, "If crying Chuck Schumer. Nancy Pelosi, [boos] and the legendary Maxine Waters [boos] gain the majority, they will try to raise your taxes, restore job-killing regulations, shut down your coal mines and your steel mills… take away your healthcare."
Trump claimed that under Democrat control, "You're gonna live in a socialist world."
2:49 p.m. ET, November 5, 2018
Trump, without evidence, claims undocumented immigrants are casting illegal ballots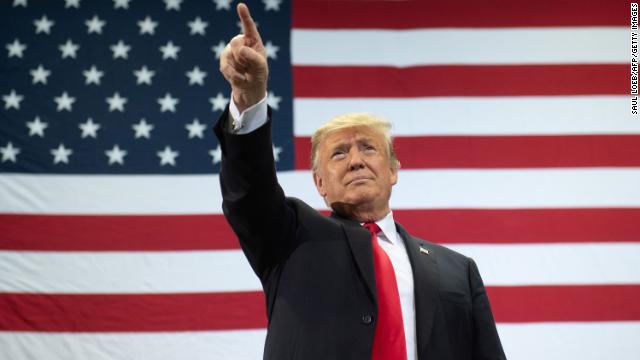 On the eve of Election Day, President Trump raised the specter of undocumented immigrants casting illegal ballots, claiming to have proof that some people attempt to do this.
"All you have to do is go around, take a look at what's happened over the years, and you'll see," Trump told reporters at Joint Base Andrews on Monday.
"There are a lot of people, a lot of people in my opinion – and based on proof – that try and get in illegally and actually vote illegally," he said, offering no examples. "We just want to let them know there will be prosecutions at the highest level."
His comments came just hours after he tweeted a warning to law enforcement officials about the possibility of voter fraud.
"Law enforcement has been strongly notified to watch closely for any ILLEGAL VOTING which may take place in Tuesday's Election (or Early Voting)," Trump tweeted on Monday morning. "Anyone caught will be subject to the Maximum Criminal Penalties allowed by law. Thank you!" 
It's unlikely: There is well-established evidence that voter fraud is extremely rare. For example, stealing someone's identity to vote is less likely than being struck by lightning, as the nonpartisan Brennan Center for Justice at the New York University School of Law put it.
In addition, election researchers and experts around the country who spoke to CNN ahead of the 2018 midterm elections all agreed that there is zero evidence for widespread voter fraud, whether by citizens or non-citizens.
2:25 p.m. ET, November 5, 2018
It could be a stormy election day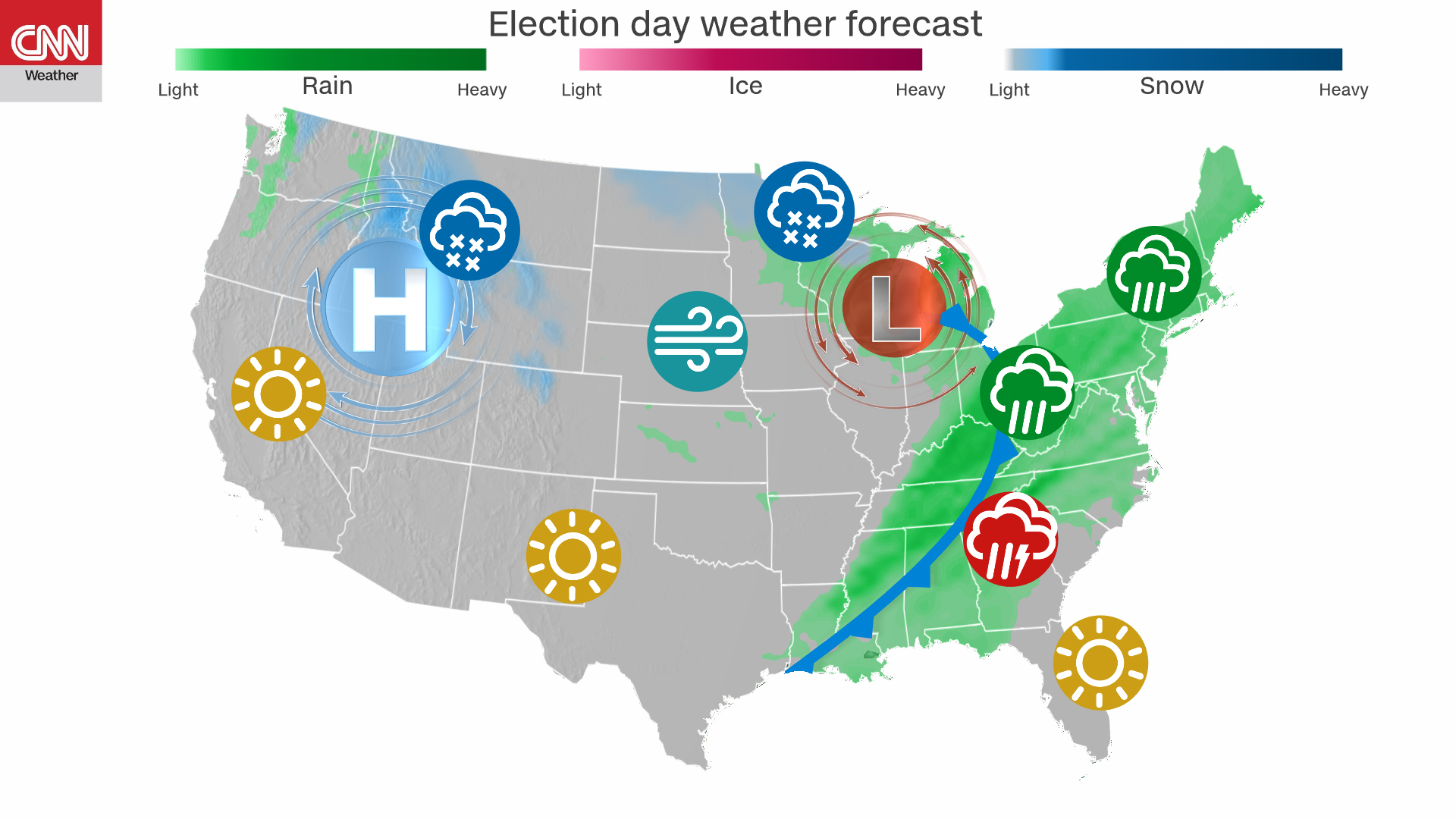 A significant storm system is taking shape over the middle of the country and it could bring nasty weather to the Northeast, Midwest and South on Election Day.
An area of low pressure moving through the Midwest into the Great Lakes will spark strong storms along a trailing cold front, and it will bring severe weather to parts of the South on Monday night.
The storms will be ongoing into Tuesday and could mean a stormy start to the polling day for many states from the Great Lakes all the way to the Gulf Coast.
Every state east of the Mississippi River is likely to see rain at some point when the polls are open on Tuesday, though some states will undoubtedly see more storms and potentially disruptive weather than others.
Here's what we're expecting:
Monday night: The Storm Prediction Center issued an Enhanced Risk (level 3 of 5) for severe storms for Monday night into Tuesday morning for parts of the Mississippi River Valley, stretching from northern Louisiana to Nashville.
Tuesday morning: The severe weather threat shifts eastward on Tuesday, and though the risk of damaging storms is slightly less, the population within the risk area is considerably higher on Election Day.The strongest storms -- which could be severe and contain hail, damaging winds and even the potential for tornadoes -- will be located just ahead of the advancing cold front, and should stretch from western Pennsylvania southward through eastern Tennessee and into southern Mississippi when the polls open Tuesday morning.
Tuesday midday: The storms will be moving eastward through the day and will move through Philadelphia, Washington DC, and Charlotte, North Carolina, in the early afternoon hours.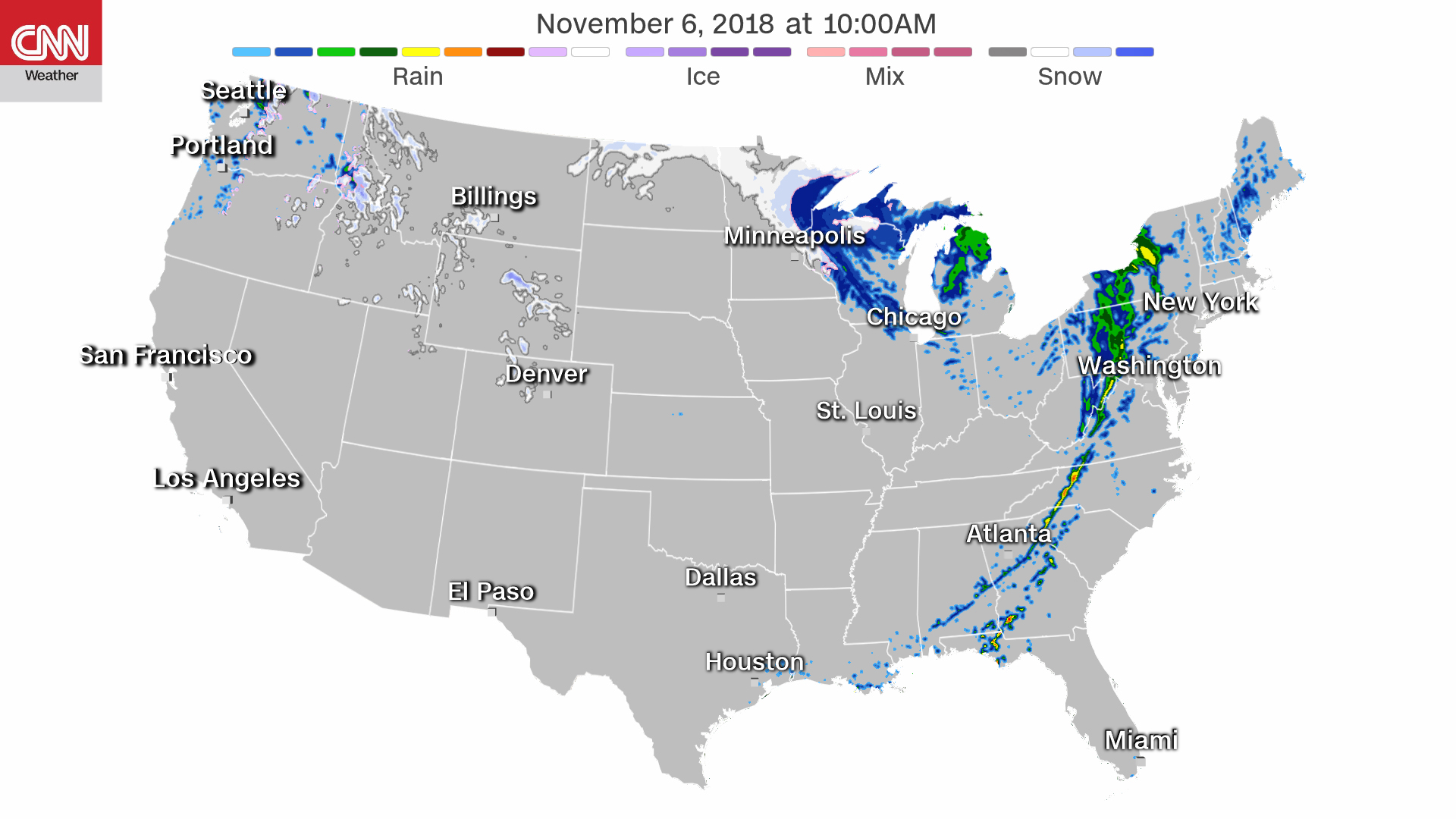 Several of CNN's top ten races to watch will be impacted by the weather, including Virginia's 7th District, New Jersey's 7th District, Georgia's 6th District and Florida's governor's race.
2:05 p.m. ET, November 5, 2018
Trump is holding three rallies today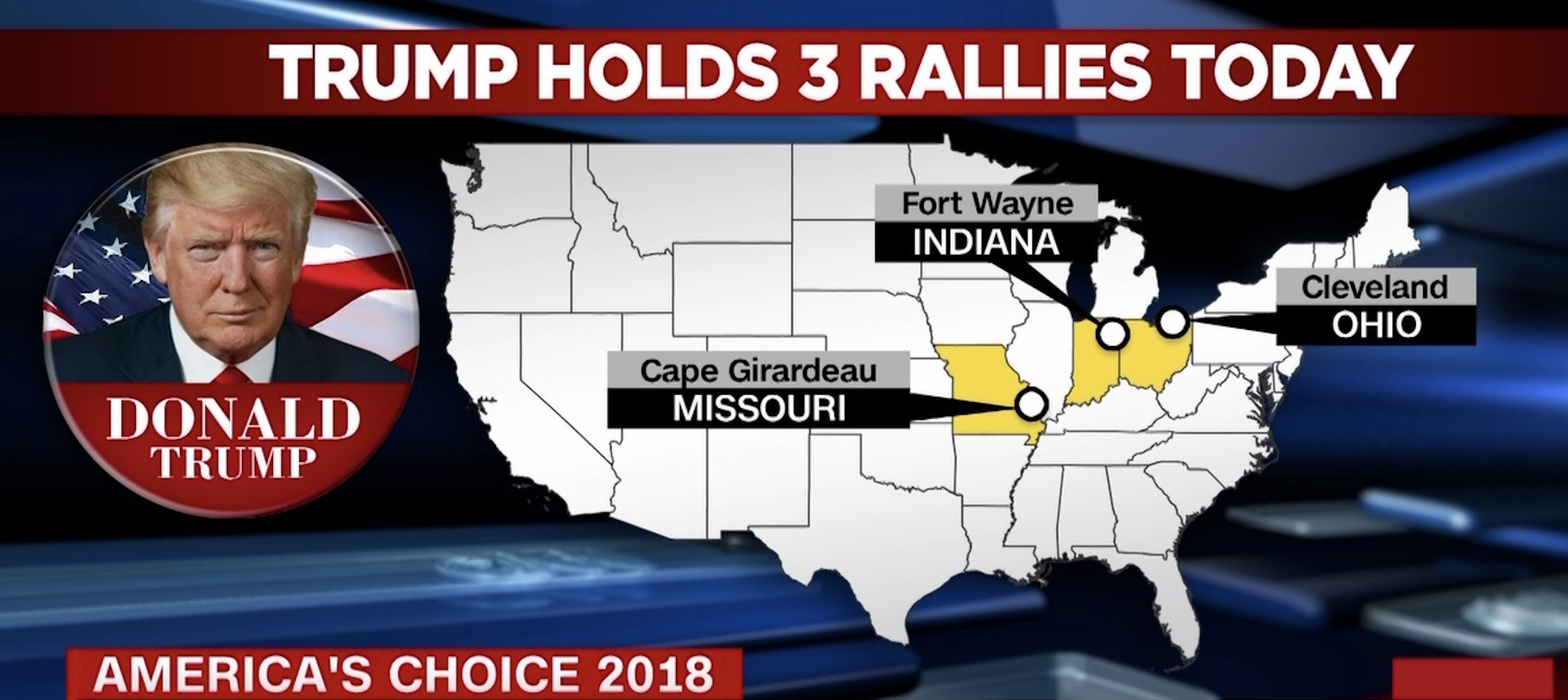 President Trump has three campaign rallies in three states today, the last day before the midterm elections.
First, he's heading to Cleveland, Ohio, for a 2:45 p.m. ET rally. After that, he'll rally in Fort Wayne, Indiana around 6 p.m. ET.
His last stop is Cape Girardeau, Missouri. Fox News host Sean Hannity is expected to appear as a "special guest" at the 10 p.m. ET rally.
1:45 p.m. ET, November 5, 2018
Trump defends controversial anti-immigration ad
President Trump deflected criticism of a controversial immigration ad that networks, including Fox News and CNN, declined to air, although he said he was unaware of the controversy surrounding the ad.
"A lot of things are offensive," Trump told reporters at Joint Base Andrews when asked about the ad. "Your questions are offensive."
The President said the reporter asking him about the controversial ad was telling him something he did not already know.
"We have a lot of ads. And they certainly are effective, based on the numbers that we're seeing," Trump added.
1:35 p.m. ET, November 5, 2018
The Utah mayor who died in Afghanistan had one final wish: He wanted Americans to vote
The death of Brent Taylor -- the North Ogden, Utah, mayor and soldier who was killed Saturday in Afghanistan -- reverberated far beyond his small city in northern Utah.
People around the country are mourning the loss of the National Guardsman who was finishing up his latest tour of duty in the war-torn country when he was killed in a so-called "insider" attack.
But despite the grief, many are finding hope in the final message Taylor posted to Facebook, just days before he died:
"As the USA gets ready to vote in our own election (Tuesday), I hope everyone back home exercises their precious right to vote," Taylor wrote in the post. "And that whether the Republicans or the Democrats win, that we all remember that we have far more as Americans that unites us than divides us. 'United we stand, divided we fall.' God Bless America."
See it: