Countdown to the midterms: 1 day out
9:20 p.m. ET, November 5, 2018
Oprah responds to racist robocalls made in her name in Georgia: "Jesus don't like ugly"
Oprah fired back against a racist robocall impersonating her, and said Monday, "Jesus don't like ugly."
"I heard people were making racist robocalls in my name against Stacey Abrams, who I am one hundred percent for, in Georgia," Oprah says in an Instagram video. "I just want to say: Jesus don't like ugly. Mm - mmm! And we know what to do about that: vote. Tomorrow show up and show out, and vote," she says, singing the last "vote." 
A white supremacist group that targeted Florida Democratic gubernatorial candidate Andrew Gillum with racist robocalls is now targeting Georgia Democratic gubernatorial candidate Stacey Abrams.
The prerecorded phone message features a voice impersonating Winfrey, who was in Georgia on Thursday stumping for Abrams, and contains racist and anti-Semitic rhetoric.
The robocall went out to Georgia voters, but it is unclear how many received it.
Abrams' Republican opponent, Brian Kemp, strongly denounced the automated call, calling it "absolutely disgusting" in a statement Friday.
9:20 p.m. ET, November 5, 2018
John Kasich urges voters to "drive the change" at the local level
Ohio Governor John Kasich, a Republican who has been critical of President Trump who has hinted he may consider a 2020 primary challenge, urged voters on election eve to get out and help "drive the change."
"There's a lot that we can do together," Kasich told CNN's Anderson Cooper. "In the meantime, you and I and all these people that watch -- start doing things where you live and drive the change from where you live to the top. It will work."
Watch:
9:13 p.m. ET, November 5, 2018
At final rally, Fox News sets up steps from the President
In Cape Girardeau tonight, inside the Show Me Center on the campus of Southeast Missouri State University, President Trump's supporters are filing into the arena after standing outside for hours in the rain.
A familiar sight has returned for the final Trump rally of the 2018 campaign: A Fox News set on the floor of the arena, not far from the President.
There was no sign of host Sean Hannity on set yet, but the lights and cameras for his show were up and ready. His set up was about 10 to 20 yards away from the presidential lectern. (Fox News is apparently allowing Hannity to appear as a "special guest" at Trump's final rally of the midterm season.) Hannity was spotted in the crowd at the rally.
It is unclear how the Trump interview will take place since he would seem to arrive after the Hannity show begins.
Rush Limbaugh told listeners of his show today that he will speak before the President — and warns against anyone giving him the hook in his hometown.
Limbaugh said: "I'm looking forward to it. I have… You know, I've sworn off of these kinds of things some time ago, but they asked — they were very persuasive — and I'm actually thrilled to be there...
"They've given me a time frame in which to speak, which — I'm just telling you right now — it will be impossible for me to be constrained by this time frame, and I don't think anybody's gonna grab the hook in my hometown. But, just in case, I'm gonna do everything I can to keep it to the limit. But I'm not gonna tell you what the limit is. No. Nobody's ever grabbed the hook. Not that they haven't wanted to, but nobody has ever grabbed the hook."
8:24 p.m. ET, November 5, 2018
GOP congressional aide: Trump's warnings on immigration may hurt him in the suburbs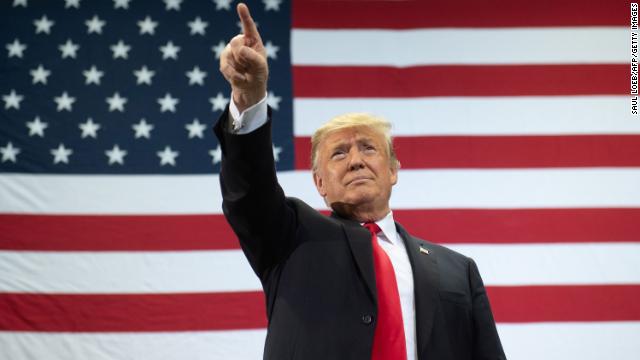 A GOP congressional aide expressed concerns that an immigration message will likely fall flat or even backfire in the suburbs of Virginia, Pennsylvania, Florida and California — places where Republicans are on defense as they face independent, fiscally conservative — but not culturally conservative — people.
Republican officials have pushed President Trump to champion an economic message for the sake of races in those states and districts like them. 
"If that drowns everything out, and that's all people hear, it becomes a challenge," the aide said of the immigration message. 
However, White House officials claim to have data showing Trump's immigration message has moved key voters.
The congressional aide pushing back: "I've not seen any data that swing voters, independents are won over by immigration message."
Republicans have trailed Democrats in voter enthusiasm for months, and Trump has hoped his focus on immigration will motivate otherwise complacent GOP voters to head to the polls on Tuesday.
But the aide said Trump would benefit swing districts more if he drew a fundamental contrast with Democrats on the economy — particularly by warning that Democrats, if given power, would raise taxes and over-regulate the economy.
"The contrast works well for us in all districts, especially one in districts that are important," the aide said.  
One possible reason Trump's focused on the issue: A source close to the White House argued the decision to focus primarily on immigration — at the expense of any other issue — is in part data driven. The data White House officials have been analyzing, according to the source, shows people care less about the economy right now and much more about immigration and health care.
"If he talks about the economy, people are tuning out, because right now, people aren't worried about the economy," the source said. By contrast, the data shows the national mood is more focused on immigration, with headlines about the migrant caravan dominating headlines.
Trump acknowledged the lack of interest in economic talk Friday at his rally in West Virginia. "Sometimes it's not as exciting to talk about the economy because we have a lot of other things to talk about," Trump said.
The source said the timing of Trump's immigration push worked well because, although it's an issue that the President has been touting for several years, "it all matches up now" with immigration being a top concern, even though the caravan of Central American migrants is more than 600 hundred miles from the border.
8:25 p.m. ET, November 5, 2018
Trump's regret: "Maybe I could've been softer..."
President Trump, asked to reflect on any regrets from his first years as President while traveling to a rally, told CNN affiliate Sinclair earlier this evening, "I would like to have a much softer tone."
Scott Thuman/Sinclair: "Is there anything as you look back at your first almost two years that you regret, that you wish on you, that you could just take back and redo?"
President Trump: "Well there would be certain things, I'm not sure I want to reveal all of them but I would say tone, I would like to have a much softer tone. I feel to a certain extent I have no choice, but maybe I do, and maybe I could've been softer from that standpoint…"
7:43 p.m. ET, November 5, 2018
Trump brings daughter, Sarah Sanders and Kellyanne Conway on stage at Indiana rally
President Trump invited three of his White House aides on stage during his campaign rally Monday in Indiana to help bolster his message.
The aides — senior adviser Ivanka Trump, press secretary Sarah Sanders, and counselor Kellyanne Conway — all made pitches for Republicans. 
"You'll have to forgive Kellyanne and I. We may be a little speechless, we're not used to friendly crowds," Sanders said to cheers.
Conway was more forceful when she took the podium, declaring: "Joe (Donnelly) Must Go. Get him out."
Both Sanders and Conway seemed cognizant of not falling afoul of Hatch Act violations that prevent government employees from using their positions for political activity. Conway said she was speaking in a "personal capacity" because the election meant a lot to her personally.
And Sanders made reference to her "official capacity," saying she was not speaking in that role during the rally.
Watch the moment:
7:08 p.m. ET, November 5, 2018
Beto O'Rourke leads list of the 10 most tweeted-about candidates
More than 14 million tweets have been sent about voting and early voting since Oct. 1, according to Twitter spokesperson Nick Pacilio.
People are also tweeting about this year's candidates. These are the 10 who were mentioned the most in the past week:
Democrat Beto O'Rourke: The El Paso congressman is running against GOP Sen. Ted Cruz for US Senate in Texas.
Democrat Stacey Abrams: She is facing off against Brian Kemp in the Georgia governor's race.
Republican Ted Cruz: The senator is running for re-election in Texas.
Democrat Andrew Gillum: He is facing off against Ron DeSantis in a heated governor's race in Florida.
Republican Brian Kemp: He is Georgia's secretary of state and is running for governor.
Republican Ron DeSantis: The former congressman is running for Florida governor.
Democrat Nancy Pelosi: The California congresswoman served as the first woman Speaker of the US House of Representatives. She is now the House minority leader.
Independent Bernie Sanders: The Vermont senator ran for the Democratic presidential nomination in 2016.
Democrat Maxine Waters: The California congresswoman is the subject of constant attacks from President Trump.
Republican John James: He is running against Democratic Sen. Debbie Stabenow in Michigan.
6:05 p.m. ET, November 5, 2018
President Trump: "I don't care" if Democrats go after my tax returns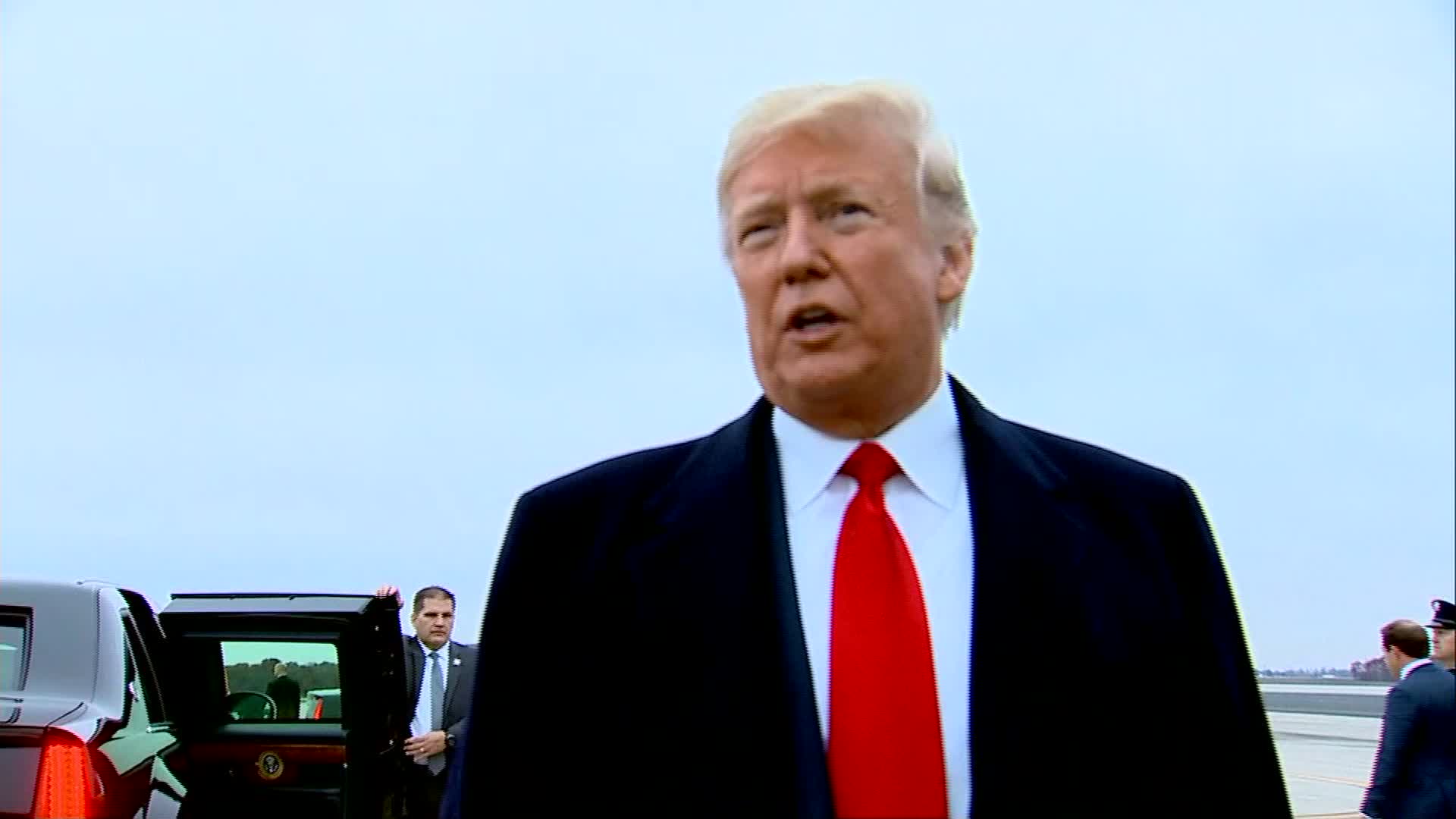 After arriving in Indiana on Monday afternoon, President Trump shrugged off the prospects of Democrats going after his tax returns if they win back the House.
"I don't care. They can do whatever they want, and I can do whatever I want," Trump said at Fort Wayne International Airport.
He also said that "we'll just have to work a little bit differently" if Democrats win the House on Tuesday, though he didn't elaborate on how.
"But I don't think that's going to happen," he added. "I think we're doing very well in the House, we're doing very well in the Senate."
He is in Indiana to campaign for Republican Senate candidate Mike Braun, who stood next to Trump as the President as he spoke to reporters.
"He's (Braun) run a brilliant campaign, the polls just came out, he's actually leading by a little bit," Trump said. "Mike is going to have a great victory."
Braun is facing off against Democrat Joe Donnelly in one of the marquee Senate contests of this year's midterm elections.
5:41 p.m. ET, November 5, 2018
Trump's schedule is clear tomorrow
Despite a busy campaign schedule the last two weeks, with sometimes two or three rallies a day, President Trump has nothing on his schedule tomorrow, a White House official tells CNN.
His plan is to sit back, watch the results roll in and see if his campaigning blitz paid off.