Countdown to the midterms: 1 day out
8:57 p.m. ET, November 2, 2018
Trump emphasizes the "H" in Barack Obama's name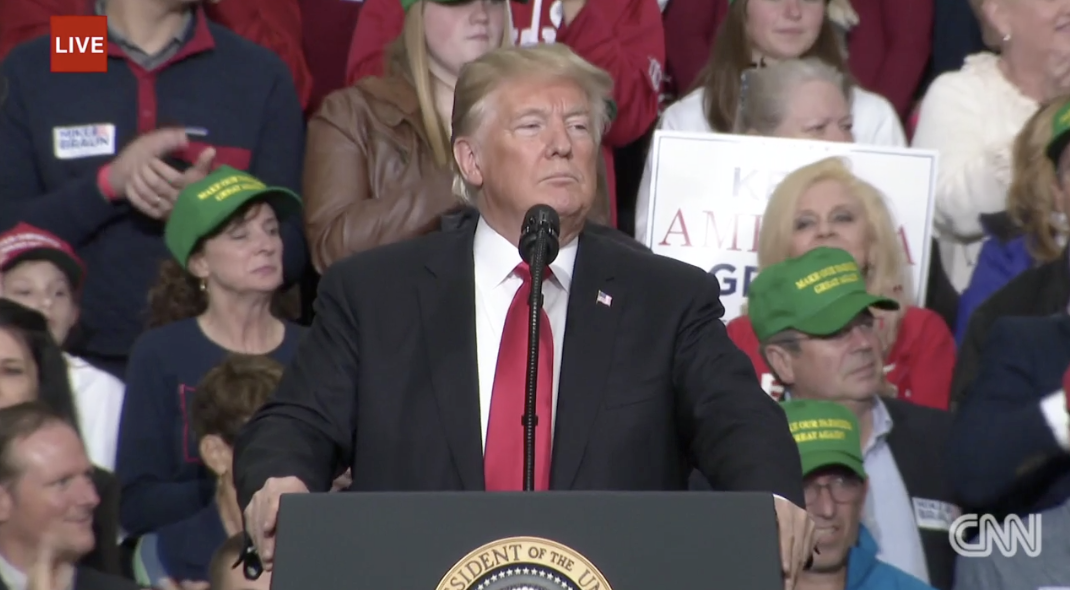 President Trump emphasized the "H" in former President Barack Obama's full name as he criticized him during a rally in Indianapolis.
"It's no surprise that Joe Donnelly is holding a rally this weekend with Barack H. Obama. Barack Obama," Trump said, prompting someone in the crowd to yell "He sucks!"
Trump, who before running for office had raised birther conspiracy theories about Obama, did not elaborate on his reference to his predecessor's middle name.
He continued: "I watched him speak today. He had a very small crowd, they don't talk about that. And they never talk about how big our crowds are."
Watch the moment:
8:40 p.m. ET, November 2, 2018
Trump continues his attack on Democrats at Indiana rally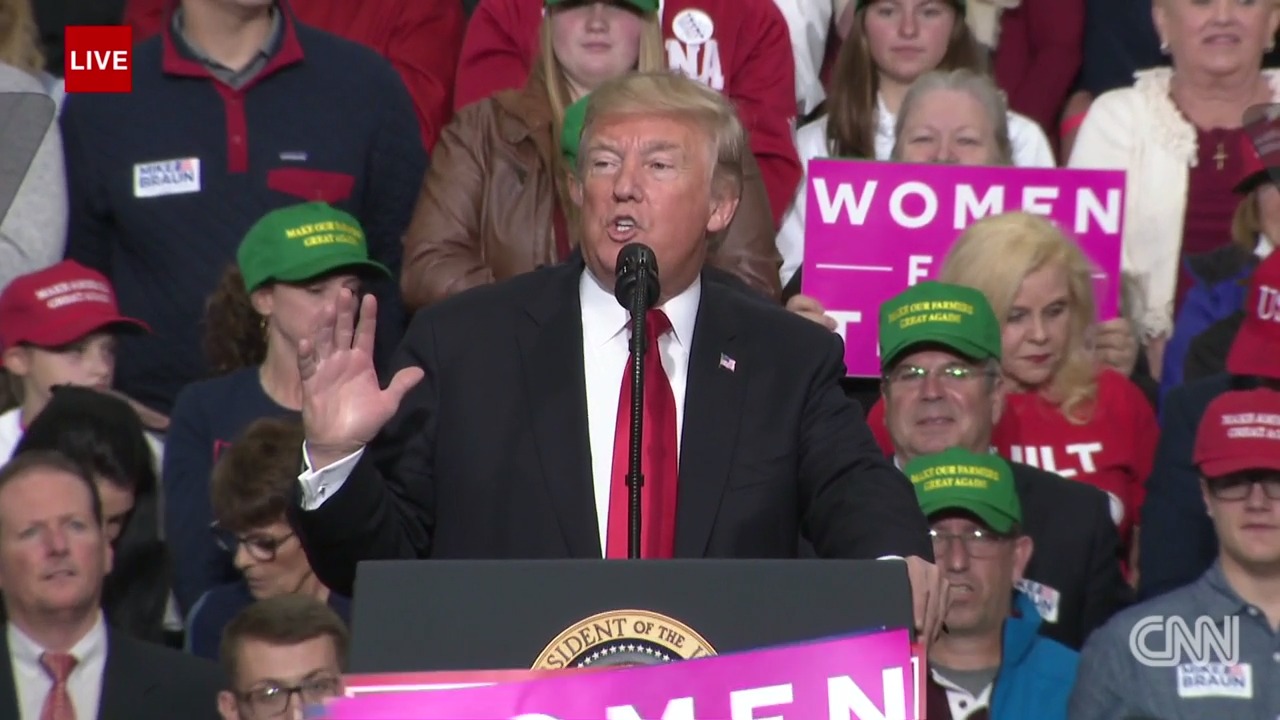 President Trump attacked Democrats, pushed his immigration message, and touted a new jobs report at a rally in Indiana Friday.
Trump was in Indianapolis to campaign for Republican Mike Braun, who's running against Democratic Sen. Joe Donnelly.
During his speech, Trump attacked what he called "radical Democrats," saying they would "take a giant wrecking ball to our economy and to our future."
He also seized on his immigration message again, telling the crowd that "Democrats want to invite caravan after caravan."
"A blue wave would equal a crime wave, very simple," Trump said.
He added "a red wave" would mean jobs and prosperity.
Trump went on to hail the latest jobs report. (The US economy added 250,000 jobs in October, significantly exceeding expectations. The unemployment rate remained at 3.7%, a 49-year low.)
"In the last month alone, we added 250,000 jobs and another 650,000 Americans returned to the workforce," the President said, adding "We have now the hottest economy in the world. When did you hear that last? "
7:17 p.m. ET, November 2, 2018
So, where's Melania?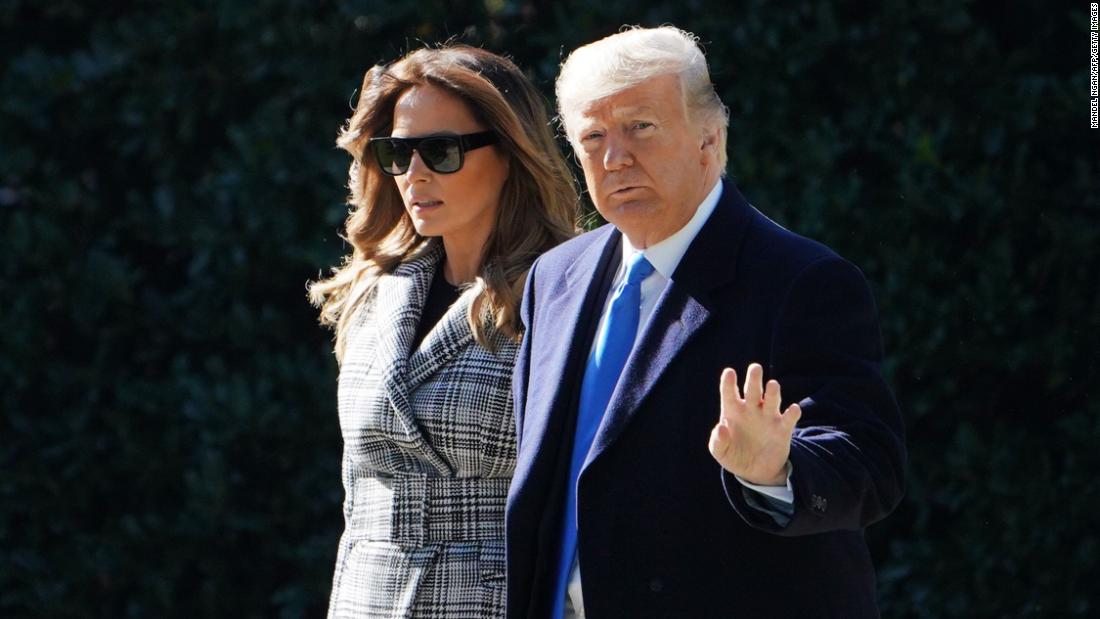 First lady Melania Trump has decided not to hit the campaign trail alongside her husband, President Trump, as he spends the last days before Tuesday's midterm elections crisscrossing the country.
It's not unusual that this particular first lady has opted out of rallies and appearances with candidates and incumbents -- she was not a regular presence during campaign events during the presidential campaign either. But it is worth noting that other Trump family members and Cabinet officials are acting as surrogates for the President as heated election battles are waged across the country.
"Due to her schedule as a mother and as first lady, especially with the upcoming holidays and international travel, there are no plans for her to campaign," Trump's spokeswoman Stephanie Grisham told CNN.
Her last major campaign appearance and speech was nearly two years ago, days before the November 2016 presidential election, when she made remarks in Pennsylvania.
Watch more:
6:39 p.m. ET, November 2, 2018
Long lines in Atlanta on last day of early voting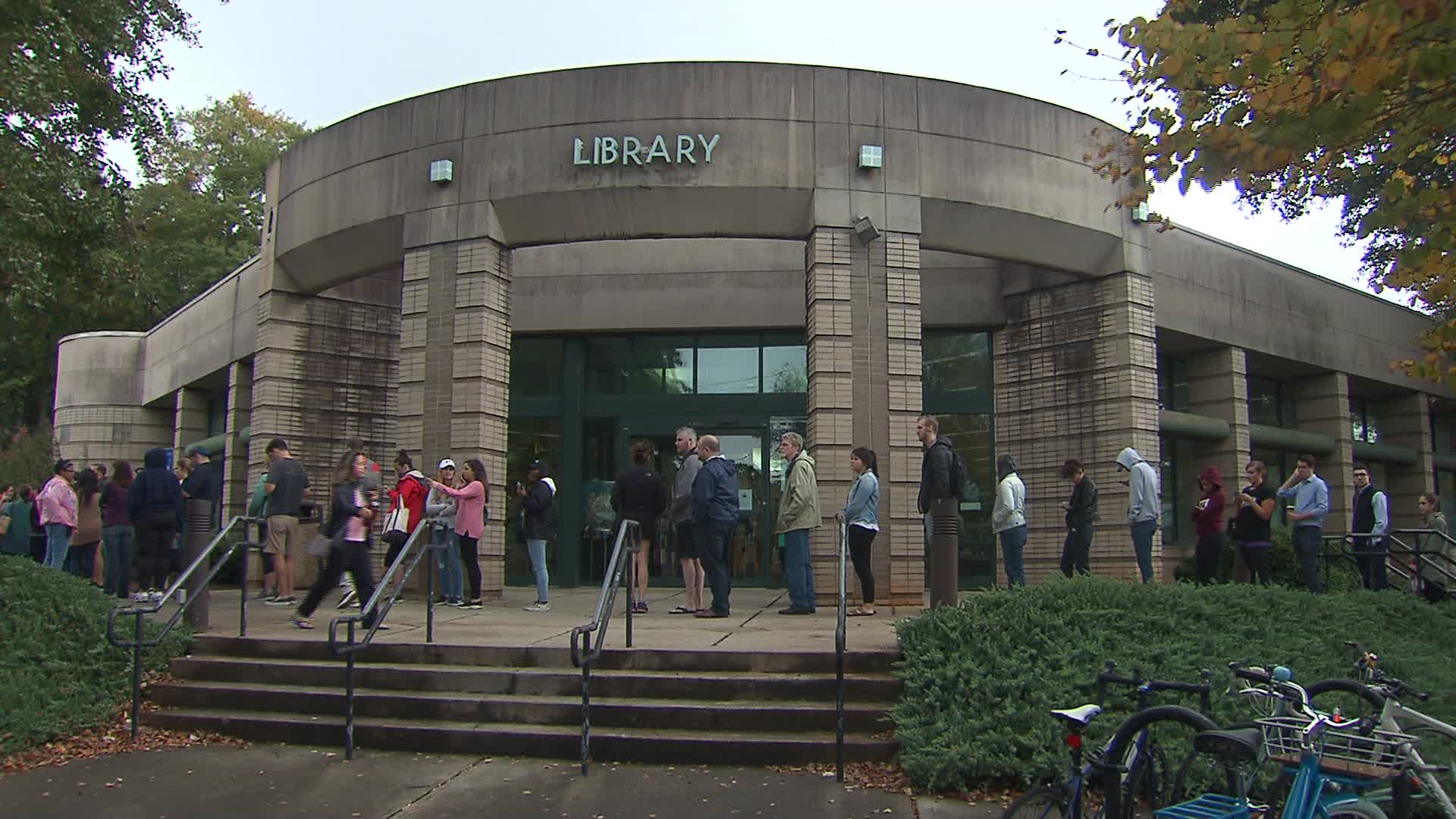 There is a long line of people waiting to vote at the Ponce De Leon Library in Atlanta, Georgia, as Friday is the final day of early voting in the state.
Democrat Stacey Abrams and Republican Brian Kemp are vying to become the state's next governor. The heated contest has drawn even more attention this past week, after Oprah Winfrey campaigned for Abrams on Thursday.
Georgia in particular has seen a surge in early voters in comparison to previous election years. Although seniors above 65 still make up the largest early voting bloc in the state, the percentage of young early voters has jumped up.
As of Friday morning, at least 23,391,086 votes have been cast early or by mail nationwide, according to data collected by Catalist.
6:09 p.m. ET, November 2, 2018
Why election night could go into overtime
For those of you hoping the 2018 midterms will end on Election Day, I have some bad news: It's possible that we go into overtime.
I'm not just talking recounts. I'm talking about runoff elections in Georgia and Mississippi.
For example, let's look at Georgia.
Georgia state law requires that a candidate receives a majority of the vote in order to win. Right now, it's not clear that either Democrat Stacey Abrams or Republican Brian Kemp will reach the magical 50%+ on November 6.
Why? That's because Libertarian Ted Metz is also running.
When one averages all the polls taken in October and allocate the undecideds between Abrams and Kemp, Kemp leads with 49.3% to Abrams 48.3% to Metz's 2.3%. In other words, if the polls were right on (and they probably won't be), Kemp and Abrams would face each other in a runoff on December 4.
It would be tempting to assume that Kemp would be a favorite for that runoff. Not only would he have earned the most votes in the general election, he'd be likely to pick up more of Metz's votes than Abrams would.
Additionally, runoffs in Georgia have not been kind to Democrats over the last 26 years.
5:46 p.m. ET, November 2, 2018
Did Ivanka Trump violate the Hatch Act? Not really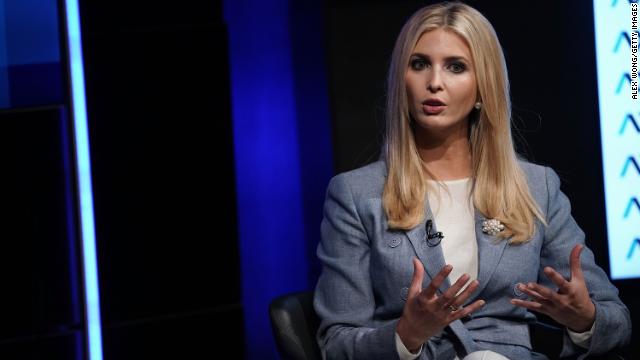 Ivanka Trump traveled to Nevada and Iowa Thursday to support the candidacies of Sen. Dean Heller and Gov. Kim Reynolds. On Friday, she posted a message on both Instagram and Twitter with a directive to her followers: "VOTE for Reynolds!"
Did the first daughter and senior adviser to the President violate the Hatch Act? In short, not really. 
So, what is the Hatch Act? The 1939 law is supposed to stop the federal government from affecting elections or going about its activities in a partisan manner, and according to the Office of Special Counsel's own explanation of the rule, it applies to federal employees as well as state and local employees who work with federally funded programs.
Trump was traveling in her "personal capacity," a White House official said.
"In the final stretch of the midterms Ivanka went in her personal capacity to support candidates she has built a personal relationship with: Nevada for Heller and Iowa for Reynolds. The events were a big success," the official said. 
As for the social media posts, ethics expert Walter Shaub told CNN she is mostly in the clear. Both her Instagram and Twitter biographies contain the disclaimer, "Personal page."
"On balance, she's probably okay because she's emphasizing on the Twitter page that the views are her own and it's her personal page," Shaub said, adding, "It's not perfect. I would love to see her delete any reference to her title (adviser to the President)."
Shaub notes that it's clear that, unlike Kellyanne Conway, who has been found to be in violation of the Hatch Act twice, Trump posts a lot of content unrelated to her work. 
If somebody were to file a complaint, Shaub said, the OSC would receive the complaint. If they concluded there was a violation, Trump would have an opportunity to respond, then they would make a decision and issue a report. 
Only the President can take disciplinary action for a Hatch Act violation, and so far in the Trump administration, which has found five violations (two for Conway, one for Stephanie Grisham, one for Dan Scavino, and one for Nikki Haley), the White House has "completely ignored" the findings. The special counsel is a Trump appointee who comes from a conservative watchdog group. 
5:11 p.m. ET, November 2, 2018
"Broken promise after broken promise": Trump goes after Obama's record
President Trump griped about his predecessor's campaign appearance on Friday, saying he watched former President Barack Obama's speech while jetting to West Virginia for his own speech.
"I listened to President Obama speak today. He had a very small crowd," Trump said in his remarks. "I had to listen, I was in the plane, I had nothing else to do."
Trump said Obama's remarks about honesty and truthfulness rang hollow, citing the former president's vow to allow Americans to retain their preferred health insurance under the Affordable Care Act.
"Twenty-eight times he said, 'You can keep your doctor if you like your doctor, you can keep your plan if you like your plan,'" Trump said. "They were all lies."
He lambasted Obama for saying he should respect the news media.
"Nobody was worse to the press than Obama," Trump said. "He even used, as I remember, the Justice Department to go after reporters."
"He was talking about how I should be nice to the Fake News," Trump went on. "No thank you."
Trump, in some of the most cutting words about his predecessor while in office, said Obama's record was nothing to be proud of.
"Lie after lie, broken promise after broken promise," he said. "That's what he did."
5:37 p.m. ET, November 2, 2018
Trump on campaign ad: "All I'm doing is just telling the truth"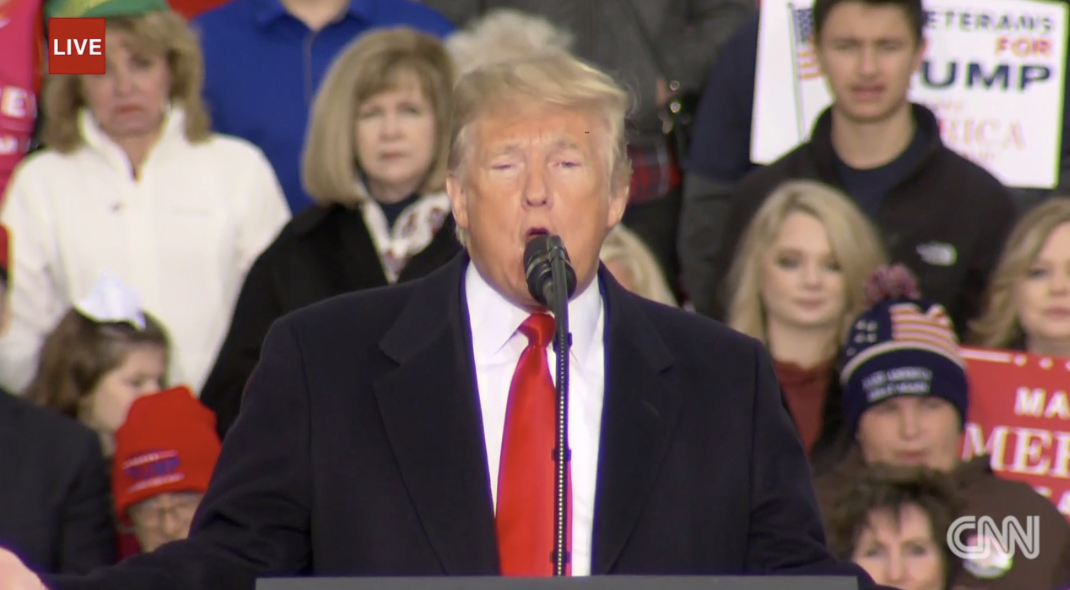 President Trump addressed an incendiary campaign video for the first time Friday, defending his move to tweet the ad as "just telling the truth."
"They gave me a hard time because I put it up on Twitter and they gave a hard time," Trump told a crowd in Huntington, West Virginia. "They said, 'you shouldn't be doing that! That's not nice!'" 
"And I say, all I'm doing is just telling the truth, what can I say," he added.
Decrying the migrant caravan, Trump suggested an interview in the ad occurred this week and that the person depicted was in the current caravan coming toward the United States.
"I don't know if you saw the one, they interviewed him yesterday," Trump said. "And he was asking for a pardon and didn't speak English. And the nice young I guess reporter was asking, "Oh, you want a pardon?" 
"And what was it for?" Trump asked the crowd. "And essentially it was for murder, and he's in the caravan."
Why this matters: The video, tweeted by Trump on Wednesday afternoon, shows Luis Bracamontes, a Mexican man convicted in February of the 2014 slaying of two California deputies, declaring in court that he wanted to kill more cops, while text overlaid on the screen says, "Democrats let him into our country" and "Democrats let him stay." A review of his case, however, shows multiple interactions with both local and federal officials during Republican and Democratic administrations, as well as noted anti-immigration firebrand Joe Arpaio, former sheriff of Maricopa County, Arizona.
The video has been denounced by Democrats and some Republicans as racist for comparing Bracamontes with the caravans of migrants heading toward the US from Central America. But beyond the attempt to taint a group of people with the horrific actions of one, the details of Bracamontes' story also show it's simply false to blame Democrats for his entrance into the US.
Commentators also likened the ad to the Willie Horton ad in the 1988 campaign. That ad was backed by supporters of George H.W. Bush's presidential campaign. It depicted Democratic opponent Michael Dukakis as responsible for the rape Horton, a convicted murderer, committed while out of prison while furloughed under a Massachusetts program. The ad was seen as playing into white fear and racist stereotypes of African-Americans.
4:46 p.m. ET, November 2, 2018
Trump acknowledges Republicans could lose the House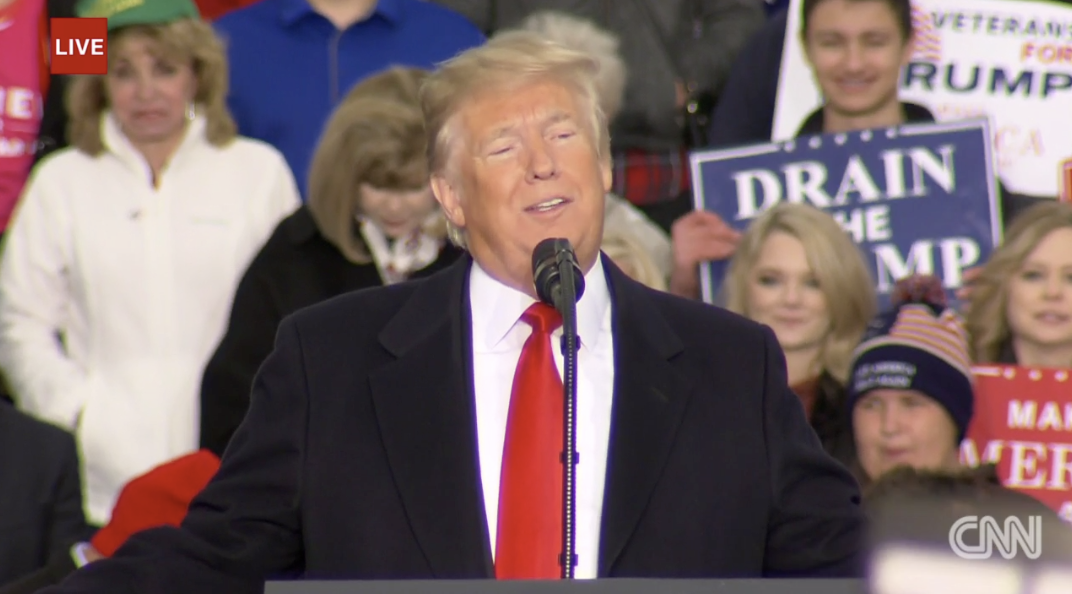 President Trump acknowledged at a rally in West Virginia on Friday that Republicans losing the House "could happen."
Trump, promising dire consequences of a Democratic takeover, acknowledged such a scenario could come to fruition.
"It will be ridiculous frankly. It will be bad for our country," he said.
The President continued: "And it could happen. We're doing very well. And we're doing really well in the Senate. And you know what you do — my whole life, you know what I say — don't worry about it, I'll just figure it out."