Michael Cohen testifies before Congress
10:27 a.m. ET, February 27, 2019
Cummings: "We are in search of the truth"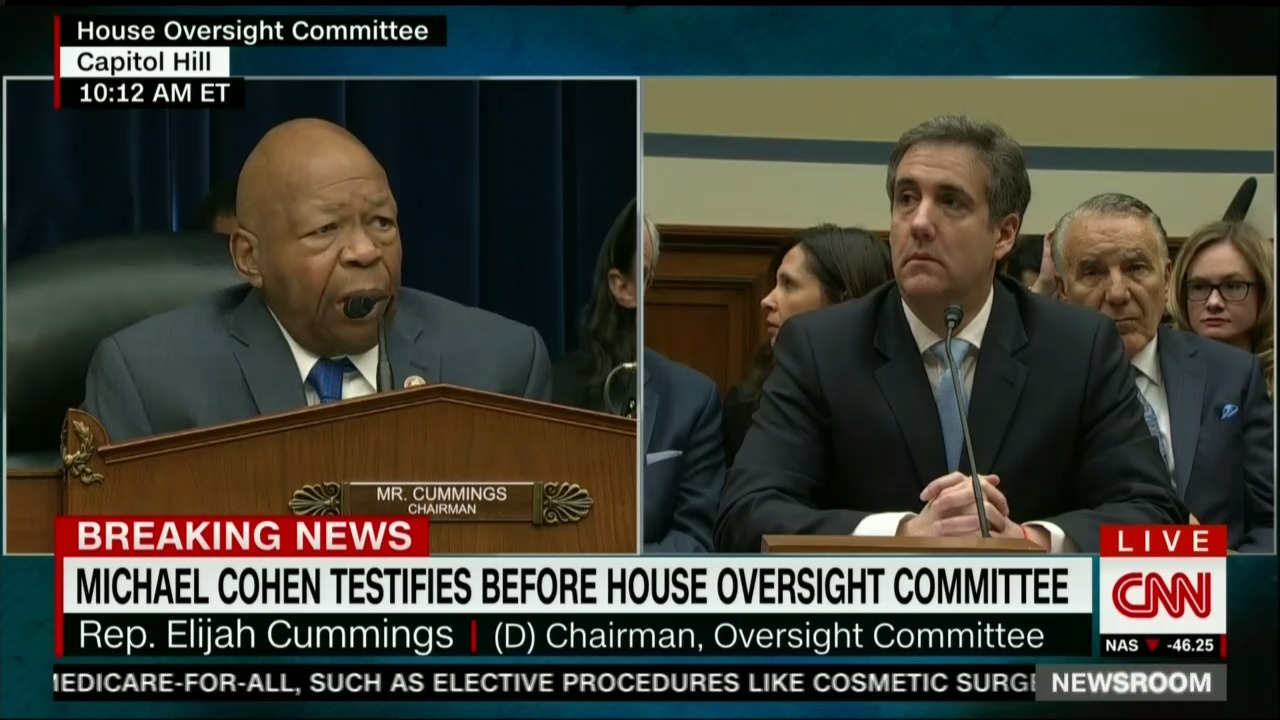 In his opening statement, House Oversight Chairman Elijah Cummings explained why his committee asked Michael Cohen, President Trump's former fixer, to testify today:
"Ladies and gentlemen, we are in search of the truth. The President has made many statements of his own, and now the American people have a right to hear the other side. They can watch Mr. Cohen's testimony and make their own judgment."
He went on to describe a check that Cohen will present during the hearing to support his testimony. It is dated Aug. 1, 2017 for the amount of $35,000. Cohen will say in his testimony the check was signed by the President and was part of the reimbursement for "illegal hush money I paid on his behalf."
Watch Cummings' comments here:
10:15 a.m. ET, February 27, 2019
Here's what President Trump said about the hearing this morning
Shortly before leaving his hotel in Hanoi, Vietnam, en route to his meeting with North Korea dictator Kim Jong Un, President Trump tweeted this about Michael Cohen's testimony:
"He is lying in order to reduce his prison time," he said.
Although the President has attempted to downplay their connections, Cohen was the his former lawyer, confidant and fixer.
10:20 a.m. ET, February 27, 2019
Republicans try to delay hearing
The hearing started just moments ago, and Republicans swiftly tried to delay it. The committee held a roll call vote on the issue.
The GOP objection: Republican Congressman Mark Meadows said the testimony was not supplied to to the committee in the required 24 hours ahead of time.
Of note: Most major news organizations — including CNN — had a copy of the testimony last night.
Watch the moment here:
10:05 a.m. ET, February 27, 2019
The hearing has started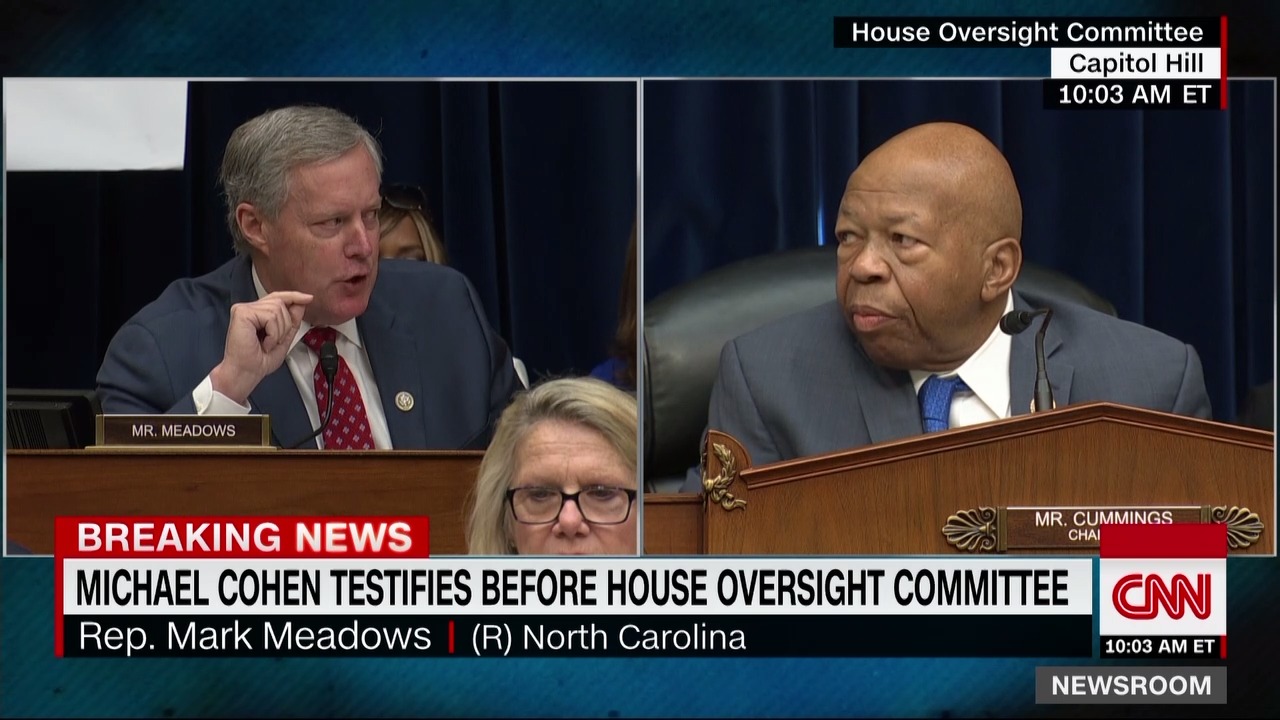 House Oversight Committee Chairman Elijah Cummings just called today's hearing featuring testimony from Michael Cohen to order.
Rep. Mark Meadows quickly requested that the committee postpone the hearing, saying representatives were not given enough time to review evidence.
10:04 a.m. ET, February 27, 2019
Prosecutors have evidence of Trump check to Cohen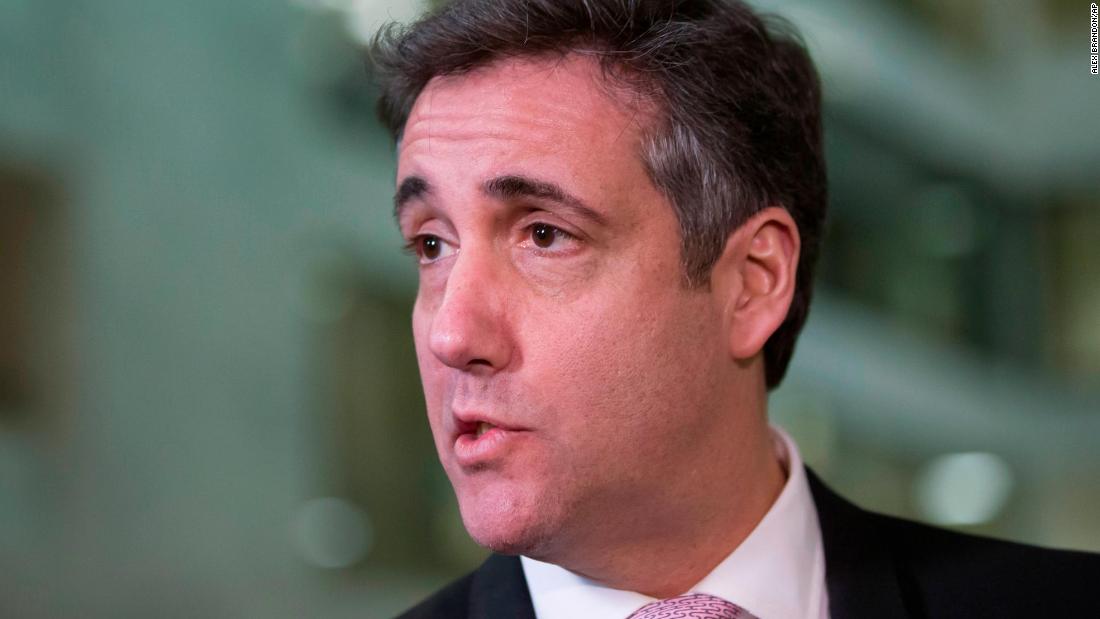 Michael Cohen is expected to discuss a scheme to obtain reimbursement for the $130,000 payment he made in 2016 to adult-film actress Stormy Daniels, to silence her for an affair she alleged with President Trump. (Trump has denied the affair.)
Federal prosecutors have previously explained the scheme in court filings, saying that Cohen falsely submitted invoices to the Trump Organization, at the direction of "executives" of the company, during the year 2017, for a total of $420,000. The reimbursements were to be paid in monthly installments of $35,000, according to prosecutors.
In court filings, prosecutors cited two Trump Organizations executives ("Executive-1" and "Executive-2") who were involved in the reimbursement scheme, but didn't name them.
At today's hearing, Cohen is expected to say that one of the checks he received to reimburse him was from Trump's personal bank account and was signed by Trump.
Though federal prosecutors with the Manhattan US Attorney's office didn't reference any such check in their charges against Cohen, they obtained evidence of the check from Trump's personal account during their investigation, according to a person familiar with the matter.
Cohen is also expected to testify that other checks he received were signed by Donald Trump Jr. and Trump Organization Chief Financial Officer Allen Weisselberg, who received immunity in the investigation of Cohen. A spokesperson for the Trump Organization declined to comment on Cohen's expected testimony.
A spokesman for the Manhattan US Attorney's office declined to comment.
10:02 a.m. ET, February 27, 2019
Michael Cohen arrives in committee chamber
At 9:59 a.m. ET, President Donald Trump's ex-fixer, ex-lawyer and ex-confidant Michael Cohen walked into the House Oversight Committee chambers.
10:00 a.m. ET, February 27, 2019
Democratic congressman: "Russia is now fair game"
Rep. Gerry Connolly, a Democrat from Virginia, just said questions about Russia are "fair game" during today's hearing.
"We just had a meeting about that, and Russia will now be fair game," he told CNN.
He continued: "Given the fact that the witness has talked about the Russian relationship both with respect to the tower in Moscow throughout the 2016 campaign and the Julian Assange role in the Wikileaks document dumps that involved the Russians. Russia is now fair game." 
This goes against what Democrats said last night: The House Oversight Committee previously instructed its Democratic members not to deviate from agreed upon lines of questioning at Michael Cohen's hearing Wednesday — prompting grumbling from several Democrats who want to press Cohen about a range of matters related to Russia.
In a memo to Democrats obtained by CNN, the Oversight staff wrote that the committee "wants to take great care not to inappropriately interfere with any ongoing investigation or prosecution," advising members to "consult closely with Committee staff in advance about potential lines of questioning."
9:29 a.m. ET, February 27, 2019
The times when President Trump praised Michael Cohen on Twitter
It had only been 12 days since the FBI raided the offices of Michael Cohen, President Trump's then-personal attorney, when he praised his fixer and confidant on Twitter.
In a series of tweets, the President called Cohen, "a fine person with a wonderful family...who I have always liked & respected."
The President's tweets came to an abrupt end on Aug. 22, 2018. Michael Cohen stood in court and pleaded guilty to eight counts of campaign finance violations, tax fraud and bank fraud.
Cohen implicated the President in his admission of guilt in court.
9:21 a.m. ET, February 27, 2019
Michael Cohen has arrived on Capitol Hill
President Trump's former attorney Michael Cohen just arrived on Capitol Hill ahead of his testimony in front of the House Oversight Committee. That's going to kick off at 10 a.m. ET.
 CNN's Manu Raju laid out what we're expecting:
Members of Congress should start arrive shortly. 
When the hearing begins, each member will have five minutes to ask questions. 
Democrats will likely try to get Cohen to lay out his story and detail allegations against President Trump.
Republicans are going to go after Cohen — and his credibility — aggressively. 
"Expect a lot of fireworks in the hearing that's going to take all day long," Raju said.
Watch the moment here: