Michael Cohen testifies before Congress
6:01 p.m. ET, February 27, 2019
Cohen's closing remarks: "My loyalty to Mr. Trump has cost me everything"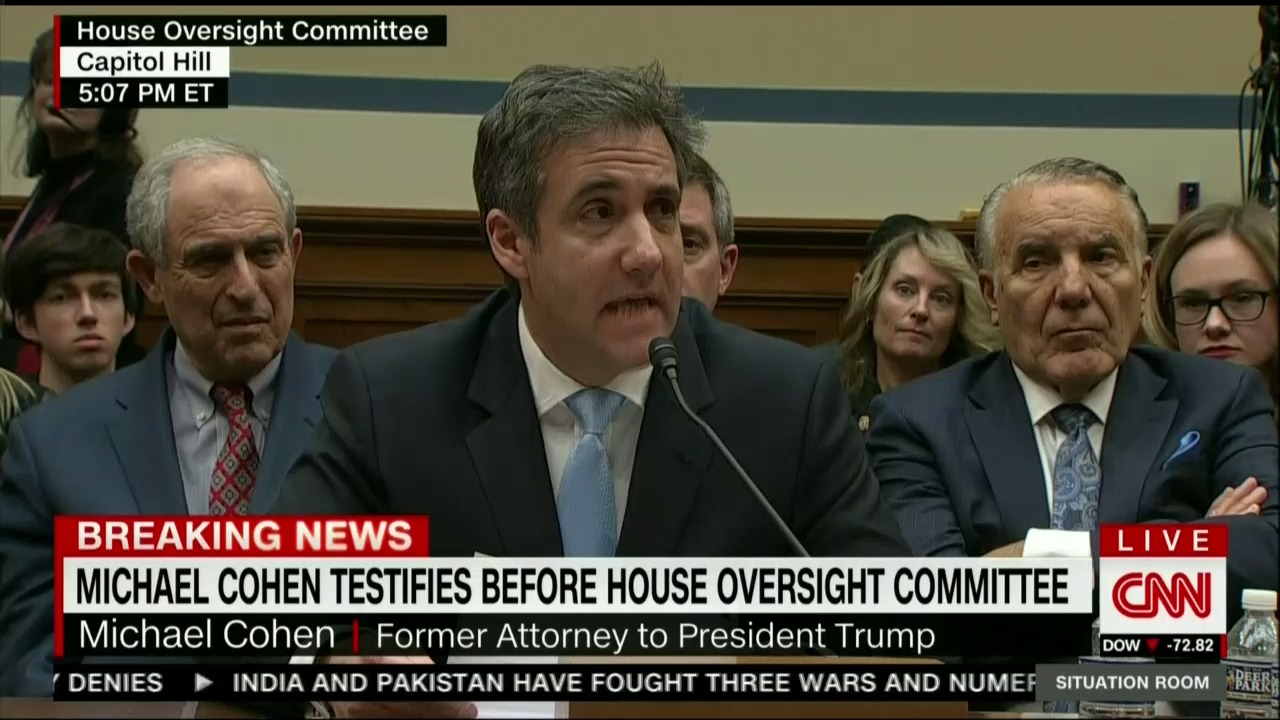 In his closing remarks before the House Oversight Committee, Michael Cohen said he lost everything because he "blindly followed" President Trump.
"My loyalty to Mr. Trump has cost me everything — my family's happiness, my law license, my company, my livelihood, my honor, my reputation and soon my freedom," he said.
He warned what could happen if Trump loses the 2020 election.
"Given my experience working for Mr. Trump, I fear that if he loses the election in 2020 that there will never be a peaceful transition of power," Cohen said. And this is why I agreed to appear before you today."
Trump's former fixer then spoke directly to Trump and blasted him from attacking those who speak out against him.
"You don't shut down the government before Christmas and New Years just to appease your base. This behavior is churlish, it denigrates the office of the president and it simply is un-American. And it's not you. So to those that support the President and his rhetoric as I once did, I pray the country doesn't make the same mistakes that I have made or pay the heavy price that my family and I are paying," Cohen said.
5:28 p.m. ET, February 27, 2019
Alexandria Ocasio-Cortez just assured this hearing is the beginning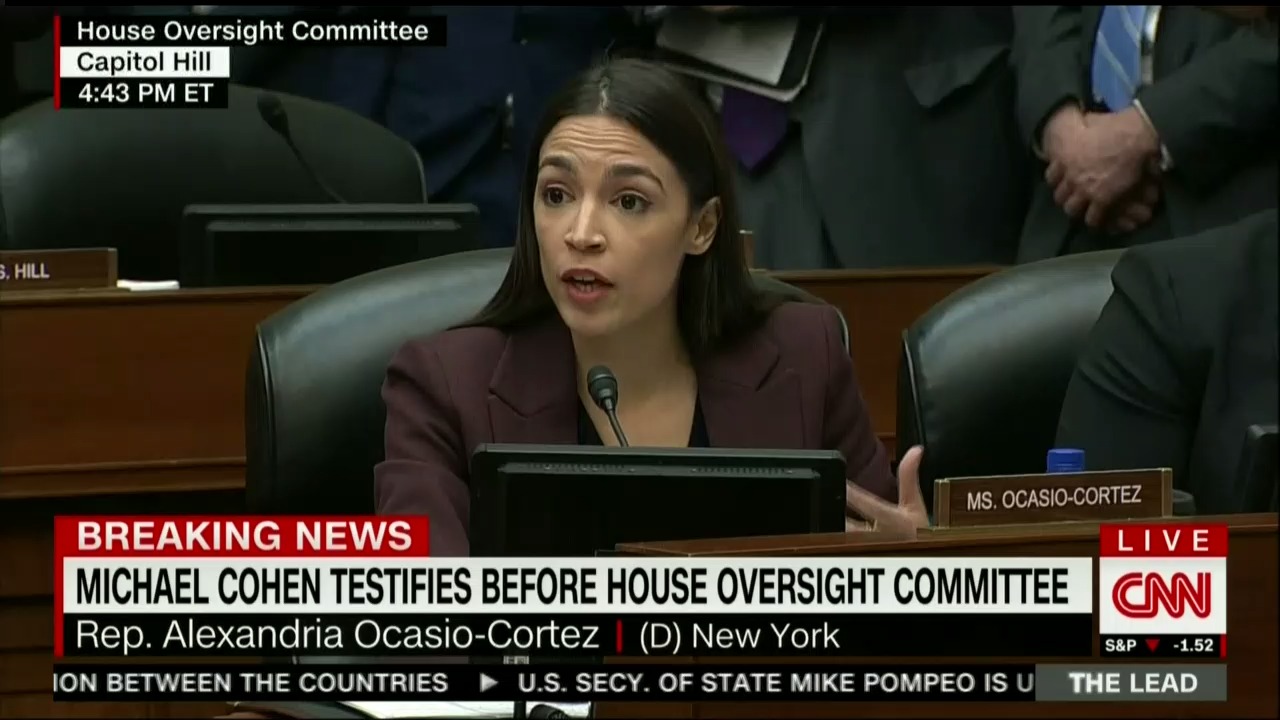 Rep. Alexandria Ocasio-Cortez opened up the door for future conversations about President Trump's tax returns and assets.
The Democrat from New York asked if Trump ever inflated assets (Cohen said he did) and asked how Congress could learn more. Cohen then named people who could offer more information — and said a review of Trump's financial statements could provide more details.
Here's how the exchange unfolded:
Ocasio-Cortez: To your knowledge, did the President ever provide inflated assets to an insurance company?
Cohen: Yes.
Ocasio-Cortez: Who else knows that the President did this?
Cohen: Allen Weisselberg, Ron Lieberman, and Matthew Calamari.
Ocasio-Cortez: Where would the committee find more information on this? Do you think we need to review his financial statements and tax returns in order to compare them? 
Cohen: Yes, and you would find it at the Trump Org. 
5:22 p.m. ET, February 27, 2019
This exchange at the hearing says so much about America right now
House Oversight Committee chairman Elijah Cummings refereed tensions after a Democratic member and a Republican member began arguing about racism.
First, some background: In his questioning earlier today, GOP Rep. Mark Meadows introduced Lynne Patton, a high-ranking political official in the Department of Housing and Urban Development.
In a stunning exchange, Meadows claimed Patton, who is black, doesn't agree with Michael Cohen's assessment that Trump is a racist, since she was hired to work for him.
Then Democratic Rep. Rashida Tlaib called him out. In her questioning, Tlaib said using a black woman as "a prop" is in itself racist.
"Just to make a note, Mr. Chairman, just because someone has a person of color, a black person, working for them, does not mean they aren't racist and it is insensitive that some would even say it's — the fact that someone would actually use a prop, a black woman, in this chamber, in this committee, is alone racist in itself," she said.
Meadows jumped in and asked that Tlaib's remarks be taken out of the record.
After some arguing, Cummings jumped in. He talked about his parents — who were "basically slaves" — and mentioned that he's a close friend of Meadows.
"First of all, I want to thank the gentleman for what stated. If there's anyone who is sensitive with regard to race, it's me, son of former sharecroppers that were basically slaves, so I get it," he said.
"I listen very carefully to Ms. Tlaib, and I think, and I don't want to, I'm not going to put words in her mouth, but I think she said that she was not calling you a racist, and I thought that we could clarify that, because, Mr. Meadows, you know, of all the people on this committee, I've said it — and got in trouble for it — that you're one of my best friends."
5:10 p.m. ET, February 27, 2019
Cohen: Trump directed me to find a straw bidder to buy his portrait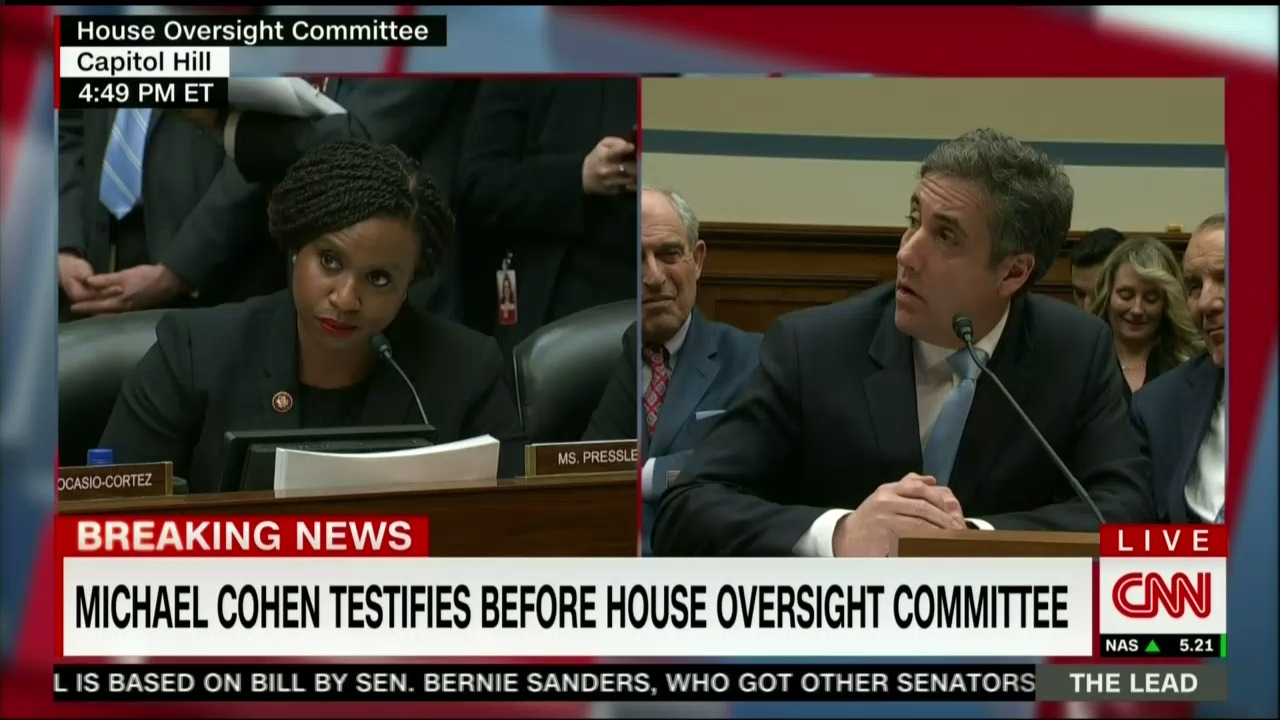 Michael Cohen described an instance in 2013 in which he found a straw bidder to rank up the price of a portrait of President Trump during an charity auction.
According to Cohen, the "fake bidder" purchased the portrait for $60,000.
"It is was all about ego," he told Rep. Ayanna Pressley.
He said Trump tasked him to find a straw bidder to ensure his painting went for the highest amount that day.
Earlier today, Cohen alleged that Trump directed the Trump Foundation to use its funds to reimburse the bidder and kept the art, which Cohen claims currently hangs in one of Trump's country clubs.
4:48 p.m. ET, February 27, 2019
Cohen says he doesn't know if Trump's tax returns were really under audit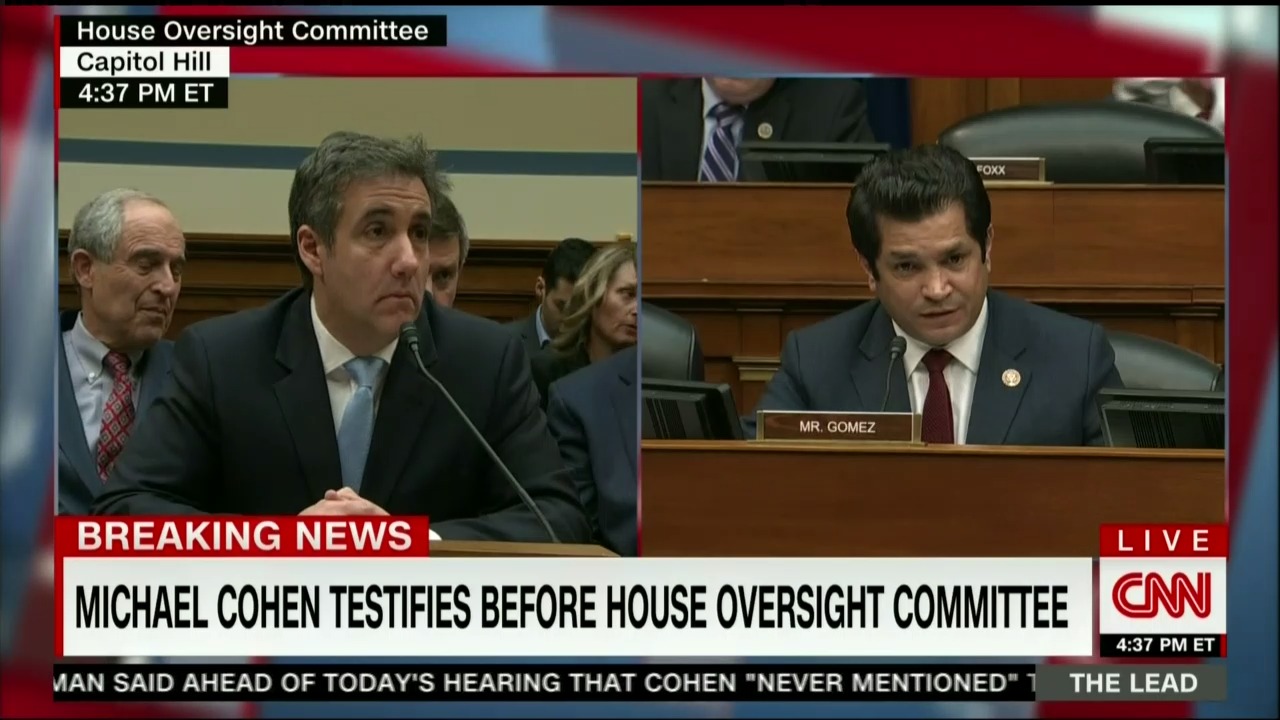 Rep. Jimmy Gomez, a Democrat from California, asked Michael Cohen about President Trump's tax returns.
Trump did not release his returns during the 2016 presidential campaign, saying they were under audit.
"Mr. Cohen, do you know whether President Trump's tax returns were really under audit by the IRS in 2016?" Gomez asked.
"I don't know the answer. I asked for a copy of the audit so that I could use it in terms of my statements to the press, and I was never able to obtain one," Cohen said.
Gomez followed up: "So, do you have any inside knowledge about what was in the President's tax returns that he refused to release?"
"I do not," Cohen said.
Cohen then explained why he believed Trump refused to release his returns:
"Statements that he has said to me is that what he didn't want was to have an entire group of think tanks that are tax experts run through his tax return and start ripping it to pieces and then he'll end up in an audit and he'll ultimately have taxable consequences, penalties and so on."
See this moment here:
4:23 p.m. ET, February 27, 2019
The Cohen hearing just resumed
4:06 p.m. ET, February 27, 2019
Here's what committee members did during the break
The House just passed the universal background check bill, H.R. 8, a bipartisan piece of legislation aimed at strengthening the background checks process on all gun sales, including gun shows and online purchases.
The vote was 240 to 190.
Once the vote was completed, there were prolonged, loud cheers from House Democrats.
We expect the Cohen hearing to resume in moments.
4:02 p.m. ET, February 27, 2019
Expect at least another hour of testimony
House Oversight Committee Chairman Elijah Cummings told reporters he expects another hour to an hour and a half of testimony today.
Cummings didn't want to comment on Michael Cohen's testimony before everything concludes for the day.
The committee is currently on a break. When they come back, we expect to hear questions from five more Democratic members.
3:56 p.m. ET, February 27, 2019
Trump campaign: Why did Congress even bother to swear in Cohen?
President Trump's reelection campaign released a statement discrediting Michael Cohen's testimony, calling Trump's former fixer "a felon, a disbarred lawyer, and a convicted perjurer."
"This is the same Michael Cohen who has admitted that he lied to Congress previously. Why did they even bother to swear him in this time?" Kayleigh McEnany, National Press Secretary, asked in a statement from the campaign.
Read the full statement: