Michael Cohen testifies before Congress
1:06 p.m. ET, February 27, 2019
GOP senator says Cohen's testimony helps Trump's case on collusion
GOP Sen. Lindsey Graham said he believes Michael Cohen's testimony helped President Trump's insistence that his campaign did not collude with Russia during the 2016 election.    
"If you had to prove collusion using Mr. Cohen, it was a good day for the Trump team. It is clear to me that Mr. Cohen has had a change of heart about Trump. But the central issue has always been did the Trump campaign collude with the Russians. And Debbie Wasserman Schultz's exchange with Mr. Cohen was pretty devastating to the idea that Trump colluded. Cohen said no — I don't know ... The point is I think on the collusion question Michael Cohen was very helpful to the Trump narrative that there is no evidence of collusion."
What this is all about: Earlier today, Cohen said he has no proof that Trump colluded with Russia, but added that he has "suspicions."
"Questions have been raised about whether I know of direct evidence that Mr. Trump or his campaign colluded with Russia. I do not, and I want to be clear." he said. "But I have my suspicions."
Meanwhile, Republican Sen. John Kennedy told CNN that he had a hard time believing anything Cohen said during his testimony. (Cohen testified behind closed doors to a Senate panel yesterday.)
Kennedy suggested that perhaps Cohen was "unstable" and said that he "wouldn't cash his check" when it came to Cohen's creditability.
1:44 p.m. ET, February 27, 2019
Stormy Daniels tweets: "Thank you"
As Michael Cohen testified before the House Oversight Committee, Stormy Daniels tweeted two words:
Why we're talking about Daniels: Stephanie Clifford, better known as porn actress Stormy Daniels, alleges she had an affair with President Trump in 2006.
Cohen, Trump's former attorney and personal fixer, paid Daniels $130,000 to prevent her from speaking publicly about her alleged affair with Trump.
She is also suing Cohen and Trump over the payment.
1:00 p.m. ET, February 27, 2019
The last time Cohen spoke to Trump was two months after FBI raid, he says
The last time Michael Cohen spoke to President Trump was about two months after the FBI raided his office and hotel room, the former Trump fixer told lawmakers.
Cohen couldn't provide a specific date, and said he couldn't give details about the conversation because it was under investigation.
"Unfortunately, this topic is something that's being investigated right now by the Southern District of New York, and I've been asked by them not to discuss and not to talk about these issues," he said.
12:49 p.m. ET, February 27, 2019
Cohen refuses to promise he won't sign a book, TV or movie deal
In a tense exchange with North Carolina Rep. Virginia Foxx, Michael Cohen said he will not commit to not pursuing possible book, TV and movie deals in the future.
Here's how it unfolded:
Foxx: Can you commit under oath that you have not and will not pursue a book or movie deal based on your experiences working for the President?
Cohen: No --
Foxx: You cannot commit to making money off of a book or movie deal based on your work?
Cohen: No. What I -- there's two parts to your question. The first part of your question, you asked me whether or not I had spoken to people regarding a possible book deal, and I have. And I have spoken to people who sought me out regarding a movie deal. 
Foxx: No, I didn't ask you if you've spoken to anybody. I said can you commit under oath that you will not -- that you have not and will not pursue a book deal?
Cohen: And I will not do that, no.
Foxx: Can you commit under oath that you will not pursue opportunities to provide commentary for a major news network based on your experiences working for the president?
Cohen: No.
Foxx: Can you commit under oath that you will not pursue political office in the state of New York?
Cohen: No.
Foxx: So you don't commit to changing your ways, basically, because you want to continue to use your background as a liar, a cheater, a convicted liar, to make money. That's what you want to do.
Cohen: And that's going to get me a book deal and a movie deal and a -- a spot on television? I don't think so.
Foxx: Well, it appears that it will. I yield the remainder of my time.
12:51 p.m. ET, February 27, 2019
Cohen points out that members are not asking about Trump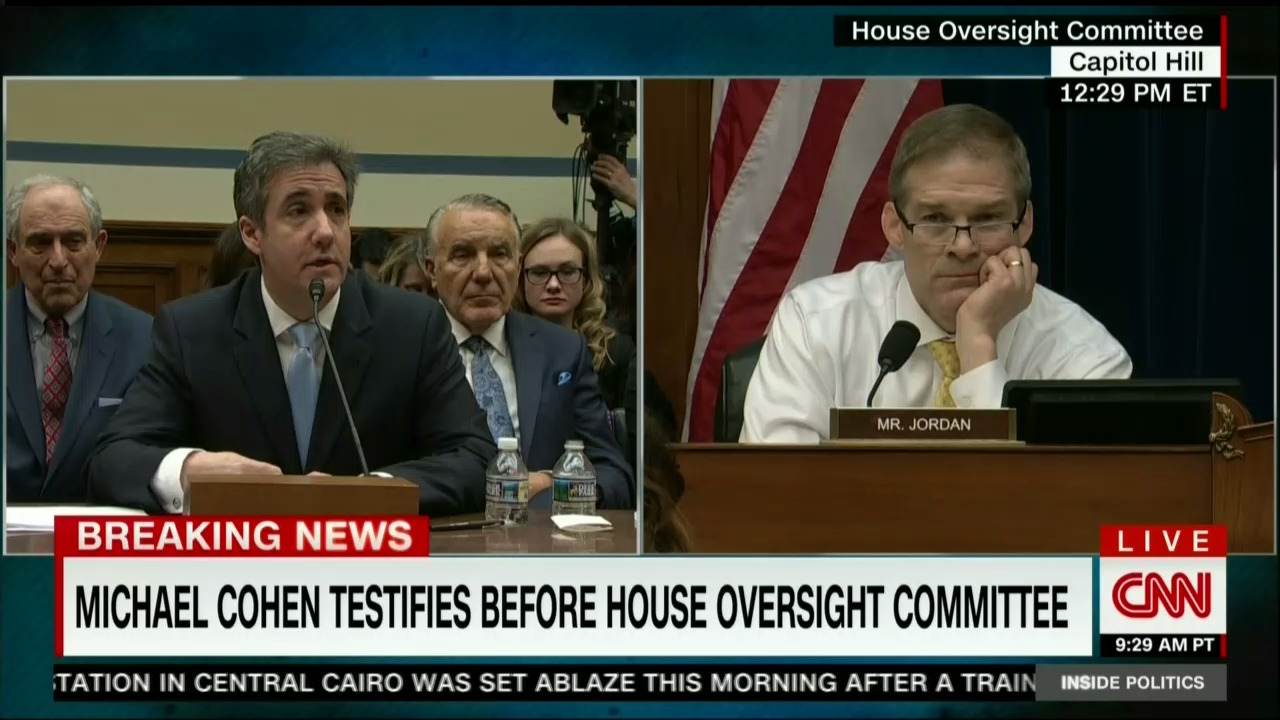 Michael Cohen pointed out that many committee members had not asked about President Trump during his testimony today.
The remarks came in an exchange with Republican Congressman Jim Jordan.
"All I wanted to say is I just find it interesting, sir, that between yourself and your colleagues that not one question so far since I'm here has been asked about President Trump. That's actually why I thought I was coming today. Not to confess the mistakes that I've made," Cohen said.
He went on to say that he's already talked about his mistakes.
"Yes, I've made mistakes and I'll say it now again and I'll pay the ultimate price and I am not here today and the American people don't care about my they want to know what it is that I know about Mr. Trump and not one question so far has been asked about Mr. Trump," Cohen said.
Watch the video here:
12:38 p.m. ET, February 27, 2019
Here's why GOP Rep. Jim Jordan gets to keep asking questions
If you're following today's hearing closely, you'll notice that GOP Rep. Jim Jordan is asking a lot of questions.
While every member on the committee gets five minutes to ask questions, they can also elect to yield some — or all — of that time to another member.
Many Republican representatives are giving their time to Jordan, the ranking member on the House Oversight Committee.
Jordan and Cohen have exchanged several tense moments during this hearing. Earlier, Cohen even said, "Shame on you Mr. Jordan," after he claimed the congressman mischaracterized his testimony.
12:25 p.m. ET, February 27, 2019
Cohen: I am partially responsible for "silly" behavior in Congress today
Michael Cohen said he protected Trump for a decade, but multiple factors contributed to his decision to start telling the truth, including "psyche, Charlottesville, watching the daily destruction of our civility."
He said he's partially responsible for the "silly" behavior in Congress today.
"I'm responsible for your silliness because I did the same thing that you're doing now for 10 years. I protected Mr. Trump for 10 years," he said.
12:27 p.m. ET, February 27, 2019
People are watching the Cohen testimony at this DC bar
Meet the youngest Michael Cohen watch party viewer: 18-month-old Penelope, (accompanied by her mother Emily Fisher).
While Duffy's Irish Pub's two dozen patrons sipped coffee, Guinness, cans of beer and the bar's specially crafted "Flipper Cocktail" at 11 a.m., Penelope sat in her mother's lap, sipping milk, munching on Goldfish and drawing with colorful markers.
Fisher lives in the area and while she had already read Cohen's testimony last night, she wanted to visit a favorite local watering hole to "just see my neighbors and patronize a local business. It's such a DC thing," she said of the Wednesday morning watch party.
"This stuff is like candy to me," Fisher said.
The pair called it a day just before noon — it was almost naptime, Fisher said.
"I don't love that I'm at a bar at 10 a.m. hearing testimony about the President calling places shitholes." Fisher said. "It's not my dream for her as a child in the world."
"But I'm also not going to cry about it," Fisher added. "We'll go to a park this afternoon and make up for it."
3:31 p.m. ET, February 27, 2019
GOP congressman calls Cohen "a pathological liar" 
In a heated exchange, Rep. Paul Gosar, a Republican from Arizona, called Michael Cohen "a pathological liar."
"No one should ever listen to you and give you credibility. It's sad," he said.
At one point, Cohen chimed in to ask: "Are you referring to me or the President?"
Here's how the exchange went:
Gosar: You are a disgraced lawyer. We've been disbarred. I'm sure you remember, maybe you don't remember, duty of loyalty, duty of confidentiality, attorney-client privilege. I think the gentleman over your right side actually understands that very, very well and wouldn't do what you are doing here today. So let's go back at this credibility. You want us to make sure that we think of you as a real philanthropic icon, that you're about justice that you're the person that someone would call at 3:00 in the morning. No, they wouldn't. Not at all. We saw Mr. Comer dissect you right in front of this committee you conflicted your testimony, sir. You're a pathological liar. You don't know truth from falsehood. 
Cohen: Sir, I'm sorry. Are you referring to me or the President? 
Gosar: Hey, this is my time. 
Cohen: Are you referring to me, sir or the President? 
Gosar: When I ask a question I'll ask for an answer. 
Watch the moment below: