What's in the Cohen warrant documents
3:54 p.m. ET, March 19, 2019
Our live coverage has ended. Scroll through the posts below to learn about what is in the the warrants or read more about them here.
12:07 p.m. ET, March 19, 2019
This is the device investigators used to track Cohen
From CNN's Marshall Cohen
Federal investigators used a "stingray" device to track Michael Cohen, as they tried to pin down exactly where he was staying at the Loew's Regency Hotel in New York City, according to newly unsealed documents.
The stingray is a spoofing device used for surveillance. Nearby cell phones connect to the stingray device, thinking it is a cell phone tower. Then the people operating the device can snoop on the traffic and collect information.
Federal agents used the device, which they called a "triggerfish" in the documents, to track Cohen's location in April 2018. They figured out which hotel room he was staying at based on the pings from his phone, according to the court filings. Prosecutors said in the court filings that they "sought and obtained" permission to use the stingray technique.
One day later, the FBI raided Cohen's hotel room, and other properties.
12:04 p.m. ET, March 19, 2019
Investigators got a warrant for the wrong hotel room
From CNN's Katelyn Polantz
The raid of Michael Cohen's New York City hotel room — where he was living in April 2018 — was almost botched by federal investigators in Manhattan. 
The first warrant they received was for the wrong hotel room inside the Loew's Regency Hotel.
At first, around 8 p.m. on April 8, 2018, the FBI got a warrant to search and seize criminal evidence out of room 1728 at the Loew's. The next day, the FBI learned from "another law enforcement agent" who spoke to an employee of the Loews that Cohen was in fact staying a floor below, according to search warrant records made public in federal court on Tuesday. 
Cohen was actually staying in a larger suite one floor below, room 1628, that was comprised of three rooms. 
The FBI refiled its search and seizure warrant for the property with a federal judge, and raided the hotel, as well as Cohen's Trump Park Avenue apartment and his law office within the firm Squire Patton Boggs at Rockefeller Center.
Cohen and his family had been staying at the Loew's because of a flood in their home.
11:42 a.m. ET, March 19, 2019
Prosecutors asked for data from Cohen's cell phones from the month before the 2016 election
From CNN's From Kara Scannell
Prosecutors asked for historic data from Michael Cohen's cell phones the month before the 2016 election, according to exhibit 7 of the documents.
They also had the pen registers, which records numbers called, in and out of Cohen's cell for two months after the raid, when he was in touch with Trump and his lawyers.
The government obtained a warrant for the cell location data pinging from cell towers for two cell phones subscribed by Cohen from April 7, 2018 for 45 days.
In addition, the judge granted the government's request for historical cell location for the month before the election — Oct 1, 2016 until election day on Nov. 8, 2016. There was also a request for Jan. 1 to April 7, 2018. 
The pen register that identifies the phone number attached to incoming and outgoing calls was ordered for two months from the date of the application – April 7, 2018 – meaning they knew about any calls after the raid for two months, including his calls with Trump, Trump's lawyers etc.
11:06 a.m. ET, March 19, 2019
Prosecutors used a new law Trump signed to get data from Cohen's Gmail
From CNN's Marshall Cohen
Federal prosecutors used a new law signed by Trump to go after his former fixer Michael Cohen, court filings reveal.
Investigators in the Southern District of New York obtained a search warrant to access Cohen's Gmail account in February 2018. Google turned over some documents, but the tech giant "declined to produce data that it stored on computer servers located outside of the United States," according to an affidavit submitted to the court by an FBI agent working on Cohen's case.
Weeks later, Trump signed the CLOUD Act into law, which gave US law enforcement more legal pathways to pursue data stories overseas. The provision was tucked into the $1.3 trillion spending bill Trump signed to avoid a federal government shutdown.
With the new law on the books, federal prosecutors went back to court in and asked for another warrant to get the materials that Google refused to turn over.
In an April 2018 affidavit, the FBI agent argued that "providers are required to disclose data even if it is stored abroad" under the new law. The judge approved the new search warrant later that day, giving investigators access to additional information from Google, including Cohen's emails, attachments, address book and files stored on Google Drive.
12:44 p.m. ET, March 19, 2019
Cohen was paid more than $500,000 from company linked to Russian oligarch
The Cohen materials outline how in October 2016 Essential Consultants was established, and then how in January 2017, money began to flow in monthly from Columbus Nova LLC. The monthly installments were for $83,333 and totaled $583,332 from January, 2017 to August 2017.
Why this matters: The government, in its documents, states that LLC is "an investment management firm controlled by Renova Group, an industrial holding company based in Zurich, Switzerland that is controlled by Russian national Viktor Vekselberg."
Who's that? Viktor Vekselberg is an oligarch with close ties to Russian President Vladimir Putin, who was sanctioned in early 2018 for activities including election interference. The sanctions prohibit Vekselberg from traveling to the US.
Here's the text from the document:

Clarification: The headline of this post has been updated to reflect that Columbus Nova is linked to Viktor Vekselberg, rather than controlled by him, as described in court documents.
4:54 p.m. ET, March 19, 2019
Federal prosecutors got permission to review materials obtained by Robert Mueller
From CNN's Marshall Cohen
Federal prosecutors in Manhattan got permission from a judge to review materials about Michael Cohen that were previously obtained by special counsel Robert Mueller, according to documents unsealed on Tuesday. 
Specifically, the Manhattan prosecutors got permission to review two DVDs and a USB drive full of information that was apparently collected by Mueller's team, which included what appears to be the legal documents regarding the searches themselves. Prosecutors in SDNY took this procedural step out of an abundance of caution, according to the court filings. 
The DVDs were not collected during the April raid and they do not belong to Cohen.
One of the DVDs was labeled "Cohen — 2018.03.07," according to the documents. The second DVD was labeled "2-28-18 Cohen SW Returns — Google and 1&1," according to the records.
CORRECTION: An earlier version of this post said that federal prosecutors retrieved two DVDs belonging to Cohen during the April 2018 raid. The DVDs were not actually collected during the April raid and they did not belong to Cohen.
10:14 a.m. ET, March 19, 2019
Mueller's team was investigating Cohen for these alleged crimes
From CNN's Katelyn Polantz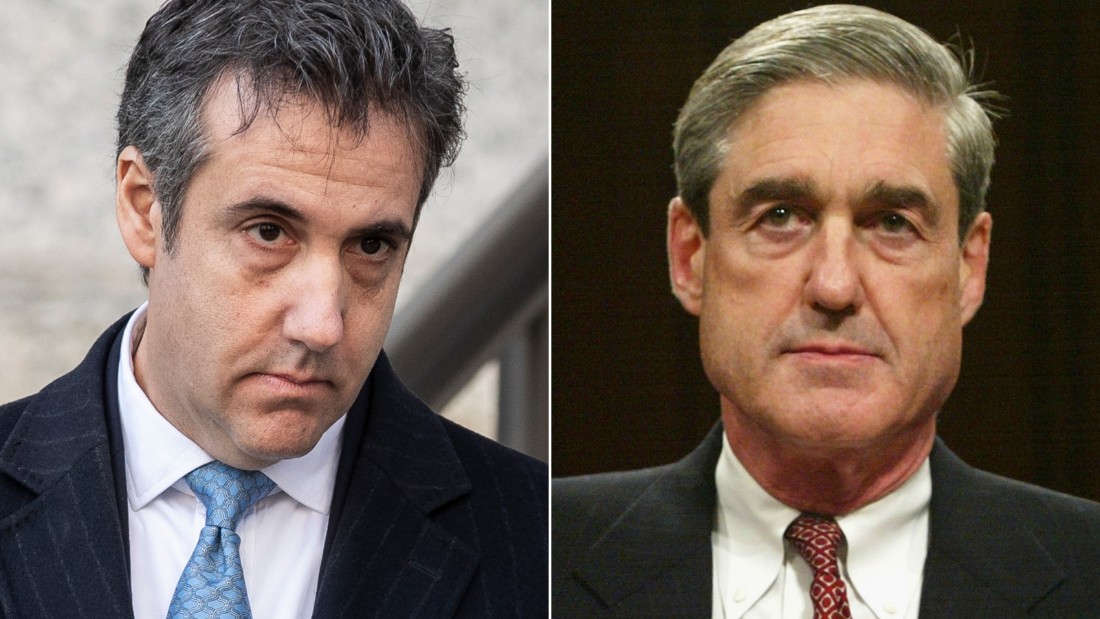 Special Counsel Robert Mueller's office was investigating Michael Cohen for lying to banks, breaking foreign lobbying laws and money laundering, according to one of the newly released search warrants in Manhattan federal court.
But note: Cohen has not been charged with illegal foreign lobbying or with money laundering.
Mueller's search warrants — which were approved by a federal judge in DC in the second half of 2017 — sought Cohen's emails related to his business dealings under a shell company used to cut hush money deals with women accusing then-candidate Donald Trump of extramarital affairs. 
Mueller's justification for those warrants were "several different courses of conduct by Cohen, including, among other things, false statements to financial institutions relating to the purpose of an account he opened in the name of Essential Consultants LLC and the nature of funds flowing into that account, and activities undertaken by Cohen on behalf of certain foreign persons or foreign entities without having registered as a foreign agent," an FBI investigator wrote to a judge, piggybacking on Mueller's pursuit.
10:20 a.m. ET, March 19, 2019
Cohen used money from shell account to pay private social club fees and American Express charges
From CNN's Erica Orden
Michael Cohen withdrew money from his shell company Essential Consultants account for "largely personal purposes" — including fees from "the Core Club," which is a private social club on the Upper East Side of Manhattan, according to page 26 of exhibit one.
Here's the text: