The nation honors Sen. John McCain
1:02 p.m. ET, September 1, 2018
Our live coverage of Sen. John McCain's week of memorials has concluded. For more on McCain's life and impact, visit CNN Politics.
1:09 p.m. ET, September 1, 2018
McCain motorcade departs National Cathedral to applause from people lined up outside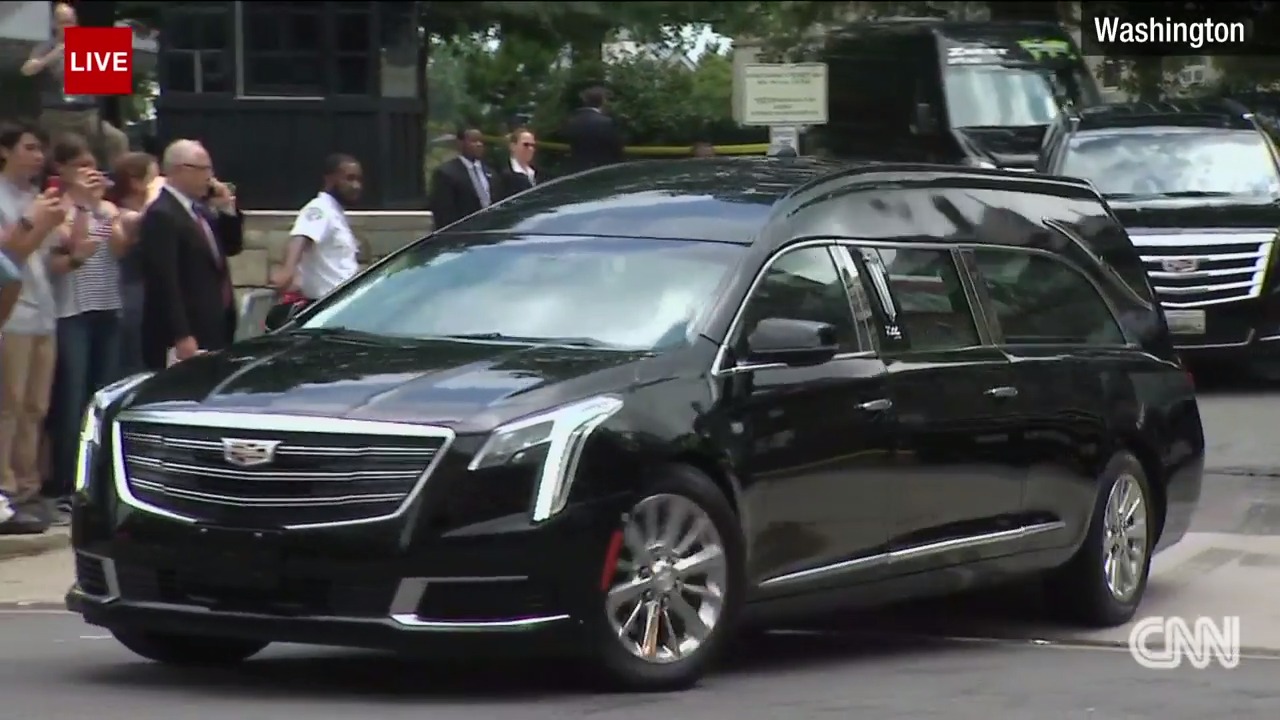 The motorcade carrying Sen. John McCain's casket just departed the National Cathedral to applause from people who had lined the streets outside.
Underlining the politics of the moment, and point of some of the tributes offered inside, McCain's hearse passed one person who held a sign hailing McCain as a "POW hero" and President Trump a "coward."
Tomorrow, a private service will take place at the US Naval Academy in Annapolis, Maryland, and then McCain's body will be laid to rest in the US Naval Academy Cemetery.
This follows a week of memorials from Phoenix to Washington, D.C.
12:34 p.m. ET, September 1, 2018
An emotional Cindy McCain looks on as singer Renee Fleming sings "Danny Boy"
The American opera singer Renee Fleming, who told CNN she was "so incredibly touched" to get the request to sing at Sen. John McCain's memorial, just delivered a powerfully emotional rendition of "Danny Boy."
His daughter Meghan and wife Cindy were both clearly moved, looking on with tears in their eyes, as Fleming sang the lyrics:
"Oh Danny boy, oh Danny boy, I love you so
But when you come, and all the flowers are dying
If I am dead, as dead I well may be
You'll come and find the place where I am lying
And kneel and say an 'Ave' there for me."
Fleming told us of the song: "It's so beautiful, and 'my dreams will warm and sweeter be.' It's an incredibly beautiful lyric. And there's a lot of people who say it's their favorite song and it never fails to make them weep."
Watch the moment:
12:12 p.m. ET, September 1, 2018
Here's what comes next: Bible readings, hymns and prayers
The next portion of Sen. John McCain's memorial service will be more traditional, as friends and family read from the bible, the choir sings hymns, and members of the clergy offer prayers.
The American opera singer Renee Fleming will sing "Danny Boy," as per Sen. John McCain's direct request.
12:13 p.m. ET, September 1, 2018
Obama: Honor McCain by recognizing that there are some things bigger than party or power
Former President Barack Obama spoke of the present moment, where "so much of our politics, our public life, our public discourse can seem small and mean and petty. Trafficking in bombast and insult. Phony controversies and manufactured outrage. It's a politics that pretends to be brave and tough, but in fact is born of fear."
McCain, Obama said, "called on us to be bigger than that. He called on us to be better than that."
Obama added: "What better way to honor John McCain's life of service than as best we can follow his example to prove that the willingness to get in the arena and fight for this country is not reserved for the few, it is open to all of us, and in fact it is demanded of all of us as citizens of this great republic."
Concluding his remarks, Obama added, "That's perhaps how we honor him best, by recognizing that there are some things bigger than party or ambition or money or fame or power, that there are some things that are worth risking everything for. Principles that are eternal. Truths that are abiding."
"At his best," Obama said, "John showed us what that means. For that, we are all deeply in his debt."
The former president walked out from behind the podium and into the open arms of Cindy McCain, and the two briefly embraced as she appeared to thank him for his remarks.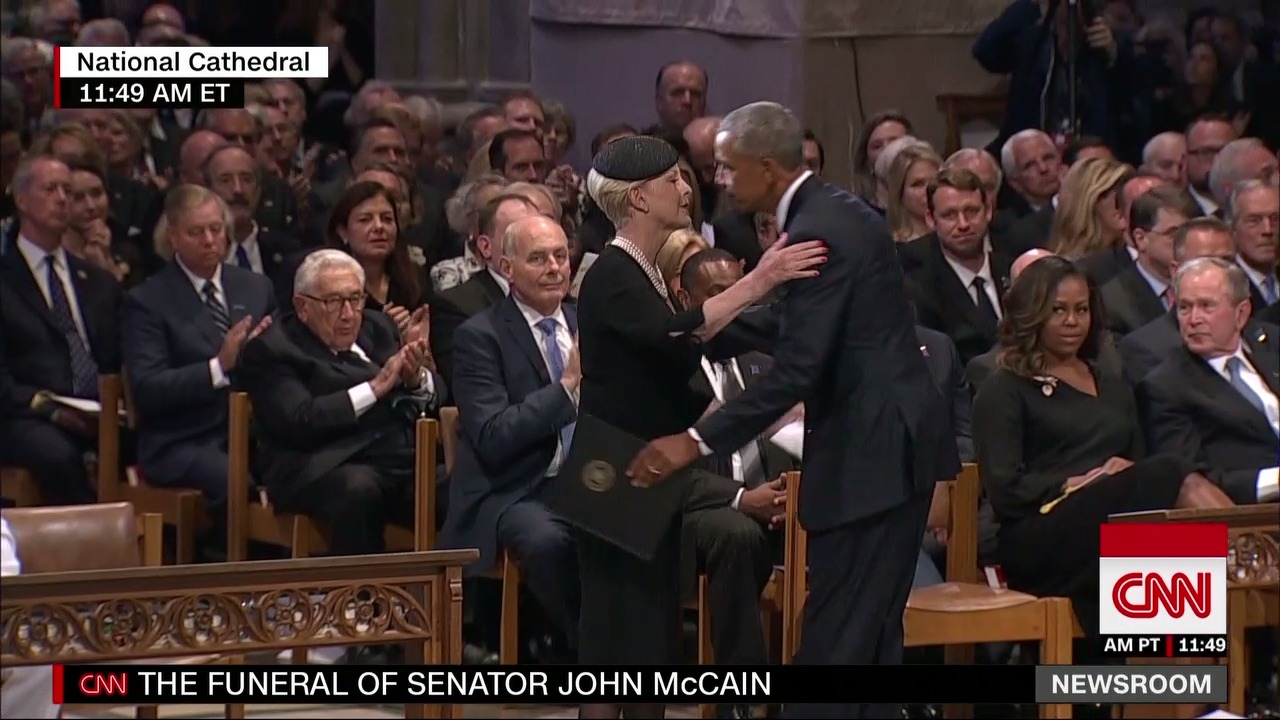 11:47 a.m. ET, September 1, 2018
Obama: McCain choosing me to speak is classic McCain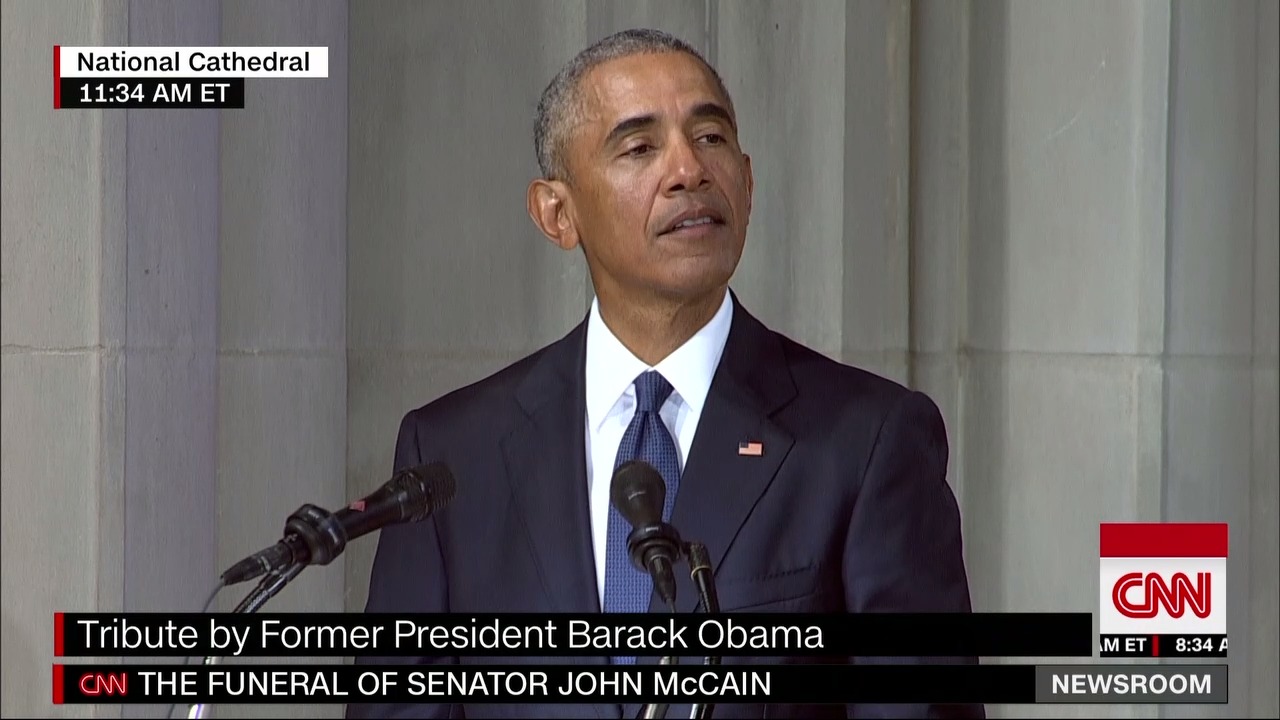 President Obama, who defeated Sen. John McCain in the 2008 presidential election, said he and President Bush were "among the fortunate few who competed against John at the highest levels of politics" and said, like Bush, that McCain made him better.
Speaking of the day McCain asked he speak at his memorial, Obama said it was "a precious and singular honor" and that when McCain called with the request, "I'll admit sadness and also a certain surprise."
But Obama also realized how well it captured some of John's essential qualities: Unpredictability. Contrarianism. Non-conformity.
"It also showed John's disdain for self-pity. He had been to hell and back and yet somehow never lost his energy or his optimism or his zest for life," Obama said.
12:37 p.m. ET, September 1, 2018
George W. Bush: McCain "made me better"
From CNN's Veronica Stracqualursi
President George W. Bush said whatever rivalry he had with Sen. John McCain "melted away" as they forged a friendship.
"Back in the day, he could frustrate me. And I know he'd say the same thing about me. But he also made me better," Bush said delivering the eulogy for his former 2000 Republican primary rival.
Bush recalled how he and McCain spoke of that "intense period like football players, remembering a big game."
"In the process rivalry melted away," Bush told the crowd of mourners gathered at the National Cathedral. "In the end, I got to enjoy one of life's great gifts, the friendship of John McCain. And I'll miss it."
"John was above all a man with a code. He lived by a set of public virtues that brought strength and purpose to his life and to his country," Bush said, adding that McCain was "honest no matter whom it offended.
"Presidents were not spared. He was honorable. Always recognizing that his opponents were still patriots and human beings."
Watch:
12:05 p.m. ET, September 1, 2018
As the nation mourns McCain, Trump is tweeting and visiting his golf course
From CNN's Clare Foran
One figure who was notably absent from Saturday's event: President Donald Trump, with whom McCain frequently feuded and whom he did not want to attend his memorial services.
Instead, Trump is visiting one of his golf courses in Sterling, Virginia, and has tweeted throughout this morning's service about unrelated topics, including trade negotiations with Canada.
The White House has not said what the President will do there, including whether he plans to tune into any of Sen. McCain's memorial service. 
11:24 a.m. ET, September 1, 2018
Henry Kissinger: McCain was a "gift of destiny"
Former US Secretary of State Henry Kissinger gave his tribute at Sen. John McCain's service, and said that the US "has had the good fortune, that, at times of national trial, a few great personalities have emerged" and "John McCain was one of those gifts of destiny."